Now that the 2021-22 college football season is over, the countdown to the 2022-23 college football season – and the predictions for who will win next season's national championship – have already begun.
Ohio State is once again expected to be a title contender, starting the offseason with the third-lowest odds to win the next national title behind only the two teams who played in Monday's national championship game, Georgia and Alabama. There's no shortage of confidence within the Ohio State fan base that the Buckeyes can get back to college football's mountaintop next season; in a poll that ran on Eleven Warriors on Tuesday, more than two-thirds of respondents predicted that Ohio State will win it all.
The Buckeyes have a lot of work to do over the next 12 months, though, if they're going to make their fans' hopes and dreams come true. While optimism tends to be the prevailing emotion of the offseason, Ohio State must be better than it was this year – when it didn't even make the College Football Playoff – if it's going to finish ahead of the Bulldogs, Crimson Tide and college football's other top teams next January.
In particular, Ohio State needs to make the following five things happen if it is going to win its second national championship of the College Football Playoff era next year.
Defense must improve significantly
Some of you might say that this should be all five items on this list. It's undoubtedly the most important one.
The biggest reason why Ohio State didn't play for a national title in 2021 was that it didn't have a championship-caliber defense. While all four College Football Playoff teams ranked in the top 20 nationally in both total and scoring defense, Ohio State ranked 38th in points allowed per game (22.8) and 59th in yards allowed per game (372.6). The Buckeyes gave up more than 30 points in five games this season, and more than 40 points in each of their last two games of the year.
Couple that with Ohio State having what was statistically its worst defensive season ever in 2020, and that's why the Buckeyes paid $1.9 million to hire Jim Knowles, the reigning defensive coordinator of the year.
As long as the Buckeyes continue to have one of the nation's best offenses, they don't have to have a defense as dominant as Georgia's to win it all. They do have to have a defense that can at least make life difficult for their opponent when they're playing other top offenses, which hasn't been the case for the past couple of years.
C.J. Stroud must continue elite play
The biggest reason why Ohio State is viewed as one of the top contenders to win the next national championship is because Stroud is returning for a second season as Ohio State's starting quarterback.
Stroud was one of college football's elite quarterbacks in 2021, finishing the season with the second-best passer rating (186.6) and third-most passing yards per game (369.6) in the Football Bowl Subdivision. And he got better as the season progressed – capping the year off with a school record-setting 574-yard game in the Rose Bowl – as he gained more experience and got healthier after injuring his shoulder in the season opener.
Now that he has a year of experience under his belt, there's reason to believe he'll be even better. He won't have Chris Olave or Garrett Wilson to throw the ball to this year, but he didn't have them in the Rose Bowl either. He will still have Jaxon Smith-Njigba, and there are plenty of other potential star receivers on the roster like Marvin Harrison Jr., Emeka Egbuka and Julian Fleming.
Before Georgia won this year's national championship with Stetson Bennett IV, each of the previous five national champion quarterbacks went on to be first-round NFL draft picks. Stroud certainly appears to be on that trajectory right now, and him continuing to play at that level could be the biggest key to the Buckeyes' 2022 success.
Buckeyes must be able to trust run game
While high-flying passing offenses get most of the love these days, an effective running game is also crucial to winning in the playoff.
Need evidence of that? The team that has rushed for more yards has won 21 out of 24 games in the first eight years of the College Football Playoff. Ohio State's rushing offense was certainly pivotal to its last national championship, as Ezekiel Elliott ran for at least 220 yards in each of the Buckeyes' final three games to lead the way to a title.
Ohio State's running game mostly performed well in 2021; after all, the Buckeyes finished the season with the third-best rushing average (5.54 yards per carry) in the nation. In the games where the Buckeyes needed their running game to be at its best, however, they weren't able to consistently get the yards they needed on the ground – especially against Michigan, when they ran for just 64 yards on 30 attempts. It was also clear that Ohio State's offensive braintrust didn't trust its running game, as the Buckeyes' 423 rushing attempts were their fewest in any season (excluding 2020, when they played only eight games due to COVID-19) in the last 55 years.
The Buckeyes have a talented stable of running backs, led by TreVeyon Henderson and Miyan Williams, and should again have one of the nation's most talented offensive lines, but they might need to add some new schematic concepts to their offense to maximize their talent and run the ball effectively against top defenses.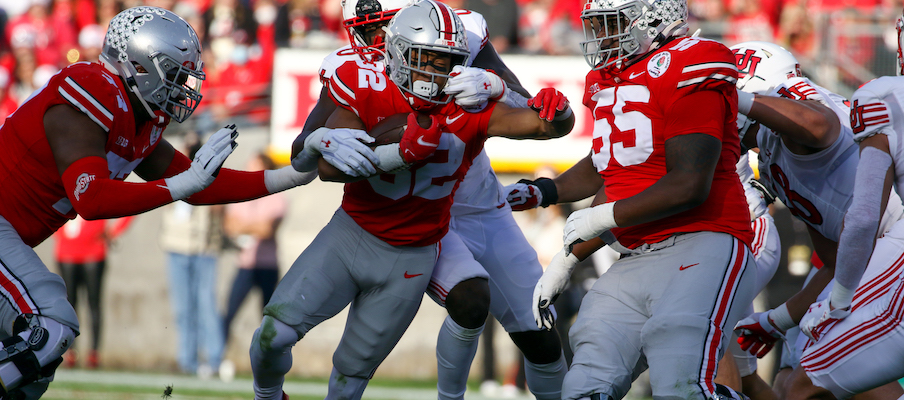 Ohio State must start season strong
The Buckeyes' path to the College Football Playoff quickly became more difficult this past season when they lost to Oregon in their second game of the year. They'll face another major early-season test when they host what will likely be a top-10-ranked Notre Dame team in their 2022 season opener.
Calling that a must-win game would be too much, as Ohio State's 2014 championship run proved a non-conference loss is not fatal to a team's title hopes. Every game after that would become a must-win game if Ohio State loses, however, and it was clear that took a toll on the Buckeyes in 2021 as they tried to survive their way through a challenging Big Ten schedule.
If Ohio State can get through its non-conference slate 3-0, it would have the margin for error to lose a Big Ten game and likely still make the CFP. But that will require playing at a high level right out of the gates to beat Notre Dame.
Another reason why Ohio State must start the season strong is that it could face a big early test or two in Big Ten play, though they got a reprieve from having to play back-to-back road games against Michigan State and Penn State with the new conference schedule that was released Wednesday. Still, the Buckeyes will have to play Wisconsin and Michigan State in two of their first three conference games, so they won't have much time to work through the kinks.
Buckeyes must get revenge in The Game
If Ohio State can win its first 11 games of the regular season, it's possible the Buckeyes could lose to Michigan and still have a chance to win the national championship. But that's not a scenario the Buckeyes should entertain in the slightest right now.
Losing to Michigan crushed Ohio State's playoff hopes in 2021, and it's very possible they could ride on winning The Game once again in 2022. Although Michigan is losing numerous key players on both sides of the ball – and could even lose Jim Harbaugh – the Wolverines still project to be Ohio State's top competition for the Big Ten East title.
The Game is always viewed as a must-win game at Ohio State, and it will be viewed that way even more strongly over the next 10-and-a-half months after the Buckeyes' November loss in Ann Arbor. While Ohio State certainly wants to get back to the Big Ten Championship Game and College Football Playoff and win conference and national championships, no objective will be more important than beating the team up north this year.
Ohio State fans might already be dreaming of Ryan Day and the Buckeyes hoisting the golden national championship trophy on Jan. 9, 2023 in Los Angeles, but the Buckeyes need to focus on first winning a pair of Gold Pants on Nov. 26, 2022 in Columbus.