Thayer Munford has seen a lot in his five years at Ohio State.
Four years starting on the Buckeye offensive line, four Big Ten Championship Game victories, three College Football Playoff games, a national championship berth and three wins over Michigan – just to name a few of his most notable experiences in scarlet and gray.
But his final game in a Buckeye uniform, last weekend's Rose Bowl win over Utah, might just be his favorite of them all.
"Y'all have known me for five years now, this is up there. I feel like this is the No. 1 memory that I'm gonna tell my kids later on," Munford said following the Buckeyes' 48-45 win against the Utes. "Not giving up, just keep going, it's just amazing how far we came. It's just the word of God, that's all it is."
It was a fitting end for Munford, who was considered perhaps the top returning tackle in the country in the preseason before shifting inside to play guard for the majority of his final year. With Nicholas Petit-Frere opting out of the Rose Bowl, Munford was able to move back to left tackle – the position at which he was the Buckeyes' starter for the previous three seasons – for his final game.
With Munford back where he was most comfortable, Ohio State didn't give up a single sack or quarterback hurry to a Utah defense that was among the nation's top-10 teams with 42 sacks through its first 13 games.
The Buckeye front line held up so well that C.J. Stroud passed for an all-time Ohio State record 573 yards against the Utes, shattering Dwayne Haskins' previous single-game record by 74 yards, and Utah finished the game with only a single tackle for loss against the Buckeyes.
In the lead-up to the game, Munford said he was excited to return to his "natural habitat" at left tackle. Afterwards, he said it felt just as good as he had envisioned.
"I did feel good at tackle. That's kind of like my natural position of course, but also at the same time, I did what's best for the team," Munford said. "I didn't care where I played at. If they needed to put me at center, I can play center. It wouldn't be as pretty of course, but I would go there for my team. I wouldn't care. I love my brothers, I would do anything for them."
A first-time captain in 2021, Munford's team-first attitude can't be questioned. No one would have batted an eye if the Ohio native turned pro after the 2020 season following a decorated career, but Munford returned for a fifth year to the surprise of many. Moving to left guard might have been an even bigger surprise, given his longstanding success at tackle, but Munford never complained about the position switch.
All of those factors helped earn Munford Ohio State's "Block 0" jersey in the second year of its existence, although he could only don it during practice. That honor is a clear designation of a team leader, and at halftime of the Rose Bowl, the Buckeyes needed leadership in spades.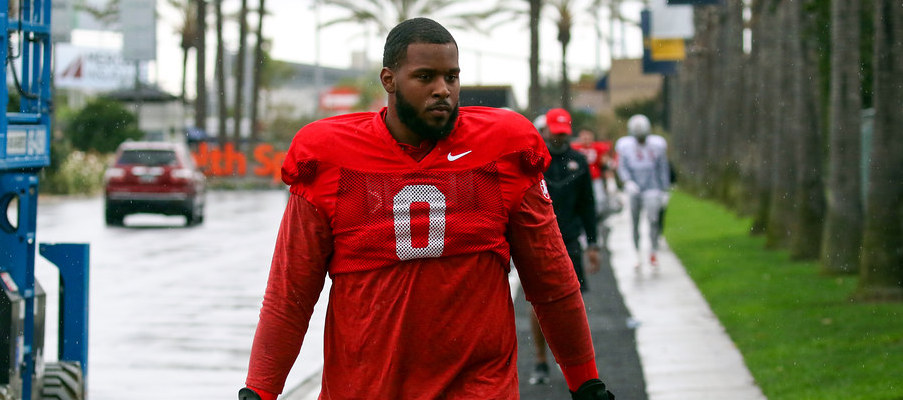 Down 35-21, Ohio State needed to regroup. While no Buckeyes revealed the specifics of any speech that was given, preferring to uphold the sanctity of the locker room, they all indicated that veteran leaders stepped up to rally the team in the face of adversity.
"You know what's crazy though? (Ryan Day) didn't say nothing. He didn't have to say nothing. We said it ourselves," Munford said. "It comes from us as a team. Players, everybody, we knew what we had to do. We had to win this game. We're just happy we got the W after being down two touchdowns."
By storming back to outscore Utah 27-10 in the second half, the Buckeyes exorcized the demons that haunted both of their regular season losses. Ohio State couldn't quite complete a comeback against Oregon in its Week 2 defeat, and the Buckeyes could hardly mount any effort to rally in the second half of their Nov. 27 loss to Michigan.
One of the indelible images of that game, as Buckeye fans may painfully recall, was Munford being blown off the line of scrimmage and onto his back by Wolverine pass-rusher Aidan Hutchinson. That play, coupled with the lopsided loss in general, made the Rose Bowl a game that Munford could not opt out of, citing the need to wash that bad taste out of his mouth.
In his final game, Munford got to do exactly that.
"Feels great man. I'm just happy that we got this win, especially after everything we've been through," Munford said. "Yeah it wasn't the prettiest season that the Ohio State Buckeyes are used to of course, but also at the same time, we came out swinging, kept swinging and eventually got the win. It wasn't pretty, of course, but at least we got the win."
During his four years as a starter, Munford's Buckeyes lost just five games. Against Utah, the future NFL draft pick got the chance to be a winner one more time.