The streak is over.
After winning all of its last eight straight games against Michigan, Ohio State suffered its first loss in The Game since 2011 on Saturday at the Big House, where the Wolverines rushed for six touchdowns to defeat the Buckeyes for the first time in Jim Harbaugh's tenure.
The game got off to a bad start from the beginning for the Buckeyes as Michigan drove 75 yards in 10 plays on its opening drive. 60 of those yards came via the ground, capped off with a 14-yard touchdown run by wide receiver A.J. Henning on a jet sweep.
 
Q1
Q2
Q3
Q4
 

#2

 Ohio State
3
10
0
14
27

#5

 MICHIGAN
7
7
14
14
42
Ohio State's offense started its first possession on the 4-yard line after Michigan's first kickoff was misplayed by Julian Fleming, and the Buckeyes were forced to punt from deep in their own territory after a 3-and-out. The Buckeyes were on the verge of going down two scores early until Bryson Shaw picked off Cade McNamara in the red zone for the first interception of his Ohio State career.
Off the turnover, Ohio State mounted a drive to Michigan's 3-yard line – highlighted by a TreVeyon Henderson 28-yard run – but was forced to settle for a 31-yard Noah Ruggles field goal, which he made, after Dawand Jones false started on 3rd-and-goal and star Michigan defensive end Aidan Hutchinson followed that up with a sack of C.J. Stroud.
After allowing Michigan to convert all four of its third-down attempts in the first quarter, Ohio State came up with a key third-down stop on the first play of the second quarter when Steele Chambers brought pressure on a blitz and forced an incomplete pass by McNamara. The Buckeyes were also forced to punt on their third possession after Michigan defensive end Mike Morris deflected a Stroud pass on 3rd-and-9, but their defense came up with a 3-and-out to force another punt on Michigan's fourth possession.
That enabled Ohio State to take its first lead of the game with 9:12 to play in the second quarter when Garrett Wilson skied over Michigan cornerback Vincent Gray and made a ridiculous catch for a 25-yard touchdown, getting one foot down just inside the boundary and breaking the plane with the ball just before going out of bounds.
WHAT A CATCH, WHAT A TOUCHDOWN!@OhioStateFB takes the lead thanks to this beautiful @garrettwilson_V catch pic.twitter.com/Xo5z2jtAMR

— FOX College Football (@CFBONFOX) November 27, 2021
Michigan responded on its next drive. After a 4th-and-1 conversion on the ground by Hassan Haskins, McNamara completed a 37-yard pass to Cornelius Johnson against Denzel Burke – the longest pass anyone has completed against the Ohio State freshman cornerback all season. Two plays later, Haskins ran into the end zone for a 1-yard touchdown to put the Wolverines back in front, 14-10.
Ohio State drove back into the red zone on its final possession of the first half but was forced to settle for a field goal again, which Ruggles made from 30 yards out to cut Michigan's lead to one point before halftime.
The Buckeyes got the ball back with a chance to take the lead at the start of the second half, but went 3-and-out when Henderson was stuffed in the backfield by Josh Ross for a 2-yard loss on 3rd-and-2. Michigan needed just three plays to score on its opening possession of the second half as Blake Corum ran for a 55-yard gain and Haskins followed it up with a 13-yard touchdown run to extend the Wolverines' lead to 21-13 just over three minutes into the second half.
Ohio State was forced to punt again on its next possession when Hutchinson made his second third-down sack of the day, and Michigan drove right back down the field for another touchdown. After J.J. McCarthy completed a 31-yard pass to Roman Wilson and McNamara completed a 34-yard pass to Mike Sainristil, Haskins finished off the drive with his third touchdown run of the day – which came after a fracas on the field that resulted in Cameron Brown getting an unsportsmanlike conduct penalty for pulling off a Michigan player's helmet – to extend the Wolverines' lead to 15 points with 5:49 to play in the third quarter.
Brown was reacting to the Michigan player grabbing his ankle after the play. But the reaction earned the penalty. pic.twitter.com/9NtdAO76kc

— Eleven Warriors (@11W) November 27, 2021
It took 17 plays, but Ohio State was able to string together a touchdown drive on its next possession. After a spectacular, behind-the-back 26-yard catch by Jaxon Smith-Njigba got the Buckeyes to Michigan's 21-yard line, Ohio State went for it on 4th-and-4 from the 13-yard line and converted with a 10-yard pass to Smith-Njigba. Henderson capped off the drive with a 1-yard touchdown run to make it a one-score game again and tie Maurice Clarett's record for the most touchdowns by a freshman in Ohio State history.
Are you kidding @jaxon_smith1? pic.twitter.com/U8gnUicfCr

— FOX College Football (@CFBONFOX) November 27, 2021
Michigan drove back down the field to make it a two-score game again on its next possession, though, as Haskins ran for his fourth touchdown of the day to cap off a nine-play, 66-yard drive.
| OHIO STATE |   | MICHIGAN |
| --- | --- | --- |
| 458 | TOTAL YARDS | 487 |
| 64 | RUSHING YARDS | 297 |
| 30 | RUSHING ATTEMPTS | 41 |
| 2.1 | AVERAGE per RUSH | 7.2 |
| 1 | RUSHING TOUCHDOWNS | 6 |
| 394 | PASSING YARDS | 190 |
| 34-49 | COMPLETIONS–ATTEMPTS | 14-20 |
| 11.6 | AVERAGE per COMPLETION | 13.6 |
| 2 | PASSING TOUCHDOWNS | 0 |
| 23 | 1st DOWNS | 24 |
| 79 | TOTAL PLAYS | 61 |
| 5.8 | YARDS PER PLAY | 8.0 |
| 4-4 | RED ZONE | 6-7 |
| 8-18 | third down conv | 5-8 |
| 10-66 | PENALTIES | 2-20 |
| 31:48 | POSSESSION | 28:12 |
A 39-yard deep ball from Stroud to Chris Olave got Ohio State past midfield on its subsequent drive, after which the Buckeyes had to go it twice on fourth down inside the 25-yard line.
They converted both times, as Stroud completed a 4th-and-7 pass to Wilson and Henderson scored a 10-yard touchdown on 4th-and-5 on the next set of downs – breaking Clarett's record in the process – to make it a one-score game again with 4:45 to play.
Ohio State's defense remained unable to stop the run on its next series, however, as Hassan Haskins ran the ball five times for 63 yards, with his fifth touchdown of the day coming on a 4-yard run, to salt away a victory.
The Buckeyes have now suffered two losses in a season for the first time since 2017 and will not play in the Big Ten Championship Game for the first time since 2016, all but ending Ohio State's hopes of making the College Football Playoff.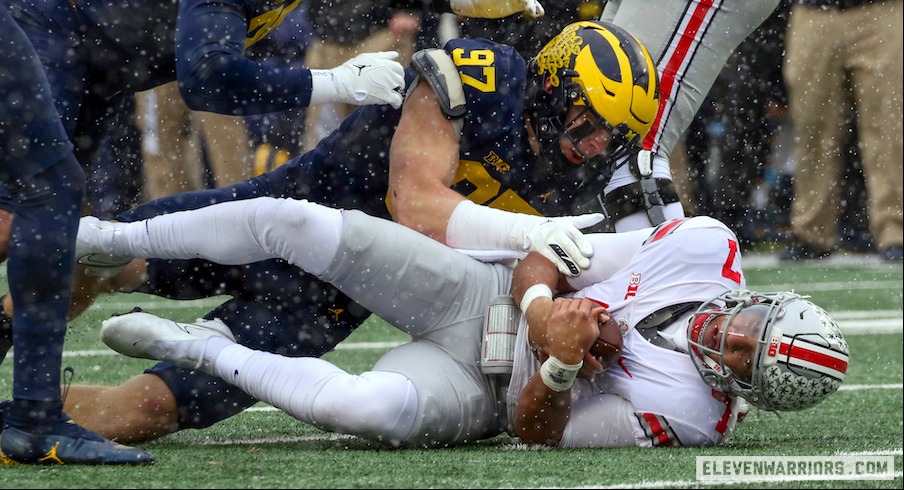 Game Notes
19 Ohio State players were listed as unavailable for Saturday's game, including starting cornerback Sevyn Banks. Backup offensive lineman Josh Fryar suffered an apparent leg injury during pregame warmups, but he ended up being able to play on special teams.
Haskell Garrett, Thayer Munford, Chris Olave and Kamryn Babb were the game captains for the coin toss. For only the third time this season, Ohio State won the opening coin toss; the Buckeyes opted to defer to the second half, giving Michigan the ball first. 
True freshman cornerback Jordan Hancock burned his redshirt, making his fifth game appearance of the season as a member of the kickoff team.
Smith-Njigba moved into third-place all-time for the most receiving yards in a single season by an Ohio State receiver.
Wilson became the second 1,000-yard receiver of the season for Ohio State, joining Smith-Njigba to become the first-ever pair of 1,000-yard receivers for Ohio State in the same season.
111,156 people were in attendance for Saturday's game at Michigan Stadium.
Jim Harbaugh is now 1-5 as a head coach against Ohio State, while Ryan Day is 1-1 as a head coach against Michigan.