There's a reason why many Ohio State fans don't fully enjoy a regular season win unless things go perfectly.
It's because they feared what happened on Saturday in Ann Arbor.
Ohio State's first 11 games of the season, for the most part, were a success. The Buckeyes did suffer a loss to Oregon in their second game of the season, which eliminated their margin for error for the rest of the year. But they responded to that by rattling off nine straight wins in which they defeated their opponents by an average margin of 30.3 points, often looking like the best offensive team in the country – statistically, they were going into the final week of the regular season – while showing substantial improvement on defense.
In their penultimate game of the regular season, it looked as though everything had come together. Ohio State dominated Michigan State, 56-7, by playing as well as it had played all season on both offense and defense. The Buckeyes moved up to No. 2 in the College Football Playoff rankings after that game, and had no shortage of believers that they were good enough to win it all.
But there had been red flags that popped up throughout the season, even in those wins, that left Ohio State fans with plenty of anxiety. The defense had been better, but still suspect, as it had given up 31 points on 477 yards against Purdue just two weeks ago. That came after back-to-back games against Penn State and Nebraska in which Ohio State's offense looked stoppable, as the Buckeyes struggled to finish off drives in the red zone and scored just two offensive touchdowns in each of those games.
All of those reasons for anxiety came home to roost in Saturday's regular season finale, in which Michigan handed Ohio State a 42-27 defeat that not only ended the Buckeyes' eight-game winning streak in The Game, but also knocked them out of the Big Ten Championship Game and College Football Playoff contention.
There was always reason to fear that Ohio State's inconsistent defense would prevent the Buckeyes from winning a big game, though the way their defense struggled against Michigan came as a surprise based on the way they had played for the past nine games. After allowing no more than 113 rushing yards in any of those games, Ohio State allowed the Wolverines to run for a whopping 297 yards and six touchdowns on 7.2 yards per carry on Saturday, which can certainly be pointed to as the biggest reason why the Buckeyes lost.
That was one of the big things that cost Ohio State in its loss to Oregon, however, as the Buckeyes gave up 269 rushing yards and three touchdowns in that game. While it had looked as though the Buckeyes had figured things out with their run defense since then, Saturday looked a lot like what happened against the Ducks. Ohio State got both outschemed and outplayed as the Wolverines dominated in the trenches and the Buckeyes missed tackles, were too often out of position and simply failed to stop Michigan from moving the chains on a consistent basis.
Even though Michigan's offense had been run-heavy all year and Ohio State prepared with that in mind, the Buckeyes still couldn't stop the Wolverines on the ground.
"They just stayed on schedule the whole time and that was the recipe I'm sure they had to win the game, and we weren't able to stop that, and that's really very disappointing," Ryan Day said after the game. "Especially when you know they're gonna do it. So gotta take a hard look and figure out why that was."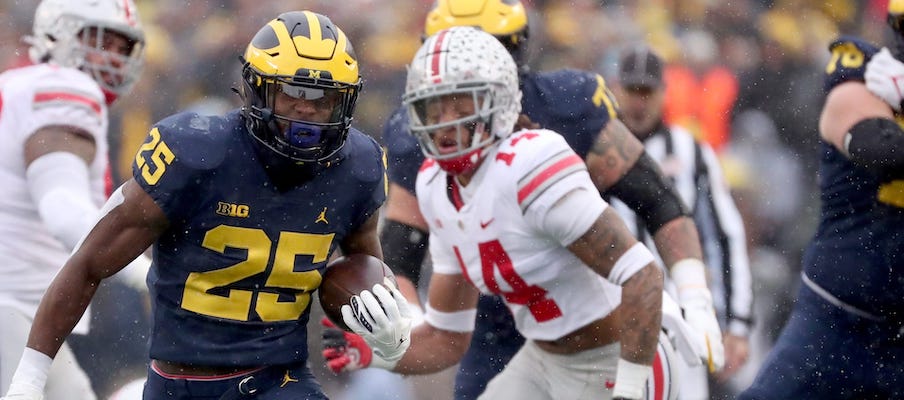 Ohio State's offense, though, also looked like the unit that struggled in nine-point wins over Penn State and Nebraska rather than the one that scored more than 50 points in each of the other seven of its last nine games. Just like against the Nittany Lions and Cornhuskers, the Buckeyes struggled to run the ball – gaining just 64 yards on 2.1 yards per carry, both season-lows, on the ground – and to finish drives in the red zone, settling for field goals on two of their four inside the 20-yard line.
Another reason why Ohio State struggled to finish drives in those games was untimely penalties, and that was a big problem once again on Saturday, as the Buckeyes struggled to handle the road environment and committed 10 penalties – seven of which came on offense and five of which were false starts.
"There was some penalties, and that was really frustrating, because that got us off-schedule on offense. And really, when you look at the games we've struggled, that's what's got us off-schedule," Day said. "I think when you throw that much (49 attempts), you're gonna put yourself at risk, and I felt like we had to down the stretch, because we weren't really getting much in the run game."
Those issues were compounded by Ohio State having what it might have been its worst game of the season in pass protection, as Michigan recorded four sacks – three by Aidan Hutchinson – and put as much pressure on Stroud as he had faced all season. Stroud still managed to complete 34 of his 49 passing attempts for 394 yards and two touchdowns, but those four sacks all led to drives ending without points.
Ohio State's defensive line, meanwhile, recorded zero sacks against Michigan – marking the second time in three weeks and the third time all season that the Buckeyes didn't record a single sack, which also happened in the loss to Oregon and against Purdue.
The Buckeyes won the turnover battle in Saturday's game, as Bryson Shaw's first-quarter interception was the only takeaway of the day by either team. But everything else that went wrong for the Buckeyes in Ann Arbor led to a 15-point loss.
"When you take care of the football, you give yourself a chance. When you play clean, don't have penalties, you give yourself a chance. When you run the ball and stop the run, you give yourself a chance. Not all those things happened today," Day said. "And when that happens and they're controlling the game and controlling the ball and we're not getting stops on defense, all those things add up. And certainly didn't play our best football on offense, but when you feel like they're controlling the game on the other side of the ball, it gets frustrating."
After its most impressive win of the season just one week before against Michigan State, Saturday's loss in a game Ohio State famously prepares for all year couldn't have been a bigger letdown. But it was the confirmation of a fear that many Ohio State fans had: If the offensive issues and defensive issues that had popped up at different times in the year both recurred on the same day, Ohio State would suffer a loss that it would ruin its season.
"You make progress and you keep growing, but any week, if you don't show up and do it, this is what happens," Day said. "Especially this game, if you don't bring it in all areas, you can get exposed, and just like you see week in and week out, this is what can happen if you don't play your best game, and we did not play our best game today. So this is what you get."