Before each Ohio State game, Eleven Warriors catches up with a media member who covers the opposing team to get his or her perspective on the Buckeyes' upcoming opponent.

INDIANA HOOSIERS
2-4 (0-3 B1G)
ROSTER / SCHEDULE
---
7:30 P.M. – SATURDAY, OCT. 23
MEMORIAL STADIUM
BLOOMINGTON, INDIANA
---
ABC
WatchESPN
Ahead of this week's matchup, we're joined by Zach Osterman of the Indy Star, who's regularly joined us for Across The Field ahead of Ohio State's annual matchups with Indiana.
Going into this year's game, the main theme surrounding the Hoosiers is disappointment, as they've been unable to sustain the momentum they appeared to have coming out of last season. While the Hoosiers finished 12th in the final AP Top 25 of 2020, they're just 2-4 so far this season.
Those losses have all come against teams ranked in the top 11 in the current AP Top 25 – Iowa, Cincinnati, Penn State and most recently Michigan State – but as Osterman explains in our Q&A, the Hoosiers have struggled mightily on the offensive side of the ball, leading to their lack of success so far.
After a 6-2 season in 2020, Indiana is just 2-4 this year. What's kept this team from recapturing the magic of last year?
Osterman: The short answer is offense, and the long answer is just a more detailed version of the short answer. Indiana kind of sacrificed efficiency for explosiveness last season, and it worked well enough to win them six games. We wondered how much of that was the DNA of this group and how much was simply forced on scheme and gameplan by COVID concerns. But the biggest question this offseason was could they recapture that efficiency, or retain their explosiveness if not. And for a variety of reasons (one of which I think we're about to discuss), the Hoosiers just haven't had enough of either. One offensive touchdown in three Big Ten games, albeit against three top-10 teams, just isn't gonna get it done obviously.
Since throwing for 491 yards against Ohio State last season, the Hoosiers have topped 300 passing yards only once. Why hasn't the passing offense been able to sustain that success, and should we expect to see Michael Penix Jr. or Jack Tuttle on Saturday?
Osterman: Penix's injury obviously contributed to that at the end of last season, and the reality is he's never really been able to recapture his best form for any sustained length of time (other than IU's win at Western Kentucky) so far this season. Against Iowa, Cincinnati and Penn State, he looked uncomfortable to varying degrees, and Indiana couldn't find anything that consistently settled him into a rhythm and let him find his comfort zone. Stick that next to too many drops and inconsistent offensive line play, and here the Hoosiers are.
Tuttle has obviously only had one start this year, with Penix now hurt again (throwing-shoulder AC separation), so it's unfair to judge his performances too substantially yet. But while IU is being pretty cagey about Penix's status, my best guess is Tuttle is going to have to remain behind center for a little bit here, including this Saturday.
The Hoosiers rank near the bottom of the Big Ten in scoring defense, but held Michigan State to season lows of 20 points and 241 yards last weekend. How would you evaluate Indiana's defense right now?
Osterman: The defense is emphatically not the problem. The only thing Indiana could really be asking more of from its defense right now is turnovers. Everything else is really solid, even through some key injuries. The Hoosiers actually only allowed 13 points Saturday, as one of Michigan State's two touchdowns came on a pick-six, and the performance itself was similar to what IU turned in at Iowa.
With some exceptions – like any team, the Hoosiers can give up the occasional big play –Indiana has been really stout on defense this season, mixing odd fronts, changing coverages and deploying creative personnel and blitz packages to keep opponents off-schedule and off-balance. Their game plan against Cincinnati was outstanding until Micah McFadden was ejected, and by all rights they should've won IU the game last weekend. But there was a point Saturday when Tom Allen, reviewing his team's defensive performance, essentially said, "The only thing they didn't do is score." At this point, it almost feels like they have to if Indiana is going to win some of these games and get some control of its season back.
Most Ohio State fans will remember Ty Fryfogle from his big game against the Buckeyes last year, but who are some of the other Indiana players to watch in this game?
Osterman: Indiana has managed to reinvolve Peyton Hendershot in its offense. When he's on, he's one of the best receiving tight ends in the league. Other than that a lot of the big names worth discussing are on defense: Micah McFadden, Ryder Anderson (Ole Miss transfer), Cam Jones, Raheem Layne, Devon Matthews. Tiawan Mullen, who was an All-American corner last year, and Reese Taylor, another solid corner, are both questionable because of injuries. If they can contribute meaningfully, that will be a big boost for Indiana against a team with a receiver corps as accomplished as Ohio State's.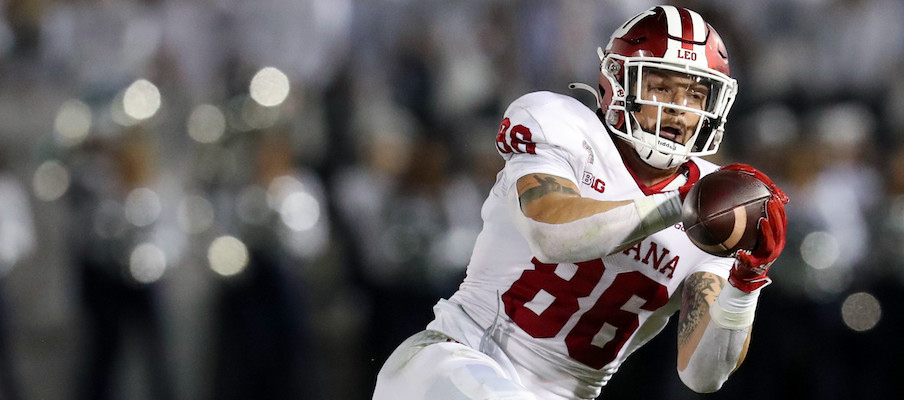 What's the level of excitement in Bloomington for hosting the Saturday night ABC game this week? What do you expect Saturday's environment to be like?
Osterman: It's a sellout and it's a Saturday night (I can't remember IU having this many night games in a season before), so I'd expect the atmosphere to be a good one. Obviously Ohio State often travels well here. There seemed to be a groundswell push from IU fans to not let OSU flood the stadium this time around, but obviously enthusiasm around this team has waned somewhat, so I don't know how reasonable that is. Either way I think the stadium and atmosphere should be fun, at least early.
Ohio State is favored to win this game by nearly three touchdowns. Can the Hoosiers push for an upset like they did last year, or will they be too overmatched this year?
Osterman: I just can't express a lot of confidence in Indiana upsetting anybody, even in a setting like the one we could potentially see Saturday, unless or until I see the Hoosiers score the ball more consistently. In every sense — red zone efficiency, ball security, down-and-distance management — IU just hasn't found anything that consistently works or keeps this offense healthy. Until the Hoosiers display some of that, I can't really pick an upset here. I could see this defense getting Ohio State off-schedule a little bit and keeping things competitive, but that's about the best IU can hope for unless or until its offense goes up multiple gears.