Mitch Rossi likely would have never played college football if not for his high school teammate Max Wray.
Going into the spring of his senior year of high school, Rossi hadn't been recruited to play football by any high-level colleges. That changed when Wray, a four-star offensive tackle recruit who ultimately signed with Ohio State in 2018, asked Rossi to accompany him on his unofficial visit to OSU in the spring of 2017.
Ohio State's recruiting staff watched Rossi's film from Franklin (Tennessee) High School when it found out Rossi would be traveling to Columbus with Wray, and the Buckeyes decided to offer him a spot on the team as a preferred walk-on. At the time, there was no expectation that Rossi's role with the team would ever amount to much more than playing on the scout team in practice.
"I remember, we sat down with (former assistant director of player personnel) Eron Hodges, and he basically said, 'Will you work hard and give us a good look in practice?' That's pretty much all that was expected," Rossi's father, Tom, told Eleven Warriors. "You're gonna go against Nick Bosa and Sam Hubbard and Dre'Mont Jones and you're gonna have to work hard in practice to give us a good look so we're ready for the game. Mitch was like, 'Yeah, I'll do it. I'll do it.'"
Just a few months later, Rossi – who said he was planning to go to Tennessee and play club rugby before landing the opportunity to play football at Ohio State – was a Buckeye. Four years later, Rossi's Ohio State career has exceeded everyone's expectations.
The fifth-year senior, who's listed as a tight end but often lines up as a fullback for the Buckeyes, got a moment in the spotlight on Saturday against Rutgers when he scored the first touchdown of his Ohio State career. With the Buckeyes facing 2nd-and-goal from the 1-yard line, Rossi lined up at fullback in a jumbo package and was left uncovered on a flat route, setting up C.J. Stroud to throw the ball his way for six points.
Who had @mitch_rossi5 scoring a TD early in the 2Q? pic.twitter.com/Ru76ZCPbiG

— Ohio State on BTN (@OhioStateOnBTN) October 2, 2021
For Rossi, who Ohio State placed on scholarship back in August, that served as a reward for all the hard work he's put in to get to this point.
"I was just glad that Coach Day trusted me enough to call the play in the game and moving forward, just continuing to earn that trust and being able to be called on in an important part of the game is awesome," Rossi said. "That's really what I strive to work for every day, be more in the mix."
Saturday might have been the first time that many Ohio State fans learned Rossi's name, but that touchdown was far from the only impact he's made for the Buckeyes this season. Offensively, Rossi has played 41 snaps and is graded by Pro Football Focus as Ohio State's best blocking tight end. He's also been a core player on three special teams units, lining up as a blocker on the punt, field goal and kickoff return teams.
Following Saturday's game, Ryan Day described Rossi as "one of the more reliable guys on our team."
"Mitch has done nothing but everything we've asked him to do," Day said. "He's a very tough young man. He works really, really hard. And he deserves everything that he's getting."
Offensive tackle Nicholas Petit-Frere described Rossi this week as "one of the hardest-working players that we have on our team."
"Not only is he such a good player on the field in terms of him doing his job and doing anything he can to help the team win, but off the field, he's probably one of the better glue guys that we have here," Petit-Frere said. "He's always someone that you can go to if you ever need anything, if you need to talk to someone, he's not that person to let things go by the wayside. He's very up front with people, he's very honest with people but he's also very caring and he's a good person."
Back at Big Ten Media Days, fellow tight end Jeremy Ruckert said Rossi's name without hesitation when asked who he thought was the most underrated player on the team.
"That's my dude," Ruckert said. "He does everything."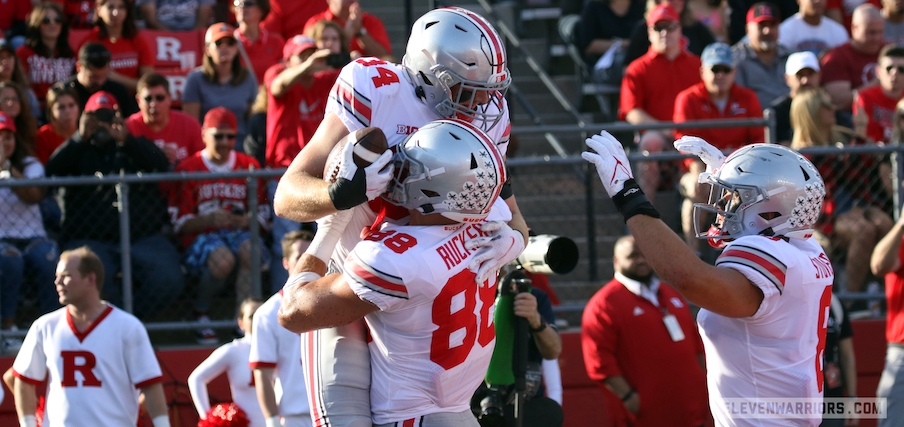 Life as a walk-on at Ohio State, or for any football player at Ohio State for that matter, isn't easy. Rossi, who began his Ohio State career as a running back and played just two total snaps in his first two seasons as a Buckeye, acknowledges there were plenty of times he texted his parents about how hard it was. But they always encouraged him to keep going, believing his hard work would pay off.
"I've always thought, in spite of the fact that there are so many amazing athletes that we recruit at the top level nationally … I still always felt that he had the football skills and the football knowledge and the athletic skills to compete at this level," Tom Rossi said. "Ever since he was five, he's been not just a good player but really the player, the player you have to scheme around. Other coaches are always aware of where he is and what he's doing, and I would say that he may not have the best 40-yard dash or the best combine numbers but when you see him play, he just makes football plays."
Despite his success at Franklin, where he had 77 tackles as a starting middle linebacker in his junior year and ran for 1,398 yards and 12 touchdowns as the starting running back as a senior, Rossi never garnered much attention as a recruit, in part because he didn't play varsity football as a freshman and was injured for half of his sophomore year. Playing for Ohio State, though, was a dream for both Rossi and his parents, who grew up in Ohio.
"In fact, you could look back at some of the old stuff when he was even a kid, and he would have an Ohio State jersey on," Tom Rossi said. "We live in territory where people are Bama fans, people are Auburn fans, people are Georgia fans, Ole Miss fans and Tennessee fans. So he took a lot of guff from his friends for being an Ohio State fan. But it was always his team."
Even though just becoming a Buckeye was a dream come true for Mitch Rossi, he says that actually being a Buckeye for the past four-plus years has "way exceeded" his expectations.
"I was just happy to get the opportunity to come here," Rossi said. "I could have chosen a lot of other paths, maybe a lot of easier routes, played sooner or just even been a normal college student. But I just wanted to do something that I would be proud of, that would make me a better person as a whole and make my parents proud."
When Rossi decided to become a Buckeye alongside Wray, who Rossi says is still his best friend even though Wray transferred to Colorado this offseason, few would have guessed that Rossi would be the member of that pair playing meaningful snaps for Ohio State's offense in 2021. What Rossi is achieving as a walk-on at Ohio State is rare, as he's currently the only former walk-on on scholarship with the Buckeyes and the only one who's seeing regular playing time on either offense or defense – though he's quick to say there are plenty of other walk-ons who also deserve recognition.
"There's a lot of other guys on the team who are very deserving," Rossi said. "Cade Kacherski, (Xavier) Johnson, (Chris) Booker, Sam Wiglusz, Ryan Batsch, all those guys are equally deserving."
Rossi said he would not have been able to return to Ohio State this season if he had not been awarded a scholarship, as he already graduated from the university in May and would have had to pay extra to attend graduate school without a scholarship. But Day and Kevin Wilson, Ohio State's offensive coordinator and tight ends coach, wanted to keep Rossi around.
"He's been in the program now for a while. He's gone through offseasons. He's got himself stronger. He's very intelligent. But he's really developed as a football player. Plays with a really great pad level. And he's got a unique skill set," Day said. "He's got good ball skills. He has good football IQ, understands how we're trying to attack defenses, he does a good job in the pass game and in the run game. So a lot of versatility there. And having a mature guy there who's been around, a little bit older guy, is helping us."
"Not only is he such a good player on the field in terms of him doing his job and doing anything he can to help the team win, but off the field, he's probably one of the better glue guys that we have here."– Nicholas Petit-Frere on Mitch Rossi
Rossi's focus as a Buckeye has never been on getting special recognition or attention. Considering how close he came to never playing any college football, he feels blessed just to be playing at all at his dream school. Knowing he's earned the trust of his coaches and teammates to play meaningful snaps and even have a touchdown pass thrown his way has made his opportunity to be a Buckeye sweeter, but he remains as committed as ever to playing whatever roles the coaches ask him to play.
"Just trying to prove myself," Rossi said. "It's good to be trusted and be thrown in there early in the game these days now. So it's exciting. Still trying to be good on special teams, all the units I've played on there, and whatever fullback/tight end role I seem to fit in is awesome."
That attitude has served Rossi well at Ohio State, and Day is proud to point to him as an example of a player getting what he's earned.
"When you come in here at Ohio State as a walk-on, you have to embrace a role," Day said. "Now there's also gonna be an opportunity along the way. You can see some other guys are getting on the field as walk-ons. So those opportunities will be there. But you have to earn it. Nothing's given. Whether you're a scholarship player or a walk-on player. And he's earned it. So hats off to him."