For the first time since 2014, Ohio State is entering the 2021 season without any returning captains.
All seven captains from last season – Tuf Borland, Jonathon Cooper, Wyatt Davis, Justin Fields, Justin Hilliard, Josh Myers and Shaun Wade – are now playing in the NFL, leaving the Buckeyes to replace their top leaders from their 2020 run to the national championship game. 
That said, there are still plenty of returning veterans on Ohio State's roster who are strong candidates to be among the Buckeyes' new team captains this year.
How many captains the Buckeyes will have in 2021 is uncertain. Ohio State has had at least seven captains for each of the last six years, but when Ryan Day became head coach in 2019, he indicated that Ohio State might not always have so many captains, saying it would depend on how strong the team's leadership is each year and how the voting unfolds.
Given recent history, though, it would be surprising if Ohio State had any fewer than four or five captains in 2021, while as many as seven or more is certainly possible. That likely depends on how many players have truly stepped up as leaders over the course of the spring and summer.
With that in mind, we take a look at 12 players who look like potential candidates for team captaincy this year, starting with the five who seem most likely to receive the honor for the 2021 season.
Top Candidates
Thayer Munford, LT
Munford could be penciled in as a captain as soon as he announced he would stay at Ohio State for his additional year of eligibility. Set to be a rare fourth-year starter at left tackle for the Buckeyes this season, Munford enters 2021 as Ohio State's most experienced player and perhaps its top leader.
Munford was one of two players, along with Zach Harrison, that Ryan Day singled out as a team leader this spring, and those two players have served as de facto player spokesmen for the Buckeyes ever since. They were the two players who met with the media after the first day of spring practice and the two players who spoke to reporters after the spring game, and they'll be two of the three players representing Ohio State at Big Ten Media Days.
It would be a huge surprise if Munford isn't among those named when Ohio State announces its captains this summer.
Zach Harrison, DE
If you weren't expecting Harrison to be next on this list, then you didn't read the last section. There's a reason why Harrison has been chosen to speak to the media more than any other player except Munford so far in 2021, and that's because he's become one of the team's top leaders in the eyes of his teammates and coaches, including Ryan Day.
"His work ethic's off the chart," Day said this spring. "He's leading, he's in front of things ... He just has a different look in his eye. There's several guys who are like that, but he sticks out for sure."
Based on the way everyone's been talking about Harrison, who's also been a leader off the field as a member of the Big Ten's Anti-Hate and Anti-Racism Coalition, the junior defensive end seems destined for captaincy this year.
Chris Olave, WR
Being the team's best player often leads to being selected as a captain, and Olave is the Buckeyes' biggest star entering the 2021 season. He'll represent Ohio State alongside Munford and Harrison in Indianapolis, and he's long held the trust of his teammates and coaches as someone who consistently works hard and makes plays on the field.
While Olave acknowledged last fall that he's "not really a big talker," he's already been a leader by example in the wide receiver room for years, and his decision to return for his senior season – when he potentially could have been a first-round NFL draft pick – demonstrates just how much he wants to finish his Ohio State career as a national champion.
It wouldn't have been a surprise if Olave had been named a captain last year, but it would be a shock if he isn't named a captain this year.
Haskell Garrett, DT
If I was setting the odds for which Ohio State player will wear the Block 0 jersey this year, Garrett would be the heavy favorite. After his remarkable comeback from a gunshot to his face to earn All-American honors in 2020, Garrett seems like an obvious choice to wear the No. 0, which was first awarded to Jonathon Cooper last year in honor of Ohio State legend Bill Willis and recognizes a player who has shown toughness, accountability and fight.
Garrett's emergence as a leader both on and off the field has been evident – along with becoming one of Ohio State's star defenders, he's spent time giving back to the community this offseason, starting the Beat All Odds Foundation and coaching a youth football team – and like Munford, he gave the Buckeyes a big boost for this season by opting to use his additional year of NCAA eligibility and return to Ohio State for a fifth year even though he would have been a sure-fire NFL draft pick.
There have been many recent examples of players becoming Ohio State captains after overcoming substantial adversity in their careers, and Garrett certainly fits that criteria.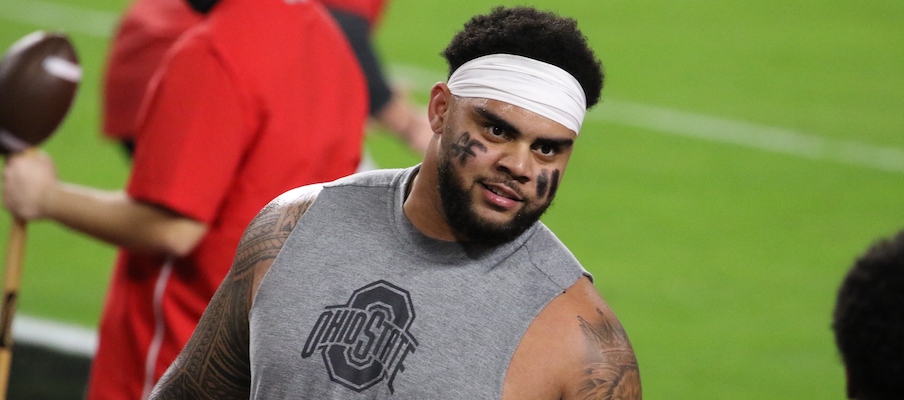 Jeremy Ruckert, TE
Ohio State hasn't had a tight end captain since Jeff Heuerman in 2014, but Ruckert seems like a strong candidate to end that drought.
Like Munford, Olave and Garrett, Ruckert chose to stay at Ohio State for one more year even though he could have potentially been an early-round NFL draft pick. He's now the clear-cut leader in the tight end room following Luke Farrell and Jake Hausmann's departures, and he enters 2021 as one of the Buckeyes' most proven players, having played 884 snaps over the past three seasons.
Ruckert is viewed as a leader not only in the tight end room but also one of the leaders for the offense and the entire team, which could lead to a top-five finish in captain voting.
Others to Watch
Marcus Williamson, CB/S
Whether Williamson will be a starter on the field this season remains uncertain, as Lathan Ransom and Cameron Martinez are both making a major push for playing time at slot cornerback, but he's expected to be a team leader in 2021 regardless of what his on-field role ends up being.
Another player who opted to use his extra year of eligibility from the NCAA to return for a fifth season as a Buckeye, Williamson is now the longest-tenured member of Ohio State's secondary and one who's held in high regard throughout the Woody Hayes Athletic Center for his commitment and character. Although he's had his share of injury setbacks throughout his career, Williamson has stayed the course and continued to give his best to the team.
It shouldn't come as a surprise if Williamson ends up being named a captain for his final season as a Buckeye.
Nicholas Petit-Frere, RT
Ohio State had two captains on the offensive line last year, and it's certainly possible that could happen again this year, with Petit-Frere being a candidate to join Munford in captaincy.
Now entering his fourth year with the Buckeyes and his second year as the starting right tackle, Petit-Frere will be expected to step up as a leader alongside Munford on the offensive line following the departures of Josh Myers and Wyatt Davis, and he's another player who's drawn consistent praise from his coaches for his work ethic and character. Going into what could be his final season at Ohio State, he should be well within the captains conversation.
Tyreke Smith, DE
Smith's chances of being named a captain this season could be hurt by being in the same position group as Harrison and Garrett, but not necessarily. 
Ohio State had three wide receiver captains in 2018 and actually named four defensive linemen as captains in 2017, so if his coaches and teammates believe Smith is deserving of captaincy this year, he could join Garrett and Harrison in receiving that honor.
A fourth-year Buckeye who's been a vocal presence both on and off the field already in his career, Smith has the characteristics of a captain as a senior entering his second year as a starting defensive end.
Master Teague III, RB
The veteran leader in the running back room, Teague is another Buckeye entering his fourth year who's long looked like a potential future captain.
Teague has impressed coaches with his work ethic on the field, particularly last year, when he made it back for the start of the season despite suffering an Achilles injury on the first day of spring practice. He's also known for being a positive influence in the community, finding various ways to give back, such as last year when he filmed a video reading to elementary school children; he was named to the watch list last year for the Wuerffel Trophy, which honors a college football player for outstanding community service.
Like Williamson, Teague is facing competition for his starting job going into the 2021 season, but he'll be a team leader regardless of how carries are split up in the backfield.
Sevyn Banks, CB
Entering the 2021 season with plenty of hype, Banks is expected to be the on-field leader of Ohio State's secondary this year as its No. 1 cornerback, and that could thrust him into the captaincy conversation as well.
Following the departure of Shaun Wade from last season, the door is wide open for new leaders to emerge in the defensive backfield, and as a fourth-year Buckeye with a full year of starting experience under his belt, Banks is a natural candidate to emerge as a voice others will follow on the back end of the defense.
At least one defensive back has been an Ohio State captain in seven of the last eight years, and if not Williamson, Banks could be another candidate to continue that trend.
Teradja Mitchell, LB
Linebacker is another position that typically produces captains at Ohio State; at least one linebacker has been a captain for each of the last seven consecutive years.
That streak could come to an end this year, since Ohio State doesn't have any returning starters at linebacker, but Mitchell could be a dark horse candidate to keep the streak going. The projected starter at weakside linebacker, Mitchell is one of the most outgoing personalities on the team and has become a player teammates gravitate around even though he's only seen limited playing time in his first three years as a Buckeye.
Regardless of whether there's a captain at the position, Ohio State needs a new leader to emerge in its linebacker corps, and Mitchell could be that guy.
Harry Miller, C/G
Miller has certainly been a leader for the Buckeyes in the classroom, holding a 4.0 grade-point average through his first two years as an Ohio State student. He's also made an impact in the community, most recently using his name, image and likeness to sell apparel with 100% of profits going to his nonprofit, Mission 4 Nicaragua.
On the field, he's expected to be the leader of this year's interior offensive line, either at center or left guard after starting at left guard last season. And that's another position group that has routinely produced Ohio State captains; two interior offensive linemen were captains last year, while Billy Price (2016-17), Pat Elflein (2016) and Jacoby Boren (2015) were other recent captains at center or guard.
Miller might be more likely to be a captain in 2022, when Munford will be gone from the offensive line and Petit-Frere could be too, but as highly as Ohio State's coaches have talked about Miller since he's arrived on campus, it wouldn't be shocking if he's a captain as a junior.