There weren't many easy choices in this year's Ohio State football team draft.
Just as we have in each of the past two preseasons, Eleven Warriors' Dan Hope and Colin Hass-Hill went head-to-head to draft dueling lineups from the Ohio State football roster, with the objective of constructing the best possible lineups for a hypothetical game against each other right now.
Unlike in 2019 and 2020, when Justin Fields was the obvious No. 1 overall pick both years, the top of the board this year was less clear-cut – though we ultimately both agreed on who we would have taken with the top pick – while there are also many positions where it remains unclear who Ohio State's top players will actually be this season.
Without knowing how each other's boards stacked up, though, Colin and Dan picked 22 players each – 11 on offense and 11 on defense – to build full lineups on both sides of the ball.
Colin won the coin flip for the No. 1 overall pick, after which we alternated selections – two at a time, beginning with the second pick, as the snake-format draft order reversed each round – until we had both filled our rosters.
Each writer was required to select one quarterback, five skill-position players (running backs, wide receivers or tight ends) and five offensive linemen on offense, and to draft four defensive linemen, two linebackers, three defensive backs and two additional linebackers or defensive backs to round out their lineups.
You can hear the draft unfold as it happened and our full analysis of each pick on this week's episode of Real Pod Wednesdays. Below, you'll find brief analysis of each selection written by the writer who drafted each player, followed by each of our cases for why each of our teams could win this hypothetical matchup, after which you'll be able to vote for whose team you think would win.
The Selections
1. Thayer Munford, LT (Colin)
The last two years, the pick was obvious – Justin Fields, duh – but I considered six different players with this year's No. 1 overall selection before settling on a potential All-American left tackle in Thayer Munford as the perfect guy to build everything around.
2. Haskell Garrett, DT (Dan)
3. Jeremy Ruckert, TE (Dan)
Garrett is the only truly established star on Ohio State's defense and by far its most proven defensive tackle, so I didn't want to miss out on him. And while taking a tight end with the No. 3 overall pick might be an unconventional move, the lack of proven depth behind Ruckert makes him one of the most valuable players on this year's team.
4. Chris Olave, WR (Colin)
5. Nicholas Petit-Frere, RT (Colin)
I wanted to make sure to grab either Olave or Wilson, and I went with Olave because he showed last season when he missed time exactly what type of a difference he can make by being in a lineup. Next, I went with Petit-Frere to give me the two best offensive linemen on the team – and it doesn't hurt that they're both tackles.
6. Garrett Wilson, WR (Dan)
7. Zach Harrison, DE (Dan)
With Olave already off the board, I wasn't going to risk missing out on both of Ohio State's superstar wide receivers. And although taking Harrison with a top-10 pick proved to be a reach last year, I'm betting on the third-year defensive end actually having a breakout season this year and becoming one of college football's top pass-rushers.
8. Sevyn Banks, CB (Colin)
9. Paris Johnson Jr., G/T (Colin)
With the eight pick I made a call to grab Banks, who I view as the surest thing at cornerback, which doesn't have many other great options. Then I snagged Johnson who'll be my right guard. I love his ability, of course, but I also wanted to remove another offensive tackle from Dan's board while strengthening my line.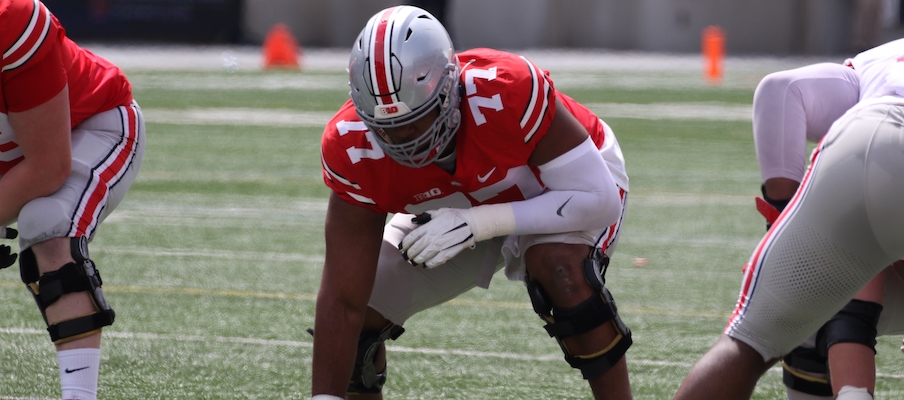 10. Josh Proctor, S (Dan)
11. Lathan Ransom, S/CB (Dan)
After Colin took Banks off the board, I decided to double up on defensive backs here. Proctor is the Buckeyes' best deep safety and a potential star on the back end if he can become more consistent, while I'm also expecting a breakout season from Ransom, who will start at slot cornerback but also gives my defense the flexibility to play with two deep safeties as warranted.
12. Jack Sawyer, DE (Colin)
13. Teradja Mitchell, LB (Colin)
I'm all-in on Sawyer, so while fearing Dan might have his eyes on him, I reached for him with the 12th overall selection. Yes, this is high for a true freshman, but I think the Pickerington product is, as the kids say, built different. Mitchell is the my pick to be this team's best linebacker, so I was more than comfortable to land him here.
14. Cameron Brown, CB (Dan)
15. Miyan Williams, RB (Dan)
Because there are lingering questions about Ohio State's secondary depth, I decided to triple up on defensive backs and draft Brown, who will likely start opposite Banks if fully recovered from last season's Achilles injury. Williams is my top pick to be Ohio State's top running back this season, so I decided to pull the trigger here rather than risk losing him to Colin.
16. C.J. Stroud, QB (Colin)
17. Jaxon Smith-Njigba, WR (Colin)
It's quarterback time. I couldn't wait any longer to snag Stroud, who I expect to be the Day 1 starter for the Buckeyes. I thought about waiting and taking whichever of the C.J. Stroud-Kyle McCord duo fell to me, but I like Stroud enough to make the move now. Smith-Njigba fell this far because of Ohio State's ridiculous wide receiver depth. I couldn't wait any longer, though, and made what could be a value pick 
18. Harry Miller, C/G (Dan)
19. Tyreke Smith, DE (Dan)
I couldn't go any longer without drafting an offensive lineman, so I took Miller to ensure I'd have at least one offensive lineman with starting experience. Smith felt like a steal at the 19th pick, so I couldn't pass up the opportunity to pair him with Harrison, giving my team both of the Buckeyes' projected starting defensive ends this year.
20. Taron Vincent, DT (Colin)
21. Julian Fleming, WR (Colin)
I was worried about Dan pairing Vincent with Garrett to give him what I believe will be Ohio State's top two defensive tackles, so I made sure to take him with the 20th pick. In Fleming, I get a third receiver to go with Olave and Smith-Njigba, creating a dynamic trio for Stroud.
22. Luke Wypler, C/G (Dan)
23. Ronnie Hickman, BLT (Dan)
I believe Wypler is the frontrunner to be Ohio State's fifth starting offensive lineman this season, so I chose to pair him up with Miller on the interior offensive line – likely with Wypler at center and Miller at guard, though they could both play either spot. Hickman's flown a bit under the radar this offseason, but he could be the starter at bullet, and he gives my defense yet another versatile piece who can both cover deep and make plays in the box.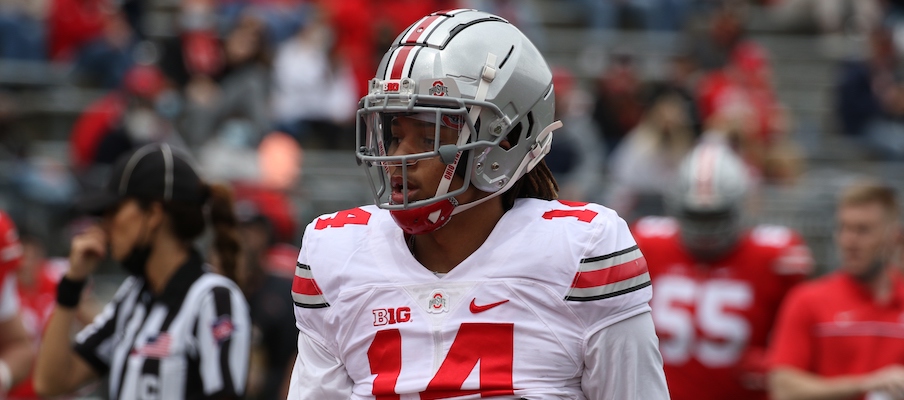 24. Matthew Jones, G/C (Colin)
25. J.T. Tuimoloau, DE (Colin)
I prioritized the offensive line early in the draft, so I want to make sure to finish the job. Jones, who could start this fall, will slot in as my team's center. I couldn't wait any longer on Tuimoloau either. Truth be told, I almost grabbed him earlier, but I liked the Vincent-Fleming combination enough to wait, and I'm lucky enough to have the five-star drop. Along with Sawyer, I'm both exceptionally young and exceptionally talented at defensive end.
26. Ryan Watts, CB (Dan)
27. Antwuan Jackson, DT (Dan)
By drafting Watts, I filled out my secondary with another cornerback who could potentially see significant playing time in the rotation this year. Jackson, meanwhile, looks like the frontrunner to start at nose tackle this year, potentially giving my team all four of Ohio State's starting defensive linemen for this upcoming season.
28. Dawand Jones, G/T (Colin)
29. Jerron Cage, DT (Colin)
I knew that adding Jones would be a major blow to Dan since it gave me the Buckeyes' top four offensive tackles, and it also rounded out of offensive line with five of the seven or eight best linemen on the team. A perfect pick, in my estimation. Cage is a solid run-stuffing nose tackle, which I needed given the youth and pass-rushing prowess alongside him.
30. Cody Simon, LB (Dan)
31. Marvin Harrison Jr., WR (Dan)
I could have gone with any of three or four different linebackers for my first pick at that position, but I opted to go with Simon, who was impressive running with the first-team defense this spring and who I believe will make an impact this season even if he doesn't start. Harrison also looked like a budding star this spring, so I wasn't going to wait any longer and risk the possibility of Colin drafting him as a fourth wide receiver.
32. Craig Young, BLT (Colin)
33. Kourt Williams, S (Colin)
At this point in the draft, I have the best linebacker (Mitchell) and cornerback (Banks) on the team yet nobody else in my back seven. To change that, I grabbed Young to play bullet and Williams who'll become my free safety. Their versatility will be huge.
34. Palaie Gaoteote, LB (Dan)
35. Emeka Egbuka, WR (Dan)
Gaoteote isn't officially on Ohio State's roster yet, but as long as he's cleared to play this season, he should be heavily in the mix at middle linebacker and could be an impact player for the defense. And I'm happy to round out my receiving corps with Egbuka, the five-star freshman who I'll line up in the slot with Wilson and Harrison manning the outside positions.
36. Dallas Gant, LB (Colin)
37. Marcus Williamson, CB/S (Colin)
I view the Mitchell-Gant-Simon-Gaoteote quartet as difficult to parse, so I was fine taking Mitchell and then whoever fell to me. In this case, it's Gant, who rounds out my linebacker corps. Williamson is another versatile piece in my back seven who can play several positions but will end up as a cornerback on my defense.
38. Kyle McCord, QB (Dan)
39. Enokk Vimahi, OT (Dan)
Although Stroud stayed on the board long enough that I strongly considered taking him, I was content to let Colin pick Stroud knowing I'd still be able to land McCord, who I believe has the arm talent to be a star. I was less pleased that Colin beat me to drafting all of the top four offensive tackles, leaving Vimahi as the only remaining offensive lineman who's played a snap at tackle for the Buckeyes.
40. TreVeyon Henderson, RB (Colin)
41. Cameron Martinez, CB (Colin)
I had to pick between Henderson and Master Teague here, knowing I'd upset one of the two more passionate fan clubs on the roster. In the end, I decided to pick Henderson who's young but perhaps the most talented tailback on the team. I considered Lejond Cavazos, among others, for my last defensive roster spot but went with Martinez who turned some heads in the spring.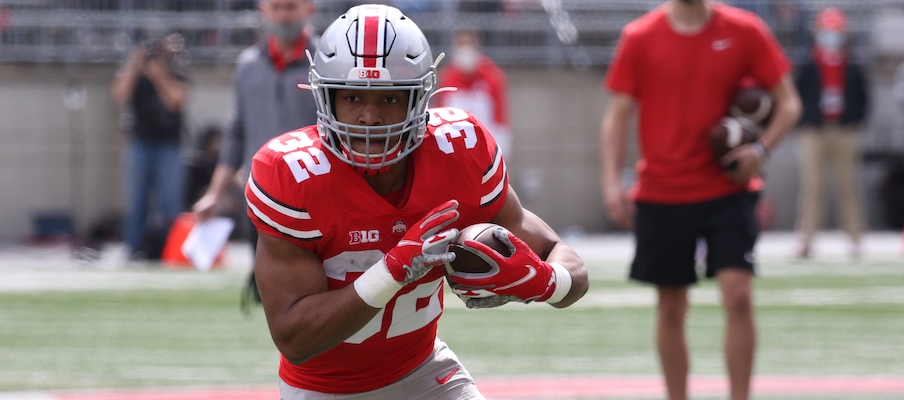 42. Josh Fryar, G (Dan)
43. Donovan Jackson, OT/G (Dan)
With two remaining spots to fill on my offensive line, the first pick was easy, as Fryar remains a candidate to start at guard for the Buckeyes this season. For my final pick, I decided to bet on the five-star upside of Jackson and play him at right tackle, even though he's likely to be a guard at Ohio State.
44. Cade Stover, TE (Colin)
I really wanted Ruckert because no other tight end on this roster is a proven commodity whatsoever. When Dan grabbed him, I knew I'd wait until the end to figure out my plan. Ultimately, I went with Stover, who I believe will enter the season as the backup tight end, over Gee Scott Jr., Mitch Rossi and Joe Royer.
Lineup Comparison
Dan's Team
Position
Colin's Team
OFFENSE
KYLE MCCORD (38)
QB
C.J. STROUD (16)
MIYAN WILLIAMS (15)
RB
TREVEYON HENDERSON (40)
GARRETT WILSON (6)
WR
CHRIS OLAVE (4)
MARVIN HARRISON JR. (30)
WR
JULIAN FLEMING (21)
EMEKA EGBUKA (35)
WR
JAXON SMITH-NJIGBA (17)
JEREMY RUCKERT (3)
TE
CADE STOVER (44)
ENOKK VIMAHI (39)
LT
THAYER MUNFORD (1)
HARRY MILLER (18)
LG
DAWAND JONES (28)
LUKE WYPLER (22)
C
MATTHEW JONES (24)
JOSH FRYAR (42)
RG
PARIS JOHNSON JR. (9)
DONOVAN JACKSON (43)
RT
NICHOLAS PETIT-FRERE (5)
DEFENSE
ZACH HARRISON (7)
DE
JACK SAWYER (12)
TYREKE SMITH (19)
DE
J.T. TUIMOLOAU (25)
HASKELL GARRETT (2)
DT
TARON VINCENT (20)
ANTWUAN JACKSON (27)
NT
JERRON CAGE (29)
CODY SIMON (30)
WLB
TERADJA MITCHELL (13)
PALAIE GAOTEOTE (34)
MLB
DALLAS GANT (36)
RONNIE HICKMAN (23)
BLT
CRAIG YOUNG (32)
CAMERON BROWN (14)
CB
SEVYN BANKS (8)
RYAN WATTS (26)
CB
MARCUS WILLIAMSON (37)
LATHAN RANSOM (11)
SCB
CAMERON MARTINEZ (41)
JOSH PROCTOR (10)
S
KOURT WILLIAMS (33)
The Case for Each Team
Colin
Wait. I get Ohio State's starting quarterback, the No. 1 incoming running back in the nation, a returning All-American wide receiver, two sophomore receivers who are potential future first-round picks, two of the best offensive tackles in college football, a human being nicknamed Big Thanos, at least one starting interior offensive lineman, three five-star defensive linemen, the Buckeyes' two projected starting linebackers, their No. 1 cornerback and a versatile bunch of defensive backs? That's my team?
Yep, I'm feeling pretty good about this game.
I don't see my team having many weaknesses. The passing game is a major strength with Stroud and Olave leading the way, and I dig what I can do on the ground with Henderson running behind this game's best offensive line. Defensively, I have to like the potential of Sawyer, Tuimoloau and Vincent getting pressure on McCord. Gant, Mitchell and Cage up the middle is as solid as it'll get given the guys on Ohio State's roster. My secondary is reliant on some young guys stepping up – namely Martinez and Williams – but if that's the weakest spot on my team, I'm more than OK with how the draft turned out.
Let's ride.
Dan
With all four projected starting defensive linemen and four of the first five defensive backs off the board, my defense should be stronger both up front and on the back end. Since both offenses are loaded with talent, I felt it was important to build the best possible defense, as a game between those two lineups could easily could down to who can make a key stop in the fourth quarter.
Offensively, I feel great about my weapons at the skill positions, which I believe will be able to take advantage of Colin's mostly inexperienced secondary. I'm not going to pretend I'm not worried about my inexperience at offensive tackle – allowing Colin to draft the top four offensive tackles, even with Dawand Jones falling to the 28th pick, was a blunder on my part – but the interior offensive line should be strong, allowing us to establish the run with Williams between the tackles, while Ruckert's presence at tight end will be a major asset in both the pass and run games.
As long as Vimahi and Jackson can hold their own against Sawyer and Tuimoloau on the edges, I expect this offense to put up a lot of points and the defense to be the one best equipped to slow down the other.
Cast Your Vote