As we continue to wait for the first actual Ohio State football game of the season, we decided to take a look at what an intrasquad Buckeyes vs. Buckeyes game could look like this fall.
Just as we did last summer, Eleven Warriors' Dan Hope and Colin Hass-Hill decided to conduct a draft from Ohio State's 2020 football roster, in which each of us were tasked with putting together the best possible lineups for a game this fall while selecting from the same pool of current Buckeyes.
The rules were simple: Each writer was allowed to draft one quarterback, one running back, two wide receivers, one tight end, one flex player (wide receiver/tight end/running back) and five offensive linemen to build their starting 11 on offense, and four defensive linemen, three linebackers and four defensive backs to form their defensive lineups.
Dan won the coin flip this year, giving him the No. 1 overall pick, while the rest of the 44-pick draft followed a snake format, with each selector making back-to-back choices to reflect the draft order reversing each round.
Because both writers took positional depth and who their opponent had selected or might select next into consideration when making their picks, the draft order should not simply be viewed as a ranking of the team's best players; some starters slid down the board because of the writers' confidence in their backups, while other players dropped simply because one team's roster was already full at their position.
That said, all selections were made with the premise of building the best possible lineup to win games during the 2020 season, with each writer making their choices based on which players they believe could be the Buckeyes' most valuable players during their actual season this fall.
Our selections, with analysis written by the writer who drafted each player, are followed by each of our cases for why we believe each of our teams can win this hypothetical matchup, after which you'll be able to vote for whose lineup is better.
The Selections
1. Dan: Justin Fields, QB
This pick needs no explanation. Either one of us would have drafted Fields, just as Colin did with the No. 1 overall pick last year; I was just lucky enough to get the top choice this time around. Fields is Ohio State's most important and valuable player, and it's not close.
2. Colin: Shaun Wade, CB
3. Colin: Wyatt Davis, RG
Not too complicated here. Wade was my easiest pick in the draft as Ohio State's best defensive player at a position with depth concerns, and Davis might be the nation's top interior offensive lineman. Yes, please.
4. Dan: Josh Myers, C
5. Dan: Zach Harrison, DE
There was no way I was going to allow Colin to draft both of Ohio State's superstars on the interior offensive line, so Myers was an easy choice at No. 4.
I strongly considered drafting Chris Olave with the fifth pick, because I believe he is one of the Buckeyes' top five players, but because I am confident in the depth at wide receiver, I decided to bet on the upside of Ohio State's potential next star pass-rusher by drafting Harrison.
6. Colin: Chris Olave, WR
7. Colin: Garrett Wilson, WR
If Dan's grabbing Fields, I'm drafting Ohio State's two top wide receivers. Dan might feel confident in the depth at wide receiver, which gave me pause too, but they're clearly the two surest options in Brian Hartline's room. Olave's already a star, and Wilson's well on his way.
8. Dan: Thayer Munford, LT
9. Dan: Tommy Togiai, DT
I was hoping to land either Olave or Wilson with the eighth pick, but I'm content to continue loading up in the trenches here. Pairing Munford with Myers gives my team two of the Buckeyes' three established veterans on the offensive line, while Togiai is the only clear-cut starter at defensive tackle.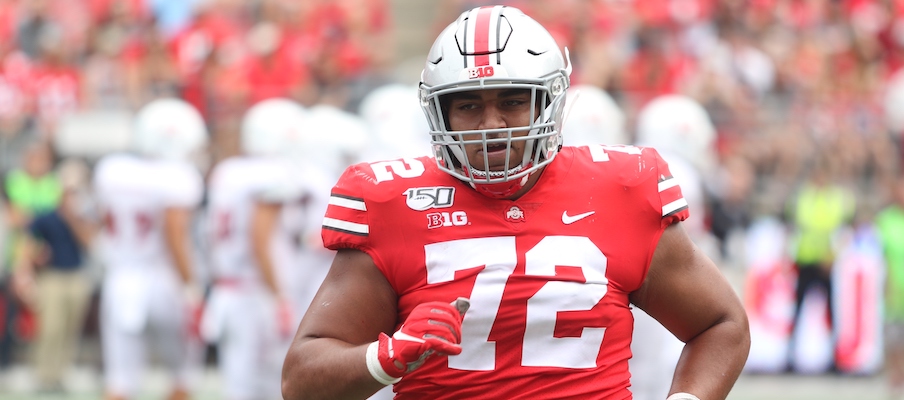 10. Colin: Pete Werner, LB
11. Colin: Harry Miller, LG
I need athletic linebackers to deal with a Fields-led offense, so I'm taking who I think is the most underrated player on Ohio State's defense: Werner. In Miller, I'm taking a bit of a risk since he hasn't started before, but who's ever bet on him and been wrong? I'm confident it's never happened.
12. Dan: Josh Proctor, S
13. Dan: Sevyn Banks, CB
Since Colin landed Wade with his first pick, I didn't want to miss out on landing the next two defensive backs on my board. Proctor and Banks both have the talent to emerge as the next first-round prospects in Ohio State's secondary, and I expect them to be the biggest breakout stars on the back end of the Buckeyes' defense this season.
14. Colin: Cameron Brown, CB
15. Colin: Tyreke Smith, DE
Dan grabbing two defensive backs forced me to spend my next pick on Brown, who claims he can run a 4.2-second 40-yard dash. I'll take it. And I'll also grab Smith, who could lead the Buckeyes in sacks this fall if he has his long-awaited breakout season.
16. Dan: Jeremy Ruckert, TE
17. Dan: Trey Sermon, RB
Without Olave and Wilson, my Ohio State offense might have to actually throw the ball to the tight end, so I took Ruckert to add the Buckeyes' most talented pass-catcher they've had at the position in years. Then I drafted Sermon, who I expect to be Ohio State's top running back this season, to pair up with Fields in the backfield.
18. Colin: Taron Vincent, DT
19. Colin: Baron Browning, LB
Defensive tackle depth is a low-key problem for Ohio State this season, so even though I haven't seen Vincent play in nearly two years, I felt like I needed to draft him here. Selecting Browning was easy for me, considering I'm at the frontlines of the Make Baron Browning A Pass-Rusher movement.
20. Dan: Jameson Williams, WR
21. Dan: Marcus Williamson, CB
I had considered drafting both of these players with my previous picks, so I was relieved when Colin didn't draft them at 18 and 19. After missing out on Olave and Wilson, I really didn't want to miss out on Williams, who appears in line to join them as one of Ohio State's top three receivers this year. Williamson is currently the only player lining up at slot cornerback who has ever played a snap for the Buckeyes, so I didn't want to lose him, either.
22. Colin: Jaxon Smith-Njigba, WR
23. Colin: Jonathon Cooper, DE
I wanted Williams, but I'll take Smith-Njigba – one of the guys I know Dan is highest on – to pair with Olave and Wilson. Cooper could be in line for a fifth-year breakthrough, so I liked the value here in the early 20s.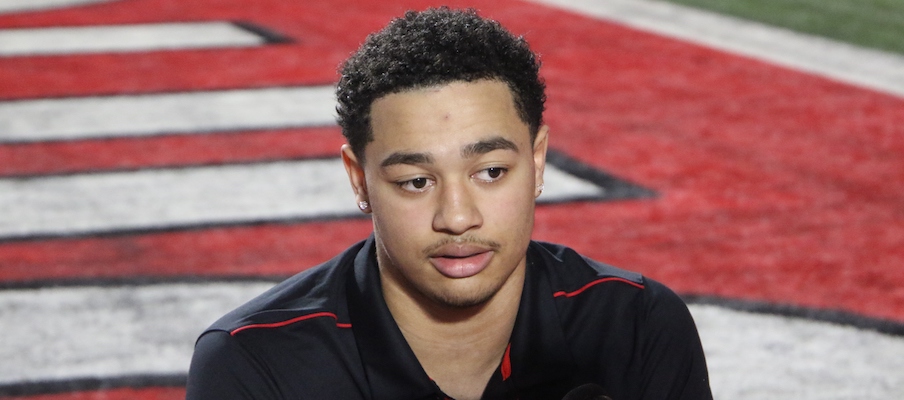 24. Dan: Nicholas Petit-Frere, RT
25. Dan: Tuf Borland, LB
As two of the only projected starters still on the board at this point, Petit-Frere and Borland stood out as the top choices here. Petit-Frere gives my team both of Ohio State's likely starting tackles to bookend my offensive line, while Borland gives my team a three-time captain to provide crucial leadership to my otherwise less experienced defense.
26. Colin: Matthew Jones, C/G
27. Colin: Antwuan Jackson, DT
By snagging Jones, I'm pairing up Ohio State's top backup interior lineman with its two starting guards. Jackson will pair up with Vincent to give me a pair of defensive tackles who were once top recruits but haven't made huge impacts yet as Buckeyes.
28. Dan: Dawand Jones, RG/OT
29. Dan: Tyreke Johnson, CB
Because Colin already took three of the top four interior offensive linemen on the board, I decided to draft Dawand Jones and move him to right guard, where he's been spotted lining up in some recent practice footage on Ohio State's social media accounts. Then I decided to draft Johnson to secure the last remaining non-freshman cornerback on the board and round out my secondary.
30. Colin: Dallas Gant, LB
31. Colin: Ronnie Hickman, CB/S
Since Dan already had two offensive tackles, I decided to wait and grab mine later. Him taking Dawand Jones completely threw me for a loop here. 
I decided to go with two players I wanted to help round out my defense – since I'm no longer worried about him stealing players at positions I haven't filled. Gant will pair up with Werner and Browning to give me a huge edge in athleticism at linebacker over Dan's team. Hickman will man the slot for me since Dan already took Williamson earlier.
32. Dan: Julian Fleming, WR
33. Dan: Teradja Mitchell, WLB
Fleming's five-star talent was too tantalizing to pass up at the 32nd pick, and landing the top-ranked wide receiver in the recruiting class of 2020 certainly helps soothe the pain of missing out on Olave and Wilson. Mitchell could be a breakout star in Ohio State's linebacker corps whenever he finally gets more playing time, so I'm happy to pair him up with Borland as my second inside linebacker.
34. Colin: Luke Farrell, TE
35. Colin: Paris Johnson Jr., OT
Viewing them both as impact tight ends, I didn't care if I got Farrell or Ruckert, so I planned to simply wait and get whichever one Dan didn't select. I'm more than fine with landing Farrell. Johnson, who's competing to start at right tackle this fall, will be my left tackle.
36. Dan: Tyler Friday, DE
37. Dan: Enokk Vimahi, G
Friday, who started four games for the Buckeyes last season, gets the nod over fellow third-year New Jersey native Javontae Jean-Baptiste as my second starting defensive end. Vimahi, who's a strong candidate for Ohio State's two-deep this year after impressing coaches with his rapid development as a freshman, slots in at left guard to round out my offensive line.
38. Colin: C.J. Stroud, QB
39. Colin: Master Teague, RB
Might as well grab my quarterback and running back now since Dan got his much earlier in this draft. Picking a quarterback, considering I basically haven't seen anybody on this roster throw passes before, borders on impossible. So I just went with Stroud, a high-end four-star quarterback. Teague was the easier selection since it was either him or Sermon, and Sermon was long gone.
40. Dan: Mookie Cooper, WR
41. Dan: Justin Hilliard, SLB
I considered a few different options to round out my offense; I thought about drafting Farrell before Colin did, in which case I would have had a two-tight end lineup rather than three receivers, while I also considered taking Demario McCall here as a hybrid running back/receiver. Ultimately, though, I decided I wanted a true slot receiver in Cooper (who also has a running back background), banking on the upside of a freshman who Ryan Day recently compared to Purdue star Rondale Moore.
My final pick at linebacker was a toss-up between Hilliard and K'Vaughan Pope, but I sided with Hilliard to add a second captain to my defense.
42. Colin: Marcus Hooker, S
43. Colin: Max Wray, OT
I have no qualms with rounding out my secondary by landing Hooker, who might be in line to play more snaps this fall than anyone realizes. Wray, a third-year former top-150 recruit, is my final pick since Dan already grabbed Dawand Jones.
44. Dan: Haskell Garrett, DT
Garrett likely would have come off the board earlier if he hadn't been injured in an August shooting, but he will be one of Ohio State's top four defensive tackles if he's healthy, and Ryan Day recently said the Buckeyes hope to have him back at practice "pretty soon." So I'm betting on Garrett making a full recovery and giving my team great value with the final pick as the Buckeyes' most experienced defensive tackle.
Lineup Comparison
Dan's Team
Position
Colin's Team
OFFENSE
JUSTIN FIELDS (1)
QB
C.J. STROUD (38)
TREY SERMON (17)
RB
MASTER TEAGUE (39)
JAMESON WILLIAMS (20)
OWR
CHRIS OLAVE (6)
JULIAN FLEMING (32)
OWR
JAXON SMITH-NJIGBA (22)
MOOKIE COOPER (40)
SWR
GARRETT WILSON (7)
JEREMY RUCKERT (16)
TE
LUKE FARRELL (34)
THAYER MUNFORD (8)
LT
PARIS JOHNSON JR. (35)
ENOKK VIMAHI (37)
LG
HARRY MILLER (11)
JOSH MYERS (4)
C
MATTHEW JONES (26)
DAWAND JONES (28)
RG
WYATT DAVIS (3)
NICHOLAS PETIT-FRERE (24)
RT
MAX WRAY (43)
DEFENSE
ZACH HARRISON (5)
DE
TYREKE SMITH (15)
TYLER FRIDAY (36)
DE
JONATHON COOPER (23)
TOMMY TOGIAI (9)
DT (NT)
ANTWUAN JACKSON (27)
HASKELL GARRETT (44)
DT (3T)
TARON VINCENT (18)
TERADJA MITCHELL (33)
WLB
BARON BROWNING (19)
TUF BORLAND (25)
MLB
DALLAS GANT (30)
JUSTIN HILLIARD (41)
SLB
PETE WERNER (10)
SEVYN BANKS (13)
OCB
SHAUN WADE (2)
TYREKE JOHNSON (29)
OCB
CAMERON BROWN (14)
MARCUS WILLIAMSON (21)
SCB
RONNIE HICKMAN (31)
JOSH PROCTOR (12)
S
MARCUS HOOKER (42)
The Case for Each Team
Dan
Justin Fields is on my team. Do I really need to say anything more? The returning Heisman Trophy finalist and Big Ten Offensive Player of the Year is the No. 1 reason why Ohio State is expected to contend for a national championship this season, and he gives the Buckeyes a huge advantage at quarterback in just about any matchup, including this one.
That said, I also drafted with the goal of having the stronger team in the trenches, and I believe I accomplished that as well, with three of the Buckeyes' top offensive linemen (Myers, Munford and Petit-Frere), their most talented pass-rusher (Harrison) and the strongest player on the team (Togiai).
Any advantage that Colin's team has at wide receiver will be mitigated by not having Fields – and Sermon and Ruckert will help mitigate that, too – while my team also has the advantage of having four upperclassmen in the secondary.
Colin
As great of a player as Justin Fields is, there's not an area outside of quarterback on either side of the ball where I see Dan having a clear advantage on my team – and at multiple positions, my squad has an undisputed edge.
Offensively, I made sure to surround first-year quarterback CJ Stroud with a wide receiver corps that features a star (Olave), a star in the making (Wilson) and a five-star recruit (Smith-Njigba) who will go against Dan's secondary that has numerous inexperienced players. Teague and Farrell are All-Big Ten-caliber players who will help a running game power by the nation's best interior lineman (Davis) and multiple highly-rated recruits – including Miller and Johnson – ready to step into starting roles as offensive linemen. Dan might think he has an edge in the trenches, but I strongly disagree.
To slow down Fields, I valued athleticism in my back seven. Pairing Wade and Brown together gives me a quality cornerback duo, and all three of my linebackers can cover and move fluidly, meaning I won't be at any matchup disadvantages. Rushing Browning, Smith, Vincent and Cooper will give my team a number of pass-rushing options to get after Fields, too.
Cast Your Vote