Craig Young and Ronnie Hickman – a pair of versatile chess pieces in the back seven of Ohio State's defense – each fit the profile of everything the coaches have ever said they seek in somebody at the bullet, even dating back to when former defensive coordinator Greg Mattison created the position out of thin air soon after getting hired in 2019.
Young has been an exceptionally athletic linebacker and Hickman has been an exceptionally physical safety. So, when Kerry Coombs and Ryan Day decided this offseason to actually implement the bullet into their defensive plans after attempting to do so two years ago and failing, their shifts to the hybrid linebacker/safety role made complete sense. They spent the spring at their new spot, each manned it for 50-plus snaps in the spring game and entered the summer knowing what's expected of them at bullet.
But there's another guy who'll be in the mix come this fall. Somebody who has yet to make his collegiate debut but who shouldn't go forgotten. A 6-foot-1, 215-pound redshirt freshman who has yet to play a snap in an Ohio State uniform.
Second-year Kourt Williams, who has been out of commission since tearing his ACL in October, will join Young and Hickman in the picture at bullet once healthy.
"While those two kids are different, and Kourt Williams would be the third piece of that puzzle, you're looking at different types of players," Coombs said a few weeks ago. "When they're on the field, you're gonna want to emphasize what they do best."
Williams possesses arguably the most intriguing mix of linebacker and safety skills of the three hybrid defenders.
At their cores, Young is a linebacker and Hickman is a safety. They were recruited to Ohio State as such. Williams is the only one of the three brought to Columbus with the expressed intention of becoming a bullet. 
Even a year ago, when the bullet clearly wasn't going to be a regular part of the Buckeyes' 2020 defense, the coaches were still penciling him in for that type of role. For that reason, he started his career with the defensive backs rather than the linebackers, as many had projected.
"I think he fits (the bullet) like a glove," Washington said last year. "His problem is he's too daggone fast – he's as fast as a safety. So he's really talented. On his film, he played a bullet-type position, and he's got contact courage. He'll go up and hit and he's no problem sticking his face in there, putting his body in there. But he's a really good athlete, man, and he can cover ground."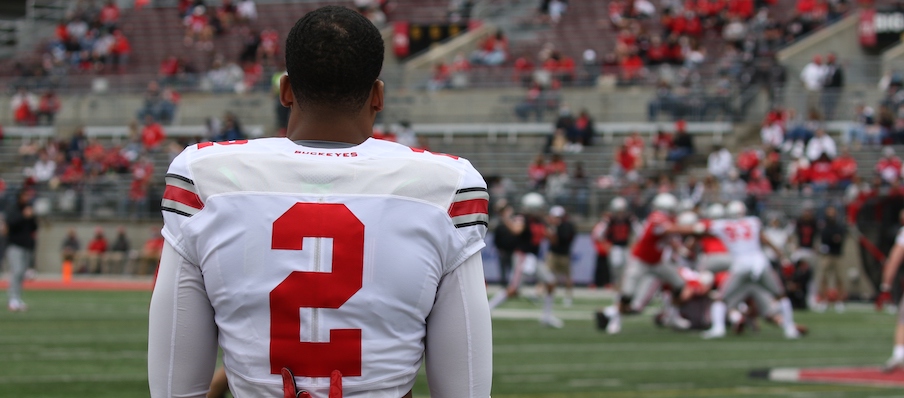 As the 2020 season creeped closer, it seemed possible that Williams – who enrolled early and took advantage of the time on campus – would secure a consistent spot on Ohio State's defense. He appeared to pick up momentum as the opener drew nearer. Day went as far as to say he would personally be "surprised" if Williams never becomes a captain for the Buckeyes. That's not something often said about a true freshman who hadn't ever suited up for the team, but compliments of the Californian haven't been foreign to the head coach.
On the day Williams signed his National Letter of Intent, Day said Ohio State bringing him in stemmed from the "same idea" Clemson had when it used former All-American Isaiah Simmons in a do-everything capacity. 
A high bar? Certainly. Yet it's also telling when a coach who doesn't typically go out of his way to talk in hyperbole about freshmen had no problem setting these types of expectations for Williams. Matt Barnes, the defensive backs coach, had similarly positive words to say about him last fall.
"I think Kourt's an outstanding player and one of the best young men that I've ever been around," he said in October.
Unfortunately for Williams, he couldn't help the Buckeyes in Year 1. Just a little over a week before the start of the 2020 season, he was ruled out for the year with a torn ACL.
The ill-timed injury prevented him from trying to aid a horrid pass defense, kept him out of winter workouts and forced him to spend spring camp rehabbing. Provided he doesn't experience any setbacks, he should be back to action in time for preseason camp. Even by the final practices of the spring, Day previously said, he thought Williams would be able to do some on-field activities.
"We have a good place, I think, for Kourt in what we're doing," Day said in late March.
As long as he stays on course, he should find himself right back in the mix at bullet, which Ohio State actually plans to make a constant in its defense this year.
Williams, since he hasn't taken the field snap for the Buckeyes, might be a forgotten name by some. By the fall, it's hard to imagine him remaining an unknown as this defense tries to rebound from an abysmal 2020 season.