Kourt Williams II turns his head to the right, staring at the red and blue felt-covered walls of San Antonio's Grand Hyatt Hotel, putting his index and middle fingers on his chin, almost a pose stricken straight from The Thinker.
He's lost in deep thought on this early January afternoon, which isn't something rare for the intelligent, well-spoken Ohio State commit – one who signed with the Buckeyes in December, graduated high school early and enrolled in college last month. 
In this moment, he's trying to explain in pinpoint fashion a mindset shift that he seems to have perfected.
How are you able to transform yourself into what you become on the field?
Before he answers that, let's fill you in on some background...
Williams is a 6-foot-1, 220-pound outside linebacker from powerhouse program St. John Bosco in Bellflower, California. He has speed and athleticism – he runs a 4.60 in the 40, 4.09 in the shuttle and has a vertical nearing 40 inches – that allows him to run with and cover receivers and tight ends. He was one of the Braves' top players in coverage with four passes defended, and he plays with a physicality that helped him rack up 61 tackles (44 solo) and five tackles-for-loss in 13 games.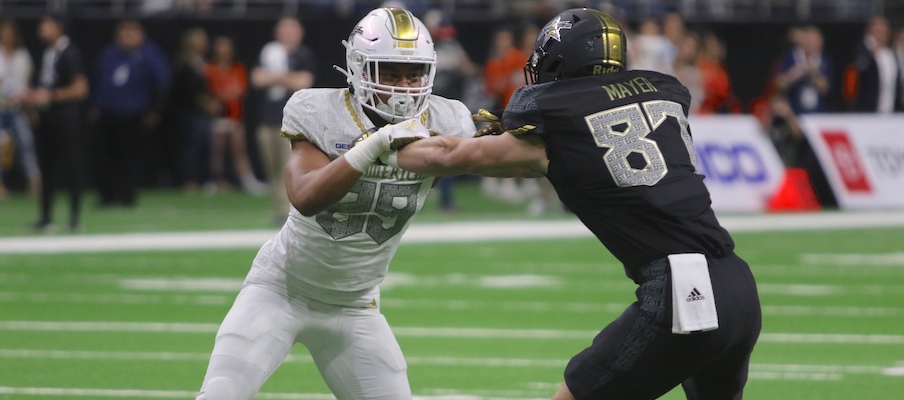 It's the versatility Williams brings that made him such an attractive option for the Buckeyes, his pass coverage ability as a safety and adeptness in the run game as a linebacker – one who will finish ranked near the top 10 in the country at the OLB position – a major reason the coaches were through the moon to land his commitment in late July. 
"He kind of has – he's a little bit different style than (Clemson linebacker/safety Isaiah) Simmons," Ryan Day said on Dec. 18. "Simmons is a little bit longer. Kourt is maybe a little bit more compact and bigger, but the same idea. You can use different things with them, and those are the kind of guys you want."
Nearly two months ago, on Dec. 14, Williams made a team-high six solo tackles in leading the Braves defense in a 49-28 win over Concord De La Salle, a victory that gave Bosco a state Open Division title and led to the program earning the status of undisputed national champions by both USA Today and MaxPreps. Two weeks before that, after trailing 28-5 in the first half, Williams and his teammates won a 39-34 come-from-behind game over Mater Dei to win the state championship, and Day took notice.
"To go and win the way they did in the state championship (is impressive), play the way that they played, he's playing at a high level, and he's got a lot of versatility. He can do a lot of things. So we're going to find different ways to get him on the field," Day said. 
Williams is a strong kid physically but even more so emotionally, and he has a reputation as (and this will sound cliché) being the tough, hard-nosed leader of the Braves' defense for the past two seasons – not afraid to pound out a roar from his chest on the field to align his teammates or let them know what play is coming. 
"I was one of the main leaders on my high school team. I think that's something I've been my whole life," Williams said. "I'm not really a follower."
When he leaves the turf is when another equally strong reputation comes out – a reputation of not saying a damn thing most of the time. 
"You're trying to inflict pain on other human beings. You can't really be a regular, like-minded person. You literally have to be something, or somebody, else."– Ohio State linebacker/safety Kourt Williams II
That's according to safety Lathan Ransom, a fellow Ohio State defensive signee, who was roommates with Williams at the All-American Bowl and one who Williams opened up to a bit more than he does with most people – a good start to their relationship as they prepare to share the same collegiate defensive backfield.
"He's a quiet dude so we've been talking a lot. He talks to me more than anybody else," Ransom said. "I mean, once he gets on that field he is a leader. He's a whole new person. He's loud. He's commanding, and he's leading the defense with what to do."
Williams agrees with Ransom…
"I feel like I'm not really a 'whoo-raw' kind of guy in front of the camera with all that flash," Williams said. "That's not really for me, but when something needs to be said, I feel like I'll be the one to say it. Like Lathan said, I'm not really – I'm not soft spoken – but I'm more on the quiet side. But when something needs to be said, I wanna say it."
So, that brings us back to that original question written above. How does he do it? How can Williams flip that switch? 
He wants to describe the mindset accurately, and that's why, moments after answering several questions with long-winded but insightful answers, he's back at it, trying to take you into the mind of a good, respectful kid who turns into a nasty you-know-what on the football field. For God's sakes, he was an All-American Bowl Man of the Year finalist, but less than 24 hours after that award ceremony, he's flying around on the field whipping and crashing his helmet and shoulder pads into opponents. 
He looks at that wall, then swivels his head back to the left, narrowing his eyes, looking up at the ceiling and pinching those same two fingers together before placing them by his right temple.
"Especially playing on defense, it's a whole different thing," Williams says, taking another long pause. "You're trying to inflict pain on other human beings. You can't really be a regular, like-minded person. You literally have to be something, or somebody, else."
At the same time he says those last few words, Williams turns those same fingers 90 degrees downward, turning an imaginary key into a keyhole and locking it. The same way he locks himself in as he steps between Bosco's lines, the same way he'll lock himself in at Ohio State and the same way he's been locking himself in since youth leagues.
"Football is, and I remember saying this when I was little, 'I can actually hit somebody and not get in trouble for it.' You know what I mean?" Williams said. "In school, I get in trouble for hitting somebody. In football, you can hit somebody as hard as you can and not get in trouble for it."
In fact, you get praised for it.
"Yeah," Williams said. "You can say I turn into somebody else in my mind. I don't really know what to call it, but when I'm off the field, I turn into something else in my head."
To be able to turn that off the moment he steps away from the field is just as impressive. 
That ability didn't happen out of nowhere. It's been like that for years, ever since growing up a California kid – one self-described as "if not the best, one of the best athletes, I guess, around my area, my circle" – with his mom and dad, Kourt and Monica, being the ones he heaps endless praise on for helping turn him into the man he is today. 
Mention his parents and his family, ask about those main influencers in his life, and that's when Williams will really turn into a talker. A masterful one, at that.
"My family, I can definitely say they're my backbone. I wanna do right by them for all the things they've done for me," Williams said. "I wanna reach a point where not only me and my family are straight and we're good, but my family in the future – whether it's my kids, grandkids, I'm thinking about that right now. So I don't really have time to get caught up with all the other things because I'm trying to do something.
"That's why I felt Ohio State was the best place for me to be able to do that in terms of getting my education, getting my degree and the football thing. If football doesn't work out – we're all gonna stop playing football eventually – we all need that thing to fall back on in terms of the academics. I guess you could say that's my motivation right there."
Those words might seem like just that … words.
But you quickly realize that's not Williams' style. Especially when you watch the video of Williams' signing day ceremony, and any doubt gets flushed. 
On Dec. 18, Williams and a group of teammates gathered in front of dozens of people on the St. John Bosco basketball floor. After being introduced by head coach Jason Negro, Williams stepped up to the dais.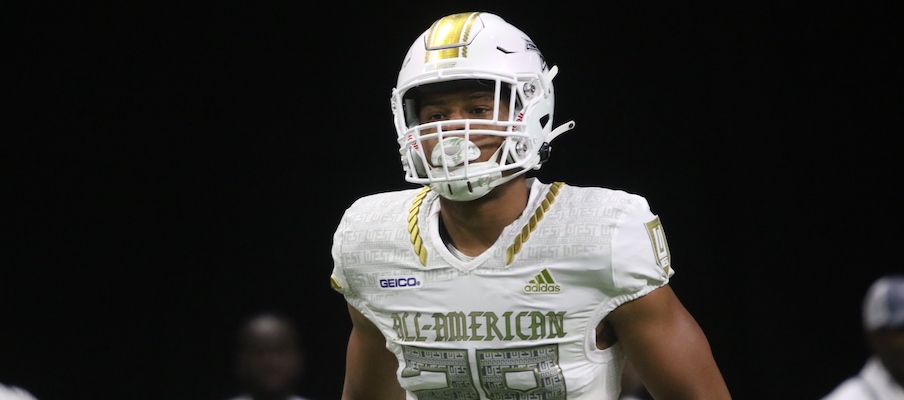 The first two minutes of Williams' speech are the ho-hum standard of any high school signing ceremony. He thanks everybody for coming out and thanks God, the Bosco community, his teachers, his coaches, his trainers, Ms. Jessie (Jessie Christensen, the seventh-year director of football operations at Bosco) and his teammates: "my brothers."
And then everything turns. He had breezed through it all with unemotional ease, and then he stops. Stares down at the piece of paper with his speech written on it. Thirteen seconds and one deep breath later, he struggles to get out the words, "I wanna thank my family," before slamming his eyes shut and breaking down in tears.
He eventually works up the strength to thank his sisters, grandparents, aunts, uncles and cousins for their love and support. 
But then he gets to Monica and Kourt. 
"I wanna thank my parents. You are my true motivation," he says, tears spilling from his eyes and a grimace on his face as he gets through the moment. "Everything I do. Everything I do, is for you. All I wanna do is make you proud to call me your son. Everything I do is for you, and I love you. This is just the beginning. Mom and dad, college is on me."
It's all raw. It's emotional. It's gripping.
It's perfect. 
Watch that video, and maybe you'll be convinced this is a player with passion who knows where he came from, where he's going, what he still has to accomplish and who's driving him to be that. It would not be a bad bet to believe that in two years, three years or four years, Williams could truly end up being the key to the Buckeyes' defense. 
That's not just a beat writer saying that. It's the head coach of the program.
"Kourt, I'll be surprised if he's not a captain when he's here," Day said. "I've said that to he and his parents a million times. They're probably tired of hearing me say that."
Jeff Hafley was Williams' main recruiter, and he told Day that Williams could be special. That he could eventually become a captain. Day told Kourt, Kourt II and Monica that several times over the phone, but seeing Williams practice during championship week in December was truly impactful. 
"I think him seeing me in that realm, that was a big part of that. … In person, that was probably the first time I heard him say that," Williams said of Day calling him a future captain. "I've had a lot of conversations with Coach Day, and that's one big thing he stressed a lot to me is how impressed he was with me – just how I grew in high school and how I carried myself."
Those are some pretty high expectations for an 18-year-old to achieve. Does that add any weight to the extra standards he already has for himself? 
"It doesn't really add pressure," Williams said. "It just – I don't know – if anything it motivates you. Having a head coach say something like that about you, it's a big deal, and I don't take that lightly. So I'm gonna do everything I can when I get to Columbus to earn the respect of my teammates and my coaches, and if I do that, I think everything will fall into place."