Mathew Jones made it look simple. The relative lack of discussion surrounding him in early January speaks to the seamlessness with which he filled in at left guard.
The 6-foot-4, 310-pounder from the same high school in Brooklyn that produced Curtis Samuel – Erasmus Hall – hadn't ever started a game as a Buckeye in his first two-and-a-half years in the program. Though once a top-100 recruit, he remained behind interior linemen such as Wyatt Davis, Josh Myers, Harry Miller, Jonah Jackson and Michael Jordan on the depth chart throughout the first half of his career, biding his time as he waited for an opportunity he knew would come.
Jones' first start arrived in impromptu fashion when he filled in at left guard when the Buckeyes were missing several linemen due to a COVID-19 outbreak before their early December game at Michigan State. The 69-snap performance for which he graded out as a champion was supposed to be a one-off opportunity. 
Instead, Ohio State needed Jones for another spot start less than a month later. This time, the competition had ramped up. Instead of facing the Spartans, a positive coronavirus test for Miller ahead of the College Football Playoff meant they needed him to start at left guard against Clemson. Again, Jones earned champion honors from the coaching staff.
"I think Matt has done a great job, and that's huge," Myers said after the Sugar Bowl. "They haven't been two easy games, either. They've been really important games. So he's done a great job. And I think it says a lot. You've seen our team throughout this season miss people, people who would normally be starting, that just aren't there certain weeks. And I think what you've seen throughout our team is people who typically wouldn't be starting in a situation and understanding that they have to do what they have to do to help our team win the game."
Four days after Myers dished out those compliments to the interior lineman, there Jones was again in the starting lineup. Offensive line coach Greg Studrawa slotted him in at left guard again, giving him the starting nod even though Miller was cleared to play.
"It's a very different mindset when you're going into a game and you're a second-team guy that I think you're probably not going to play as compared to when you know you're going to start and you have no choice but to play, but to prepare, but to take the week just dead serious the whole time," Myers said. "I think that's been huge for Matt. He was in that situation, and he has no choice, know what I mean? He's there. He has to perform and he knows it, and that's what he's done. I think it speaks volumes to the character of our team."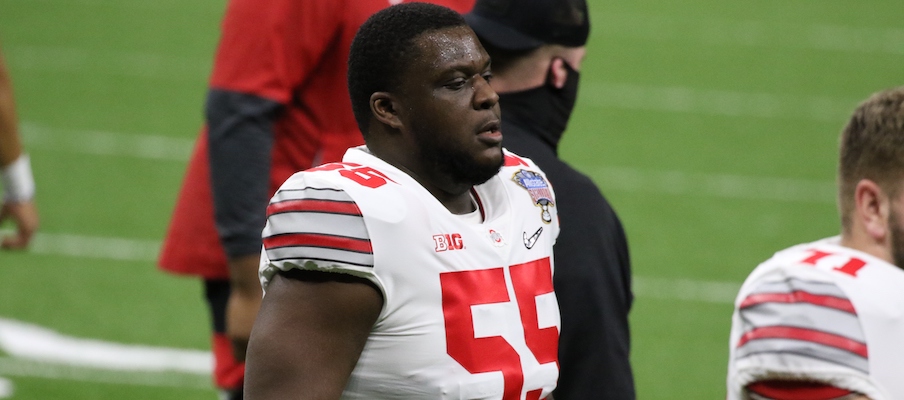 Those three starts were essentially auditions for what awaits.
Now a fourth-year junior, Jones has begun this offseason seeking to secure a full-time starting gig for the first time as a Buckeye. He served as a backup for more than two years, did well in a trio of spot starts and is now believed to be ready for more. 
Jones, who's in the midst of offseason workouts that began early last week, is viewed as a frontrunner to either start at right or left guard. 
The exits of Myers and Davis to pursue their NFL dreams mean the Buckeyes lost two key pieces from the inside of an offensive line that earned Joe Moore Award semifinalist honors in 2020. Many who follow the team expect Miller to bump inside to center, where he both played in high school – earning five-star status in the process – and lined up at in place of Myers against Michigan State last season. If that happens, Ohio State will have two new starting guards.
Paris Johnson and Dawand Jones are both primed to get long looks from the coaches, and Enokk Vimahi, Ryan Jacoby and Luke Wypler will try to force themselves into the mix, as well. Yet none of them have the experience that Jones does, and his physical gifts that helped him succeed in his snaps last season shouldn't go overlooked either.
Sometimes, given his low profile and the years that have passed since his recruitment, people forget how highly touted a prospect he once was. Alabama, Clemson, Georgia, Florida, LSU, Michigan, Penn State and Wisconsin were among those who offered him scholarships. He was both the 68th-ranked overall recruit and No. 1 center in the 2018 cycle. Ultimately, he ended up in Columbus.
Like most offensive linemen, Jones' impact wasn't immediate. But he was already on the right track to factor into the team's plans well before the 2020 season kicked off.
"Matt Jones opened my eyes a little bit," Studrawa said 10 months ago. "I think he's got a certain maturity level now that it might be time for him to play and start to contribute."
This fall, he has a chance to do more than contribute. If things go according to plan over the course of the next six-and-a-half months, Jones should start for Ohio State in 2021.