Ohio State has five former players at the Senior Bowl for the second year in a row.
Four members of this past season's Ohio State team, all of whom played in the defensive front seven, will actually be on the field this week in Mobile, Alabama, where practices in front of NFL coaches and scouts begin Tuesday. Former Buckeye defensive end Jonathon Cooper and linebackers Tuf Borland, Baron Browning and Justin Hilliard will all be looking to elevate their NFL draft stock as they go through one final week of practices and play one final game in Ohio State helmets.
Former Ohio State running back Trey Sermon is also in attendance, though he won't be able to practice or play due to the shoulder injury he suffered against Alabama.
Senior Bowl executive director Jim Nagy, who was previously an NFL scout before he became the Senior Bowl's head honcho, said the four defenders all earned the opportunity to play in this week's game, which will kick off at 2:30 p.m. Saturday and will be televised on NFL Network, because of the improvement they demonstrated in their senior seasons with the Buckeyes.
"All these Ohio State defenders, I'll lump them all into one group in a sense that they all got better," Nagy told Eleven Warriors. "They all made significant progress from junior tape to senior tape."
Cooper, a two-time captain at Ohio State, was selected to play in this year's Senior Bowl after redshirting in 2019 and returning for a fifth-year senior season in 2020 in which he was the Buckeyes' top defensive end. He led the Buckeyes with 3.5 sacks and all Ohio State defensive linemen with 24 total tackles in the eight-game 2020 season.
"Cooper looked looser, Cooper looked more explosive," Nagy said of his senior season. "He's such a hard-playing guy, he has versatility. He's an athletic guy on the edge, but he's also combative and powerful. He can be a three-down player. He's not just a run-downs guy. I think he adds pass-rush. So he was a good get. We know he's a captain, and it seems like he's a stud of a kid, so I know that just being around that Dolphins staff will really help him."
Borland, a three-time captain for the Buckeyes, also earned his Senior Bowl invitation by demonstrating more athleticism in his fifth-year senior season, in which he had 48 total tackles and 3.5 tackles for loss in seven games as Ohio State's starting middle linebacker.
"Tuf is another guy that's played so much football there, you usually don't see a late-career rise like Tuf had," Nagy said. "The questions we had on Tuf on junior tape was was he just a two-down player. We knew he would be a guy that's obviously a high-intangibles guy as a (three-time) captain for the Buckeyes, that speaks for itself. And obviously super instinctive and around the football. But what would he do on third down, and he looked better moving around (as a senior)." 
Athleticism has never been a concern for Browning, a five-star recruit who was ranked as the No. 1 linebacker in the high school class of 2017. Nagy and his Senior Bowl staff had questions about Browning as a football player entering his senior season, but they liked what they saw from him in 2020, when he became the Buckeyes' starting Sam linebacker and had 30 total tackles with three tackles for loss and two forced fumbles in seven games.
"Baron was a guy that we liked the athlete on junior tape, you were questioning how instinctive he was and how quickly he saw it and he reacted, but he's a guy that got better every week," Nagy said. "The (Ohio State) coaches did a great job with him. From the beginning of the year to late in the year, there was really steady progression with Baron.
"He showed this year he can play off the ball, and he's an explosive athlete. He can really close on things. And another guy that can be a three-down player because he's athletic enough to cover and he has some pass-rush. So he's the three-down type of linebacker that the league's looking to get."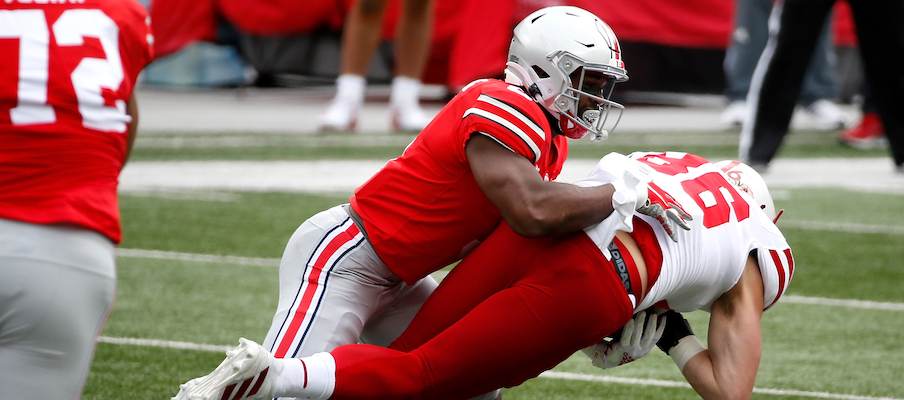 Hilliard earned a late invitation to the Senior Bowl after shining in Ohio State's final month of the season, as he recorded 25 total tackles with five tackles for loss, an interception and two fumble recoveries in just the Buckeyes' final three games of the year. While Hilliard was a backup for most of his injury-plagued, six-year Ohio State career, Nagy took notice of his performance down the stretch and saw an NFL-caliber linebacker.
"We always pride ourselves here of carrying these prospects through the entire way, and what we liked about Justin on his limited exposure his last year on tape was just that he is a twitchy athlete," Nagy said. "He's really twitched up. And his coverage stuff was good. He can play on the perimeter and make plays and close in space, so Justin, if he can stay healthy, that's gonna be the key thing. And how the teams assess his medical history.
"He's really another one of those guys that's the league looking to move to in terms of finding space 'backers. And then what helps him is all those snaps he's logged on special teams over his career. So sometimes you get in a situation with really good college players where they don't do a lot on fourth down, and as an NFL team, you're left to project it. But he's got so much good special teams tape that I know there's going to be one group of guys pounding the table across the league for Justin Hilliard, and it's gonna be those special teams coaches."
Ohio State's only offensive player at this year's Senior Bowl is Sermon, whose NFL draft stock has only improved since he accepted his invitation at the start of December, which was before his school-record 331 rushing yards against Northwestern and his 254 yards from scrimmage against Clemson.
While the dislocated SC joint he suffered in the national championship game will prevent him from taking the field this week, he'll still have the opportunity to meet with NFL coaches and scouts, and Nagy thought Sermon deserved to be at the Senior Bowl after watching his film from both Ohio State and Oklahoma.
"Sermon's ultra-talented," Nagy said. "It was great to see him get his run there late in the year. We didn't see a different player than we saw last year on Oklahoma tape, he just got an opportunity. So I thought that was maybe the best free-agent signing in college football this year was Ohio State getting Trey Sermon as a grad transfer. Just a really talented guy."
Ohio State could have had as many as 10 participants in this year's Senior Bowl, but five other Buckeyes who received invitations will not be attending. Offensive tackle Thayer Munford and defensive tackle Haskell Garrett both opted to use their additional year of eligibility and stay at Ohio State rather than enter the 2021 NFL draft, linebacker Pete Werner and defensive back Shaun Wade declined their invitations and center Josh Myers pulled out of the game due to a turf toe injury.
While Munford and Garrett could play in next year's Senior Bowl, Nagy is disappointed that the other Buckeyes – particularly Werner, as he thought the Senior Bowl "really set up perfectly for Pete to showcase his talent" – will not be participating.
Nagy believes Werner, a three-year starter at Ohio State who led the Buckeyes with 54 tackles in 2020, is "one of the most underrated linebackers in the class."
"He's a really fluid athlete. He can kind of play any linebacker spot, he's got really nice versatility that way. And especially playing off the ball, I don't see him as a guy that's gonna do much to affect the quarterback except as a blitzer, he's pretty good at that. As a pure rusher, that's not his game obviously, but him covering tight ends and having the speed and the movement to stick with some slots, he has a lot of value there."
Myers and Wade were both eligible for the Senior Bowl as fourth-year juniors because they graduated from Ohio State. While Nagy believes Wade will be a slot cornerback or safety in the NFL after struggling at outside cornerback this past season, he believes Myers has the ability to start at any interior offensive line position.
"Sometimes with centers, they're center-onlys, and they don't give you a lot of position flexibility, but I thought Josh could play both and play them at a starter level," Nagy said of Myers. "So I think Josh is going to be a guy that somebody drafts to start for them next year, whether that's at guard or at center. For the center position, he's strong, he can get to the second level. There's just a lot to like with Josh and how he plays the game and his demeanor. He's a tough kid, he gets after people, so we really liked him."
All five Buckeyes who are attending this week's Senior Bowl are part of the National Team, which is being coached by the Miami Dolphins. The National Team is scheduled to practice in front of NFL evaluators on Tuesday, Wednesday and Thursday, beginning at 12:30 p.m. each day.
ESPNU will have live broadcasts of Wednesday and Thursday's practices while NFL Network will have televised coverage of all three days of practice as well as Saturday's game.
Senior Bowl week started Tuesday morning with each participant going through weigh-ins to get their official height, weight, wingspan, arm length and hand width measurements.
Ohio State's 2021 Senior Bowl Weigh-In Results

| Player | Pos | Height | Weight | Wingspan | Arm Length | Hand Width |
| --- | --- | --- | --- | --- | --- | --- |
| TUF BORLAND | LB | 6'0 1/8" | 229 lbs | 77" | 31" | 10" |
| BARON BROWNING | LB | 6'3 1/8" | 241 lbs | 81" | 33" | 10" |
| JONATHON COOPER | DE | 6'2 3/4" | 254 lbs | 78 1/2" | 31 5/8" | 9 3/4" |
| JUSTIN HILLIARD | LB | 6'0 3/4" | 227 lbs | 76 1/8" | 30 3/4" | 9" |
| TREY SERMON | RB | 6'0 1/8" | 213 lbs | 79" | 32" | 9 1/2" |