Trey Sermon knew he was hurt after landing on his shoulder on the first play from scrimmage of the national championship game, but he didn't want to come off the field.
So Sermon stayed in the game for one more play, on which Justin Fields threw a pass in his direction. But before that play was even over, Sermon was grabbing his collarbone in pain with his left arm hanging at his side, forcing him to come out of the game.
Sermon dislocated his SC joint, which connects the collarbone to the sternum, when he was driven into the ground by multiple Alabama defenders at the end of a 2-yard run on that first play. As a result, Sermon didn't just have to check out of the game. Rather, he had to go to the hospital to have his collarbone popped back into place.
After he and his Ohio State teammates worked so hard to have an opportunity to play in the national championship game, that was tough for Sermon to not even get to be at the stadium as the Buckeyes' season came to an end with a 52-24 loss.
"It was extremely hard," Sermon told Eleven Warriors over the weekend. "As soon as that play happened, I kind of knew something was wrong, but I didn't want to come out of the game. So when it came to the point where I literally had to and I'm leaving the stadium, it hurt a lot, because we work so hard to get there and even myself, I put in a lot of work and I've prepared so much and not to be able to play the last game with my brothers, it definitely hurt a lot."
The good news for Sermon: He did not need surgery, and he expects to be ready to participate fully in Ohio State's pro day this spring as he now prepares to begin his NFL career.
After only getting to play in eight games in his lone season at Ohio State after joining the Buckeyes as a graduate transfer from Oklahoma, Sermon considered using his additional year of eligibility to stay with the Buckeyes for another year. Ultimately, he decided it was in his best interest to enter the 2021 NFL draft. 
"Leading up to the national championship, I definitely considered or thought about, 'What if I come back for another year?'" Sermon said. "But I felt like it was just best for me and my family for me to enter the draft now."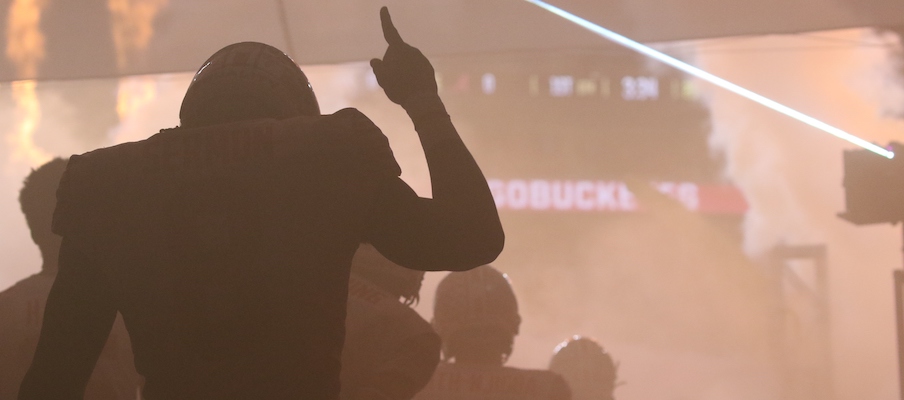 Sermon acknowledged it was "definitely frustrating" to only get to play a partial season due to the COVID-19 pandemic and the Big Ten's decision not to start the season until late October. Still, Sermon is grateful for the games he did get to play with the Buckeyes.
While it took Sermon some time to hit his stride, as he never topped 68 rushing yards and scored zero touchdowns in Ohio State's first four games of the season, he was spectacular in his final two games as a Buckeye, rushing for a school-record 331 yards in the Big Ten Championship Game against Northwestern and following that up with 254 yards from scrimmage in the College Football Playoff semifinal against Clemson.
Those performances surely made Sermon money as an NFL draft prospect, and Sermon said it "meant a lot to me to just be able to perform and help my team win."
"I'd probably have to say my favorite moment was the Northwestern game," Sermon said. "I think it was like the third or fourth quarter maybe, I'm not sure, but the offense, we were getting ready to take the field and the linemen, all of them, Josh (Myers), Wyatt (Davis), was like 'Man, let's try to get you 400.' And it just made me feel good, because those guys trust me and they believe in me, and that was just a big moment for me, something I'll never forget."
Sermon was only at Ohio State for about seven months, but he built strong bonds with his teammates and with running backs coach Tony Alford during that time, which made it tough for him to leave even though it was always his plan to spend just one season with the Buckeyes before going to the NFL.
"I was welcomed in from day one, and I've gotten really close with a lot of people in my short time being there," Sermon said. "The love that I have for my running back coach, Coach Alford, he's a great guy, and he helped me out along the way. And I definitely appreciate everything that the strength staff and just the program has done for me."
@treyera Needless to say, but Im extremely proud of you & appreciative of all youve given this program! Thank you for believing in us in helping in your development as a player & as a man Trey! Youre a special young man & great things are ahead for you. #Buckeyes #ToteNation https://t.co/jkgxIitFue

— Coach Tony Alford (@CoachTonyAlford) January 17, 2021
Sermon believes playing for two different schools and learning from two different coaching staffs have helped prepare him for the challenge he will face later this year when he has to learn another new offense in the NFL.
"One thing I know is that me being able to transfer to another school and kind of get in an offense and get in a feel for it, I got the offense down fairly quick," Sermon said. "I know it took me a little bit of time to get a feel for it, but I know that going to the next level, it shows that I can understand the offense and pick it up pretty quick."
Sermon will have the opportunity to learn from an NFL coaching staff this week by attending the Senior Bowl, where he'll be a part of the National Team coached by the Miami Dolphins. While he won't actually be able to play in the game due to his injury, the Senior Bowl is allowing him and other injured invitees to still be a part of this year's event since it will be one of their only opportunities leading up to the draft to meet with NFL coaches in person.
"It's unfortunate what happened to him in the national championship game, but he was one of the first guys to accept his invite," Senior Bowl executive director Jim Nagy told Eleven Warriors. "We're not trying to set a precedent here by bringing injured players to the game, but in a normal year, he'd have the combine to connect with teams and he'd have pro day to connect with teams, and without the combine and the pro days being completely up in the air right now, I wanted all these kids to benefit from what our week represents. So he's going to go through the week with the Dolphins staff and sit in meetings and be out at practice, and we're excited about Trey."
After spending this week in Mobile, Alabama, Sermon will make the short trip back to Pensacola, Florida, to continue his injury rehab and pro day training at one of EXOS' facilities. Right now, Sermon says he is "able to do just a little bit of training, but for the most part I'm just rehabbing." In about three to four weeks, though, Sermon believes he should be "good to go."
The date of Ohio State's pro day has not yet been finalized, but Sermon is planning to go through a full workout when that happens. He's hoping to run a sub-4.5-second 40-yard dash – he said he was most recently timed at 4.47-4.48 seconds – and to show NFL teams that he has the complete skill set to contribute on both running and passing plays at the next level.
"Just being able to show that I'm a great receiving back, and I'm just a great all-around back," Sermon said when asked about his goals for pro day. "Really just to continue to showcase my skills and everything that I can do."