Welcome to the offseason.
It's a glorious place where we pass the time by doing anything other than looking at a calendar and noticing there are 220 days between the date this publishes and Sept. 2 when Ohio State opens the 2021 season at Minnesota. 
On Thursday, our own Dan Hope published his first depth chart projection of many over the coming months, taking a first peek at how the Buckeyes look once the fall rolls around. With that in mind, I put together 10 early observations on what the roster looks like right now and what we can expect from some of these positions.
Let's dig in.
Perfect situation for a new quarterback
It doesn't matter who suits up at quarterback. It could be C.J. Stroud. It could be Jack Miller. It could be Kyle McCord. Whoever wins the job, he'll have thrown the same number of passes at the collegiate level as you and me (unless we've got a college signal-caller or two out there reading out in the ether).
So, what does a first-time starter and underclassmen at quarterback need around him to succeed? Talented veterans he can rely on.
How about two potential All-American candidates at wide receiver (Chris Olave and Garrett Wilson), a stud at tight end (Jeremy Ruckert), a fourth-year starting left tackle (Thayer Munford), several other blue-chippers on the offensive line (Paris Johnson, Matthew Jones, Harry Miller and Dawand Jones), a solid crop of running backs and Ryan Day and Kevin Wilson calling the offense? Does that work? It should.
A perfect scenario would probably include a star tailback beside the soon-to-be first-year-starting quarterback, but this is the next best option. The ceiling of Ohio State's offense could be determined by the play of Stroud, Miller and McCord, but they're working with a pretty nice floor.
Zero certainty at running back
As much attention as the quarterback competition will garner, Ohio State has a nearly equally interesting situation next door. Tony Alford has to figure out how to get the best out of a mishmosh of options at tailback. 
Redshirt junior Master Teauge brings back the most experience, having accumulated 256 carries for 1,409 yards and 13 touchdowns over the past three seasons. He started the 2020 season in the backfield beside Justin Fields, yet at some point Trey Sermon overtook him and ran wild down the stretch. In a sense, Teague might be a high-floor, low-ceiling tailback. That's not necessarily a bad thing, but the two-time All-Big Ten honoree will have to hold off some potentially more dynamic options over the next eight months.
Incoming freshman TreVeyon Henderson enters the position room as the nation's top-ranked running back recruit. Could he have a J.K. Dobbins-like ascent and start in Week 1? It's possible. Miyan Williams showed some stuff in his 10 carries for 64 yards, too. The second-year back was written off by some who saw the former three-star prospect as somebody who'd quickly get overtaken on the depth chart, yet he reshaped his body and looked dangerous in limited opportunities in the fall.
Third-years Marcus Crowley and Steele Chambers are entering the critical stage of their development, and top-100 recruit Evan Pryor adds some versatility as a pass-catcher from the running back position. 
Alford doesn't lack options. Not with six running backs jousting for time. But he has to figure out how to get the best out of these guys by the time the season arrives.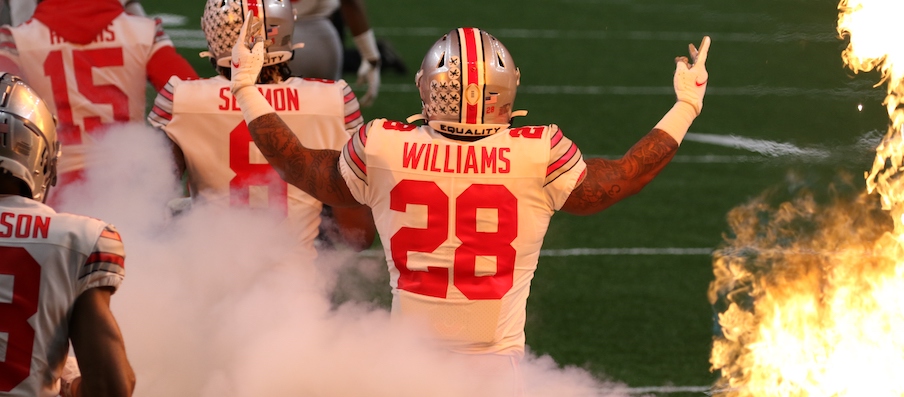 The big three: As good as it gets
A lot will be made of the Olave-Wilson duo that will get plenty of publicity as potentially the best pairing of wide receivers in the nation. Yet if you add Ruckert into the mix, it gets even better. It's hard to imagine any team in the nation having a better wide receiver-wide receiver-tight end trio than the Buckeyes.
It would have been totally reasonable for Olave and Ruckert to go to the NFL. Olave got projected in mock drafts as a first-round pick, and Ruckert is the kind of player who might've risen once he went through testing and evaluators could have gone through more of his film. That would have left the Buckeyes relying on underclassmen at wide receiver and almost no experience at tight end.
Instead, both Olave and Ruckert opted to stick around for the 2021 season, giving Ohio State an ultra-talented core of offensive playmakers to work with. 
Lots of experience, lots of potential up front
The past two years, Ohio State felt the benefit of a quality offensive line, and it should be able to experience the same thing this fall even with Wyatt Davis and Josh Myers headed out the door.
Greg Studrawa's unit will be bookended by Munford and Nicholas Petit-Frere, arguably the two most undervalued players on the 2020 roster. I started describing it as boring to watch the offensive tackles because they did their jobs so well with such little trouble for the entire season. Well, they're back again, this time with more experience.
Between them, Ohio State has some options.
Harry Miller likely shifts inside to center. At guard, the Buckeyes could choose to go with Paris Johnson, Matthew Jones or Dawand Jones. In essence, their interior line will feature a trio of highly regarded players no matter who wins the job. 
As Miller showed as a one-time five-star recruit who garnered heaps of praise before a rocky first season as a starter, it's sometimes hard to project how offensive linemen who've never previously started will perform. But the potential of this unit is about as high as in any recent year.
No shortage of potential breakout playmakers
Yes, Olave and Wilson will almost certainly lead the team in targets once again. But they accounted for 58.9 percent of receptions in 2020. They might not have such a lion's share of catches next year.
Why? Because the cavalry is coming.
Jaxon Smith-Njigba, Julian Fleming and Gee Scott Jr. now have a year of experience. Emeka Egbuka, Jayden Ballard and Marvin Harrison Jr. are entering the program. Kamryn Babb continues to get healthier, and Jameson Williams got a chance to start and build a foundation for his future.
Pick any of those guys as breakout offensive weapons and you might be correct. The hope for Brian Hartline is that the competition at wideout accelerates the developments of his players. The Buckeyes have a tremendous pair of Olave and Wilson, and they'll aim to add production around them in 2021.
Where are the stars on defense?
A five-year stretch of NFL drafts, from 2016 to 2020, featured an Ohio State defensive player selected among the top-15 picks every single year. Looking back on the stretch featuring Joey Bosa, Eli Apple, Marshon Lattimore, Malik Hooker, Denzel Ward, Nick Bosa, Chase Young and Jeff Okudah is nothing short of remarkable.
Unless something totally unexpected happens, the streak will conclude in the 2021 NFL draft. And maybe into the 2022 NFL draft, as well.
It's unclear who, if anyone, will turn into a true star for this defense that could so desperately use one. 
2020 was supposed to be the year that Zach Harrison made his star turn, but he's coming off of a two-sack season. Tyreke Smith has four sacks in three years. Haskell Garrett is really good, but he's not yet the kind of defensive tackle who offenses have to go out of their way to game plan. All three starting linebackers will be new. None of the returning starters in the secondary – Josh Proctor, Sevyn Banks and Marcus Williamson – appear to be on that first-round fast track at this point.
The Buckeyes got used to fielding a defense that had a star or two that put the fear of God into offenses. They didn't have that a year ago, and nobody appears to be on the precipice of such a leap. Still, it'll be incumbent on the Silver Bullets to find those studs in 2021.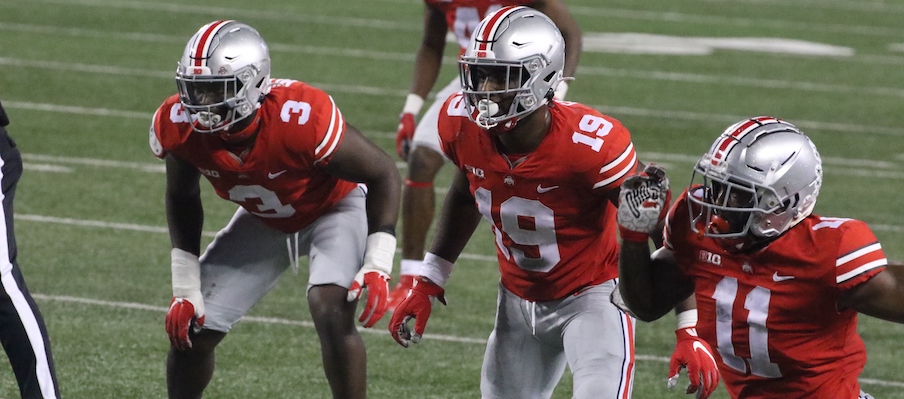 No proven commodities at linebacker
No more Pete Werner. No more Tuf Borland. No more Baron Browning. No more Justin Hilliard.
Of the 1,674 defensive snaps played by linebackers in 2020, those four accounted for 1,423 of them. In other words, a completely new group of 'backers will replace them.
Four-years Teradja Mitchell and Dallas Gant are seemingly primed to take over Mike and Will, though neither of them even cracked 100 snaps as juniors. Neither Craig Young nor K'Vaughan Pope – potential starting Sam linebackers – played even 50 snaps last season. Outside of those four, the only others who got off the bench were Cody Simon (14 snaps) and Tommy Eichenberg (6 snaps). Because of the lack of experience, Ohio State has understandably sniffed around some potential transfer candidates. 
Maybe the next-in-line starters turn out to be impact linebackers. But there's a completely blank slate. This could go any number of ways, good or bad. It's up to Washington to maximize the talent left in the room.
Kerry Coombs' development chops to get tested
In his first stint in Columbus, Coombs gained a reputation for both recruiting and developing top-flight defensive backs. Ohio State needs him to do that as much as ever before this offseason.
The Buckeyes return three starters – Banks, Proctor and Williamson – whose level of play can't stay the same. Then, there's a slew of others pushing for spots.
Sure, the question of how well Coombs can scheme up a defense still exists. But there shouldn't be any debate about his chops when it comes to improving the defensive backs he has on his roster. That's part of what made him such a valued part of Ohio State's staff in the first place. Coombs has options on the back end of the defense, and now he needs to 
Might have to get creative on defense
Given the turnover at linebacker and poor play in the secondary in 2020, Ohio State won't stand still in the back seven. It can't afford to.
That could force Coombs and the rest of the defensive coaches to get creative.
The Buckeyes have an abundance of versatile pieces in their back seven, and it would behoove them to move them around. Proctor can play either safety or slot cornerback, and so can Marcus Hooker, Lathan Ransom and Ronnie Hickman. Kourt Williams might be able to impact games at both safety and linebacker. Day often talks about adjusting the offensive scheme to fit the personnel, and if that's the case on defense as well, then Ohio State might end up shifting guys around to take advantage of matchups more than it did the past few seasons.
A talent-laden roster, but how good is the quarterback?
Ohio State, once again, is littered with one-time four-star and five-star recruits. It'll feature one of the most impressive rosters in the country again.
But as so often happens, it all comes back to the quarterback.
If Stroud, Miller or McCord falters, this team might not achieve its goals. If one of them turns out to be an impact player, the Buckeyes are absolutely a College Football Playoff contender who could find themselves back in the national championship game. Sometimes, it's that simple. 
Ohio State's biggest question mark – the level of play from the starting quarterback – is also the most important factor in determining this team's ceiling.