The day to play for college football's ultimate prize has finally arrived.
Ryan Day will lead the Buckeyes onto the field at Miami's Hard Rock Stadium for the last time in their unforgettable chase for a national championship, and to finish off the job they'll have to knock off Nick Saban's Alabama.
With the Crimson Tide unbeaten while boasting an offense featuring the Heisman Trophy winner – DeVonta Smith – and two others who finished top-five in Heisman voting (Mac Jones and Najee Harris), Ohio State will need one heck of a performance as the eight-point underdog to win on Monday night. So, who are the most important Buckeyes to getting the job done? We've ranked our top 25.
The obvious disclaimer: We're approaching this list with the idea that everybody on the team will be available. Yes, rumors about absences have been flying all over social media, and yes, Ryan Day mentioned Ohio State is dealing with a "new set of challenges" regarding COVID-19. But without any confirmation yet of players who will be unavailable (other than Miyan Williams), we're taking everyone on the team into consideration.
With that out of the way, let's get into it.
25. Drue Chrisman
You're not going to beat Alabama with punts or field goals. Still, if the Buckeyes don't get anything going on a given drive, they'll turn to Chrisman to pin Alabama deep. He's especially important if Jaylen Waddle – a returning All-American return specialist – is good to go. In his career, Waddle averages 19.3 yards per punt return, and he has housed two of them.
24. Baron Browning
Prior to the season, Day called the linebackers the "strength of the defense," and the veteran group has largely lived up to the billing. Browning, playing at his natural Sam position, has had his best college season yet. However, he took a poor angle on Trevor Lawrence that led to a touchdown last game and was the only starter on either side of the ball not to grade out a champion. Facing what's statistically been the country's most prolific offense, Browning needs a bounce-back performance on Monday.
23. Zach Harrison
After sitting out of the Sugar Bowl, Harrison traveled with the team to Miami. Provided he suits up, he'll once again play a significant role in Larry Johnson's defensive end rotation. Harrison will either start or factor heavily in the mix of edge rushers tasked with getting after Mac Jones. Of course, he'll have the tough task of matching up with left tackle Alex Leatherwood and right tackle Evan Neal who bookend a Joe Moore Award-winning offensive line.
22. Luke Farrell
Much has been made of the need to win the game at the line of scrimmage, and for Ohio State that line of thinking includes the tight ends. Farrell, in particular, has been developed to do just that. He's a powerful, relentless run blocker who'll be a key part of the offense's plan to spring Trey Sermon. Plus, as he showed versus Clemson, he can be a big-bodied target for Justin Fields.
21. Tyreke Smith
So far this season, Mac Jones has completed 77 percent of his passes for 4,036 yards, 36 touchdowns and four interceptions. He's averaging about 1,000 yards per pick. To get him uncomfortable, the Buckeyes need their pass rush – including Smith – to force some pressure. Alabama is only allowing 1.42 sacks per game, and most of the time Jones has had plenty of time to sit back and pick secondaries apart.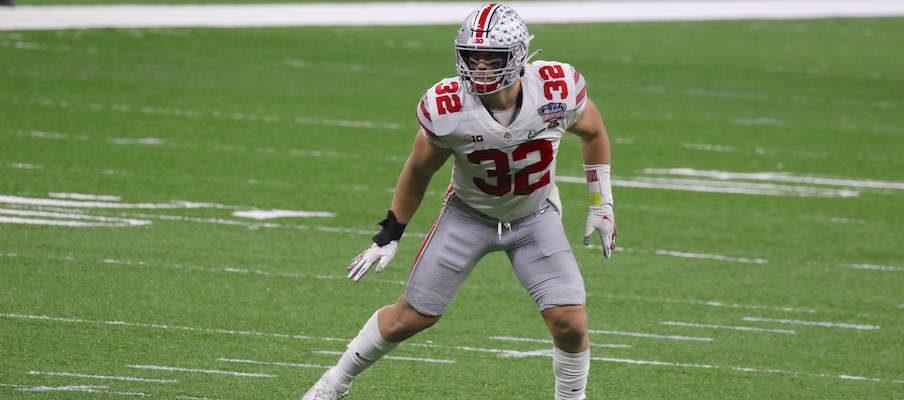 20. Tuf Borland
The Buckeyes can't afford to get torched on the ground. With a run defense that's among the country's best, they'll need to make the heralded Alabama offense as one-dimensional as possible. That's where Borland makes his bones. The middle linebacker will be one of the main players tasked with slowing down Harris. Sure, it's long been established that he's not breaking any speed records, but he's playing his best football late in his career and is the leader of the defense.
19. Justin Hilliard
Due to the presence of Browning also at strongside linebacker, it's unclear how many snaps Hilliard will play. But Al Washington has to find a way to get the veteran onto the field. Hilliard, somehow, is in the midst of a late-career breakthrough despite being in his sixth year at Ohio State. He was arguably his team's best defensive player both in the Big Ten title game and Sugar Bowl. If he were a lock to play a majority of the snaps at Sam, he'd be higher than No. 19.
18. Jeremy Ruckert
The never-ending "THOW TO THE TIGHT END" chants were answered in the Sugar Bowl with Ruckert catching a pair of touchdowns and Farrell scoring once. Will we see a repeat from Kevin Wilson's group? If it happens, Ruckert would likely be the beneficiary. At 6-foot-5 and 253 pounds with wheels, he's a difficult matchup for defenses. Another thing: Don't overlook his contributions as a blocker. He can be punishing.
17. Marcus Williamson
Though a bit under the radar, Williamson had one of his best games as a Buckeye when frequently matched up with Clemson's Amari Rodgers, a slot receiver who entered the Sugar Bowl leading the Tigers in catches. The degree of difficult might increase against Alabama, though, especially if Waddle is good to go. Williamson, as a slot corner and sometimes a second safety, will be one of the most important facets of a defensive backfield that's had its rocky moments this season.
16. Matthew Jones/Harry Miller
As of now, it's unclear whether Jones or Miller will get the start at left guard for the Buckeyes. Even if Miller's available, though, Greg Studrawa could opt to stick with Jones who filled in nicely between left tackle Thayer Munford and center Josh Myers against Clemson in just his second career start. Dealing with Alabama's front seven will be another stiff test. 
15. Wyatt Davis
To cement his status as a high draft pick, Davis has one final challenge remaining with the Crimson Tide on deck. The fourth-year junior is tasked with handling guys like first-team All-SEC defensive lineman Christian Barmore (6-foot-5, 310 pounds) and DJ Dale (6-foot-3, 307 pounds) to keep Fields upright and pave the way for Sermon. Davis has found his stride in the past couple of games, and he needs to maintain that high level of play on Monday evening.
14. Sevyn Banks
Much like Williamson, Banks had a solid performance in the College Football Playoff semifinal. Can he do it again it on Monday? That might be asking for a lot. Because the Buckeyes don't assign one cornerback to follow a single wide receiver around the field, Banks could find himself trying to lock down DeVonta Smith a good bit, and he's not the only difficult-to-cover receiver the Floridian cornerback will see. This is, unequivocally, the biggest game of Banks' career.
13. Nicholas Petit-Frere
It's easy to take what Petit-Frere has done for granted, but no one should. He's been a stone wall at right tackle in pass protection all season, again not allowing a sack in the Sugar Bowl. To end the season the way Ohio State wants, it can't afford negative plays and has to keep Fields healthy, which is what Petit-Frere has done so well. The Crimson Tide defense will want to be the one to make him crack.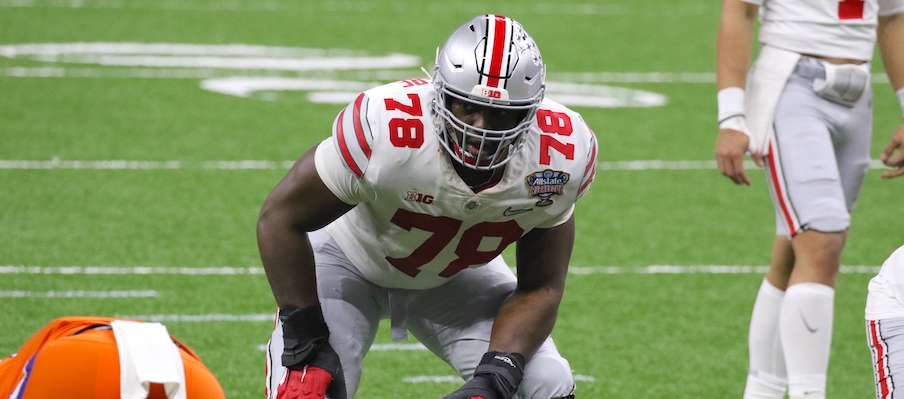 12. Jonathon Cooper
Perhaps to the surprise of some, Cooper – in his fifth year after taking an unplanned redshirt due to an ankle injury last season – has been Ohio State's most consistently impactful defensive end this season. He has recorded 22 tackles, and three of his 3.5 sacks, including a forced fumble versus Clemson, have come in the past four games. Alabama's offensive tackles will be the most talented linemen he'd faced yet, though. Cooper will be a big reason why Ohio State succeeds or fails in making Jones uncomfortable.
11. Thayer Munford
Much like Petit-Frere, Munford has offered Fields plenty of time in the pocket without having to worry about edge rushers getting to him. He's higher than Petit-Frere on this list for two reasons: He's protecting Fields' blind side and has been more of a force in the run game recently. Munford can end his collegiate career on a high note in Miami, but Alabama's defensive front poses one of his toughest challenges of the season.
10. Pete Werner
Within the walls of the Woody Hayes Athletic Center, nobody downplays the impact of Werner, who the conference's coaches voted a first team All-Big Ten linebacker. His versatility and athleticism allowed him to start as a sophomore, and he has developed into an early-to-mid-round NFL draft prospect. He'll need to be at his best shutting down Harris on the ground, finding blitzing lanes to pressure Jones and locking down his coverage assignments for Ohio State to slow down Alabama's offense.
9. Josh Proctor
Proctor has started two games at free safety: The Big Ten championship and the Sugar Bowl. His third at the deep spot will come on Monday with a national title on the line. Three starts, three trophies? That's what he hopes. And if it's to come to fruition, the Buckeyes will want Proctor flying around with the speed and heat-seeking nature that once made him a highly-sought recruit. If there's someone who could force a turnover in a big spot, it might just be the third-year safety out of Oklahoma.
8. Josh Myers
Perhaps no offensive lineman has had a greater upward trajectory throughout the season than Myers, the second-year starter at center. Early in the year, he didn't play with the power and intelligence that made him a Rimington Trophy candidate, but he's coming off of what was arguably the best game of his career. Myers, who grew up a Buckeye fan, will need to protect Fields from up-the-middle pressure while providing creases for Sermon, which he has done so well in the past two games.
7. Shaun Wade
Yes, of course, Wade stuck around for a fourth season at Ohio State to try to improve his NFL draft odds. That's no secret. Yet from the jump he has also been public in his deep-seated desire to win a national championship. Now, he has a chance to accomplish both goals simultaneously. Wade will find himself frequently lined up against Smith, the Heisman Trophy winner. Nobody should expect him to completely shut down the Crimson Tide stud. But if Wade can make things difficult for Smith and get his hands on a few passes, he has a chance to affect this game in a major way.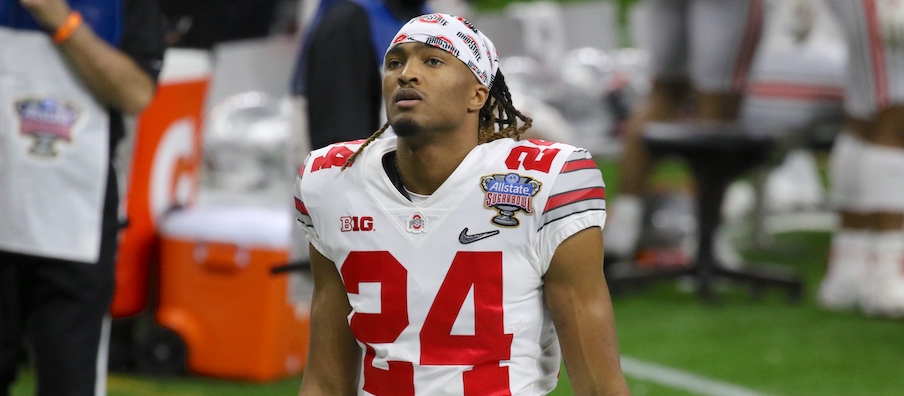 6. Haskell Garrett
Most preseason projections listed Garrett as Ohio State's backup 3-technique defensive tackle. Instead, he's one of the defense's most important players in the national championship game. If Garrett has his way, he'll make Jones more uncomfortable than he's felt all season and force Alabama to avoid rushing up the middle. Of course, to do that, he'll have to succeed in a battle versus possibly the country's most talented offensive line. 
5. Tommy Togiai
In a similar manner to Garrett, Togiai's interior pressure and immovability have caused opposing offenses to adjust their approaches. The game against Clemson featured one of his best performances all season which he'll want to replicate once more. Plus, Alabama will be without Rimington Trophy-winning center Landon Dickerson to set the tone in the middle of the line.
4. Garrett Wilson
The past three games, Wilson has been conspicuously quiet, recording nine total catches and one touchdown without even reaching 60 receiving yards in any of the contests. He hasn't taken a handoff since early November either. One would imagine it's time for the Buckeyes to get creative with how they involve Wilson in the offense. He's a dangerous weapon who, playing in the slot once again to seek advantageous matchups, might be in line to become unglued.
3. Chris Olave
The deep-ball, big-play wide receiver showed out against Clemson, catching six passes for 132 yards and two touchdowns. With soon-to-be first-round cornerback Patrick Surtain II expected to spend much of the game on him, Olave will be tasked with continuing his strong play against the most talented defensive back he has lined up against the entire season. The Buckeyes have to be ready for a potential shootout, and if that's going to happen, Olave would assuredly play a big role.
2. Trey Sermon
Just a quick comparison...
Ezekiel Elliott's last three games of the 2014 season:
Wisconsin in the Big Ten championship: 20 rushes, 220 yards, two touchdowns
Alabama in the Sugar Bowl: 20 rushes, 230 yards, two touchdowns
Oregon in the national championship: 36 rushes, 246 yards, four touchdowns
Sermon's last three games of the 2020 season:
Northwestern in the Big Ten championship: 29 rushes, 331 yards, two touchdowns
Clemson in the Sugar Bowl: 31 rushes, 193 yards, one touchdown
Alabama in the national championship: TBD
For what it's worth, some skepticism about Sermon's recent stretch remains. The over/under on his rushing yards against Alabama is set at 98 1/2. Sermon has a chance to leave no doubt in the national title game. He has a shot to end his Ohio State career with potentially the best three-game stretch by a running back in program history while capping off the most improbable in-season transformation in years with a ring.
Sermon hitting holes with previously unseen ferocity and making guys miss at the second and third levels of the defense gave Day another dimension for this offense the past two games, and his stellar play will have to be on display one final time on Monday to bring a trophy back to Columbus.
1. Justin Fields
The clear, undisputed pick as the most important Buckeye.
The country saw the best of Fields in the Sugar Bowl when he threw as many touchdown passes as incompletions against Clemson, and he'll need a repeat performance to beat Alabama. In his last game before leaving for the NFL, Fields can make a case as to why he's the greatest quarterback to ever suit up in scarlet and gray.