Before each week's Ohio State game, Eleven Warriors catches up with a media member who covers the opposing team to get his or her perspective on the Buckeyes' upcoming opponent.

ALABAMA CRIMSON TIDE
12-0
ROSTER / SCHEDULE
---
8 P.M. – MONDAY, JAN. 11
HARD ROCK STADIUM
MIAMI GARDENS, FLORIDA
---
ESPN
WatchESPN
With just one more to game to play this season and everything on the line, we're joined for our final Across The Field of the season by Mike Rodak, who's an Alabama beat reporter for AL.com, to get his insight on how the Crimson Tide got to the national championship game and what to expect from them on both sides of the ball when they play Ohio State on Monday night.
What's made Alabama's offense so hard to stop, how big an impact could Jaylen Waddle make if he plays, how should we evaluate the Crimson Tide's defense and who are some under-the-radar Alabama players that deserve more attention? We get those answers and more below.
DeVonta Smith won the Heisman and Mac Jones and Najee Harris also finished in the top five in voting. What's made that trio so special for Alabama's offense this season? 
Rodak: It is a good question, and I think it starts with all three being seniors (or a redshirt junior, in Jones' case). They have all matured as people and players since arriving at Alabama and have become masters of their craft on the field in an era where many of college football's best players do not make it to a fourth year. Getting Smith and Harris back for their senior seasons was a big win for Nick Saban and offensive coordinator Steve Sarkisian, who provided some stability by staying for a second year in 2020. There is a symbiotic relationship between the three that make each other great, and the offensive line also plays a big part in that as well.
It sounds like there's at least a chance Jaylen Waddle will play. What would that do for Alabama's offense if he's able to return? 
Rodak: I think at the very least it will force Ohio State, either from the sideline or the booth, to keep an eye on Waddle wherever he goes. Even if he does not play a full workload, him sneaking onto the field for a few plays here and there would warrant the attention of the defense because of his speed and big-play ability. That factor alone could help Alabama. But I would not count out Waddle contributing in a meaningful way, either.
Who are some less well-known Alabama players that Ohio State and its fans also need to know about entering this game? 
Rodak: He did not get attention on many All-America lists or awards, but freshman outside linebacker Will Anderson had a great season that could position him to become one of Alabama's best-ever pass-rushers under Nick Saban by the time he's done in Tuscaloosa. Anderson, one of three five-star recruits Alabama added at outside linebacker last offseason, was disruptive from fall camp all the way through the SEC championship game, when he had a key strip sack of Kyle Trask.
Offensively, Ohio State fans should keep an eye out for tight end Jahleel Billingsley, who has become a bigger part of the offense over the past month and fits the mold of the new-age, athletic tight end. He even is returning kickoffs.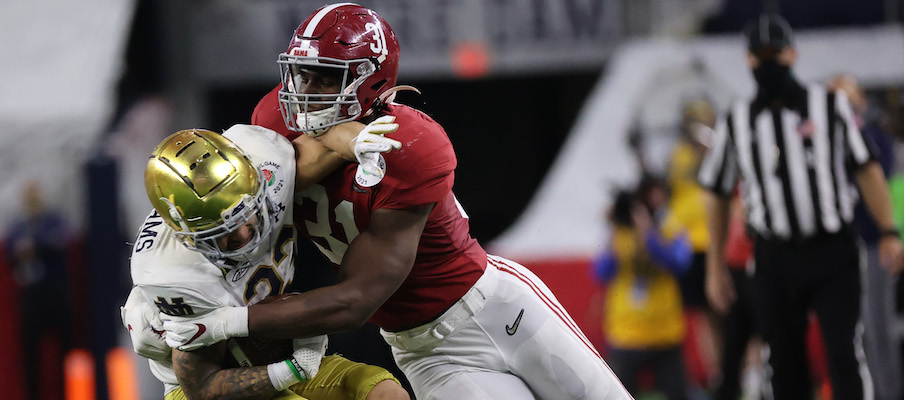 Alabama's defense has had a couple rough games this season, giving up 48 points against Ole Miss and 46 points against Florida. What went wrong for the defense in those games, and how much of a concern is that going into a matchup with Ohio State? 
Rodak: I think the biggest factor is that Alabama faced great offenses and quarterbacks in each game. This Alabama defense is a far cry from the dominant groups that played for Saban 5-10 years ago, but Saban seems OK living with that as long as his offense is scoring more points – and that happened in both of those games.
Alabama feasted on some of the SEC's worst quarterbacks and offenses from mid-October through early December, but the Florida game was a wake-up call that there are still some issues. The front seven is solid but not dominant, and the secondary is relatively inexperienced with players who have at times been liabilities.
There's been a lot of talk about whether Ohio State has an advantage in the College Football Playoff because it has played fewer games and is therefore fresher. How do you see that from Alabama's perspective? 
Rodak: If Alabama was banged up right now, I could see it. But they have stayed fairly healthy this season, with Waddle and center Landon Dickerson's season-ending knee injury in the SEC championship game being the biggest blows. Otherwise, freshman nickel cornerback Malachi Moore missed the Rose Bowl because of a back injury but should return for this game.
There has not been much attrition through injury that would weaken Alabama, and both teams have played the same amount of games over the past month. Ultimately, I think players on both sides will be hyped and ready for the most important game of their college careers.
Alabama is favored to win this game by a little over a touchdown. What do you think will be the keys to this game, and how do you see it playing out?
Rodak: I see the game being decided on who can make more defensive stops. In their close win over Ole Miss in October, the Tide forced two field goals near the end that changed the game situation. Against Florida, it was Anderson's strip sack and a forced punt that took points off the board and kept it from getting too close. If Alabama can get those three or four stops defensively, the odds are in its favor to win.