Alabama's defense has been effective, and sometimes dominant, in most of the games it's played this season. In two games, however, it's been porous.
In 10 of its 12 games this season, Alabama has held its opponents to 24 points or fewer. In seven of its last eight games, Alabama has held its opponents to 17 points or fewer – including two games in which it allowed just three points (Kentucky and Arkansas) and one in which it allowed zero (Mississippi State).
None of those 10 opponents, however, rank in the top 25 nationally in either scoring offense or total offense. 
Alabama has played two teams that rank in the top 10 nationally in scoring offense and in the top 14 nationally in total offense, and those games went very differently for the Crimson Tide, who allowed 48 points against Ole Miss and 46 points against Florida.
That's reason enough to be optimistic that Ohio State's offense, ranked in the top five nationally in both scoring offense (43.4 points per game) and total offense (544.9 yards per game) and coming off a 49-point, 639-yard performance against Clemson, can have a big day against Alabama's defense.
It's probably going to need to, considering Alabama's offense – led by four healthy superstars in wide receiver DeVonta Smith, quarterback Mac Jones, running back Najee Harris and left tackle Alex Leatherwood who all won national individual awards on Thursday night – has scored on everyone. 
The Crimson Tide have averaged 48.2 points and 535 yards per game this season, and they've already faced three opponents (Notre Dame, Georgia and Texas A&M) with statistically better defenses than Ohio State. Even when their defense has been at its worst, their offense has still put them over the top, scoring 62 points against Ole Miss and 52 points against Florida.
Ohio State's defense is better than those teams' defenses, though, and if it can even provide some resistance to the Crimson Tide's offense, that could be enough for the Buckeyes to win the national championship if their offense can click it did in the College Football Playoff semifinals and have a kind of day like the Rebels and Gators did. 
Alabama's defense recognizes that possibility, so the Crimson Tide aren't excusing their struggles against top competition as they prepare for Monday night's title game in Miami.
"Consistency in performance is really, at the end of the day, what determines how well you're playing, and we have played well in some games this year. Other games not as good as we'd like. And as coaches, we need to do a better job of putting our players in a better position so they have a chance to be successful," Alabama coach Nick Saban said this week. "I think we need to continue as a team on defense to focus on things that we can improve on so that we can play with a little more consistency game in and game out."
When Alabama defensive coordinator Pete Golding reflects on why the Crimson Tide have struggled on defense at times, he thinks they've been hurt by mental errors and inconsistent fundamental execution. And he doesn't think those issues have been exclusive to the games where they've given up a lot of points.
"I think there were several games to where we kept them low in scoring but still didn't execute, they just didn't take advantage of it," Golding said. "So I think the biggest thing going in is evaluating ourselves and the things that we've got to be able to clean up and execute the individual jobs within all 11, and then collectively get all on the same page."
Given that many of Alabama's worst games on defense, particularly the Ole Miss game in which it gave up 647 yards, happened early in the season, there are indicators that the Crimson Tide have gotten better on that side of the ball as the season has progressed. That's what Ohio State offensive coordinator Kevin Wilson thinks after watching the film.
"They're a great defense with talent, length. They're going to make it unbelievably challenging. I just think as they've played, they've gotten better and better," Wilson said. "Great teams do what it takes to win every week, and that's what their defense does and that's what Coach Saban has done as well as anyone that's ever coached the game of football."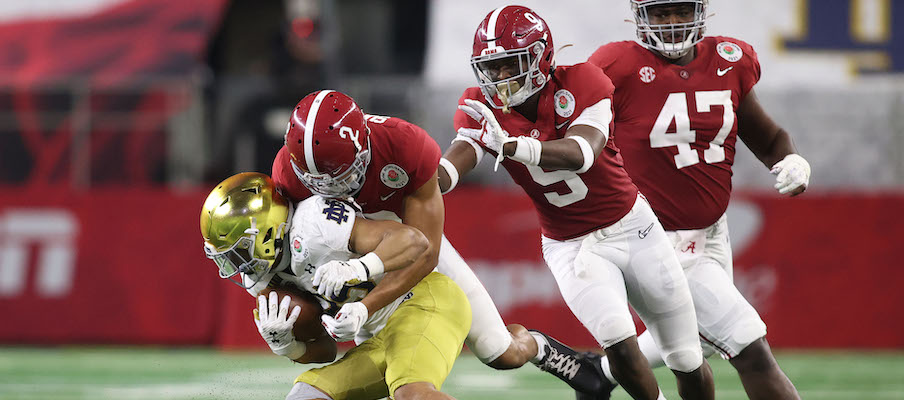 That said, Florida's 46-point game against Alabama's defense happened just three weeks ago in the SEC Championship Game, suggesting the Crimson Tide remain quite vulnerable against offenses that are good enough to exploit their weaknesses. And they know there might not be anyone with more potential to do that than Ohio State, who ranks third nationally in rushing yards per attempt (6.04) and seventh nationally in passing yards per attempt (9.9).
"You kind of look at their offense, they can literally do anything," said Alabama linebacker Christian Harris. "They can run the ball at any point. They can throw it at any point."
Alabama is coming off one of its best defensive games of the season against Notre Dame, in which the Crimson Tide scored a season-low 31 points but held the Fighting Irish to just 14 points on 375 yards to win comfortably at the Rose Bowl. That's given the Crimson Tide confidence in themselves going into their matchup with the Buckeyes.
"We've learned through experience what we need to do," Alabama cornerback Patrick Surtain II said. "I just felt like we prepared better each and every week. We've gotten better each and every week flying around to the ball, making adjustments and learning from past games where we struggled at, and sort of fixed and corrected what we needed to do."
"They can literally do anything."– Alabama linebacker Christian Harris on Ohio State's offense
Even though Florida and Ole Miss proved Alabama's defense to be plenty beatable, Ohio State's offense isn't expecting anything to come easy on Monday.
"They're really talented, really talented across the board," said Ohio State center Josh Myers. "They have good, big, strong, athletic guys across the board, and they know their scheme really well. You can just see it coming through film. They're extremely disciplined and extremely good with their technique."
The Crimson Tide will feel like their defense has something to prove on Monday.
"I think each and every week we try to go in making a statement," Harris said. "We know we have a really great offense. We know we have times where we were a little bit shaky on defense. But you're only as good as your last game."
But given that the Buckeyes are plenty capable of making big plays on offense even if Alabama doesn't make it easy, the Crimson Tide are going to need to play their best defensive football of the season to prevent Ohio State from putting a big number on the scoreboard.
"They're going to make enough contested plays because they've got really a lot of good players at a lot of spots to where you've got to contest everything," Golding said. "We've got to be sound in the run game. We've got to try to stay ahead of the chains, put them in obvious passing downs, because they're really balanced.
"When you look at Ohio State, they're averaging 43 (points per game) and when they don't, that's because they've turned the ball over. It's not because people stopped them. It's because they made a mistake. People made them make mistakes and they made them pay for it, and they got off the field, whether it be a turnover or on third down. So I think that's the critical piece of this game."