Kirk Herbstreit's two oldest sons, Jake and Tye, both play for the Clemson football team. His third son, Zak, will play next season for Ohio State, the same school where Kirk and his father were captains. And on Friday, Kirk will be on the call for the second year in a row as Ohio State and Clemson play each other in the College Football Playoff semifinals.
Considering his personal ties to Ohio State and his family connections to both schools, one might think it would be difficult for Herbstreit to keep his emotions separate from his work when calling a game between the Buckeyes and the Tigers. Herbstreit's been calling games long enough, though, that he isn't worried about that being a problem. 
"When Ohio State was No. 1 in the country and Michigan was No. 2, and (former Michigan coach Bo Schembechler) had died the day before on Friday, and for me growing up in that rivalry, if there was ever going to be a game where I would caught up in the emotions of a game, it probably would have been the '06 Ohio State-Michigan game, just because my family knew Bo really well," Herbstreit said in an interview with Eleven Warriors this week. "Years later, that game really stands out to me that if there was ever going to be I would have been caught up in, it would have been that game. And I'd like to think I did a fair job and a normal job in the broadcast back in '06.
"I'm 25 years into this, I'm 50 years old. I love my kids but when I do a game, I just do a game. I prepare so hard that by the time I get to the game, I see jersey numbers and X's and O's. That's really all I see. If two or three years, four years down the road, they're out there playing and performing and they're playing a pivotal role, maybe there will be a time to kind of have a tear in my eye and be kind of caught up in that. But right now, man, it's Clemson in 2020, it's Ohio State in 2020. It's Justin Fields, it's Trevor Lawrence."
That said, it certainly is special for Herbstreit as a father that his two oldest sons are playing for one of college football's top programs while his third son will soon be playing for another that is also his alma mater.
Being a part of Dabo Swinney's program, Herbstreit said, has been "an incredible opportunity" for twin brothers Jake and Tye, who are both now in their second year as walk-ons with the Tigers.
"I have so much admiration and respect for the Clemson program, for the job that Dabo does, as not just a coach but the way he oversees his program," Herbstreit said. "The thing I'm most excited about when they decided to go there was all that they can get out of being a part of that program, not just playing football but just growing as a young man. I think Dabo, he walks the walk in his beliefs and things that he coaches and more life coach than a football coach."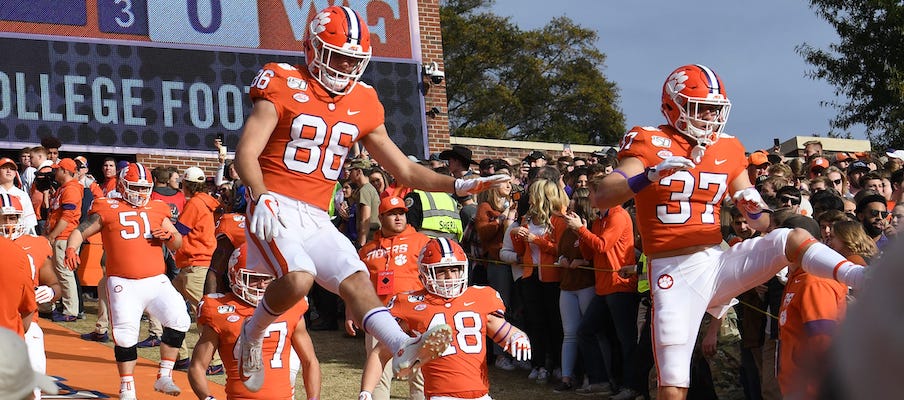 Zak Herbstreit made his commitment to Ohio State just last week when Ryan Day called him to inform him he would have a spot on the team as a preferred walk-on. Kirk is excited he'll now have a son playing for Day and the Buckeyes, as well.
"When Coach Day called to make it official, I was just so proud," Herbstreit said. "I lived with a dad who played at Ohio State and he was a captain, and then I went on to do it, and my dad was always really cool about making sure it was about me and not about him, and I'm the same way. This is about Zak and his journey, and my wife and I, our family, will do everything we can to try to help encourage him. And just glad that he's part of that program and so proud of what Ryan Day's doing and all the different areas of growth that he'll have in front of him as again, not just a football player but just as an overall person."
As you might expect, there's some trash talk between the Herbstreit brothers when they all get together as a family. Kirk said most of that trash talk, though, comes from his youngest son Chase, who's currently in eighth grade and who Kirk describes as an "absolute brainwashed Buckeye."
"Of all four of them, he's the most devout," Herbstreit said. "Zak's a pretty subdued kind of guy, but Chase is the one that likes to poke at Jake and Tye and kind of get on them about Clemson."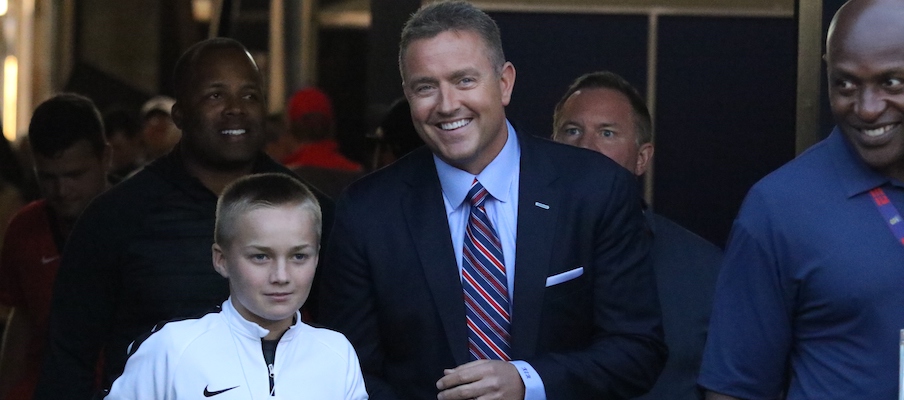 Of course, all of this is coming at a time when there's more animosity than ever between Ohio State and Clemson – especially from Ohio State fans toward Dabo Swinney after the Clemson coach ranked Swinney 11th on his ballot for the Coaches Poll and argued that Ohio State does not deserve to be in the CFP because it's only played six games.
Knowing Swinney well, Herbstreit said he doesn't think Ohio State fans should view that as a personal attack against the Buckeyes and how good they are as a team, though he doesn't blame the Buckeyes for viewing it that way.
"I can just assure you, Dabo's more of a man of principle than anything else," Herbstreit said. "It has nothing to do with Ohio State as far as evaluating film and looking at them and saying 'Oh man, they're the 11th-best team.' Now if you're Ryan Day and you're Ohio State, you should spin it that way. You should turn it into bulletin-board material. But as far as the reality, just being honest, Dabo's just strictly, he's made it very clear all along, he just didn't think whether it was Ohio State or any other team, if they're not gonna play the same amount that everyone else is playing, I think he's more of making a statement on 'It's not fair that the Pac-12 or the Big Ten have a chance to be in the playoff only being tested six times.' It's his opinion. It's what he believes."
In Herbstreit's personal opinion as an analyst, he believes playing only six games has been a disadvantage for the Buckeyes.
"I think that it's easy to kind of look at it and say, 'Well, they're gonna be more fresh and they've only played six games, less wear and tear,'" Herbstreit said. "When I watch Ohio State, I see a team especially defensively that's still trying to learn who they are. I think they would have benefited from playing a seventh, eighth, ninth, 10th, 11th game. Because their secondary right now is still a work in progress.
"I think this team would have benefited from playing a lot more games, and I think they would have had a better idea of their identity. I think they come into this game still searching for their identity. They're still searching for 60 minutes of great football. They played 30 minutes good in this game and 30 good in this one and 30 in this, they haven't put together 60 minutes, and I think part of that is they didn't get a chance to continue to grow by only playing six games."
Herbstreit, who will be calling Friday's game from home after testing positive for COVID-19 this week, doesn't publicly predict a winner for games he's going to commentate. He believes the keys to the game for Ohio State, though, include winning the battle at the line of scrimmage and Justin Fields making plays as both a passer and a runner.
"His decisions have to be very, very sound, and he's gotta be obviously accurate, but then he's gotta make plays with his legs both running and then buying time to be able to find eventually open receivers," Herbstreit said of Fields. "I think that's the huge key to the game.
"And then on the other side of the ball, can Ohio State negate Travis Etienne and of course Trevor Lawrence in the running game? Trevor had a monster game as everybody's talked about last year running the ball, but the passing game, Damon Arnette's not showing up. Jeffrey Okudah's not showing up in this game. This secondary to me has been vulnerable all year, and now they go up against Trevor Lawrence and against these wide receivers, and if Etienne and Trevor Lawrence are running the ball, then you throw in the potential of the big play in the passing game, it can be a long day for Ohio State's defense.
"If Ohio State's defense plays well, it's because they dominated the line of scrimmage."
All in all, Herbstreit said he's "just thrilled to have a chance to do this game again," as he'll team up with Chris Fowler, Maria Taylor and Tom Rinaldi for ESPN's broadcast of the Sugar Bowl, which is set to begin at 8 p.m. Friday.
"I left that stadium like I think a lot of other people like, 'Wow, did that just happen?'" Herbstreit said. "There were so many calls that you could go back and look at, and I have so many friends of mine who are fans and family members that we all were kind of talking about, I'm still trying to learn the rule on the Tee Higgins play. If three steps isn't a football move, I don't know what a football move is.
"You gotta give Clemson all the credit, they won the game, but just to walk out of there, it was one of those games you wanted to see more of it, and I know for Ohio State, they kind of built their entire offseason on getting back to this playoff, especially to have a chance against Clemson, and now they got it. And here we go. Let's see how it goes, and it should be a fun one."