There will be only one unbeaten team in the Big Ten East when Saturday's game at Ohio Stadium is over.
The division lead and the driver's seat to a berth in this year's Big Ten Championship Game will be on the line when Ohio State, ranked third in the country and holding a 3-0 record this season, hosts Indiana, ranked ninth in the AP Top 25 with a 4-0 record this year, on Saturday at noon in the Shoe.
After an unexpected week off for the Buckeyes when their game at Maryland was canceled, they'll need to be at their best against the Hoosiers, who are currently the only team with a winning record that Ohio State is scheduled to play during the regular season. While Ohio State has won 25 straight games against Indiana and is favored to win by three touchdowns, Indiana will represent a step up in competition from who the Buckeyes have played so far, and it's a game they have to win to keep themselves in position to win their fourth straight conference title.
The Headlines
Hoosiers are no joke
For decades, Indiana has been one of the Big Ten's most consistently mediocre teams. When the Hoosiers went 8-5 with a 5-4 Big Ten record last season, it was the first time they had won eight games, lost less than six games or finished with a winning record in the conference since 1993.
The Hoosiers have positioned themselves as a legitimate Big Ten East contender this year, though, by winning their first four games of this year's shortened, conference-only regular season against Penn State, Rutgers, Michigan and Michigan State.
We'll find out just how good Indiana actually is on Saturday against Ohio State, who Hoosiers coach Tom Allen described Monday as the "standard-bearer" of the Big Ten. But the Buckeyes who met the media this week said all the right things about preparing for the Hoosiers as a serious threat.
"Indiana's an outstanding team," said Ohio State co-defensive coordinator Greg Mattison. "It's the best team we've played so far. I really believe that. And I'm not saying it to talk."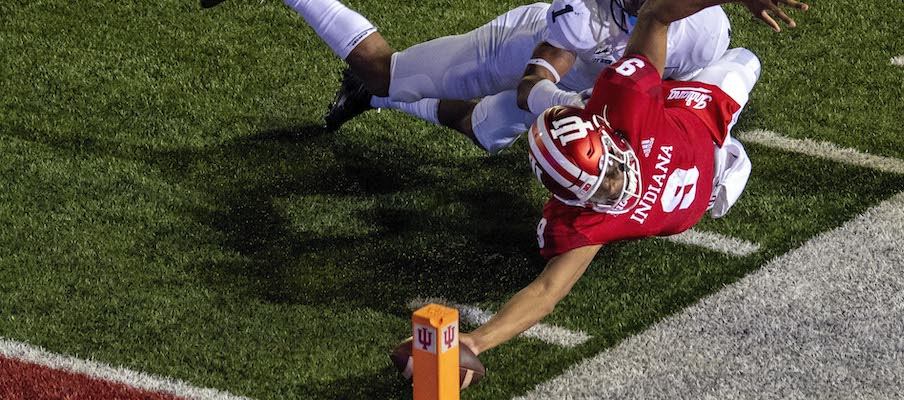 Back after a week off
This should be Ohio State's fifth game of the regular season, but instead it's the Buckeyes' fourth after they received the news last Wednesday that their original fourth game of the season had been called off due to eight positive COVID-19 tests in Maryland's football program.
That served as a harsh reminder to the Buckeyes that their season has the potential to be impacted by the ongoing pandemic at any time, but it did give them extra time to prepare for this week's game, as they began preparing for Indiana two Thursdays ago.
Ohio State certainly would have preferred to be playing last Saturday, and Ryan Day doesn't believe the advantage of a few extra days of preparation for Indiana outweighed the benefits of actually playing a game. But it will make the Buckeyes appreciate even more that they have the opportunity to play this week, knowing that no game is guaranteed in 2020.
"At first they were disappointed, they were angry, and then we just went to work, kept going," Day said of last week's cancellation. "The good news is it's behind us, and now we're on to Indiana."
An even quieter Shoe
The stands have already been mostly empty at all Big Ten games this season, as the conference made a collective decision not to allow members of the general public to attend games this year due to the pandemic, but Ohio Stadium will be even emptier on Saturday after the university – in coordination with the Columbus Department of Health – determined that even family members of players and coaches would not be able to attend this Saturday's game as COVID-19 numbers rise in Franklin County.
In a game of this magnitude, the Buckeyes need to be focused on what's happening between the white lines rather than what's not happening in the stadium around them. But it will make it important for Ohio State to bring its own energy – as Day likes to say, and which he felt his team didn't do in the second half of its most recent home game against Rutgers – and not allow the unusually quiet surroundings to have any negative effect on how it plays on the field.
"We knew that there was gonna be different obstacles along the way, there was gonna be more adversity that comes up, and here's another one," Day said. "It seems like we have another one each week, and this is just another one that we have to handle better than our opponents. So the stadium will be the same for both teams, but we gotta handle it better."
Keep An Eye on These Guys
QB Michael Penix Jr.
Penix, who didn't play in Indiana's 51-10 loss to Ohio State last season due to a shoulder injury, has been by far the most-talked-about Hoosiers player going into this week's game, and not without good reason. An athletic, left-handed quarterback who's 9-1 as a starting quarterback dating back to last season, Penix is the engine that makes the Indiana offense go, throwing for 1,070 yards and nine touchdowns while also rushing for two touchdowns in the Hoosiers' first four games.
Day gave Penix a bit too much credit when he said the Hoosiers signal-caller is "playing almost perfectly" – he has thrown three interceptions this season, including two last week against Michigan State – but he will be the best quarterback Ohio State has faced yet this season, with the ability to both make big plays with his arm and extend plays outside the pocket with his feet.
"He's a fearless competitor," Day said of Penix. "He makes a lot of throws. He'll throw it even when a guy's covered, and just throw it to an area where only the receiver can catch it."
WR Ty Fryfogle
For an Ohio State secondary that's had its ups and downs through the first three games of the season, it's not just Penix's ability to make plays that the Buckeyes need to be concerned about entering this game, but the playmakers he'll be throwing the ball to.
Really, the Hoosiers have three pass-catchers who are players to watch entering this game. Whop Philyor, who led Indiana with 70 catches for 1,004 yards last season, continues to be one of Penix's go-to targets. Peyton Hendershot, who's caught 14 passes for 89 yards and three touchdowns, is one of the Big Ten's top receiving tight ends.
That said, Fryfogle might be the hottest wide receiver in all of college football right now. After he caught seven passes for 142 yards and a touchdown against Michigan, he earned Big Ten Offensive Player of the Week honors for his performance against Michigan State, in which he had 11 receptions for 200 yards and two touchdowns. The 6-foot-2, 214-pound senior currently leads the Big Ten with 424 receiving yards on 24 catches and has scored four total touchdowns in the Hoosiers' last three games.
Ty Fryfogle recorded a personal bests 11 receptions, 200 receiving yards and 2 touchdowns to lead @IndianaFootball to a victory at Michigan State. #B1GFootballpic.twitter.com/fPTnTNny3V

— Big Ten Football (@B1Gfootball) November 17, 2020
"The receivers do a good job of catching the ball with defenders on their body," Day said of Indiana's receiving corps as a whole. "They've made a lot of big plays. Their vertical passing game is really strong."
A secondary of playmakers
Projected Starters
Ohio State
Pos
Indiana
OFFENSE
JUSTIN FIELDS
QB
MICHAEL PENIX JR.
MASTER TEAGUE
RB
STEVIE SCOTT III
CHRIS OLAVE
WR
TY FRYFOGLE
GARRETT WILSON
WR
WHOP PHILYOR
JEREMY RUCKERT
TE/WR
MILES MARSHALL
LUKE FARRELL
TE
PEYTON HENDERSHOT
THAYER MUNFORD
LT
CALEB JONES
HARRY MILLER
LG
MIKE KATIC
JOSH MYERS
C
HARRY CRIDER
WYATT DAVIS
RG
MACKENZIE NWORAH
NICHOLAS PETIT-FRERE
RT
MATTHEW BEDFORD
DEFENSE
JONATHON COOPER
DE
ALFRED BRYANT
ZACH HARRISON
DE
JAMES HEAD JR.
TOMMY TOGIAI
NT
DEMARCUS ELLIOTT
HASKELL GARRETT
DT
JEROME JOHNSON
PETE WERNER
WLB
CAM JONES
TUF BORLAND
MLB
MICAH MCFADDEN
BARON BROWNING
SLB/S
BRYANT FITZGERALD
SHAUN WADE
CB
TIAWAN MULLEN
SEVYN BANKS
CB
REESE TAYLOR
MARCUS WILLIAMSON
CB/S
DEVON MATTHEWS
MARCUS HOOKER
S
JAMAR JOHNSON
Indiana doesn't have any defensive superstars who truly stand out individually, but collectively, the Hoosiers' secondary has stood out for how many plays it has made in their first four games of the season.
The Hoosiers lead all Big Ten teams with 10 interceptions through four games this year – their 2.5 interceptions per game are the most of any team in the Football Bowl Subdivision – and eight of those interceptions have been made by their top five defensive backs: Jaylin Williams has three, Tiawan Mullen has two and fellow cornerback Reese Taylor has one, while safeties Devon Matthews and Jamar Johnson also each have one.
On a defense that blitzes from "all areas of the field," as Justin Fields discussed this week, those defensive backs have made a lot of big tackles, too. Mullen, the younger brother of former Clemson and current Las Vegas Raiders cornerback Trayvon Mullen, leads the Hoosiers with 2.5 sacks and has 3.5 total tackles for loss. Taylor, a converted quarterback, ranks second on the team with four tackles for loss, while Johnson has 2.5, Matthews has two and Williams has one.
Fields has yet to throw an interception or lose a fumble this year, but he's going to have to be extra careful this week against a secondary that's proven it can both pluck passes out of the air and bring unexpected pressure into the backfield.
"They have great athletes in the secondary, they play a lot of people in the secondary, so we've been getting ready for those guys for a good bit now," Fields said this week.
Game Week Talk
"I love this place, I love these kids. We're going to fight, man. I don't care what anybody says about this stinking game. We're going to compete, we're going to fight. The good lord willing, we're going to find a way to keep proving everybody wrong."– Indiana coach Tom Allen
This quote came at the end of an emotional monologue by Allen at his Monday press conference after he recalled his journey through the coaching ranks to getting to where he is now at Indiana. Say what you will about the Hoosiers' chances of winning this game, there's no questioning Allen's passion, and he's created a sense of belief throughout his program that will have Indiana entering Saturday's game with genuine confidence.
"I'm not that surprised about this at all. You could see them getting better last year, they played really, really well."– Ryan Day
Most people wouldn't have guessed that Indiana would emerge as one of the Big Ten East's top two teams this year while Michigan and Penn State combined for just one win in their first eight games, but Day isn't shocked by the Hoosiers' success. He said the Hoosiers "have a really good scheme on both sides of the ball, they do a really good job coaching, they've upgraded their personnel."
"We all put our shoulder pads on the same, we all put our cleats on the same, so we don't really look at who's this and that, we just go out and play our football."– Michael Penix Jr.
Even though Indiana is the clear underdog entering this game, the Hoosiers aren't going to put Ohio State on a pedestal. Penix said it's "nothing new" to the Hoosiers to be an underdog, but they're "not focused on the hype or the rankings, rather "just trying to control what we can control."
Get Smart
Ohio State has won its last 25 games against Indiana and hasn't lost any of its last 27 games against the Hoosiers. The Buckeyes and Hoosiers tied 27-27 in 1990, but Indiana's last win against Ohio State came in 1988 (41-7).
Indiana has only been ranked for three previous games against Ohio State, and never higher than 15th. This is the first time Indiana has ever faced Ohio State as a top-10-ranked team, and the first time the Hoosiers have ever been a part of a regular-season game between two top-10-ranked teams.
Ohio State is 16-5 since 2012 in games against teams ranked in the top 10 nationally by the Associated Press.
Ohio State's roster includes five players from Indiana (Drue Chrisman, Josh Fryar, Dawand Jones, Pete Werner and Craig Young) while Indiana has four Ohio natives on it roster, including starting long snapper Sean Wracher (Akron).
Three Indiana starters – left tackle Caleb Jones, left guard Mike Katic and linebacker Cam Jones – are considered game-time decisions for Saturday's game due to injuries.
Ohio State is expected to have all of its starters on offense and defense available for Saturday's game, though kicker Blake Haubeil remains unavailable due to a groin injury. Jake Seibert will kick field goals and extra points in Haubeil's place.
Fox's Big Noon Kickoff will broadcast live from Ohio Stadium before Saturday's game. Big Noon Kickoff was also at the Shoe for the Buckeyes' season opener against Nebraska.
How It Plays Out
Line: Ohio State -20.5, O/U 67.0
Given that neither of these teams have played any team that has won more than one game yet this season, we don't truly know how good either of these teams are going into this game. Saturday's game will serve as a measuring stick for both squads, as the Buckeyes look to prove they really are the national championship contender they're expected to be while the Hoosiers look to upset the Big Ten's balance of power and earn a program-changing win.
Still, there's a reason why Ohio State is a heavy favorite to win this game even though Indiana is undefeated. On paper, the Buckeyes have far more talent than the Hoosiers. Indiana has won its first four games by controlling the turnover battle and taking advantage of good field position, but the Hoosiers haven't faced a quarterback like Fields, while they also have a mediocre rushing offense that's averaged less than three yards per carry.
Indiana can't be written off as an easy win this year, and the Hoosiers are capable of keeping this game competitive. If they can continue to force takeaways and make big plays in multiple phases of the game, they just might have a chance to end their long losing drought against the Buckeyes. Ohio State's pass protection must step up to handle the Hoosiers' blitz-heavy defense, which currently leads the Big Ten with 12 sacks, and its secondary must step up to slow down Penix and his receivers through the air.
But if the Buckeyes play up to their ability, their superior talent should show on both sides of the ball and they should ultimately be able to take control of this game and win by multiple scores. Betting on the Buckeyes to beat a top-10 opponent by 21 points or more might be a risky proposition, but with extra time to prepare, Ohio State has no excuse not to be sharp and rise to the occasion in a high-stakes game.
Eleven Warriors Staff Prediction
45
 
21