Before each week's Ohio State game, Eleven Warriors catches up with a media member who covers the opposing team to get his or her perspective on the Buckeyes' upcoming opponent.
Our guest this week is Zach Osterman, who covers Indiana athletics for the Indianapolis Star, and joins us to share his perspective on why the Hoosiers are better this year than they've been in a long time, what they need to do to have a chance to beat Ohio State, which Indiana players could present a challenge to the Buckeyes and more.
Indiana is 4-0 in Big Ten play for the first time since 1987 and currently ranked in the top 10 nationally. Is this the best Hoosiers team you've covered, and what's made the difference for them to have such a strong start to the season?
Osterman: To the first question, the answer is most certainly yes. But I do think, moving to the second, that this season is in some ways a natural sort of follow-on to last season, when IU went 5-4 in the league and 8-5 overall. That team didn't lose an awful lot, was bound to get deeper in the offseason and obviously took strides with players like Michael Penix, Micah McFadden, etc. Couple all that to the fact that IU lost one-possession games at Michigan State and Penn State last season, plus a narrow defeat in the bowl game, and it wasn't hard to envision Indiana being very good this year.
Tom Allen seems to be loved by his players, and now he's achieving results that most of his predecessors couldn't. What do you think he's doing well that's resonating with his players and leading to wins?
Osterman: Both of those things are true, for sure. And having covered IU for all of Allen's time in Bloomington, it might sound cliché, but he's built an implicit level of trust between himself and his players. That's led, I think, to similarly implicit belief, which is a hard thing to engender at a place like this. But you can see the difference it makes, when coupled with improved recruiting.
While Indiana is 4-0, the teams it's beaten have won just three games this season. What are the biggest areas of concern for the Hoosiers as they face a major step up in competition this week?
Osterman: The biggest one is probably offensive efficiency. Michael Penix has been very good, but with enough imperfections to feel like the passing game has another level it can go to at some point this season. And Indiana appears likely to be a little shorthanded along the offensive line, making a productive (though not necessarily prolific) run game and accuracy on quick timing routes really important. Defensively, it just comes down to whether IU can get Justin Fields off-kilter at all. It's an aggressive, opportunistic defense that has to force some change plays.
Other than Michael Penix Jr., who are some of the other Indiana players that Ohio State and its fans need to be aware of entering this game?
Osterman: On offense, I'd say Ty Fryfogle, Peyton Hendershot and Whop Philyor. Penix has other targets he's comfortable with, but those three are all guys Indiana can build the passing game around if the matchups determine it, and all three have had big performances some time in the last two seasons.
Defensively, there are a host of guys to mention, because it's a defense defined as much by its depth as by its top-line talent. The biggest hitters, though, would be McFadden at middle linebacker, all three of IU's corners (Tiawan Mullen, Reese Taylor and Jaylin Williams) and a handful of safeties that tackle well and capitalize on small mistakes. As good as some individuals have been this season, it really is a defense that's the sum of its parts in many ways.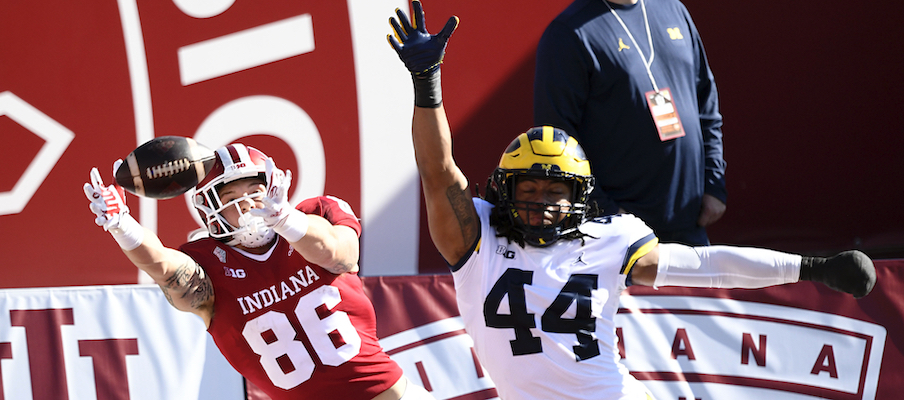 Ohio State is favored to win this game by three touchdowns. What do you think about that spread? Do the Hoosiers deserve more respect, or are the Buckeyes that much better?
Osterman: I think both are a little bit true, if that makes sense. I get the argument that Indiana's wins feel a little empty, but I don't think that cheapens the value of beating Michigan and Michigan State, for example, by a combined 41 points. That's pretty commanding, and I think holding others' shortcomings against IU does ignore some of what the Hoosiers have done. On the other hand, I think Ohio State is just fantastic. I wouldn't be surprised if some rust from an unplanned week off keeps it close, and I like IU to at least cover. But I'd still pick Ohio State if pressed, possibly by a couple scores.
What must Indiana be able to do to have a chance to win this game, and how do you think the game ultimately plays out?
Osterman: As I said, I'd push toward Ohio State here, just based on matchups. I'm not going to be surprised if Indiana wins, I just think — if we haven't all had enough electionspeak this fall — the path to an IU win is a lot more narrow. If that does happen, I suspect it will be in large part because Penix played very well, and that defense was able to capitalize on some rustiness with a few big plays (turnovers, sacks, etc.) that set the Hoosiers up with easy scoring opportunities. That's been Indiana's MO pretty much all season, so I won't be surprised if it happens. I just can't look past Justin Fields though. He's fantastic.