Justin Fields' decision to adopt a vegan diet started as part of a challenge with his family.
While he was back in Georgia earlier this offseason when players were away from campus due to the COVID-19 pandemic, Fields' father decided to do a 28-day cleanse to lose some weight. After his stepmother and sister joined in, Fields decided to participate too, and the Ohio State quarterback was so pleased with how he felt physically that he decided to keep it going even after those four weeks were over.
"My dad actually wanted to do it, because he was kind of heavy, so I just tried it with him, and it kind of turned into a family thing," Fields said during an interview session Friday. "And then I just liked how I felt after that, and just kept going on from there. So I'm doing it now, and I feel great, my body feels great and I feel faster and stronger."
Now that he's back in Columbus and preparing for the season, Fields has been working with Ohio State's nutrition staff to keep his new diet going. He admitted they were skeptical about it at first, as was Ohio State director of sports performance Mickey Marotti, but says they're on board now that they've seen how it's worked for him so far.
"I think I proved to them that I can do that and actually be able to perform even better than I was before, so I think after them seeing that with their own eyes, then they started to believe that maybe this is working for him," Fields said. "So I think they're open to it now."
Ryan Day is also pleased with the results he's seen from his quarterback.
"I think everybody has their own routine that they go through every day. They have their own individual process for getting to maximum performance. And everyone's different. Everyone has their own way to do that. And Justin, I think in this offseason, has done one heck of a job," Day said Thursday on his radio show. "Not that he wasn't in great shape last year, but it's kind of what J.K. (Dobbins) did the year before. He got rid of a lot of body weight, he still got stronger, and part of that is your diet. Everyone needs to adjust differently. And Justin's been doing what he thinks is best."
Fields isn't the only Buckeye who has now adopted a vegan diet – linebacker Teradja Mitchell just started this week, Fields said – and he might even get his head coach to give it a shot.
"Coach Day said he's going to try it," Fields said.
Fields' new diet isn't 100% vegan – he still eats fish "maybe once in a blue moon," he said – but he has given up all dairy and red meat. Asked what non-vegan meals he misses eating, Fields said "there's too many to name," but the two he misses most are macaroni and cheese and chicken tenders.
"Some guys on the team always mess with me, like 'How do you not eat steak?' or something like that, but I don't really crave steak or anything like that," Fields said. "Really just kids' meals, to be honest. I feel like I wasn't a fancy guy."
On his new diet, Fields will typically start his day by eating avocado toast or a bagel with vegan cream cheese before he works out. After his workout, he'll drink a plant-based protein shake – with chocolate almond milk and chocolate plant-based protein powder, because he likes chocolate – and eat some fruit. Before practice, he'll eat a vegan meal, along with a banana if he needs it, made for him by the nutrition staff, and they'll send him home with another vegan meal for dinner. He finishes his day with another protein shake.
"I try to eat more times throughout the day because some of the things that I eat may not have as much calories as meat or different carbs and stuff like that," Fields said. "So I do have to eat more often, but what I'm eating is healthier, and again, I feel great and I feel awesome from it."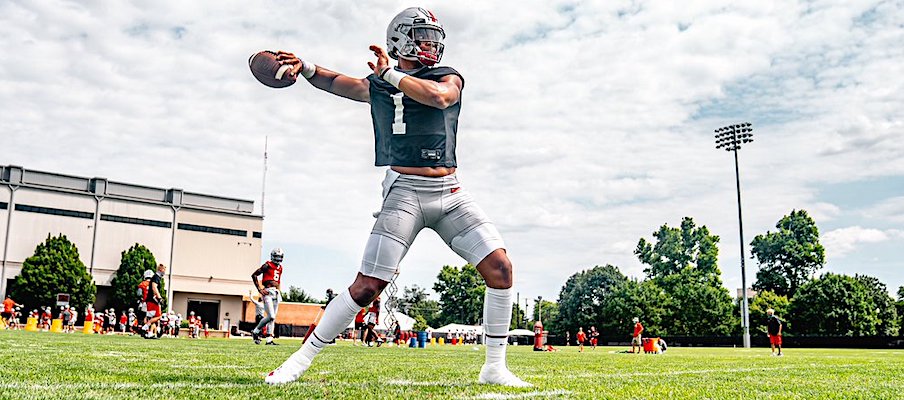 Fields says his larger meals often consist of a tofu burrito or a tofu salad, though he's looking forward to trying more vegan options, as well. He admits that those meals don't always taste as good as the food he used to eat, but that's a sacrifice he's willing to make because of the benefits he feels are coming with it.
"The more people that are trying it, they're saying that it's not as bad as they thought it was," Fields said. "Of course there's going to be meals that don't taste the best, but you have to sacrifice your taste buds for performance on the field."
Fields' switch to a vegan diet follows in the footsteps of several NFL quarterbacks who have done the same, including Tom Brady and Cam Newton, but Fields said his decision to adopt that lifestyle wasn't directly inspired by them. He also recognizes that a vegan diet isn't going to be the right move for everyone even though it's working for him.
"Guys' bodies react differently to food, so I think it's kind of a personal thing," Fields said. "I'm not really basing it off of what they do or what they get the results off of, because I feel like everybody can't play football off of a vegan diet, so I think it just depends on your body type and how your body reacts to it."
"Of course there's going to be meals that don't taste the best, but you have to sacrifice your taste buds for performance on the field."– Justin Fields
That said, Fields' decision to change his diet has certainly been made with his football future in mind. While he's only been eating vegan since this spring, he believes his new diet is something he'll take with him to the NFL and continue for many years to come.
"I feel like I'll be doing this pretty much the rest of my career, because I feel good," Fields said.