Nobody knows exactly when the Big Ten will take the field next, but at some point in the next four months, Ohio State will return to action.
Whenever that happened, it'll have a Wyatt Davis-sized hole at right guard. The 2019 first-team All-American announced on Friday his decision to opt out of the upcoming collegiate season in order to spend his time preparing for the 2021 NFL Draft. A potential first-round draft pick, Davis made the move after feeling as though he had waited in perpetuity to hear an answer from the Big Ten without a sense of finality.
Davis' choice made sense from his perspective yet was also an undeniable blow to an offensive line that had the potential to be the nation's best. So, who will take his place at right guard? That's what we're here to determine.
The Favorites
Matthew Jones
Can top-100 overall recruits get forgotten about? At Ohio State, where a boatload of them enroll each cycle, that sometimes happens, and it might explain why Matthew Jones has garnered such little hype. The Brooklyn native out of Erasmus Hall, the same high school that produced Curtis Samuel, was the No. 68 overall prospect and No. 1 center in the 2018 recruiting cycle. Since he signed on the dotted line and enrolled, for whatever reason, not many people outside of the Woody Hayes Athletic Center have talked about him.
That could soon change. Jones might be the odds-on favorite to start at right guard in place of Davis. The guard played 114 snaps last season while serving as a backup. Now in his third Ohio State season as a redshirt sophomore, it might be time for him to take the next step and step up as a starter.
Gavin Cupp
Jones couldn't be much more different than Gavin Cupp, perhaps the other top option at right guard. Cupp, a former three-star recruit from Leipsic, enters his fifth year at Ohio State without ever having started for offensive line coach Greg Studrawa. He was on the field for 174 snaps as a backup last season before suffering a leg injury that was serious enough to keep him off of the field even when spring camp started earlier this year.
Cupp has competed for open starting jobs in the past, though he hasn't been a frontrunner before. If he performs well in whatever limited training camp the Buckeyes have, he could become a first-year starter. Nobody's waited as long for such an opportunity as Cupp, the only redshirt senior offensive line on the roster.
Don't Overlook Him
Enokk Vimahi
Last summer, Enokk Vimahi walked onto Ohio State's campus as a 257-pound offensive guard needing a Mickey Marotti-powered body transformation. The weight-gain process happened exactly as the Buckeyes' staff hoped, with him putting on so many pounds that the official roster now lists him at 305 pounds. Because so much of the Hawaiian's first season at Ohio State centered on him adding weight rather than actually playing, he's an underdog. But a second-year leap from Vimahi can't be ruled out, either. He might end up in the mix after deciding not to go on a two-year church mission trip.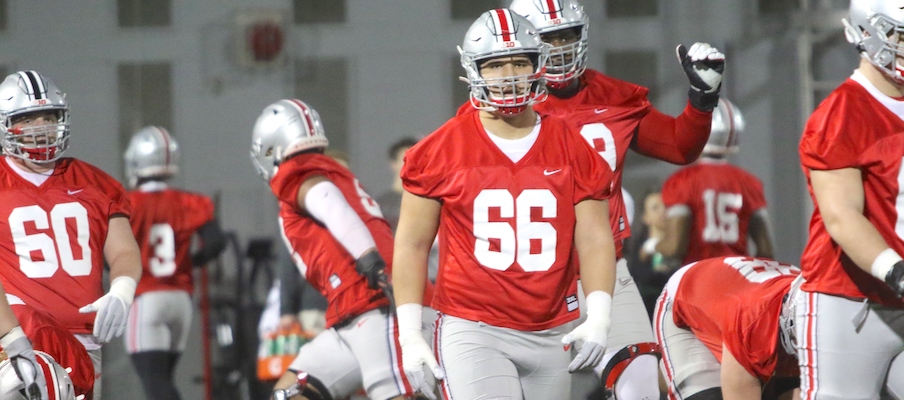 Let's Get Crazy
Nicholas Petit-Frere/Paris Johnson/Dawand Jones
Yes, all three of these are offensive tackles. But if the goal is to get the best five linemen onto the field and Nicholas Petit-Frere, Paris Johnson or Dawand Jones is a step above any of the traditional guards, Studrawa could consider shifting one of his tackles inside for one year. Branden Bowen did so most recently, and he had success at the position before a brutal leg injury. Perhaps one of these three can do the same.
If the leadup to the season turned out to be longer than expected, maybe Ohio State tries out one of them at guard. But a shortened training camp makes this an unlikely scenario.
The Longshots
Ryan Jacoby
Ryan Jacoby possibly deserves placement in Vimahi's category since he took some second-team reps in the spring. Yet it would be a surprise if Jacoby manages to win Davis' vacated starting right guard spot. A second-year lineman from Mentor who didn't play any offensive snaps as a true freshman, he'd have to pass up several players ahead of him on last season's depth chart in order to start. In a normal offseason, that might be more likely. Not this year, though.
Luke Wypler
At some point down the line, Luke Wypler will start at Ohio State. For the nation's 108th-ranked incoming freshman, it's just a matter of when that time comes. Yet for anyone holding out hope he might get a shot in 2020, that's not going to happen. Wypler's a true freshman who didn't even get to participate in a full slate of spring practices. Now, he likely gets an abbreviated preseason camp, too? Freshman offensive linemen rarely start at Ohio State, and Wypler won't be the exception to the rule.
The Wild Card
Wyatt Davis
Ohio State could only replace a first-team All-American with a first-team All-American one way: If Davis changes his mind and chooses to stick around at Ohio State for one more year.
Originally, it was reported that Davis signed with an agent, causing everybody to rightly assume his time as a Buckeye had ended. But he has since said it's "not truly official" as he waits to see what the Big Ten till do. If the conference starts playing games on Oct. 17 or Oct. 24, could he play once more for Ohio State? It's 2020, so nothing is impossible. Crazier things have happened. Don't bank on a Davis return since he's already opted to leave, but don't rule it out either.
If Davis were to pull a shocker and reverse course, it would once again give the Buckeyes potentially the country's top offensive line led by the best guard in college football.