This was supposed to be the pinnacle. The peak of a years-long process to turn Ohio State's offensive line into the best in the nation.
Unlike other positions on a football team, getting an entire offensive line to the point where a team has five quality players takes years. No one should ever take it for granted when it happens. Even some of the best lines have weak links or specific areas they struggle in. 
Perhaps, one of the Buckeyes' two first-year starters would have struggled, or nagging injuries could have hindered somebody. An unconventional offseason due to the coronavirus pandemic certainly might have affected preparation for a Big Ten season that still hangs in the balance.
But this was the one. After the 2019 offensive line of Thayer Munford, Jonah Jackson, Josh Myers, Wyatt Davis and Branden Bowen fell just short of capturing the Joe Moore Award which goes to the nation's best unit up front, Ohio State's 2020 line had all the making of what could have – would have? – been the best in the country.
And now, with Davis opting out of the upcoming season on Friday to prepare for the 2021 NFL draft, the anticipated crescendo won't happen.
"On one hand, playing at The Ohio State has been the experience of a lifetime," Davis wrote in his note on social media. "On the other, my childhood dream is to play in the NFL."
It's an entirely reasonable decision on Davis' part. In his first full season as a starter, he became a first-team All-American who drew attention for his work as an interior lineman blocking for a Heisman Trophy finalist quarterback and a 2,000-yard running back. Most projections have him on the first-round/second-round bubble, and it's unclear how much higher his draft stock could have risen, especially in an altered season. How much, truly, did Davis have to gain by sticking around? Deciding not to take any risks by playing another season of college football during a pandemic is an entirely logical choice.
But it's hard not to think about what the Buckeyes had and now no longer have.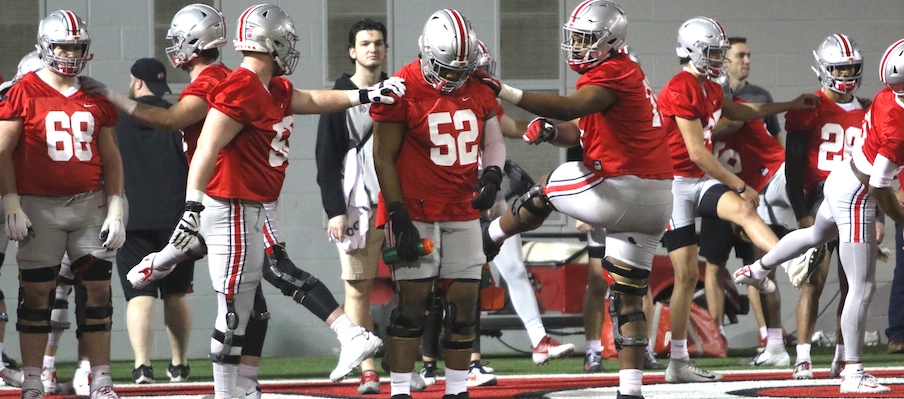 This group took years to create. Years for Greg Studrawa, Kevin Wilson and others to develop.
At left tackle, Thayer Munford returns as a three-year starter who, when healthy, has been one of the Big Ten's best blind-side protectors. The Ohio native who became a late addition to the 2017 recruiting class eschewed this spring's NFL draft in order to return for his senior season. He earned second-team All-Big Ten honors last season and remains poised to challenge for a first-team bid in the upcoming season.
Beside him, everybody in the Woody Hayes Athletic Center expects Harry Miller to step in as the starting left guard. Sometimes, angst brews when a second-year player takes over an offensive-line spot. Yet nobody has even hinted at any concern about Miller, a former five-star recruit who blew away his teammates and coaches – including Studrawa and Ryan Day – with his readiness on the field and in understanding complicated offensive line concepts. 
In the middle, Myers once again mans the center position after completing his first season as a starter in Columbus by earning a second-team All-Big Ten nod. Instead of declaring for the 2020 draft, the 6-foot-5, 312-pounder from Miamisburg returned as a projected top prospect for the 2020 draft. He's expected to contend for the Rimington Trophy, which Pat Elflein and Billy Price won a few years ago.
To his right, until Friday's declaration, Davis was set for his second year as a starting guard. Many already viewed him as the best guard in college football last year, but rather than go to the NFL after his redshirt sophomore season ended with a heartbreaking loss to Clemson, he opted to come back to Columbus to chase a national championship once again. Davis had already lived up to all the hype surrounding him as a five-star prospect out of California, but he wanted one more run at a title.
At right tackle, most anticipated Nicholas Petit-Frere would step in as a first-year starter, though Paris Johnson remained in the mix, as well. Studrawa had his choice of two offensive tackles once ranked as the top offensive linemen in their respective recruiting classes. Not too shabby for what most viewed as the most questionable spot on a rock-solid line.
The line returned three starters, all of whom had the option to follow Jackson and Bowen to the NFL. Collectively, it couldn't have had much more talent up front with three five-star prospects (Petit-Frere as No. 7 overall in 2018, Davis as No. 24 overall in 2017 and Miller as No. 30 overall in 2019), another top-60 prospect (Myers at No. 53 overall in 2017) and a four-star prospect (Munford at No. 285 in 2017) who happened to also be the most experienced lineman among them. It would be a surprise at all if all five of them don't get drafted eventually, and it's quite possible some of them – including Davis – get picked in the first round at some point.
Davis did nothing wrong by leaving now. He wanted an answer about when the Big Ten will play and whether a national title will be on the line, and he still doesn't have one. And this certainly isn't a death knell for Ohio State. Not by any means. Munford and Myers haven't opted out, and one-time top-100 recruit Matthew Jones and fifth-year senior Gavin Cupp wait in the wings at right guard.
But great offensive lines take more time to create than any other position group, and this one had the potential to reach the highest of heights.
As Davis walks out the door for the last time as the best guard in college football before becoming an NFL draft pick, we're all simply left to wonder what could have happened if he and his four fellow starting linemen had a full season to shine together as Buckeyes in 2020.