Welcome to Deep Cuts, our new series where we take a look back at a historic Ohio State game from past decades.
Every weekend, as long as the Buckeyes aren't in action this fall, we're picking out a game from the given week to reflect on with a running diary on Saturday and an interview with a player or coach about what happened in it on Sunday. ​
First up for Week 1 of the college football season? Ohio State-West Virginia in 1998.
All I know about this game is the result – not even the score – since I'm watching it for the first time. Of course, I feel as though I have to note that I grew up a Mountaineers fan, so it's apt to start with this one since I now cover the Buckeyes. Yet even with those connections to both teams, I've never seen this game because, well, I was only 3 years old when it kicked off.
With that intro out of the way, let's get underway. If you want to watch this showdown in Morgantown, the game is available on YouTube.
0:00:04 All it takes is CBS' intro music to turn me into Pavlov's dog, ready to spend the evening on my couch watching a big-time college football matchup under the lights. Add in some late-1990s Space Invaders-esque sound effects leading into Sean McDonough's familiar voice to set this thing up, and I'm all-in on this game. Let's do it.
0:00:21 "Now, three decades later, the Bucks are focused on recapturing the glory of a bygone era," McDonough says. Buddy, strap in. The next two decades will be a wild ride. You might not know about them right now in the fall of 1998, but there's a head coach at Youngstown State, wide receivers coach at Notre Dame and a freshman quarterback at New Hampshire who you'll get to know quite a bit about who will help Ohio State achieve that goal.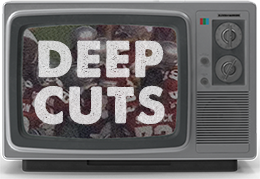 September 5, 1998
| | | | |
| --- | --- | --- | --- |
| #1 | | Ohio State | 34 |
| #11 | | West Virginia | 17 |
Tonight, though, it's all about John Cooper and the No. 1 Buckeyes opening the season in Morgantown against No. 11 West Virginia. Ohio State's entering the season as the nation's top-ranked team despite going 10-3 in 1997 with losses to Penn State, Michigan and Florida State in the Sugar Bowl. That ranking speaks to the talent on this team, which features wideout David Boston, defensive back Antoine Winfield, linebacker Andy Katzenmoyer and quarterback Joe Germaine, among others.
On the other sideline, as McDonough put it, "West Virginia is ready to challenge again" for national prominence. Led by the legendary Don Nehlen who racked up 149 wins in 21 seasons in Morgantown, the Mountaineers were coming off a 7-5 season with enough talent for a No. 11 ranking, including quarterback Marc Bulger and running back Amos Zereoue, who was getting some Heisman Trophy buzz.
0:03:34 We have our first child in the crowd dressed in full Mountaineer mascot garb, complete with a coonskin cap and a musket. I presume it's a toy musket, but this is a West Virginia football game, so I know better than to say that with certainty.
0:04:27 I just smiled looking at this graphic put onto the screen by CBS. Apparently, Ohio State guard Rob Murphy told the media, "Let's just say I've played against better guys and beaten better guys than John Thornton," and West Virginia defensive tackle John Thornton said, "Rob Murphy isn't even the best guard on his team." Absolutely love it. When's the last time you heard of an offensive guard-defensive tackle beef? Heck, when's the last time you saw any beef involving an Ohio State player like that play out in the media? It basically never happens these days.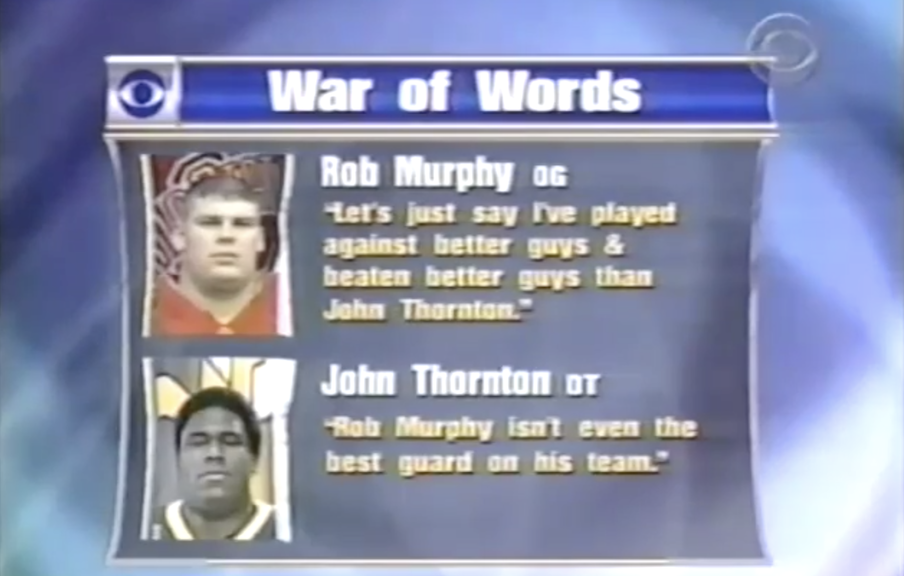 0:04:45 Ohio State's Dan Stultz kicks it deep to Nate Terry who returns it to the 22-yard line, and we're underway.
This is just the second game between the Buckeyes and Mountaineers since 1903. I struggle to think of many better aspects of college football than home-and-homes played between major programs. Cherish them because you never, ever know when they'll happen again. In this case, Ohio State and West Virginia haven't scheduled any future games, so nobody knows when they'll play next (Of course, they would've met in the 2007 BCS National Championship if the then-undefeated Mountaineers didn't end the regular season by losing to Pittsburgh, but I vowed never to talk about that again).
0:10:40West Virginia spreading it out to force Ohio State to play sideline-to-sideline defense? It worked, with Zereoue – whose Famous Amos nickname is underrated – picking up a couple nice chunks of yardage and tight end Anthony Becht catching a pass off of misdirection. West Virginia running it up the middle twice? It decidedly failed, leading to a third-and-long and, shortly thereafter, a made 47-yard field goal from Jay Taylor. Mountaineers 3, Buckeyes 0. 
Side note: Damn, this packed house is a fun environment. We'll miss that this fall. 
0:14:32 The i-formation reverse! Perfection in a play. Dee Miller follows up a third-down reception from Boston that moved the chains by picking up a second first down in a row off of a reverse. All credit to Germaine for trying to throw a hit-stick block on West Virginia's blitzing outside linebacker. It sort of worked.
0:15:37 By this point in the day, per an on-screen graphic, No. 5 Michigan had already lost, 36-20, to No. 22 Notre Dame. Just thought you readers should know.
0:18:40 Another made field goal. This one a 35-yarder from Ohio State's Dan Stultz to end his team's march down the field. A couple of quick takeaways from my first time seeing the 1998 offense play:
I honestly don't know much, if anything, about Michael Wiley since he's overshadowed by some legendary running backs in Buckeyes history. But if the first drive's any indication, the guy seeks contact. He's already fun to watch.
My eyes widened when I saw the first close-up shot on Boston. I didn't realize how physically built he is, especially in comparison to other wide receivers. He's every bit of his listed height and weight of 6-foot-3 and 215 pounds. The man's ripped.
0:22:53You don't have to watch too much of this game to see why Boston and Winfield developed the reputations they did over the course of their Ohio State careers. Winfield blew up a pass to the flat on second down, setting up an eventual punt, and Boston found a seam on a 19-yard punt return and dragged his eventual tackler a few extra yards. A pair of physical, athletic dudes who have no problem with contact.
0:23:11 Oh no. Boston's down. Not exactly sure what happened. Can't imagine what every Ohio State fan was thinking at this moment. It's the first quarter of the first game of the season.
0:24:05 Boston evidently walked off the field under his own power during the commercial break, leading to this update from the sideline reporter: "Sean, I think the technical term is he got his bell rung. They're going to keep him out a couple plays, but he'll be back shortly." Concussion protocol in the 1990s, it seems, wasn't what it is today.
0:25:52 Hello, Michael Wiley. A 35-yard run followed up by an 18-yard touchdown scamper to give the Buckeyes their first lead of the evening 10 minutes into the game. On both runs, Wiley made timely cuts to find open space at the second level, setting him free. Some nice design and execution up front on the touchdown run left Wiley untouched on his run to the end zone. Really impressed by him in the first quarter.
0:30:01 Is there anything more intimidating than a 260-pound middle linebacker who's wearing an obscenely large neck roll and what looks to be oversized shoulder pads to go along with his tattooed biceps? Dumb question. Of course not. You do you, Andy Katzenmoyer.
0:30:35 All of the success the Mountaineers had moving the ball on their opening drive has evaporated. This Buckeyes defense is tough to penetrate and isn't allowing Bulger to find any openings down the field. A second punt in a row for West Virginia, which had plenty of adrenaline going when the game began but is now struggling offensively.
0:38:23 Ohio State commits a false start as Stultz lines up to attempt his second field goal of the night, leaving Cooper incredulous with his team. So, he sends out punter Brent Bartholomew with his team on the Mountaineers' 38-yard line, presumably to preemptively honor the head coach who'll eventually take over for him. Bartholomew pins West Virginia at its own 6-yard line. 
0:43:52 After a commercial break, Bulger seems fine, returning to play. But he was limping to the sideline before the break. Apparently West Virginia offensive coordinator Dan Simrell told the broadcast crew before the game: "Bulger is the player we can least afford to lose. If Bulger goes down, I'm going to leave the coaching booth and go home." You have to imagine Ryan Day had a similar attitude about Justin Fields for the duration of the 2019 season, too.
0:44:55 Winfield won't stop showing up. He's one of those guys who, even if you're not keyed in on him, will put himself in the middle of a play. This time, he delivered a punishing hit on Khori Ivy to knock out a juggled ball on third down, forcing another punt.
0:47:45 Tim Brando's in the bowels of the stadium, telling everybody at home to stay locked in for CBS' halftime show with Lou Holtz and Craig James. Hell of a trio.
0:48:20 Holy crap, Dee Miller. Germaine had been playing it relatively safe...until right now. Out of an i-formation with two tight ends, Miller faced one-on-one coverage on the right sideline. The route? Run straight as fast as he can. Miller didn't manage to get a step on the cornerback, yet he positioned himself to come crashing down to the ground with a contested 42-yard catch. Great throw, great coverage, better catch. I guess there's a reason why he led the Buckeyes in receiving yards the season prior.
0:50:33 It's the Miller show on this drive. He and Germaine connect again, recording a 14-yard touchdown on a post. Miller had some separation on his route, and his quarterback hit him in stride. Couldn't draw it up any better. Back on the sideline as the extra point sails through the uprights, Miller and a few of his teammates are shouting and gesturing at the crowd. Ohio State has all the momentum and the lead.
0:51:40 Mike Mayock, who's most known for his sideline reporting and definitely nothing else, tells the viewers he talked to Ohio State strength and conditioning coach Dave Kennedy who told him Miller's the player on the roster with the best work ethic on the team. "The guy got his 40-yard dash time down to 4.5 for the scouts last year and it's a guy that wasn't blessed with great natural speed." Springfield's finest.
0:52:10 West Virginia's Jerry Porter might've thought catching a kickoff at the 20-yard line was too good to be true. He was correct. Joe Cooper met him with a hit stick, forcing a fumble that the Buckeyes recovered. The Buckeyes already hold a 17-3 lead, and they have it rolling. Pertinent that West Virginia gets a stop here, or else this one could get ugly.
0:53:44Per the mid-game score updates, Miami University upset No. 13 North Carolina, 13-10, in the afternoon, which reminds me of RedHawks coach Chuck Martin's amazing quote last fall: "It's kind of like going to recess and they have the first 85 picks." It might not have been quite as accurate in 1998.
0:56:15No false start this time. Stultz – who lost 30 pounds when he got to college due to the adjustment, per McDonough – knocks through a 36-yard field goal. It's a 20-3 Ohio State lead.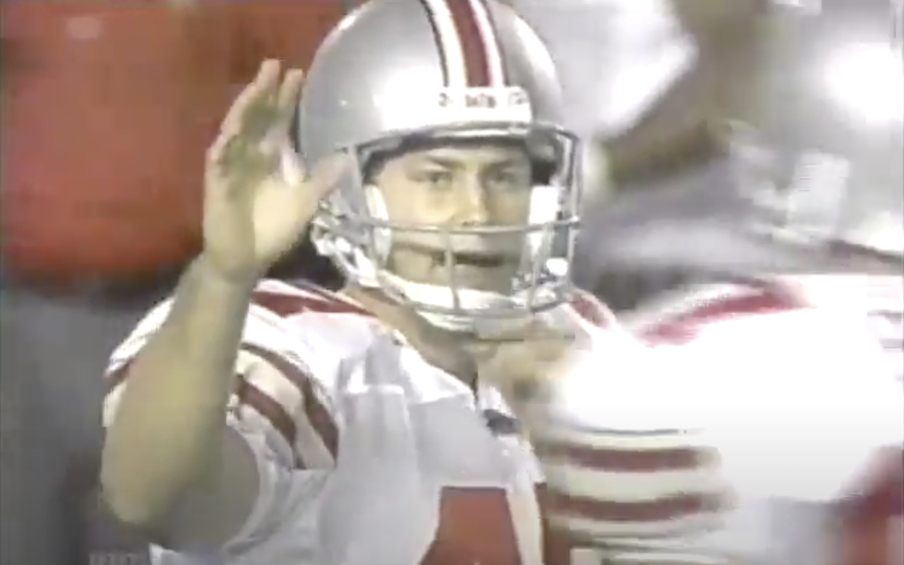 1:00:01 Hey, look. Another West Virginia punt. That's four punts on the past four drives. Man, this Ohio State defense is good. Winning the battle at the line and down the field. A recipe for success.
1:06:14 Ryan Leaf will make his NFL debut tomorrow against the Buffalo Bills. Game analyst Terry Donahue follows up McDonough's promotion for the game by reminding us to never take preseason results seriously: "I watched San Diego in the preseason, Sean, and they look awfully good with Ryan Leaf at quarterback. They look like a different team." Leaf had two touchdowns and 15 interceptions as a rookie in 1998. Thank you for that analysis, Terry.
OK, back to the game, with West Virginia in Ohio State's territory for the first time in what feels like forever. Trailing by 17 points with 4:30 remaining until halftime, the Mountaineers need to cut into this lead right here.
1:07:30 Oof. Nehlen went for it on fourth down on the Buckeyes' 38-yard line. But instead of calling on Zereoue, the head coach went for a Bulger-to-David Saunders pass. Saunders dropped what should have been a first down. I haven't gone full Pro Football Focus by counting dropped passes, but apparently I should have since both teams have had issues with them.
1:10:30 Another punt for Ohio State sets up Bulger and the Mountaineers for a two-minute drive from their own 19-yard line. Considering McDonough says this has been billed the Game of the Decade in Morgantown, it's past time for West Virginia to cut into the Buckeyes' lead.
1:13:48 Donahue has been solid throughout this game. But him yelling, "He's gonna run for a touchdown, perhaps," as Zereoue was five yards into an 18-yard run that didn't even get him across the 50-yard line is the most unintentionally hilarious moment of the night by a mile.
1:14:36You knew it might be coming at some point. Bulger, who'd been unable to find anyone down the field for the duration of the half, hit Pat Greene on the sideline for a 49-yard gain to take West Virginia inside the 5-yard line. Welcome back, previously depressed crowd. 
1:18:35Um, WHAT? Scrambling to the sideline away from pressure and throwing across his body into double coverage, Bulger somehow snuck a pass into an impossibly small window to Shawn Foreman for West Virginia's first touchdown, coming with 20 seconds remaining before halftime. Bulger had no business whatsoever completing that toss. Nevertheless, the Mountaineers chopped the Buckeyes' lead to 20-10.
1:24:20 Heading into the locker room for halftime, Nehlen tells Mayock the crowd's impacting his team's offense. "We've had about four formations that I haven't recognized." Would help explain some of the offensive issues so far.
1:26:25 Disaster flirted with and avoided. Reggie Germany, returning the opening kickoff, fumbled and gave West Virginia a prime opportunity to swing the game in its favor. Yet no Mountaineer could quite recover the ball despite multiple players getting their hands on it. Ohio State maintains possession, and it's not exactly doing a ton to put West Virginia away for good.
OSU-WVU '98 Fun Facts
For the first time in 23 years, the Buckeyes' opening contest was a true road game.
Joe Germaine started at QB for the second time and earned his first win as a starter.
For only the 10th time in Ohio State history, two players eclipsed the century mark in receiving yards in the same game: David Boston (129) and Dee Miller (110).
149-26: Ohio State aggregate score in five consecutive wins against West Virginia.
1:32:10 Katzenmoyer looking like a UFC fighter as he spins and manages to tackle Zereoue with his legs as he gets cut-blocked on a draw. Without tripping the running back up, it could've been a chunk play. Zereoue's doing the bulk of the Mountaineers' offensive work, yet he's been unable to consistently get to the second level. And Bulger hasn't often managed to find openings downfield to attack. Ohio State's offense has been sputtering, but its defense remains stout.
1:33:15 Out of another commercial break, McDonough says, "Some called this in the buildup leading up to the game, the most anticipated sporting event in the history of West Virginia." Not a bad thing for Ohio State fans to hear hammered home while their team has a double-digit lead, I imagine. 
1:35:35 What a gigantic connection for Germaine and Boston. With pressure in his face, the quarterback delivers a strike to his No. 1 receiver on a comeback route who catches it and runs for a 29-yard gain. Given the Buckeyes haven't done much offensively in a while, this was a welcomed development on third-and-long.
Also...a graphic shows Boston is coming off a season in which he set the school's single-season record of 73 catches? Imagine how many receptions he'd have in today's offenses.
1:38:15 An incompletion to Jimmy Redmond, and the commentary makes me chuckle. McDonough calls him a "speedster out of the St. Louis area" who's one of the fastest players on the team who won a state championship in track and field as a high schooler. That description, of course, perfectly describes a current speedster out of the St. Louis area: Jameson Williams. The uncanny part? They both rock No. 6 jerseys. But Williams, after one season, already has twice as many catches as Redmond did in his career.
1:40:46 David. Boston. This drive started with Ohio State on its own 4-yard line, moving back to the 2-yard line due to a penalty, and now it ends with Boston catching a 39-yard touchdown pass. For whatever reason, West Virginia thought it was a good idea to cover him one-on-one on the outside with no safety help – narrator's voice: It was not a good idea – and he burned the cornerback on a deep post. He had a couple of steps of separation, which came in handy since Germaine slightly underthrew it.
That score gives the Buckeyes a 27-10 lead, and given how well their defense has played, it's starting to feel like West Virginia's biggest sporting event of the decade will be a dud for Mountaineer fans.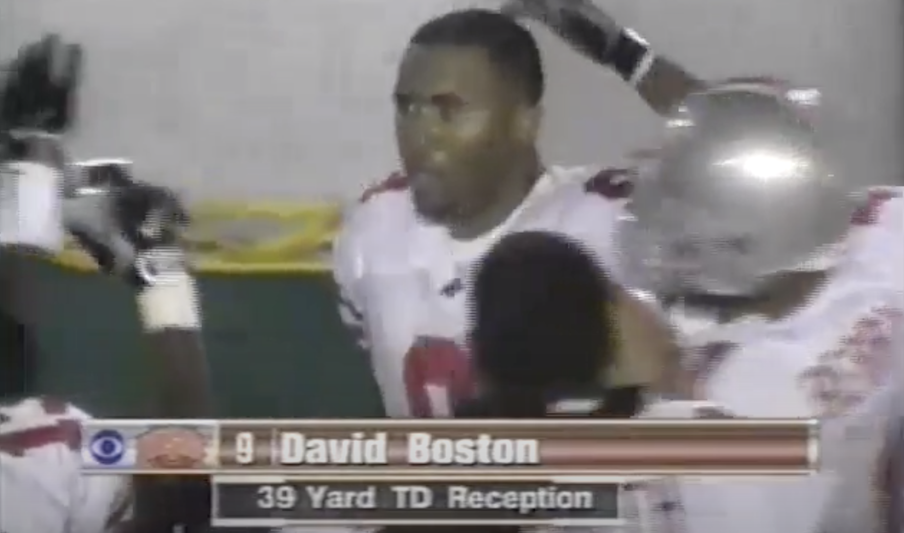 1:47:18 Not a clue how Central McClellion managed to secure the bouncing ball that Boston muffed on the punt return. No idea. That was about to be the break the Mountaineers needed, and instead, Ohio State has the ball on West Virginia's 45-yard line.
1:48:30 Again! Redmond fumbles on the first offensive play and recovers his own loose ball. Can't believe the Buckeyes pounced on both fumbles.
1:53:05 Our first College Kickers moment of the night. Stultz hooks a kick far to the left of the uprights for his first miss of the season. Cooper isn't thrilled, to say the least, with Stultz's followthrough, which he mimics as the kicker walks past him on his way back to the sideline.
1:57:10Winfield on a blitz forces an incompletion, leading McDonough to say, "It's an exciting time for Winfield. He had a son who was born about two weeks ago: Antoine Jr." Wonder what he ended up doing with his life…
2:03:57 We're heading to the fourth quarter here in Morgantown, and considering Bulger still can't do anything against this Ohio State defense that's largely keeping Zereoue in check by winning on the line of scrimmage, I struggle to see how the Mountaineers can crawl back into this game. The crowd's almost completely dead, too. This one's all Buckeyes as the game's final 15 minutes begin.
OSU Records Set in 1998
PASSING OFFENSE
7.........Games of 300-yards passing* 
7.1......David Boston's receptions per game#
8.........Team record for most 500-yard games* 
9.........100-yard receiving games for Boston#
10.......Consecutive games of 200+ passing yards*
85........Boston's receptions for the season*
230......Joe Germaine's completions*
247.......Passes completed by the team*
419......Team pass attempts*
497.5...Team total yards*
1,435...Yards receiving by Boston#
3,330...Germaine's passing yards*
3,576...Team passing yards*

DEFENSE
11.....Sacks against Iowa*
17.....Ahmed Plummer's pass break-ups#
47.....Season sacks#
113...TFL (T-1996)*

SPECIAL TEAMS
59...Punt returns#

#School record for a season
*School record for a season at the time
2:06:05 We've reached the Defend Katzenmoyer And Ohio State part of the broadcast. I'll be honest: Since I wasn't old enough to follow it when it happened, I don't know a ton about the academic situation with Katzenmoyer and two other players whose eligibility was in question entering the season. But CBS has Mayock on the sideline holding up a copy of Sports Illustrated with Katzenmoyer on the cover for the camera, saying, "I think, too often, we in the media focus on the negative and not the positive. And Ohio State has a heck of a lot of positives to talk about." They've got a whole Academic All-Big Ten honorees graphic prepared to defend the Buckeyes from criticism and everything. 
2:07:52 If Barrett were to Green deliver a forearm shiver to a quarterback's neck in this decade as he did to Germaine right there, he's probably ejected. The rules were different back then. Instead, it's just a penalty.
2:23:04 Cooper almost did it. He almost made it out of a late-1990s game without the broadcasters mentioning his record against Michigan. Alas, McDonough brought it up in the final five minutes of action: "He's been a huge winner throughout his career, but that 1-8-1 record against Michigan at Ohio State hangs over his head." He'll hear about that mark for the rest of time.
2:25:12Touchdown, Jonathan Wells. He goes into the end zone untouched to give Ohio State a 34-10 lead in his first career game as a Buckeye. Not a bad way to start a career.
Don't miss the pulling right guard lay a defensive end out, either.
2:31:55I honestly had no idea Nehlen – a Mansfield, Ohio, native – was the runner-up for the Ohio State coaching job that Cooper secured until McDonough just mentioned it. From the LA Times in 1987:
"Don Nehlen of West Virginia and John Cooper of Arizona State are reported to be the finalists for the vacant Ohio State football coaching position. Reports in Phoenix and Columbus newspapers identified the finalists and said that Ohio State would conduct final interviews Tuesday for the job left vacant by the Nov. 16 firing of Earle Bruce."
Funny how that turns out.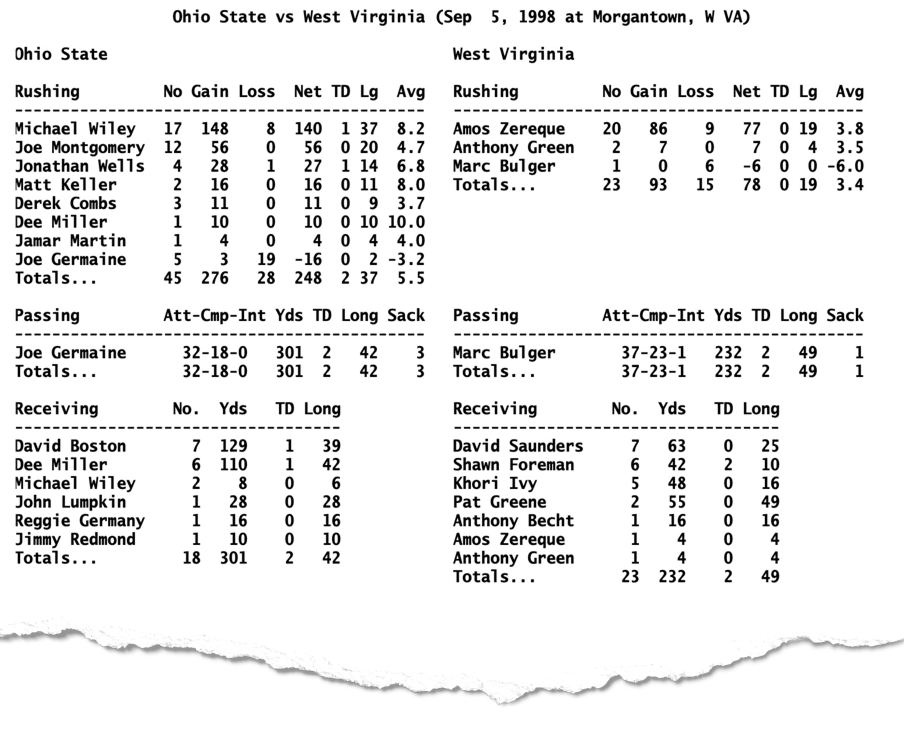 2:34:07 With 13 seconds remaining, West Virginia scores its first points since the first half on a Bulger-to-Shawn Foreman end-zone fade. Too little, far too late. This cut Ohio State's lead to 34-17.
2:35:30 The Mountaineers recover an onside kick but, with nine seconds remaining, would literally need time to stop in order to pull off a comeback. This game's over (after a quick Bulger interception).
2:37:05 With the game over, Cooper's on the mic with Mayock: "I'm satisfied. To come here to West Virginia in this hostile crowd and win like we did, it's very, very satisfying. I don't like the penalties. I don't like the turnovers, stuff like that. But hey, I'll take it. A win's a win."
Sounds about right.