Ryan Day's press conference on Wednesday turned into a recruiting pitch – not only for potential future Ohio State players, but also for the current members of his team.
With Tuesday's decision by the Big Ten to postpone its fall sports season and attempt to play football during the spring semester, one of the biggest questions Ohio State is now facing is whether its top players will stick around to play in a potential winter or spring season. Established stars like Justin Fields and Shaun Wade could leave Ohio State right now and already be early picks in the 2021 NFL draft, while it's also possible players could explore transferring to ACC, SEC or Big 12 schools if those conferences proceed forward with playing this fall.
That said, Day is making his case to all of those players to stick around – at least until they have more information about what the postponed season will look like and are able to make an informed decision on whether playing in that season would make sense for them.
According to a report by Sports Illustrated's Albert Breer on Thursday morning, the Big Ten is exploring the possibility of playing an eight-game season beginning in the first week of January – a plan Day is on board with – which would conclude in March. In turn, the NFL is also reportedly willing to move its Scouting Combine back to April and the draft back to late May or early June in order to accommodate a potential winter/spring season.
It's still fair to question whether projected first-round picks like Fields and Wade should play in a shortened, non-traditional college football season that would give them less time to recover and prepare for the 2021 NFL season, but Day – asked specifically about Fields – believes he will at least take some time to see what the Big Ten's plan is before deciding whether he should opt out.
"I think Justin wants to see what the schedule is, and I think it's our job and we owe it to these guys to make sure that we put the schedule and put the plan (together) quickly here, so that someone like Justin can plan on his next year, his next few months," Day said. "Us having a whether it's a spring season or a winter season or however that works out, I think we need to start this in at least the first week of January, and that will allow players like Justin the opportunity to play in the season and then also get himself ready for the draft. But I think we need to get on this right now and get these guys some answers."
Even if Fields, Wade or any other Ohio State upperclassmen ultimately decide they don't want to play in a postponed season, Day doesn't think there should be any rush for them to leave the program now. Even if they never play another snap for the Buckeyes, Day believes they would benefit from staying in Columbus this fall and continuing to train with their Ohio State coaches and teammates.
"Regardless of what happens, the NFL draft isn't gonna be till next spring. So we have everything in place here in Columbus to help those guys," Day said. "We have the best strength coach in America (Mickey Marotti), we have all the resources here that they would need. We're gonna test (for COVID-19) continually. We're gonna give them meals. We're gonna meet on football. Watch film. And just get them better physically, football-wise, football IQ, all of the above. And then if by chance they do want to go ahead and go somewhere in the spring, they still have all spring to do that.
"In a normal cycle, they wouldn't be leaving anywhere till January anyhow. So to go somewhere right now, to me, doesn't make a lot of sense when you have everything you need right here. And I also don't think it's good for them mentally to go off somewhere and just be by themselves in isolation, which is kind of what you are when you go to those places. So we're gonna provide them everything they need to get better and get stronger, because we have those resources here at Ohio State."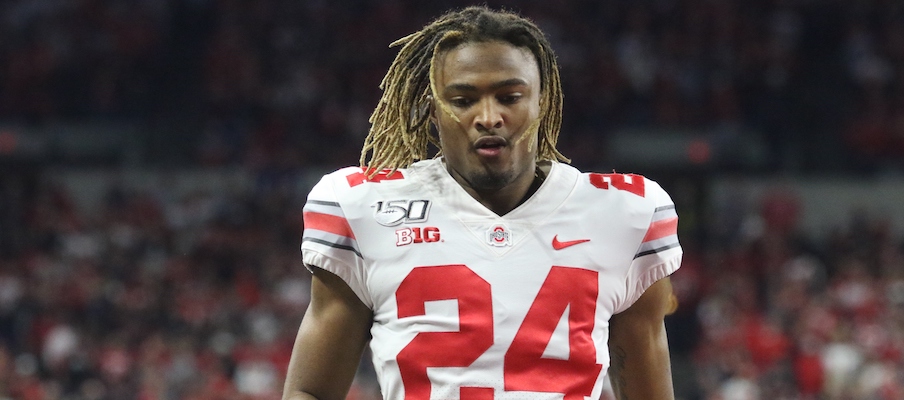 While Day has obvious incentive to encourage his players to stick around, especially if that means having them on the field for a postponed season, Ohio State does have a track record of developing NFL players – 69 draft picks in the last 10 years – that backs up his assertion that the program can continue to help them prepare for the next level.
If Ohio State players are skeptical a spring season will actually happen and desperately want to play this fall, transfers could also be a potential option if other conferences end up playing. Day acknowledged Wednesday that because the Buckeyes have talented players, he knows there are schools trying to convince his players to make that move right now.
Whether that would actually be a smart move for any of his players, however, remains very questionable, given that those conferences could still ultimately end up postponing their seasons, too. Even if they don't, any player who transfers would have a short amount of time to get acclimated to his new team before potentially playing games in September, and it's entirely uncertain whether the NCAA would grant those players immediate eligibility even though their fall seasons were canceled. 
"I'm sure that there are going to be schools that reach out to our players," Day said. "We have great players. But I don't see how that would be possible or even safe, for someone just to go at this point and play in a few weeks. Certainly not safe to go try to learn an offense and go to a new place and everything like that at this moment, and then trying to get a waiver and all that in this short period of time."
All of that said, Day recognizes that many of his players do have tough decisions to make as a result of the fall season being canceled, so he's pushing for the Big Ten to solidify its plan for the postponed season as quickly as possible – within weeks, not months – so that those players can decide whether that's something they want to try to play in.
"We have to give these guys this plan moving forward on what's next," Day said. "We owe it to these guys."
As of Thursday morning, no Ohio State players had indicated publicly they would leave the program or opt out of the spring season, though Jonathon Cooper – the only Buckeye so far who's spoken with the media since the season was canceled – told ESPN on Wednesday that he hadn't yet decided if he'll stick around for another shot at playing his senior season.