The question was posed to Jack Sawyer and TreVeyon Henderson, but it was almost shrugged off. Not entirely, but there still didn't seem to be a ton of realistic thought put into it:
If the college football season gets pushed back to the spring and early enrollees are immediately eligible to play, what are your thoughts on possibly suiting up for Ohio State in February or March?
"I haven't thought about that, but getting on this year's roster would be incredibly exciting, to be honest," Henderson told Eleven Warriors on July 10, almost a month to the day before the Big Ten announced a cancellation of its fall sports season. 
Sawyer had been putting a bit more thought – though not a lot – into that possibility as a fun, albeit unrealistic hypothetical scenario.
"That would be nuts," Sawyer said. "Say I go in there and early enroll in January and our first game is March 1, that's insane to think that in two months I would be playing the college game. But, honestly, I don't think that would really happen. I think they would just view that as letting us practice and not have it technically be our freshman year. But if for some reason that is the case, well, shit, we're gonna be there working so I might as well work as hard as I can to see what happens."
very interesting https://t.co/Q4siitQzVy

— TreVeyon Henderson (@TreVeyonH4) August 12, 2020
Well, that such scenario has turned from a hypothetical into one that Ryan Day is going to be pushing hard for in the coming months.
In a press conference with reporters on Wednesday, Day called it a "two-for-one" special in which the early enrollees would "get two seasons in one calendar year," while only using up one year of eligibility, "which the recruits I think would be really excited about."
Thus far, the players in Ohio State's No. 1-ranked 2021 recruiting class who are set up to enroll in January are Sawyer, Henderson, Kyle McCord, Jayden Ballard, Reid Carrico, Evan Pryor, Marvin Harrison Jr., Denzel Burke, Jantzen Dunn, Sam Hart and Jesse Mirco, with Mike Hall and Ben Christman possibly joining that contingent. 
In order to get any or all of them onto the field and play in what Day hopes would be an eight- or nine-game spring season, he says he is hoping to find a way in which the players will only be burning one total season of eligibility if they play in both the spring and fall of 2021.
"I think there's some excitement about the possibility of playing two seasons in one year," Day said. "I think that's a really exciting thing for them to consider, and I'm gonna fight really, really hard so that if I'm a mid-year guy coming in, if we have the opportunity to play in January and then also in the fall, that it will only count for one year of eligibility because it's only in one calendar year. I think that's really exciting for them and is a possibility that really interests them."
Of course, bringing in 11-13 additional players onto a roster that is already at the 85-man scholarship limit is an issue Day says would obviously need to be addressed in order for all of this to actually work. 
"We would have to get a waiver for that, and then I assume the guys that are in their last year of eligibility would be the ones that you would count into your (85-man) count and then anybody else who was declaring after the season (would be taken off the 85-man count)," Day said. "I think that's how you would have to do it, but certainly we would be over the 85."
When asked about whether any of the 2021 class' mid-year enrollees would have to reclassify to the 2020 class in order to be eligible to play, Day said he was not aware of such a rule, but he fought back against reclassification needing to be a requirement under the unprecedented circumstances. 
"I don't think that would make sense," Day said. "In this environment, with everything that these kids have been through, to do that to them would not be right for them. That wouldn't make sense for their calendar in school, academically. That doesn't make sense at all. To me, they should be allowed to play in the spring and then in the fall, and that should be their freshman year. One year of eligibility. It's one calendar year. I don't know how you can use two years (of eligibility) in one calendar year. That wouldn't make any sense to me. Secondly, it would disrupt their academic calendar as well, so I'll pound the table really strongly that that should happen like that."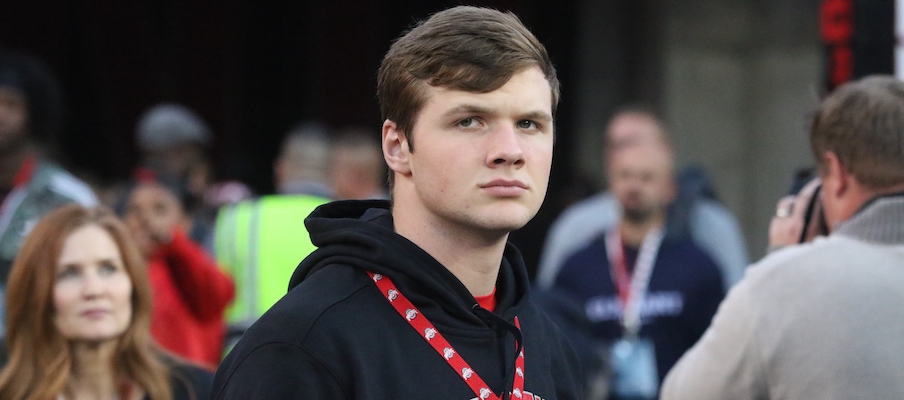 Day's top-ranked recruit in his 18-man class, Sawyer, is one of a few players in that group of mid-year enrollees who could possibly be ready to come in and make an impact in the spring. That's something we touched on two weeks ago. 
Henderson has been hailed as the most complete running back prospect of the past decade. With his transcendent skillset in the backfield and the size he already has as a senior in high school, he would have a legitimate shot at earning some major playing time and fighting Trey Sermon, Master Teague and Marcus Crowley for touches.
McCord coming in is probably the most intriguing of all. It's not set in stone, but it's almost certain that Justin Fields would forego a spring season in order to prepare for a pro career as a top-three pick in the NFL Draft. C.J. Stroud and Jack Miller were gearing up for what was going to be a fun position battle to become the Buckeyes' backup quarterback in the fall, and the winner was likely to have a major head start at earning the starting spot in spring 2021.
With the fall season gone, and if McCord came in with immediate eligibility, that would set up easily a top-three (probably top-one) storyline of the spring of who would win the Buckeyes' spot as QB1. 
Depending on if any Ohio State players were to opt out of a spring season – whether to prepare for the draft, just to save their bodies in preparation for a fall season, or over other health concerns – then there are plenty others on that list above who could contribute in a spring season, too. 
And maybe not a single one of them would start or even make a significant impact in their first few months, but perhaps we are trending toward the possibility of it happening, even if it still seems far fetched. 
"I think that would be crazy to think a freshman could be playing there in two months, but I guess anything's possible," Sawyer said. "You never know. That is a good question to think about. I was actually thinking about that a couple days ago when I heard someone say spring, and I was like 'Woah. What if they let us play?'
"I think, honestly, if that were to happen, I doubt they would play us on such short terms, unless we're really ready, but you never know. That would just be such a big jump in a short amount of time."
Ill be ready if that happens https://t.co/hSxFaxgTZ4

— TreVeyon Henderson (@TreVeyonH4) August 12, 2020
Maybe all of this is going to turn out to simply be a recruiting ploy to keep all of Ohio State's 2021 commits in the fold and keep them excited about a spring season, especially one day after losing one player via decommitment and especially with the momentum that the SEC, ACC and Big 12 could move forward with a fall season.
But even though it's still a long shot to actually happen as we stand here in August, maybe it's not as crazy of a scenario as we thought just one month ago.