The weeks following the MCL tear that Jack Sawyer suffered in the final game of his junior season – on Nov. 8 – were torture as he tried to slowly gain back the strength and flexibility in his knee.
But apparently the incredible athleticism and explosiveness the Buckeyes' five-star defensive end commit possesses on the field is partnered with an impressive recovery rate off of it, too. By Jan. 13, Sawyer already told Eleven Warriors that the rehab process was "going phenomenal" and that he was "way ahead of schedule already."
Then we saw it for ourselves, as Sawyer sent a video of himself doing ladder drills working on foot quickness, and the drill went as smooth as it had prior to this injury. That was the first day Sawyer underwent those types of drills, as he and the training staff thought it would have to wait until February or even March for those to take place.
Nope. Only a little less than nine weeks. 
Sawyer tore his MCL on Nov. 8 in the final game of his junior season. Following surgery, he was initially on a timetable to be able to do footwork and strength training by March or February, at the earliest.

He was already full-go when he sent this video on Jan. 13: pic.twitter.com/m82KyTjLwQ

— Zack Carpenter (@Zack_Carp) July 29, 2020
"The first month of rehab was just so painful. It was like hell," Sawyer told Eleven Warriors recently. "But once I got my mobility back, they were shocked how fast I jumped back with everything."
And now? After rehab and recovery is 100-percent complete?
"I actually feel better than I ever have in my life," Sawyer said. 
With all of that long in the past, Sawyer was able to focus on strength and conditioning more in the spring and summer instead of the rehab process, and he worked his way up to about 250 pounds (up from his listed weight of 220 pounds on his recruiting profile) to tack onto his 6-foot-5 frame. 
Now, the nation's No. 3 overall player in the 2021 class is gearing up for his senior season at Pickerington North (Ohio) High School. After the Ohio High School Football Coaches Association's new proposals for the fall season came out, there is hope that the state will still have high school football in the fall. 
Ohio Stars defensive end commit Jack Sawyer isnt an actual participant in the Elite Underclassmen Camp today, but hes still here putting in some work. pic.twitter.com/HmhEEVTjOo

— Dan Hope (@Dan_Hope) July 11, 2020
But if Ohio winds up moving high school football to the spring – like California and Washington have done recently – and he doesn't get to play in his senior season, Sawyer says he will still enroll early at Ohio State in January. 
Senior season or not, once Sawyer gets to Columbus, that's when things are going to get flipped into Go Mode even harder once he gets under the Buckeyes' strength and nutrition program. And Sawyer has some mega goals for his career at Ohio State, and he plans on hitting the ground running. 
"I like to take it one step at a time, so the first thing in line is my freshman year," Sawyer said. "Everyone always asks me, 'Do you plan on playing?' Well, I sure as hell don't plan on going over there and sitting the bench, you know what I mean? If you go in there with just, 'OK, I'm gonna go in there and be good and probably not play much as a freshman,' I think you're in the wrong sport. I think you have the completely wrong mindset of a competitor. So every time someone asks me that, I tell them I'm not going in there expecting to just sit and watch the games. 
"I would just say the goals as of right now is to go in there and compete for a job as a freshman and just work my ass off each and every day in the weight room and just see where I'm at."
Sawyer is ranked as the No. 42 all-time recruit by 247Sports, which is No. 3 in Ohio State history behind Terrelle Pryor (No. 12) and Ted Ginn Jr. (No. 27) and ahead of Nick Bosa (No. 138), Chase Young (No. 176) and Joey Bosa (all-time ranking not listed).
That's just one snapshot of the monumental expectations that have been laid before Sawyer. And even though it should be a huge burden, he loves it and is embracing it head on. 
"It kind of catches some people off guard, you know what I mean?" Sawyer said. "Because some people are just wired a little different. They're not ultra competitive. They'll be OK with maybe making the travel squad and maybe getting in there every once in a while. But, for me, that's just not who I am. That's never been me. I'm going in there and competing for a job, day one. That's always been my mindset with that stuff."
As mentioned above, there is so much that remains to be seen about high school football in Ohio and college football everywhere. The one thing that Sawyer knows is if he's allowed to enter the Woody Hayes Athletic Center to begin his first workouts under Mickey Marotti's direction in January, he's going to be there. 
And there's a super-fun, not-at-all realistic hypothetical scenario to be played with: If college football is pushed back to a spring season, what if the class of 2021 early enrollees were actually allowed to get on those rosters?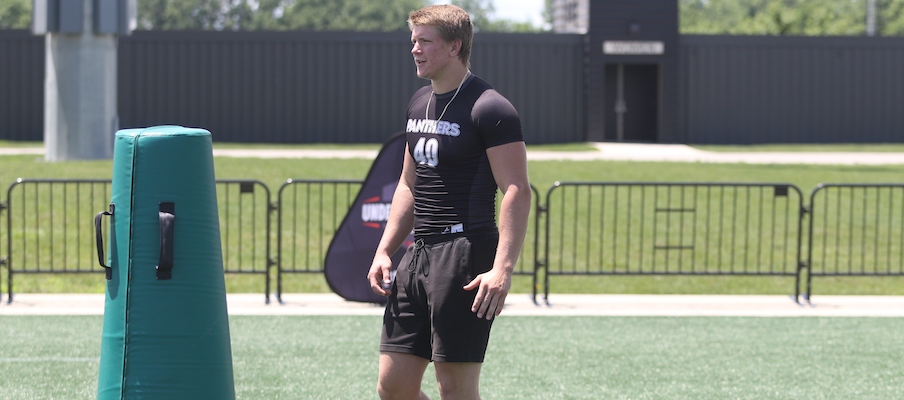 For guys like Sawyer, quarterback Kyle McCord and running back TreVeyon Henderson – probably the three most college-ready prospects in the Buckeyes' class – that's actually a scenario that you could have some fun with. 
Henderson, who we reported had actually given reclassifying to 2020 some thought before pulling the plug on that idea, told us he hadn't actually thought about that until we brought it up but that it would be "pretty incredible."
Sawyer, on the other hand, has actually given it some thought even if it's not realistic. 
"That would be nuts," Sawyer said. "Say I go in there and early enroll in January and our first game is March 1, that's insane to think that in two months I would be playing the college game. But, honestly, I don't think that would really happen. I think they would just view that as letting us practice and not have it technically be our freshman year. But if for some reason that is the case, well, shit, we're gonna be there working so I might as well work as hard as I can to see what happens. 
"I think that would be crazy to think a freshman could be playing there in two months, but I guess anything's possible. You never know. That is a good question to think about. I was actually thinking about that a couple days ago when I heard someone say spring, and I was like 'Woah. What if they let us play?' But I think, honestly, if that were to happen, I doubt they would play us on such short terms, unless we're really ready, but you never know. That would just be such a big jump in a short amount of time."
But, hell, after Sawyer made such a massive, fast jump in his recovery from such an impactful injury, if anyone could make that leap, maybe it could be him.