Jack Sawyer understands the reality: He might never play another snap of high school football.
The five-star defensive end has already made up his mind that he will enroll early at Ohio State in January. So if this year's Ohio high school football season gets canceled or moved to the spring, Sawyer won't get to play his senior season for Pickerington North.
That hasn't changed the way he's prepared this summer, though, in hopes that football will be played as scheduled this fall.
"I've been fortunate enough to not really have my workout routine messed up at all … I've still been sticking to a strict workout routine during the week the last two months," Sawyer told Eleven Warriors while attending the Elite Underclassmen Camp on Saturday. "You just gotta stay ready. Just keep practicing with the guys as long as we can until they come out and say something, and it's honestly just staying ready for the moment."
According to a report by ThisWeek News on Sunday, a group of Central Ohio football coaches have proposed moving the 2020-21 high school season to the spring due to concerns over whether the ongoing COVID-19 pandemic will allow football to be played this fall. The Ohio High School Athletic Association responded to that report with a statement that "OHSAA is proceed as if fall sports will occur as planned, meaning official practices will begin on August 1," but acknowledged "those plans can be modified or cancelled quickly."
Nathan Hillerich, Sawyer's coach at Pickerington North, has been encouraging his players to stay focused on preparing as if the season will start on time, even though he acknowledged there have been talks about moving the season to spring.
"We're just trying to just focus on getting better and not try to worry about if there's football and all the other distractions," Hillerich told Eleven Warriors. "Just try to make sure we're ready if we're able to play."
Since Pickerington North resumed team training sessions last month, Hillerich has been impressed with what he's seen from Sawyer, who says "I feel better than I ever have in my life" after fully recovering from the torn MCL he suffered in the Panthers' final game of last season.
"He's really been able to dedicate himself to the weight room and just his technique and trying to get better as a football player," Hillerich said. "He's put on some more muscle. He's gotten a lot stronger, but he's still kept his speed. I think he's at a great spot right now."
After playing quarterback for Pickerington North last season, Sawyer will be focusing on his natural position if the Panthers are able to play this fall. He's excited to be back to playing defensive end full-time, but said his experience playing quarterback last season helped make him a smarter and more well-rounded football player, while Hillerich said it showed the kind of team player and leader he is.
"I think it was just another challenge," Sawyer said. "Life's all about overcoming challenges and being able to succeed in the roles you're thrown in, so that's definitely what it helped with."
Sawyer spent the winter rehabbing from his knee injury, which prevented him from playing in what would have been his final basketball season at Pickerington North. But Sawyer – who has been playing some pickup basketball this summer, though his parents have encouraged him to dial that back – says he has been back to 100 percent for about three-and-a-half months now, and he's been working as hard as ever to continue improving his craft as a football player.
In addition to participating in workouts with his Panther teammates, Sawyer has been both lifting weights and doing agility training four times per week. He's also been working on honing his technique, which has stood out to Hillerich.
"His body control, his hand placement, just the details of playing defensive end … since he's gonna be able to really focus on just playing one side of the ball this year, I think we're gonna see a little bit more," Hillerich said.
Ohio Stars defensive end commit Jack Sawyer isnt an actual participant in the Elite Underclassmen Camp today, but hes still here putting in some work. pic.twitter.com/HmhEEVTjOo

— Dan Hope (@Dan_Hope) July 11, 2020
That technique should certainly continue to improve once Ohio State defensive line coach Larry Johnson begins coaching Sawyer next year, but Sawyer already has visions of competing for a starting job as a freshman, giving him incentive to stay focused on his development even though there's no guarantee he'll be able to play any games this year.
It "kinda sucked," Sawyer acknowledged, to be unable to participate in any camps or visit Ohio State this summer, as he was looking forward to getting in some work with Johnson and spending time with the other members of the Buckeyes' top-ranked recruiting class of 2021. As of now, Sawyer doesn't know when he'll be able to visit Ohio State again, given that the NCAA's recruiting dead period is set to remain in place until at least Aug. 31 and it's uncertain if even the Buckeyes will be able to play this fall.
Should recruits be able to resume visits this fall, though, you can count on Sawyer – who was a regular on the sidelines of Ohio State games last season – being back on campus as often as he can.
"If they come and out say 'Visit whenever,' I'm definitely gonna be there as much as possible," Sawyer said. "Seeing all the guys and seeing all the commits in my class again and seeing the coaching staff as much as possible."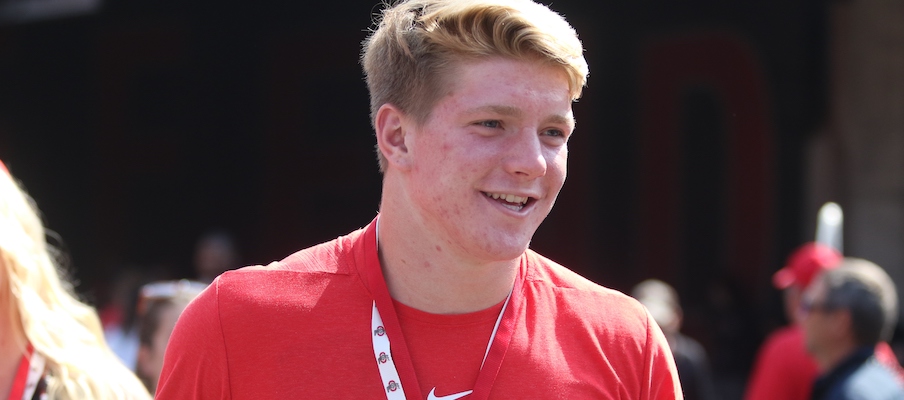 With so much still up in the air due to the pandemic, Sawyer can't count on suiting up for Pickerington North on Fridays and watching Buckeye games in the Shoe on Saturdays this fall. But the nation's No. 3 overall prospect is sure he'll be signing with Ohio State in December and beginning his college career in January, so he's focusing on what he can control.
"You got to hold yourself to high expectations," Sawyer said. "Hopefully we get to have the season, and just go out there and compete and play as hard as I can every snap, every down."