On Ohio State's first day of preseason camp on Thursday, there was no indication that any Buckeye players were planning to opt out of the 2020 football season. If any Buckeyes ultimately decide to make that decision, though, Ryan Day wants them to know they won't be ostracized.
"I talked to the team yesterday and made sure that they understood that if someone does have concerns and opt out, for whatever those reasons are – whether it's high-risk or whatever they are – that we're going to have conversations. And if at the end of the day, they don't feel comfortable, their family doesn't feel comfortable, that doesn't mean they're not going to be part of the program," Day said Thursday after coaching the Buckeyes through their first day of practice. "We're gonna figure that out and make sure that we have a program in place until they do feel comfortable, whenever that might be."
As Ohio State begins fall camp in the midst of the global COVID-19 pandemic, Day is encouraging the Buckeyes' players to come to him and their position coaches with any concerns they might have as they get back to practicing football under unprecedented circumstances and preparing for a season that still may or may not happen. 
"The communication we've had is if there are concerns, please bring them to me and bring them to your position coach. Have your parents call me, you please call me so that I can advocate, because that's what I want to do, I want to advocate for these guys, because they work so hard and they deserve it," Day said. "So we keep those lines of communication open, and if there's something there that I can't get done on my own, then certainly we'll push for those guys to speak out. But I think when you have the lines of communication where they trust that I'm gonna go to bat for them, we are where we're at right now."
Day said he has been "constantly taking calls from parents," too, and doing his best to address their concerns.
"If you asked our parents, I would hope that they would say that we've done an excellent job of communicating, and my phone's always on," Day said. "And sometimes we don't have the answers. Sometimes we don't have great answers. But we take their feedback and then when we get their feedback, for instance, there were parents of different people who were in quarantine that gave us some great feedback on how we can make it better. We made those changes. And I think that's very, very important."
"If at the end of the day, they don't feel comfortable, their family doesn't feel comfortable, that doesn't mean they're not going to be part of the program."– Ryan Day on Ohio State players who might choose to opt out due to COVID-19
At a time where the immediate future of college football is more uncertain than ever, players around the country are speaking up more than ever. Three days after a coalition of Pac-12 players released a statement through The Players Tribune about their concerns regarding their health and safety and other issues, a coalition of Big Ten players did the same on Wednesday, though the Big Ten players did not specifically threaten to opt out of the season or demand revenue like Pac-12 players did.
Day said Thursday that he was not aware of any specific Ohio State players who were a part of the Big Ten player coalition, but also said he didn't pry to find out if they were.
"They have the right to have a voice," Day said.
While Ohio State got back to business on Thursday, with hopes of playing its season opener at Illinois in four weeks, that certainly doesn't mean everything is back to normal. While Ohio State's players typically all practice together at once, the Buckeyes had split-squad practices on Thursday morning. They are planning to practice as a full team on Friday, but Day said the Buckeyes will "have to do a great job of spacing everybody out" when they're all on the field together. There will still be blocking and tackling, but Day said the Buckeyes will try to limit contact where they can.
The Buckeyes won't be staying in a hotel together like they typically do for fall camp, as they feel they're in a better situation with players staying in their own apartments. They've used the indoor practice field as a locker room and held meetings in tents outdoors, and players are wearing masks around the Woody Hayes Athletic Center – though they're not currently requiring face coverings when players are practicing with their helmets on, in part because of feedback they've received from the players themselves.
"Some of the feedback we've got from our guys, especially when those masks and those gaiters get wet, it becomes very difficult to breathe. And that becomes another safety concern. So we're not requiring that during training camp," said Day, who said the Buckeyes are experimenting with several models of face shields that they could wear on their helmets this year.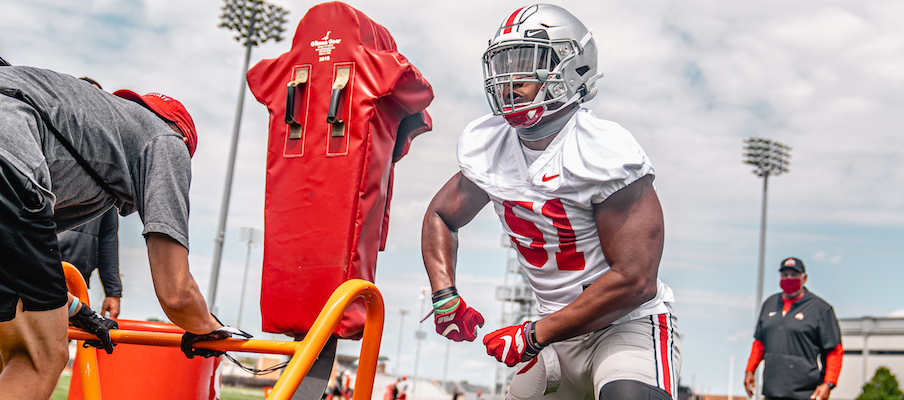 Day acknowledged on Thursday that there are still solutions that need to be figured out by the Big Ten within the next month if its football teams are going to be able to play actual games in September. But he is comfortable with the Buckeyes' plans for camp, which he says will follow its usual structure in terms of when players start practicing in full pads, and he believes his players feel the same way.
"Hats are off to our medical people," Day said. "(Team physician James) Borchers, (head athletic trainer) Shaun Barnhouse, his staff, all of the people with the Infectious Diseases (Institute) on campus, our medical personnel have been working around the clock. And they're tired. But they've done just a wonderful job getting together with Gene Smith, who the amount of hours he's putting in right now, from 6 in the morning until late, late at night, to put together the safest environment possible for our team.
"Along the way there's been things that we've learned and we've adapted, and we're going to continue to learn and we're going to continue to adapt. Because that's real. And right now, as we talk to our players and we talk to our parents, you can tell by the way the captains talked on (Tuesday) I think that they feel safe and they feel strong about what they're doing. But everything changes on a daily basis, and we'll have to continue to adapt and continue to communicate."