When Ohio State center Josh Myers was asked Tuesday about his level of comfort with playing football this season amid the ongoing COVID-19 pandemic, he already knew exactly what he was going to say.
Before Tuesday's conference call with Ohio State's newly minted captains for the 2020 season, Myers had already thought about that question, and was planning to comment on it even if he wasn't asked about it. Because he had something he wanted to say: He believes Ohio State is doing everything it needs to do to try to keep its players safe, and he believes he and other college football players should get the opportunity to play if they want to do so.
"My level of comfort in our safety is really high," Myers said. "I think there's nothing more that our coaches and trainers and our staff can do to keep us safe. I can't say enough about what they're doing. And I would say that my level of concern for safety is small. 
"I personally am confident that we're gonna have a season as well, and I really wanted to say this: I think that with restaurants are open, bars are open, all these other places are open and people have the freedom to do those things they want to do, which really are minuscule probably in the importance of their lives … if people our age or any age can do those type of things, then I strongly feel that if I want to, I should have the choice to play a college football season. And I also feel like it's a safer environment even being around my teammates and being in the facility and staying where it's clean and safe. I think that's a safer environment than being somewhere else or going to restaurants and stuff like that."
Myers' sentiments were mostly echoed by the six other Ohio State captains who spoke with the media on Tuesday, though that doesn't mean they are without concerns.
Ohio State quarterback Justin Fields – who said he has not been thinking about opting out of the 2020 season even though he is already projected to be one of the top picks in the 2021 NFL draft – agreed with Myers that Ohio State's staff has been "doing a great job in terms of just hammering away and just keep reminding us about wearing a mask and staying in social distance." He did acknowledge, though, that he has some concerns about whether Ohio State's opponents will be following protocol as rigorously as they are, as well as with the possibility that the return of other students for fall semester could lead to outbreaks on campus.
"My only concerns that pop up in my head are what are they doing at other schools and should there be a base procedure that schools have to go through or something like that, and really I think one of the biggest concerns that are going around the team is what happens when all the students come back to campus and students aren't really worried about a season, they're doing what they would usually do if this pandemic wasn't going on," Fields said. "So I think there's a lot of things in this situation that we can't control, but I think the things that we're doing now that we can control, we're doing the most of it and I think we're doing a great job at just staying socially distant, wearing a mask and just doing all of the little things and trying to prevent the spread of COVID-19."
Ohio State right guard Wyatt Davis said the Buckeyes have been getting tested for COVID-19 twice a week since they returned to campus in June, and that they've been required to wear masks around the facility. Players have even been wearing face coverings during summer workouts, though linebackers Justin Hilliard and Tuf Borland acknowledged that they would prefer not to have to do that in games.
"Everyone has a different experience, but my experience has been not pleasant. It's pretty hard to obviously work out, and probably even harder to play football with a tight mask wrapped around your face," Hilliard said. "But if I have to, I know that I will. I think we're very able to adapt. So if the Big Ten or anybody were to say that we have to, then that obviously wouldn't be an issue. But yeah, those masks aren't pleasant for me."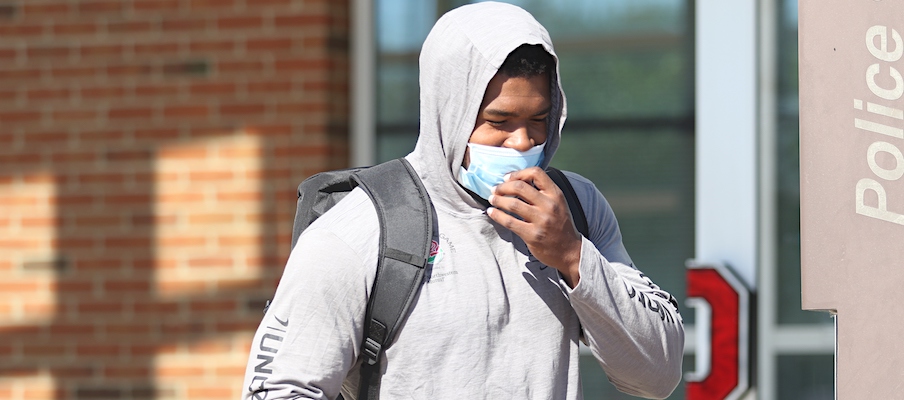 Hilliard and defensive end Jonathon Cooper also said they understand that they and their teammates are going to have to limit their interactions with other students and members of the university community this fall in their efforts to prevent COVID-19 outbreaks within the football program.
"I feel like we just have to kind of take it upon ourselves to distance ourselves from them and wear a mask 'cause we don't know where those other students have been and be smart about who we're around or who we're sitting next to or just kind of separating ourselves," Cooper said. "We have to carry it that way and act that way and sacrifice being around other students even though it's going to be a challenge with them coming back on campus. We kind of just have to be by ourselves and not really interact with the student body like that."
While it remains as uncertain as ever whether Ohio State will actually play football this fall – the Big Ten delayed its schedule release that was planned for Tuesday, leading to increased speculation that the conference could end up canceling fall sports – Hilliard agreed with Myers and said he is "real confident" the Buckeyes will have a season this fall. Fields and Davis acknowledged they really don't know what will happen, but both said they are trying to stay as optimistic as possible.
"You can really only take it one day at a time because if you really just start thinking about it too much, it starts consuming your mind and it starts getting negative," Davis said. "But I've just been thinking very positive about it. Ohio State has done a great job of monitoring our guys and creating a safe working environment, so you just gotta hope that every other school is doing the same, and if they are, then I'm very optimistic that this season will happen."
Ohio State coach Ryan Day also addressed the media briefly on Tuesday, and said that while the uncertainty has been challenging for his team to deal with, he believes both staff and players have done what they've needed to do to put themselves in the best possible position to stay healthy and be able to play this year.
"We're holding each other accountable because we're all in this thing together, and I think our testing policy and procedures that our medical staff, our training staff, sports performance and our administration have implemented here has allowed our players and our staff and our coaches to really be confident to know that we're doing everything we can to create the safest environment possible when we walk into the Woody every day," Day said. "And the same group has worked around the clock. They've been tirelessly working here to create the protocols and procedures for training camp that starts this week.
"But the only way that any of this is possible is because of the tremendous leadership of our team and our upperclassmen. Their ability, really over these past months, to again, like I said, hold each other accountable, to communicate, share their experiences during this time, it's been awesome to see and really inspiring for our staff to watch."