Starting with John Cooper's run dating back to the late 1980s, Ohio State's ability to consistently attract elite talent through the eras of Coop, Jim Tressel, Luke Fickell, Urban Meyer and Ryan Day is arguably the greatest run assembling talent by any program in the country. 
In fact, dating back to the 1992 NFL Draft, which marked the first year Cooper had players eligible to be drafted following his first real recruiting class (1989), the Buckeyes boast 180 total draft picks. That tally includes 68 selections within the first two rounds and 47 first rounders. 
With all that talent to choose from, I thought it would be fun to assemble a starting lineup on both sides of the ball, with the caveat that the selections must be somewhat evenly dispersed based on the tenure of each head coach. 
Considering the tenure lengths of Cooper (13 years), Tressel (10) and Meyer (7) over the 32-year span, Coop gets four spots, Tressel three and Meyer two. 
Since Fickell led the program for just one year (2011) and Day is only one year into his tenure, I decided the starting lineup could only feature one starter from each of those seasons. That makes Urban's two spots feel a a little light but I wanted starters from each head coach represented while still accounting for Cooper's tenure being nearly twice as long as Meyer's. 
After selecting a starting offense last week, focus now shifts to the defense. 
Before I get to the selections, here's a glance at the guys I felt were most deserving of discussion. Picking 11 silver bullets proved a little more difficult than selecting the offense.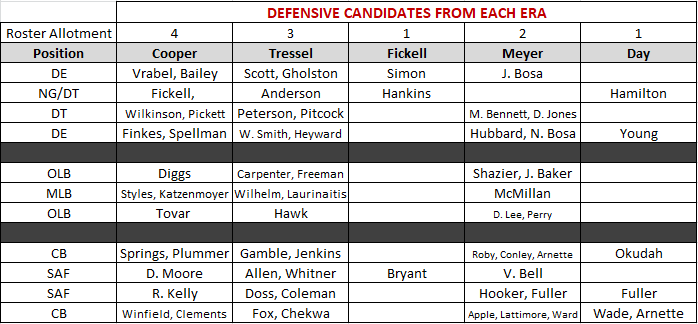 DEFENSIVE LINE
I told you picking a starting defense was tougher than selecting the offense and that assertion comes into clear focus when trying to assemble a defensive line. 
Not only is the list of elite players endless but the roster allotment by head coach caused issues as I tried to create the most balanced lineup across the board. 
At defensive end, I had Joey Bosa starting in all three versions I toyed with before finally settling on 11 starters. Even with the depth at the position, I don't think there can be much angst over Joey's selection. (Meyer: 1 of 2)
Up the middle, I went with Johnathan Hankins at my hybrid NG/DT spot as he was easily the cream of the crop from the Fickell year. He's deserving, don't get me wrong, but he made the team by default. I love John Simon and Christian Bryant but they weren't legit starting contenders at their positions. (Fickell: 1 of 1)
At tackle, I've gotta go Dan Wilkinson over a deep group, most notably Dre'Mont Jones and Ryan Pickett. "Big Daddy" was the No. 1 pick of the 1994 NFL Draft for a reason. (Cooper: 1 of 4) 
Finally, at the end spot opposite J. Bosa, I'm going with Chase Young. I gave strong consideration to Will Smith, Mike Vrabel and Nick Bosa but how can you pass on the dude who set Ohio State's single-season sack record with 16.5 in 12 games last season? (Day: 1 of 1) 
LINEBACKERS
With over a dozen potential starters, this was another tough one to land. 
My top priority here was to make sure A.J. Hawk was a starter. He was one of my most favorite players of the Tressel era and certainly has the credentials as a Lombardi winner, unanimous first-team All-American and a three-time first-team All-Big Ten performer. (Tressel: 1 of 3)
Anchoring the defense, I have Andy Katzenmoyer in the middle. James Laurinaitis was the top competition and he was certainly the better pro but man the Big Kat was a wrecking ball in college, earning a Butkus Award, unanimous All-American honors as a sophomore and three first-team All-Big Ten selections. (Cooper: 2 or 4) 
The final spot in the linebacking corps came down to Steve Tovar and Ryan Shazier, with Tovar getting the nod. If this raises an eyebrow among you young pups, consider Tovar was a captain, led the team in stops three straight years and was the league's Defensive Player of the Year as a senior. Shazier led the team in tackles twice and his 23.5 tackles for loss in 2013 still stand as the third-most by a Buckeye in a single-season but I'm more than comfortable with Tovar here. I also needed my last Meyer era spot for a certain safety I couldn't keep off my starting lineup. (Cooper: 3 of 4)
DEFENSIVE BACKS
Lol. Look at the list of candidates in the secondary. It's absurd. 
The most stone-cold lock on my entire squad is Antoine Winfield at one corner spot. He's probably my favorite Ohio State player of all-time. Swagger for days and truly a complete corner. He could obviously defend the pass against anyone and his size wasn't an issue in run support thanks to a combination of fearlessness, smarts and talent. Winfield would blow a ball-carrier's legs out and come up smiling and head-shakin' before the dude knew what happened. (Cooper: 4 of 4)
Opposite Winfield, it was extremely difficult to land on a guy but I'm taking Malcolm Jenkins. You can make a solid argument for Shawn Springs, Jeff Okudah, Chris Gamble and Marshon Lattimore but I'm good taking a guy that won the Jim Thorpe Award, made first-team All-Big Ten three times and was a two-time All-American. (Tressel: 2 of 3)
At one safety spot, three-time All-American Mike Doss was a layup to start. Big hitter, big heart, leadership for days. I want him patrolling the last line of my defense. (Tressel: 3 of 3)
With Doss doing the dirty work, Malik Hooker is the perfect pairing as the second safety. Hooker's range as a freelancer in coverage stands out though I did work a few scenarios trying to get Damon Moore in the fold. But how can you go wrong with a Doss/Hooker tandem on the back line? (Meyer: 2 of 2)
Roll it all up and here's my All-Mesh starting defense: