Starting with John Cooper's run dating back to the late 1980s, Ohio State's ability to consistently attract elite talent through the eras of Coop, Jim Tressel, Luke Fickell, Urban Meyer and Ryan Day is arguably the greatest run assembling talent by any program in the country. 
In fact, dating back to the 1992 NFL Draft, which marked the first year Cooper had players eligible to be drafted following his first real recruiting class (1989), the Buckeyes boast 180 total draft picks. That tally includes 68 selections within the first two rounds and 47 first rounders. 
With all that talent to choose from, I thought it would be fun to assemble a starting lineup on both sides of the ball, with the caveat that the selections must be somewhat evenly dispersed based on the tenure of each head coach. 
Today, we'll focus solely on the starting 11 on offense. 
Considering the tenure lengths of Cooper (13 years), Tressel (10) and Meyer (7) over the 32-year span, Coop gets four spots, Tressel three and Meyer two. 
Since Fickell led the program for just one year (2011) and Day is only one year into his tenure, I decided the starting lineup could only feature one starter from each of those seasons. That makes Urban's two spots feel a a little light but I wanted starters from each head coach represented while still accounting for Cooper's tenure being nearly twice as long as Meyer's. 
Before I get to the selections, here's a glance at the guys I felt were most deserving of discussion.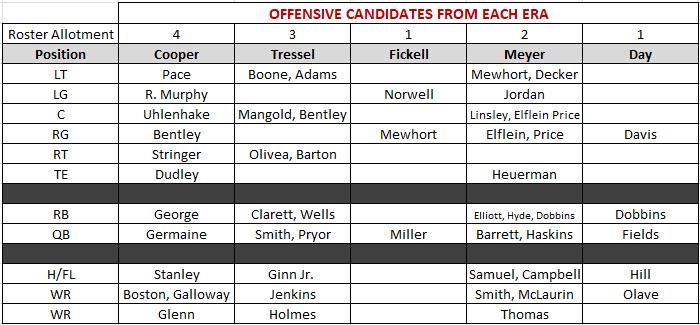 OFFENSIVE LINE
So left tackle was pretty easy. Orlando Pace, arguably the best offensive lineman in the history of college football, gets the nod as one of Coop's four guys. The Tressel era had some solid dudes in Alex Boone and Mike Adams while Meyer had Jack Mewhort and Taylor Decker but Pace not only makes the team, he's a captain. (Cooper: 1 of 4)
Left guard was more of a debate but I went with Andrew Norwell as the lone pick from Fickell's one-year tenure. Norwell's best years occurred in 2012 and 2013 under Meyer but a starter's a starter and he's the best bet among the Fickell-year candidates. Rob Murphy is underrated in OSU lore and Michael Jordan was obviously a force but I'm more than comfortable with Norwell here. (Fickell: 1 of 1)
Center boasts a host of legit candidates in Jeff Uhlenhake from Coop's days, Nick Mangold and LeCharles Bentley from Tressel's time and Pat Elflein, Billy Price and Corey Linsley, all of which really blossomed at center under Meyer. Price, Elflein and Bentley all won the Rimington Award during their time at Ohio State. For me, this one came down to Mangold and Bentley but I'm taking Mangold in a coin flip. (Tressel: 1 of 3)
Right guard is super deep. Bentley lined up there in 1999 before two years at center. Mewhort started at right guard in 2011 before a two-year stint at left tackle. Meyer's tenure saw studs Price and Elflein take turns at the spot. All that considered, my starter here is Wyatt Davis as the lone member of the All-Mesh team from Ryan Day's roster. I couldn't really go wrong with any of these guys but I was comfortable with Davis in this spot even before he made BTN's All-Decade first-team at right guard earlier this week. (Day: 1 of 1) 
At right tackle, tabbing Korey Stringer was a no-brainer for me. If you didn't see him play, trust me when I tell you he's also one of the more underrated tackles in school history. He was also a great teammate. I put Shane Olivea and Kirk Barton on the candidate list, and they were certainly fine players, but this was as easy as picking Pace. (Cooper: 2 of 4)
Tight end is also a Cooper selection with Rickey Dudley far and away the best tight end Ohio State's had to offer during the time period of eligibility for this squad. I love me some Jeff Heuerman but Dudley was the No. 9 pick of the 1996 NFL Draft for a reason. (Cooper: 3 of 4) 
BACKFIELD 
Picking a starting tailback was one of the toughest tasks with dudes like Eddie George, Maurice Clarett, Beanie Wells, Ezekiel Elliott, Carlos Hyde and J.K. Dobbins worthy of discussion. 
This one came down to Eddie versus Zeke and I went with Elliott because (1) you can't really go wrong with either dude and (2) I only had one selection left from the Cooper era and that's reserved for a certain receiver I'll get to in a bit. I know I'm taking Elliott over a Heisman winner but Elliott did carry the Buckeyes to the 2014 national title so I'm good. (Meyer: 1 of 2)
So what to do at quarterback? There are seven guys on my candidate list but it really came down Joe Germaine, Dwayne Haskins, Troy Smith and Justin Fields. Germaine was the first truly elite passer I ever saw at Ohio State and the 1998 team is still one of my all-time favorites so I admit I have a soft spot. Dwayne Haskins the best pure passer I've ever seeon at Ohio State. Still, I couldn't take either over Troy or Fields. 
Knowing I want a dual-threat guy and Troy won a Heisman while being exactly that, I took him, by a nose, over Fields. I reserve the right to reverse this pick after Fields wins the Heisman this year. Fields had the better numbers last year but Troy was tough as nails and to put up the numbers he did in a Tressel offense still resonates. I feel like I'm changing my mind as I type but too late, I'm sticking with Smith. (Tressel: 2 of 3) 
RECEIVING CORPS
Picking three receivers to round out this squad was a chore. In the slot alone you've got Demetrious Stanley, Ted Ginn Jr., Curtis Samuel, Parris Campbell and K.J. Hill. Depending on your tastes, you could legit take any one of those guys. I'm going with Teddy to man the slot. He's a burner and I like the Glenville connection with my quarterback. (Tressel: 3 of 3)
At one outside receiver spot, Terry Glenn was a lock. His athleticism, hands and body control racked up 1,411 yards and a school-record 17 touchdown catches on the way to the Biletnikoff in 1995. (Cooper: 4 of 4) 
With Cooper, Tressel, Fickell and Day roster allotments tapped out, the last spot on my squad goes to Meyer era receiver Michael Thomas. Tough call here but I do like how Mike's physicality compliments the talents of Ginn Jr. and Glenn. (Meyer: 2 of 2)
With Thomas in the fold, that leaves a starting lineup, spread across the eras based on my assigned roster alloment, as follows: 
THE FINAL TALLY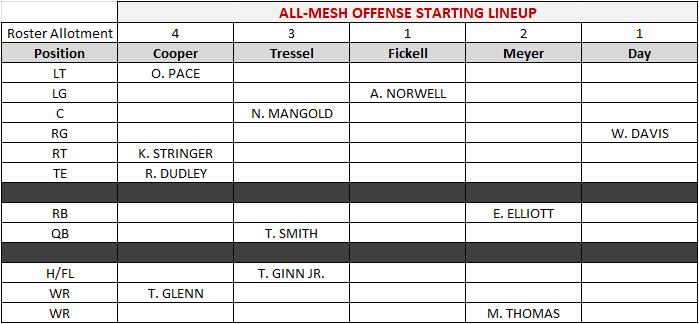 Let me guess, you have major issues with a couple of my selections. That's cool. It's a subjective exercise and you'll probably have even more issues as I try to pick a starting defense next week.