As Ohio State has begun to build its non-conference schedules for the next decade-plus, it's set to play some of the best teams in the country and check off some of the home-and-home series that Buckeye fans have been coveting for many years.
After playing home-and-home series against Oregon, Notre Dame, Washington and Texas over the next seven seasons, Ohio State is set to play its first-ever home-and-homes against two of the SEC's top powers when it hosts Alabama and travels to Tuscaloosa in 2027 and 2028 and travels to Athens before hosting Georgia in 2030 and 2031.
With those recent scheduling moves, Ohio State has made it clear that it wants to play regular-season games against college football's best of the best, which means we should expect OSU to continue to line up series against marquee opponents that will bring some of the nation's prominent teams to Ohio Stadium while also setting up trips that diehard Buckeye fans will want to make.
As such, we've decided to put together a list of eight potential non-conference opponents that should be at the top of Ohio State's list as Gene Smith and Diana Sabau continue reaching out to athletic directors around the country to set up possible matchups for future seasons.
In the interest of creating home-and-home series that we haven't seen in a long time (or ever), only teams who haven't played at Ohio State or hosted Ohio State in the past 20 years were eligible for consideration. Therefore, teams like Oklahoma, Miami and USC were not considered, in addition to those who Ohio State is already scheduled to play.
Clemson
Now that Alabama is on the schedule, Clemson becomes the clear-cut top choice for a non-conference opponent that Ohio State has never played at either team's home stadium before.
After last season's heartbreaking loss to the Tigers in the College Football Playoff semifinals, there's no team Ohio State would love to get another shot at right now. Clemson has quickly become the most hated team in Columbus that doesn't wear maize and blue, so outside of beating Michigan, there aren't many results Ohio State fans would like to see more right now than a win over the Tigers, and doing so in the Shoe or in front of Clemson's home crowd would surely be enjoyable for Buckeye faithful.
Given that Clemson already has non-conference games lined up through 2037, this series probably isn't going to happen while Dabo Swinney is still coaching the Tigers, but their standing as one of college football's elite programs doesn't seem likely to fade anytime soon. It's time to make this one happen.
LSU
Ohio State has played a home-and-home with LSU before – it's actually the last SEC team Ohio State has played a home-and-home series against – but that was back in 1987 and 1988. Coming off a year in which LSU won the national championship, another Ohio State-LSU regular-season series would certainly be one of college football's most compelling matchups.
The lines of communication should already be open between the two schools after Joe Burrow transferred from Ohio State to LSU and led the Bayou Bengals to a national title, so they might as well build off those good vibes and set up a future matchup that would feature two of college football's most successful programs playing in two of the sport's most famous venues.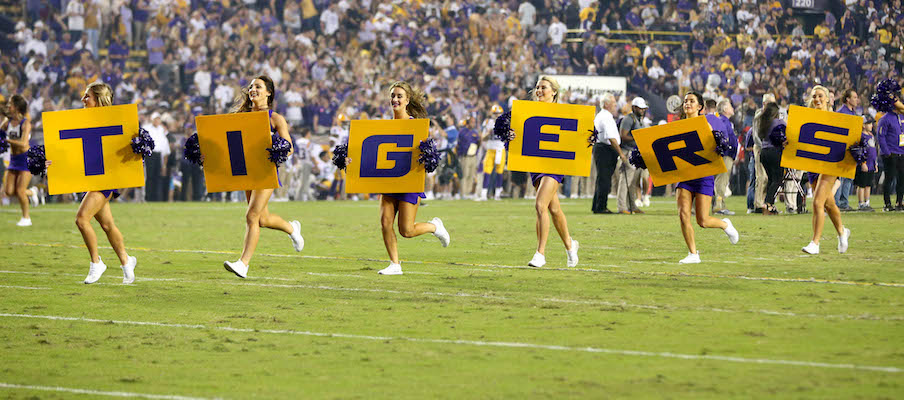 Florida
Ohio State's previous two games against Florida are two games Buckeye faithful would certainly prefer to forget: A 24-17 loss in the infamous Gator Bowl to end the 2011 season, and a 41-14 Florida win in the BCS National Championship Game to end the 2006 season. A home-and-home series in Columbus and Gainesville would be an opportunity for the Buckeyes to potentially even the series with the Gators and wash the bad taste of Ohio State fans' mouths.
Ohio State assistant athletic director of athletic initiatives and relations Urban Meyer, who coached the Gators to that national championship win over the Buckeyes, could use his connections in Gainesville to help make this series happen.
Florida State
Like Clemson and Florida, Ohio State is still seeking its first win ever against Florida State, having lost each of its previous three matchups with the Seminoles. Bobby Bowden's squad won back-to-back games at Ohio Stadium in 1981 and 1982, and earned a 31-14 win over Ohio State in the 1998 Sugar Bowl.
While Florida State is coming off a disastrous two years with Willie Taggart as head coach, it's typically one of the elite programs in the ACC, and a home-and-home would be an opportunity for Ohio State to play its first-ever game at Doak Campbell Stadium – where you will be sick of hearing the war chant by the time the night is over – and start to turn around its record against the Seminoles.
Auburn
Ohio State's only game against Auburn in the past 100 years came in the 1990 Hall of Fame Bowl, which the Buckeyes lost 31-14, and their only previous matchup was a scoreless tie in 1917. The Buckeyes and Auburn Tigers are overdue for a pair of games against the Shoe and Jordan-Hare Stadium, which is widely regarded as one of the best environments in college football, so this should be one of the top matchups on the list as Ohio State breaks its drought of regular-season games against SEC schools.
Auburn isn't quite at the level of Alabama, Georgia and LSU when it comes to marquee SEC programs right now, but it's still one of the most consistently successful programs in the conference – in the past 20 years, it's only had two losing seasons twice – so there's reason to believe the Tigers would provide a competitive test for the Buckeyes whenever they play.
Tennessee
It's been well over a decade since Tennessee has been a legitimate national contender, but Neyland Stadium – the fifth-largest football stadium in the country – remains one of college football's top gameday destinations. And considering that the Volunteers currently have the nation's No. 3 recruiting class for 2021, the potential is absolutely there for Tennessee to re-emerge as an elite team by the time it would play Ohio State in a potential future home-and-home series.
Ohio State's only previous game against the Volunteers was a 20-14 loss in the 1996 Citrus Bowl, so this is another series in which the Buckeyes would be looking for their first win while also playing the opponent in each team's home stadium for the first time.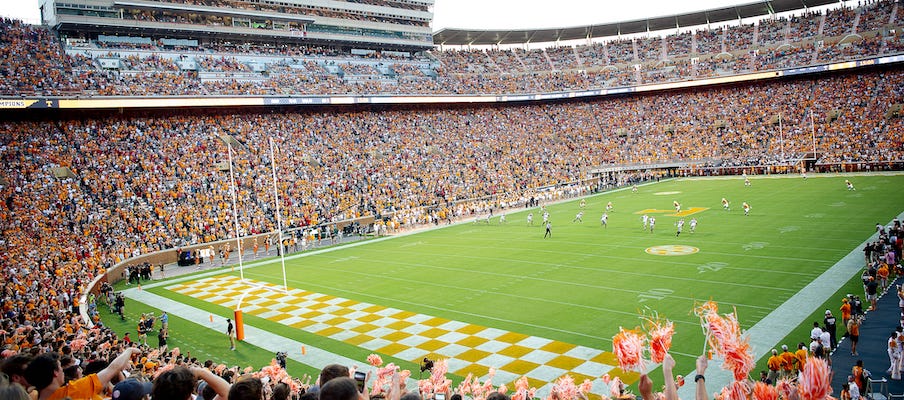 Texas A&M
Ohio State has already played Texas A&M four times and won all four games, but the Buckeyes have never played at Kyle Field – another one of college football's most famed venues, and the fourth-largest stadium in the country – and haven't played the Aggies at all since the end of the 1998 season, when they earned a 24-14 win in the Sugar Bowl.
Like Auburn, Texas A&M is a second-tier SEC program right now but has been a consistently winning program; the Aggies finished every season in the 2010s with a winning record. They're capable of giving Ohio State two competitive games while offering another destination that would be worth the trip to see.
Stanford
This list is largely made up of Southeastern college football programs for several reasons: Ohio State has gone over 30 years without playing an SEC team in the regular season, many of the national powerhouses that would make intriguing home-and-homes are located in that region of the country and the Buckeyes have either recently played or are scheduled most of the marquee teams in the Big 12 and Pac-12.
Out of those two conferences, though, the most enticing matchup to schedule right now might be a series with Stanford, which typically ranks among the Pac-12's best teams and is another team Ohio State would like to improve upon its history against. The Buckeyes have played two home-and-homes against the Cardinal before, in 1955-56 and 1981-82, but Ohio State is just 2-3 against Stanford all-time. Most notably, the Buckeyes suffered a heartbreaking 27-17 loss to Stanford in the Rose Bowl to end the 1970 season, which cost Ohio State a national championship.
Ohio State vs. Potential Future Opponents

| Opponent | All-Time Record | Last Game | Last Game at Ohio State |
| --- | --- | --- | --- |
| AUBURN | 0–1–1 | 1990, AUBURN WON 31-14 | N/A |
| CLEMSON | 0–4 | 2019, CLEMSON WON 29-23 | N/A |
| FLORIDA | 0–2 | 2011, FLORIDA WON 24-17 | N/A |
| FLORIDA STATE | 0–3 | 1999, FLORIDA STATE WON 31-14 | 1982, FLORIDA STATE WON 34-17  |
| LSU | 1–1–1 | 2008, LSU WON 38-24 | 1988, OHIO STATE WON 36-33 |
| STANFORD | 2–3 | 1982, STANFORD WON 23-20 | 1982, STANFORD WON 23-20 |
| TENNESSEE | 0–1 | 1996, TENNESSEE WON 20-14 | N/A |
| TEXAS A&M | 4–0 | 1999, OHIO STATE WON 24-14 | 1970, OHIO STATE WON 56-13 |