Ohio State's non-conference football schedule could be criticized as weak last season, but the university's athletic administration has done its part to ensure that won't happen again any time soon.
With Thursday's announcement that Ohio State will play a home-and-home series with Alabama in 2027 and 2028, the Buckeyes now have 12 scheduled games in the next 12 years against six Power 5 opponents, all of whom can legitimately be considered among the best teams in college football.
Five of them – Oregon, Notre Dame, Washington, Alabama and Georgia – are among the 11 teams (and only nine teams outside the Big Ten) who have made appearances in the College Football Playoff. Three of them – Alabama, Texas and Notre Dame – rank among the six winningest all-time teams in the Football Bowl Subdivision (behind only Ohio State and Michigan). All of them except Washington have appeared in at least one national championship game since 2009, and those five were also all ranked in the AP Top 25 last year.
With at least one game against one of those teams scheduled in every year but one between now and 2031, Ohio State is set up to have early-season games that will both excite college football fans and give the Buckeyes an opportunity to add big non-conference wins to their playoff résumé year in and year out.
First up – assuming the games are played as scheduled, which is unfortunately far from a certainty this year due to COVID-19 – is Oregon, who the Buckeyes last played in the national championship game to cap the inaugural College Football Playoff. The reigning Pac-12 champions ranked fifth in the final AP poll last season and should continue to be a conference title and playoff contender for the next two years, when the Ducks are set to host Ohio State at Autzen Stadium this September and travel to Ohio Stadium in September 2021.
Next up is Notre Dame, who has finished in the top 12 of the AP Top 25 in four of the last five years. The Fighting Irish might not have the same national prestige that they did decades ago, but they're still consistently one of the best college football teams in the Midwest, and their home-and-home with Ohio State at the Shoe in 2022 and in South Bend in 2023 has been an anticipated matchup since it was announced six years ago.
Ohio State's next two home-and-home series will come with a rare overlap, as the Buckeyes are set to play both Texas and Washington at the Shoe in 2025 with a trip to Seattle scheduled for 2024 and a trip to Austin set for 2026. While Ohio State typically only plays one Power 5 non-conference game per season because of the Big Ten's nine-game conference schedule, playing both the Longhorns and Huskies at home in the same season (which was made possible after Ohio State and Texas agreed to flip the home games earlier this year) allows the Buckeyes to do while still having seven home games in all three years.
Alabama, of course, is as big an opponent as the Buckeyes could possibly schedule right now, considering that the Crimson Tide have won five national championships in the past 11 years. While it's far from a certainty that Nick Saban will still be coaching the Crimson Tide seven years from now, Alabama's status as one of college football's powerhouse programs is unquestioned, and it's always expected to be a national championship contender.
Ohio State's Scheduled Home-and-Home Series

| Opponent | Dates |
| --- | --- |
| OREGON | SEPT. 12, 2020 (AWAY), SEPT. 11, 2021 (HOME) |
| NOTRE DAME | SEPT. 3, 2022 (HOME), SEPT. 23, 2023 (AWAY) |
| WASHINGTON | SEPT. 14, 2024 (AWAY), SEPT. 13, 2025 (HOME) |
| TEXAS | AUG. 30, 2025 (HOME), SEPT. 5, 2026 (AWAY) |
| ALABAMA | SEPT. 18, 2027 (HOME), SEPT. 9, 2028 (AWAY) |
| GEORGIA | SEPT. 14, 2030 (AWAY), AUG. 30, 2031 (HOME) |
The same can be said for Georgia, which means there's plenty of reason to expect the games between the Buckeyes and the Bulldogs in 2030 and 2031 to feature two of the best teams in college football even though they're still over a decade away.
2029 is now the only season in the next decade in which Ohio State hasn't yet scheduled any games, and there's certainly still plenty of time for the Buckeyes to try to line up a marquee opponent for that season, too.
While there's nothing atypical about Ohio State playing a non-conference game against a Power 5 opponent every year – it didn't this past season, but that was because the home-and-home series with TCU scheduled for 2018 and 2019 was changed to a one-off neutral site game in 2018 – the currently scheduled slate of future non-conference opponents stands out even more than usual because of the teams' collective prestige.
There's several motives for Ohio State and other college football blue-bloods to schedule marquee games against each other, and one is of course money. Any home-and-home series between two teams like Ohio State and Alabama is sure to draw sellout crowds to both teams' stadiums – which is becoming increasingly important at a time where attendance across college football is declining, even at the Shoe – and deliver massive television ratings, which will only help the Big Ten and the SEC in their next rounds of network contract negotiations.
Another is strength of schedule, which can ultimately make the difference in whether or not a team makes the College Football Playoff or where it is seeded in the CFP. While playing an elite non-conference opponent increases the chances of an early-season loss, those losses are also more likely to be forgiven by the playoff committee – while a win can bolster a team's résumé for the rest of the season – and if the playoff ultimately expands to eight teams, the incentive for top teams to play each other during the regular season should only increase, as the reward of a big regular-season win could then outweigh the risk of a loss. 
If you like to read between the lines, the decision by Ohio State to schedule opponents like Alabama and Georgia in 2027 and beyond – and by Alabama to schedule games against Ohio State in years that it's already set to play West Virginia and Notre Dame – could be taken as a hint that the leaders in those athletic departments are already anticipating playoff expansion when the CFP's current contract with ESPN ends after the 2026 season. That said, Ohio State deputy athletic director Diana Sabau told Eleven Warriors on Thursday that potential changes to the playoff format have not been a primary consideration in future scheduling decisions.
"The trickiest part of that, quite candidly, is that we could not let an expanding system or a system that has not yet been determined kidnap our decision or hijack our decision," Sabau said. "We don't know what it's going to look like. It could change in two years. It could change in four years. It could change the year that we play Alabama in 2027. We don't know that, so we just had to make sound decisions based on what it looks like right now."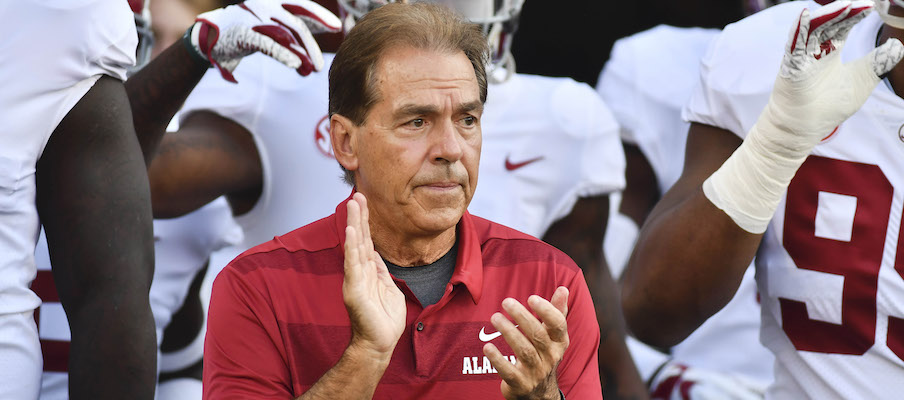 Regardless of what might ultimately happen seven years from now, Ohio State's current stance on scheduling non-conference opponents is clear: The Buckeyes want to play the best teams in the country.
There's a balance to that – Ohio State still isn't likely to start regularly scheduling overlapping home-and-home series, as it wants to host seven home games every year and there are benefits to playing a couple of early games against lesser opponents, too – but that balance is being struck in a way that should give Buckeye fans, and anyone who loves big college football games, plenty of matchups to look forward to over the next decade-plus.