Seven years doesn't sound any better than 2,648 days.
Yet, regardless of how anyone frames it, that's how long Ohio State and Alabama will have to wait before beginning a regular-season home-and-home series that was announced on Thursday afternoon. First, they'll face each other at Ohio Stadium on Sept. 18, 2027, before rematching on Sept. 9, 2028, in Tuscaloosa, Alabama.
In response to the revelation, both fan bases promptly erupted with excitement. 
"It's really been fun or it's been quite a pleasure and a joy to see all the positive tweets and everything coming through from Buckeye Nation and both sides of the fan base just because of the love of the game and the good of the game," Ohio State deputy athletic director Diane Sabau told Eleven Warriors. "Honestly, it's really good to have something happy to talk about right now, right?"
The two teams have only played four games, and they each kicked off on neutral sites. Ohio State hasn't played host to any SEC team – let alone Alabama – since 1988 when Ryan Day was only 9 years old and no player currently on either team's roster was alive. Now, with games against Georgia set for the 2030 and 2031 seasons, the Buckeyes have two of the SEC's best teams slated to come to Columbus down the line.
Still, there was also a bit of an eye-roll from some, as there always is with schedules getting released so far in advance. A couple of dozen kids about to enter sixth grade might not know it yet, but they'll be suiting up to take on the Crimson Tide in Ohio Stadium in 2027.
So, is there any reason for concern that, for whatever reason, this home-and-home series wouldn't happen?
Sabau said there's every reason to think they'll go forward as scheduled. She noted the $3 million charge that either school would have to pay if they decide to get out of the agreement for any reason other than the use of the force majeure clause, which covers unpredictable circumstances.
"We've never had a contract with that high of a penalty before, but that shows the intent and that shows the commitment to each school that this is going to happen," Sabau said. "We can't wait for this to happen. This is really good for the game. This is good for historic football. This is good for everybody."
The genesis of this game goes back a couple of years to when Sabau – who helps put together Ohio State's football schedule – and Alabama senior deputy athletic director Finus Gaston informally talked about it while on an advisory board for the College Football Playoff. At the time, neither Sabau nor Gaston were setting any legitimate, concrete plans. It was just two colleagues who had gotten to know each other over the years speaking.
But even then, their casual discussions always centered on a home-and-home series.
"We specifically didn't want it to be a neutral site," Sabau said.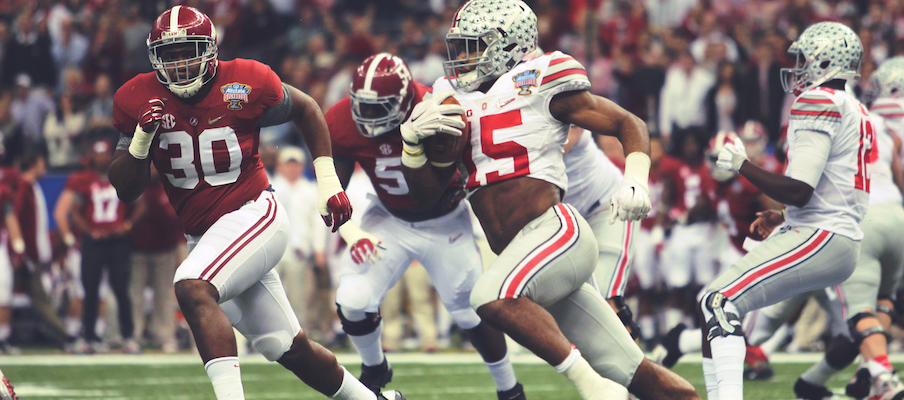 Eventually, early last summer, their talks got progressively more serious and they realized they should actually try to make happened what has never happened before. They took the idea to athletic directors Gene Smith and Greg Byrne and head coaches Ryan Day and Nick Saban, eventually putting a deal together.
Both sides, she said, had an opening in the 2027 and 2028 schedules and a desire to finalize an agreement to play games on each other's campus rather than at a neutral site.
"We always really just wanted to have the targeted end result of having a home-and-home," Sabau said.
Remarkably, as announced on Thursday, they managed to pull it off, taking a relaxed conversation and turning it into a historic contract. 
Some consternation naturally remains among certain fans who have seen agreed-upon games not come to fruition. Most recently, Ohio State's series with TCU, which was supposed to take place in 2018 and 2019, was moved to a one-off 2019 game at AT&T Stadium in Arlington, Texas. The adjustment didn't come until 2017. Martin Jarmond, Ohio State's former deputy athletic director, noted at the time that the Dallas Cowboys had come to TCU to offer up the stadium as a possibility.
Sabau says she doesn't see that type of change ever occurring for the just-announced Ohio State-Alabama home-and-home series.
"I would be very surprised if that was ever changed or talked about," Sabau said. "A lot can happen in seven years, but it is really the intention and commitment of both institutions to make this a home-and-home for the benefit of the fans, for the love of the game, for the brands. It's really the nuance and the essence of college football and a college Saturday game day or game night, right? 
"Quite candidly, we put some pretty stiff penalty structures in the agreement so that either school shows the sincerity of seeing it through to fruition and really making sure that it happens. I would highly doubt that that (happens). There was different reasons why that TCU (series) became a neutral site game. I don't know that there's anything that compelling that would change us or change each fan base to really want to do that moving forward."
Per Sabau, Ohio State and Alabama both intended for this to be a home-and-home series, have always seen that as the end goal and put in place penalties to prevent any changes to that agreement. So unless something completely unforeseen takes place, this first-ever series between the Buckeyes and Crimson Tide is a go. 
All we can do now is wait. Seven years or 2,648 days.