Now that all 25 members of Ohio State's recruiting class of 2020 have arrived on campus and momentum is building for actual football practices to resume in less than two months, the Buckeyes' coaches will soon have to start thinking about which freshmen – and any other potential candidates who still have redshirt eligibility – they will and won't redshirt this season.
Going into the third year since the NCAA rule change allowing players to participate in up to four games and still redshirt, Ryan Day and his staff should have a good feel for how to best handle the process of getting their freshmen on the field before ultimately being forced to decide whether they should continue playing once they hit the four-game mark.
Last year, the Buckeyes ultimately decided to burn seven of their freshmen's redshirts – Zach Harrison, Garrett Wilson, Jameson Williams, Harry Miller, Dawand Jones, Craig Young and Marcus Crowley – while their other 10 all played in four games or fewer. With a full class of true freshmen this year, they'll have more decisions to make.
Given that the Buckeyes currently project to bring in the No. 1 recruiting class for 2021, they can afford to play any freshmen who they believe will help them this season, and that's typically been their policy – though Day hasn't been quite as adamant about Ohio State never planning to redshirt players as Urban Meyer was.
Ohio State will likely try to play as many freshmen in up to four games as possible, and it won't have to make firm decisions on whether or not they will redshirt until they reach that four-game mark. Still, they'll want to have an idea going into the season on whether or not they will redshirt each of them in order to manage their roster accordingly – and there are some freshmen who are certainly more likely to redshirt than others.
Given that, we take a look below at the likelihood that each freshman will redshirt – starting with the least likely and concluding with the most likely – and the factors that could swing that decision one way or the other for those who will be on the bubble. We'll also consider whether there are any non-freshmen who could be candidates to take a redshirt in 2020 after not redshirting in the past.
Unlikely to Redshirt
Paris Johnson Jr., OT
The fact that Johnson is already contending for the starting right tackle job as a true freshman makes it crystal clear that Ohio State expects him to play early in his career. Even if he doesn't win that job, he's still in line for a spot on the two-deep as the backup left or right tackle, and barring injury, there's almost no chance he takes a redshirt year.
While it's rare for Ohio State offensive linemen to leave early for the NFL draft, Johnson has the talent to be a first-round pick after just three years in Columbus, so even if he doesn't start this year, the Buckeyes will want to get him as much experience as possible to prepare him to potentially succeed Thayer Munford at left tackle next year.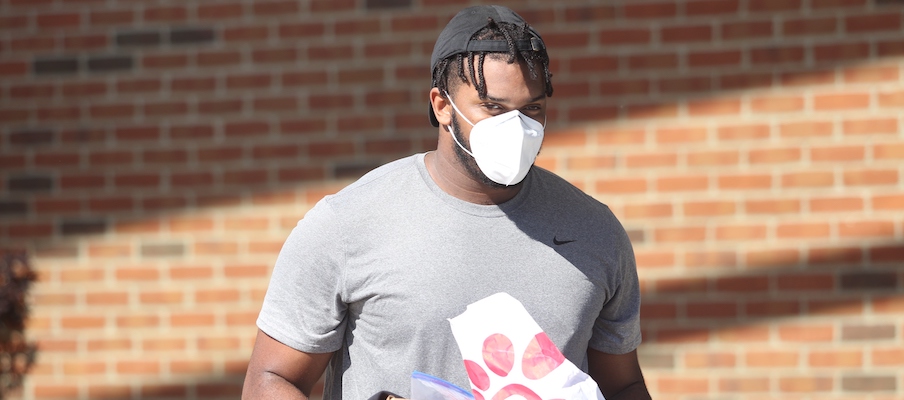 Julian Fleming, WR
Ranked as the No. 3 overall prospect in the entire recruiting class of 2020, Fleming is simply too talented to take a redshirt year. He'll likely prove he belongs in Ohio State's wide receiver rotation as a true freshman, and like Johnson, he's far more likely to be in Columbus for only three years than to stay for five. Much like Garrett Wilson last season, Fleming projects to earn immediate playing time on the outside and emerge as an impact playmaker in year one.
Jaxon Smith-Njigba, WR
Smith-Njigba isn't quite the lock not to redshirt this year that Johnson and Fleming are, but it would still be a surprise if he did. Also a five-star recruit, Smith-Njigba comes to Ohio State with a polished skill set that should have him ready to contribute immediately, potentially as a backup to Wilson in the slot.
Smith-Njigba faces substantial competition for that spot in the rotation from C.J. Saunders, Demario McCall and fellow freshman Mookie Cooper, so the Buckeyes would have reason to consider redshirting him if he isn't on the two-deep. Even then, though, Ohio State could play him all season and find opportunities to get him on the field when it can, much like it did with Jameson Williams last year – with four top-100 receivers in this year's freshman class, and at least two coming in next year, the Buckeyes don't need to redshirt them all.
Could Depend on Special Teams
Gee Scott Jr., WR
Mookie Cooper, WR
If they weren't in the same class as Fleming and Smith-Njigba, Scott and Cooper might be in the first group, as both of them also have more than enough talent to earn playing time early in their Ohio State careers and could emerge as NFL prospects before they exhaust their collegiate eligibility.
Because of how loaded the Buckeyes are with talented wide receivers, though, it is likely that one or two of the freshmen will ultimately end up redshirting, and Scott and Cooper are probably more likely to crack the core rotation in 2021 than they are in 2020. Both could also be candidates to contribute right away on special teams, though, and if they can do that, that could be reason enough for Ohio State to let them play all year long.
Cameron Martinez, CB/ATH
A versatile prospect who could potentially see playing time on both sides of the ball at Ohio State, Martinez probably isn't going to play a major role on defense or offense in 2020 – though he is expected to start his career at cornerback – but he is one of the top freshman candidates to make an early impact on special teams.
His top-notch athleticism and well-rounded skill set make him a natural fit to play a variety of roles on special teams, and he's expected to get a chance to compete to be one of the Buckeyes' return specialists. That role might not immediately come his way as a true freshman, but it still wouldn't come as a surprise if he demonstrates enough value in the third phase of the game to avoid a redshirt year.
Kourt Williams, S/LB
Another versatile player who has the potential to end up in multiple spots on Ohio State's defense, Williams is a prime candidate to push for immediate playing time on special teams, even though he isn't likely to see substantial playing time on defense as a true freshman.
His ability to play both safety and linebacker should translate well to a role on coverage units where players from those positions are often staples, and he's drawn high praise for his maturity from Day – who said he'll be surprised if Williams isn't a captain during his time as a Buckeye – which should only improve his chances of getting on the field early.
Lathan Ransom, S
As Ransom starts his Ohio State career with the potential to be the Buckeyes' deep safety of the future, a good start would be to begin his career the same way Jordan Fuller and Josh Proctor did: becoming a regular on special teams as a freshman. If he can show he belongs on the kickoff coverage team or another special teams unit, he likely won't redshirt and will put himself on a trajectory toward having a chance to play a leading role in the secondary in the future.
Cody Simon, LB
Simon's chances of seeing significant playing time on defense as a true freshman are minimal, given that Ohio State has seven upperclassman linebackers, but he's another newcomer who can't be ruled out as a potential immediate contributor on special teams. 
Highly rated linebacker prospects typically are candidates to earn early playing time on special teams units, and Simon was the No. 74 overall prospect in the class of 2020. Ohio State hasn't been afraid to burn redshirts for linebackers in recent years even if they are only playing on special teams – see Teradja Mitchell, Dallas Gant and K'Vaughan Pope in 2018 and Craig Young in 2019 – and Simon seems like a prime candidate to go along that same route.
Lejond Cavazos, CB
Ryan Watts, CB
Either one of Ohio State's early enrollee cornerbacks (or Martinez) could end up on the two-deep at the position, as the Buckeyes only have five returning veterans who are true cornerbacks, but even still, the decision on whether or not each of them will redshirt will likely come down to if they are contributing on special teams. They'll both presumably have a chance to see some playing time as backup cornerbacks in the second half of blowout wins, but establishing themselves on coverage units this year could be the most important step to positioning themselves to contribute in the secondary next year.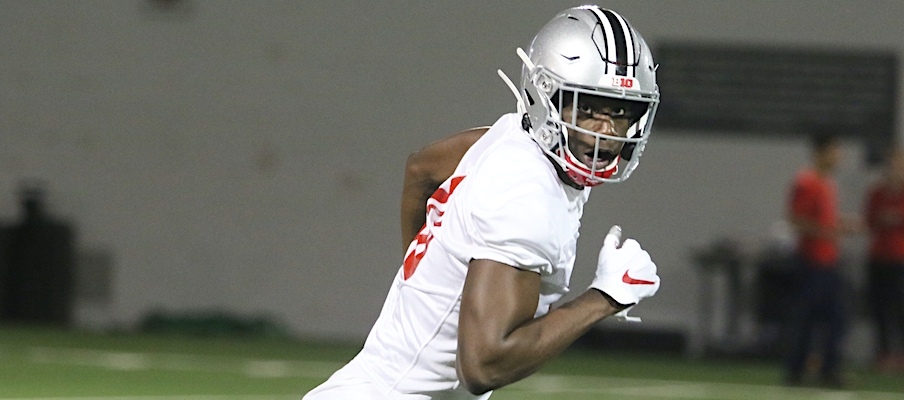 Depends on Depth Chart
Luke Wypler, C
Whether or not Wypler redshirts will come down to whether he's on the offensive line two-deep. That's a very real possibility, as he started the spring as the second-team center, and the Buckeyes could look to get him as much experience as possible so he's ready to compete for a starting job next year.
That said, Ohio State also has numerous other viable options for backup interior offensive line spots – namely, whoever doesn't win the battle between Harry Miller and Matthew Jones at left guard, as well as fifth-year senior Gavin Cupp and redshirt freshmen Enokk Vimahi and Ryan Jacoby – which could make redshirting Wypler in favor of more playing time for others at least a consideration.
C.J. Stroud, QB
Jack Miller, QB
Because it's rare to have two quarterbacks as highly touted as Stroud and Miller in the same recruiting class, there's no clear blueprint for Ohio State to follow in dividing playing time between them this season. The Buckeyes should make an effort to play both of them in up to four games to get them game experience before they compete for the starting job in 2021, but whether either or both of them plays more than that could depend on how the depth chart shakes out and how the season plays out.
If either of them separates himself from the other (and Gunnar Hoak) as the No. 2 quarterback on the depth chart, he likely won't redshirt and the other likely will. If Hoak maintains the backup job, they could both redshirt to preserve their four years of eligibility. Or Ohio State could look to play each of them in as many games as possible, dividing up snaps as equally as possible and redshirting neither, if they want to ensure keeping both happy going into next year.
Traditional wisdom would suggest redshirting one of them, especially if one pulls ahead of the other this summer or early in the season, but in an era where backup quarterbacks transferring elsewhere has become commonplace, there might not be as much incentive to redshirt either of them as there would have been in the past.
Miyan Williams, RB
If Ohio State had a fully healthy running backs room, Williams would be in the "likely to redshirt" category. As a summer enrollee, it would be a surprise if Williams beat out Trey Sermon, Master Teague, Marcus Crowley or Steele Chambers on the depth chart this year.
With Teague and Crowley both coming off of significant injuries, however, the possibility of Williams seeing enough playing time to warrant not redshirting can't be ruled out. Even if Williams isn't on the two-deep at running back, there could be opportunities for him to see a solid share of carries late in lopsided games especially early in the season, and with two top-ranked running backs committed for the class of 2021 in TreVeyon Henderson and Evan Pryor, there would be value for the Buckeyes to play Williams when they can this year and see what they have.
Jacolbe Cowan, DE
Darrion Henry-Young, DE
Ty Hamilton, DE
Ohio State could potentially redshirt all three of its freshman defensive linemen, as it's uncertain whether any of them will have a chance for substantial playing time this year. Cowan, Henry-Young and Hamilton are all expected to at least start their careers at defensive end, and the Buckeyes have plenty of depth at that spot, with Jonathon Cooper, Tyreke Smith, Tyler Friday, Zach Harrison and Javontae Jean-Baptiste all in line for snaps in the rotation. Redshirt freshman Noah Potter could also be ahead of them in the pecking order.
As deep as Larry Johnson often rotates on his defensive line, though, there could still be opportunities for the freshmen to play if they show they're ready, especially considering the Buckeyes have only six true defensive tackles on scholarship. It's likely that at least one or two of the freshman defensive linemen will take redshirts, but Ohio State won't be afraid to burn any of their redshirts either if it believes they belong on the field in some capacity.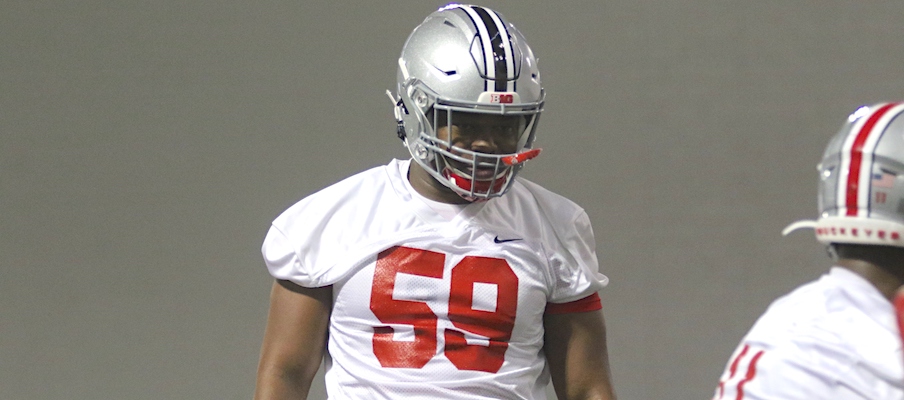 Likely to Redshirt
Mitchell Melton, LB
Melton could possibly be another candidate to play all year as a freshman if he can carve out a role on special teams, but a redshirt seems most likely for him. A bigger linebacker with the potential to play a variety roles for the Buckeyes, Melton has intriguing upside for the future but is unlikely to see significant playing time on defense as a freshman, and with all the upperclassman linebackers on Ohio State's roster, it would make sense for the Buckeyes to preserve Melton's eligibility this year.
Joe Royer, TE
With Luke Farrell, Jeremy Ruckert and Jake Hausmann all returning to lead the depth chart at tight end, there aren't going to be a lot of opportunities for Royer to play as a freshman. While the Buckeyes should take advantage of the four-game rule and get him on the field for some late-game action in big wins, the logical move for the Buckeyes would be to redshirt Royer and preserve his four years of eligibility during his first year of development.
Josh Fryar, C/G
Jakob James, G
Trey Leroux, OT
Grant Toutant, OT
It's possible any one of these offensive linemen could be this year's Dawand Jones – who was in the likely to redshirt category of this article last year, yet ended up impressing the coaches enough that the Buckeyes opted to burn his redshirt and play him in 10 games – but it would still be a surprise if any of these four didn't redshirt as freshmen. 
None of them are currently expected to be on the two-deep, and they're more likely to make a run at starting spots later in their Ohio State careers than they are this year or next. This year will be a developmental year for all of them, and with all the depth in front of them on the offensive line, they're unlikely to see much playing time as true freshmen.
Jake Seibert, K
Unless something happens to Blake Haubeil, Seibert is a lock to redshirt in 2020. Seibert – who will also grayshirt as a true freshman, meaning he won't be on scholarship until after the season – will spend the year honing his craft and preparing to take over for Haubeil next year. As long as Haubeil continues to be solid on field goals and kickoffs all season, there won't be any reason for the Buckeyes to burn a year of Seibert's eligibility.
Depends on Health
Marcus Crowley, RB (Sophomore)
Although a college football player can take a redshirt in any year as long as he hasn't used one previously, it's usually presumable – especially now that the four-game rule has been in place for a couple of years – that a player who didn't redshirt as a freshman probably isn't going to be redshirted in a future season. One notable exception to that, though, comes with injuries, as seen last year when both Jonathon Cooper and Taron Vincent took redshirts due to injuries that sidelined them.
While it's possible anyone could suffer an injury that leads to a redshirt year if they haven't taken one already, the most likely non-freshman to redshirt for Ohio State this year would be Crowley, given that he is recovering from an ACL injury that cut his freshman season short. While the Buckeyes anticipated that he would play all year in 2019 to push for a spot in the rotation this year, it could make sense to use his redshirt this year if he isn't back to 100 percent this fall.