Even though Justin Fields hasn't been able to train with his Ohio State teammates or coaches for more than two months, that hasn't stopped him from putting in work in his time away from campus.
While Fields has been back with his family in the suburbs of Atlanta since Ohio State's spring break, after which the Buckeyes did not return to campus due to the COVID-19 pandemic, he's been working out regularly with multiple Georgia-based quarterbacks coaches, including three times a week with Quincy Avery.
Alongside several other college quarterbacks who live in Georgia, including Georgia's Jamie Newman and Florida's Emory Jones, Fields has been working with Avery to continue honing his skill set – as he has since he was a sophomore in high school – and prepare for the 2020 season while away from Columbus.
Weve been working with some of the best college QBs in the country to make sure when they go back to campus they are sharp as ever. pic.twitter.com/vX91OmB6xs

— quincy_avery (@Quincy_Avery) May 19, 2020
While Avery has been limiting his training sessions to small groups and encouraging his quarterbacks to keep their distance from each other as much as possible during throwing sessions, he says his work with Fields over the past two months otherwise hasn't been much different than it would be when he is back in Georgia for school breaks under normal circumstances.
The primary focus of those workouts, Avery says, has been just to keep Fields sharp until he can get back to training with the Buckeyes.
"It was just staying consistent, especially since he already played in the offense last year and was able to do a lot of really good things," Avery told Eleven Warriors on Friday. "So we're thinking about it in terms of that. We just wanted to make sure that when it's time for him to get back to the coaching staff that he is ready to execute."
Out of respect to his client, Avery wouldn't divulge what Fields has specifically been working to improve on over the past couple months. Of course, it's not as if Fields needs to make any drastic changes to his game. After all, Fields was already one of the best quarterbacks in college football last season, completing 67.2 percent of his passes for 3,273 yards and 41 touchdowns with only three interceptions, rushing for 484 yards and another touchdowns and finishing third in the Heisman Trophy race while leading Ohio State to 13 wins and a College Football Playoff berth.
Avery expects Fields to be even better in 2020, but because the bar has already been set so high, that doesn't mean we should expect to see any big changes from Fields in his second year as Ohio State's starting quarterback.
"I mean, noticeably improved, I think that'd be hard," Avery said. "The numbers that he put up were so video game-like and gaudy … I know that he's improved as a player, but a lot of things he's improved on, you're not gonna see on a stat sheet."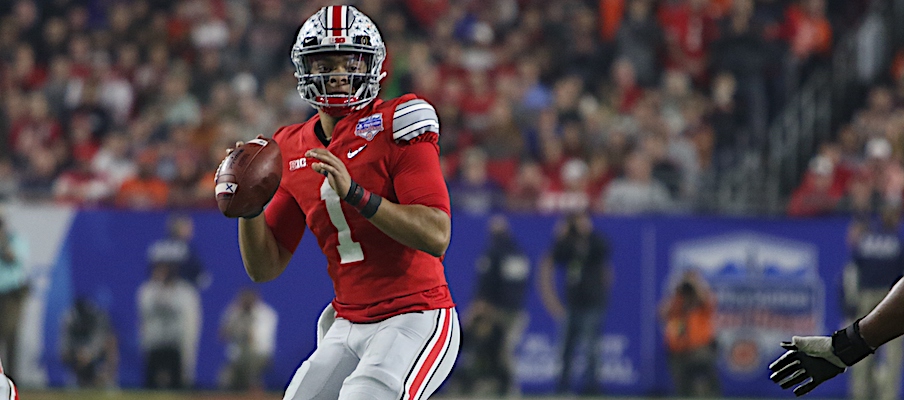 During an interview on The Paul Finebaum Show on Thursday, Avery described Fields as "the most talented quarterback that I've ever come in contact with," which is saying a lot considering that Avery has also worked with several quarterbacks who are already in the NFL, including Deshaun Watson and Dwayne Haskins. Asked about that comment by Eleven Warriors on Friday, Avery clarified it a bit, but nonetheless made it clear he views Fields as a special talent.
"When I said that, you're doing an interview and you're kind of talking quick, but what I really meant is like, at this point in their career, Justin is as talented as anybody that I've worked with," Avery said. "And I think that people at Ohio State have seen that. He has the ability to do all these different things with his arm. And then if things break down, he also has the capability to run a 4.4(-second 40-yard dash) and make something electric happen with his legs. That's really what I'm talking about is he can make all the throws, and I think people see that, but he also has the added dimension of being absolutely electric with his legs."
Beyond his physical ability, Fields has also impressed Avery with his work ethic.
"He works as hard as any other college guy that I've seen," Avery said. "Any time he's back in town, it's a quick text like 'Yo, what's going on, when are we getting throwing?' And as soon as that happens, we get right to work. But he's nonstop. I didn't know that he was doing all this other work the whole time he's been here. He's doing strength and conditioning, running, he's also throwing with Ron Veal. He's nonstop working in terms of his offseason, which I think is very impressive."
Soon, Fields will return to Columbus; according to a report by 247Sports' Bill Kurelic on Friday, he's already on his way back. Initially, he'll only be able to work out on a voluntary basis with his teammates, as workouts directed by Ohio State's coaches will remain prohibited through the end of June. Eventually, though, Fields will be back on the field with Ryan Day and quarterbacks coach Corey Dennis, trying to make up for lost time after the Buckeyes' final 12 spring practices were canceled.
Fortunately for Ohio State, the work Fields put in with Avery and others over the past couple of months should go a long way in ensuring he's as prepared to play as ever in 2020. And Avery is confident Dennis, who Avery said he expects to be a "rockstar" as Ohio State's new quarterbacks coach, and Day will continue to maximize Fields' ability.
Avery hasn't tried to teach Fields anything that would interfere with what Day and Dennis would have been teaching him this spring; rather, he's simply tried to enhance Fields' skill set in a way that will fit into the framework of whatever Ohio State wants to do offensively.
"I think that those guys are all really familiar with me and the things that I do, so they know that I'm not doing anything that's going to get in the way of the things they're doing to try and help him improve," Avery said. "And I know that he's probably in as good of hands as anybody else in the country."
Fields isn't the only Avery pupil on Ohio State's quarterback roster this year. True freshman C.J. Stroud has also spent time training with Avery, and while Stroud has spent the past two months with his family in California, he has been in consistent communication with Avery, who is confident Stroud is also putting in the work he needs to be prepared for the 2020 season.
"Me and C.J. have been texting, FaceTiming fairly regularly, so it seems like he's getting his work in, from what I can tell," Avery said. "I know that he has a special level of talent, and I think that he's going to be as ready as you can be coming in as a freshman to contribute to a team."
While Stroud will likely spend most of his first season as a Buckeye on the bench waiting his turn behind Fields, Avery has encouraged Stroud to use that time to his advantage.
"You get the opportunity to be next to Justin Fields every single day for the next however many months he's gonna be there … he could be there two years, he could be there a few months, but you've got the opportunity to learn from one of the best college quarterbacks out there, you need to soak every minute of it up," Avery said. "Learn how to be a great leader, learn how to work with your teammates in non-structured activities, so that you're ready when it is go time."
As for Haskins, Avery expects the former Ohio State quarterback to make big strides in his second year with the NFL's Washington Redskins. While Avery hasn't been able to work much this offseason with Haskins, who has remained in D.C. during the pandemic, he has been impressed with what he's seen from afar as Haskins has worked on cutting body fat and trimming down to 220 pounds.
"We talk, and he's been busting his tail," Avery said of Haskins. "I think anybody who has seen him has just seen his body transformation, and that lets you know how committed he is to being a professional and how ready he's gonna be to step on the field this year."
While Haskins has his share of doubters after completing just 58.6 percent of his passes for 1,365 yards and seven touchdowns with seven interceptions in his rookie year, Avery expects Haskins to prove his critics wrong in 2020.
"His last few games (as a rookie), if you really cut on the All-22 (coaches' film), he's doing a lot of really good things," Avery said. "They didn't have a ton of great talent around him, but he's going to go in there with a new coordinator and a new staff, and people who I think actually believe in him, and he's going to get an opportunity to I think get going on a career that he's going to be proud of. This year is going to be a year that we can look back on and say, 'Yup, that's when we knew Dwayne was ready to be an NFL quarterback.'"