No, Ohio State athletic director Gene Smith said on Wednesday, he's not 100 percent comfortable right now with the idea of college football games being played.
Not yet.
And no, he doesn't believe either his athletic department or any other is nearing a decision about the 2020 season and whether or not it goes ahead as planned. Though dozens of football players will return to the Woody Hayes Athletic Center for workouts beginning on June 8, he said he doesn't think a decision has to be made about the season until somewhere in early July, which remains a month and a half away. 
"I think we need to not rush this, and I know everyone is anxious to do that, but we need to have the opportunity for our medical experts to continue to collect data, see how our human behavior responds in the reopening environment across the country," Smith said. "We can look state by state. But we need to take into consideration not just Ohio but all the other states. So we need to allow time, which in my view may take all of June."
An answer about whether or not college football gets played this fall doesn't seem to be around the corner. Not when the football facility allows only 25 coaches into the building – with stringent rules about hygiene and social distancing – and can't house more than 50 players per day for workouts that bar more than 10 players at a given time. A lot has to happen in the next couple of months to get to the point where games get played.
However, it was difficult not to come away from Wednesday's teleconference without feeling more optimistic about Ohio State playing football in 2020.
Why? Two things became clearer.
Smith showcased flexibility with both how and when the season gets played
There's a widespread desire among all parties at Ohio State to play football this fall
The caveat, of course, is neither point matters if the concerns about coronavirus persist to the point where colleges can't feel safe with putting their football players on the field. On Wednesday, Smith didn't have a clear plan laid out yet about what would happen if someone tests positive for COVID-19 either during the June workouts or during the season.
"All those things are secondary compared to the health and safety issues," Smith said. "If we can't put the kids in the position to play in a safe way, then all that other stuff is moot."
But things have a tendency to get accomplished if all parties desire the same outcome and are willing to alter the means by which they make it happen.
In a perfect world, Smith, like everyone else, would like the season to go forth without any adjustments. Fans in the stands. All games played. No unexpected hitches. However, perfection seems increasingly unrealistic.
In response to questions about how an altered 2020 season might look, Smith opened up on Wednesday to a variety of possibilities. 
A month and a half after questioning how it'd be safe for players to play if doctors determined it wouldn't be safe for fans to attend games, he said he "could get there if that is ultimately what we do." He also said Ohio State has explored various solutions with as few as 20,000 fans in the stadium. 
When asked whether or not he thinks all 14 Big Ten schools have to feel comfortable playing to go ahead with the 2020 football season, Smith said he "of course" thinks that's optimal. But he also said he doesn't necessarily view that as something that should stop the rest of the conference from going ahead, provided the other schools feel safe enough to play.
"I personally feel like it could be worked out if someone is disenfranchised for whatever reason, so we should be able to find a way to not penalize all the schools because whatever reason – I can't imagine what it would be; I guess a state decision or whatever," Smith said. "We haven't discussed that as ADs, but that's certainly something in my view that we should have as much flexibility as we can to make sure that we mitigate the damage to individual schools based upon where they are."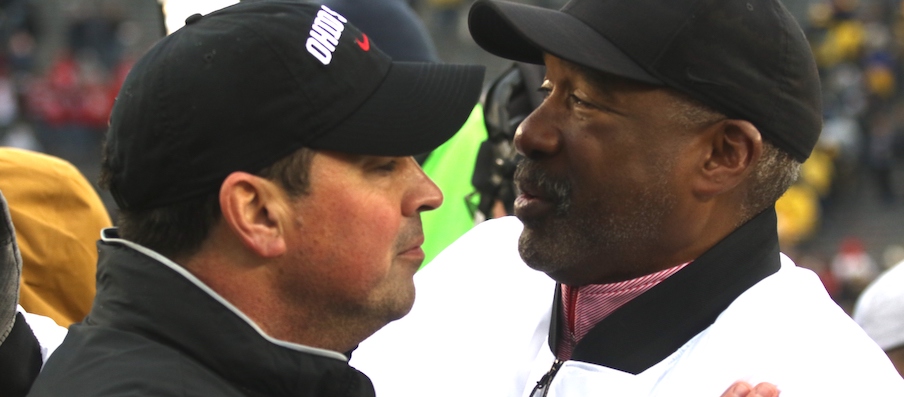 Smith also said he'd like players to get six full weeks in the preseason to prepare. However, he mentioned he might be fine with them getting only four or five weeks of work ahead of the season.
Perhaps most notably, Smith said that while he wants the Buckeyes to play a full 12-game regular-season schedule, he's not married to the idea. That's just a best-case scenario in his mind. 
If it makes sense to chop the number of games down by two, three or four, he'd consider it.
"I guess I would lean to a conference schedule of nine or 10 games if we could work that out," Smith said. "I could probably be comfortable with eight, which would be challenging, but I would feel better with 10 so you could do five away, five at home. Our kids want to play. It's hard for me to say eight games wouldn't be important to them. I think it would be."
Smith said he'd probably bring a shortened schedule to the players before making an ultimate decision.
"Because I want to give them a chance," he said.
If it came to that point, it's difficult to imagine Ohio State's players telling him an abbreviated schedule wouldn't be worth it.
Every player who has spoken up, either in interviews or on social media, has conveyed a desire to play football this fall. Just last week, Josh Myers and Wyatt Davis said they "would do anything" to have games played in 2020, whether it takes signing a waiver, playing in front of empty stands or quarantining themselves. Each of the players' parents who spoke with Eleven Warriors about life during the pandemic expressed outward, unprompted hope for a season this fall.
Ryan Day and Mickey Marotti have both said they'd take whatever football they can get this fall. Ohio State's athletic department and the NCAA clearly want the football team to play, too, for financial reasons.
Hovering over everything, of course, is the ultimate decision of whether or not it'll be safe enough to play. 
"People are losing their lives, and that's just unsettling," Smith said. "So for us to not be touched by that, I wouldn't understand that."
It behooves Ohio State to act with an abundance of caution. 
Still, there's something to be said for widespread support of figuring out a way to play and the flexibility to adjust the season if necessary, as Smith dictated on Wednesday's teleconference. Results often follow such combinations. Plus, while Ohio State won't allow more than 10 people to work out in a room at a time, it took a step by deciding to reopen the Woody Hayes Athletic Center on June 8 to football players for voluntary workouts.
Between May and September, Ohio State has to go from having highly sanitized workouts of 10 players at a time and coaches meetings with 10 or fewer people in a room at once to safely putting together football games. That's no small task.
But if you're feeling as though college football's more likely to be played in Columbus in 2020 than you were before this week, you're not alone.