The rosters of national champions vary in how they get constructed.
Usually, though, there's a healthy balance between seniors and underclassmen, veterans and first-year starters, and studs and supporting players. In 2019, while it fell short of the ultimate goal, Ohio State seemingly had the right mix.
Malik Harrison, K.J. Hill, Jordan Fuller, Branden Bowen, Jonah Jackson, Binjimen Victor, Robert Landers and Austin Mack were among those who provided the Buckeyes with a base of consistently impactful seniors. DaVon Hamilton, Damon Arnette and Jonah Jackson had by far their best collegiate seasons as fifth-year seniors. Chris Olave, Josh Myers and Wyatt Davis had breakout sophomore campaigns. Shaun Wade and Pete Werner thrived as returning starters. Garrett Wilson and Zach Harrison added what they could as freshmen.
At the forefront of everything, Ohio State had a quartet of superstars. Justin Fields deservedly was a Heisman Trophy finalist quarterback. Chase Young had arguably the most dominant individual defensive season in program history. Jeff Okudah completely shut down wide receivers game after game. J.K. Dobbins set the Buckeyes' single-season rushing record.
There's a difference between really good players and superstars. National championship-worthy teams have multiple players who single-handedly force opponents to alter game plans. Fields, Young, Okudah and Dobbins did that in 2019.
Who, beyond Fields, will have that type of impact for the Buckeyes in 2020? 
At this point, there are quite a few with that much potential. But no one should be taking somebody going from All-Big Ten to All-American for granted. It's far from a given.
Wade and Olave are arguably the two most likely candidates to make the leap.
Overshadowed by Okudah and Arnette the past two years, Wade will enter the spotlight after turning in a 25-tackle, eight-pass breakup, third-team All-Big Ten season in 2019. The one-time five-star defensive back will shift from nickelback to cornerback with massive expectations following him outside.
"He should be a Thorpe Award finalist right off the get-go," Ryan Day said in January. "He's got a chance to be one of the best corners in the country and hopefully a first-round draft pick next year. That's huge for us."
Wade reaching superstar status would do wonders for a defensive backfield that lost all three other starters and only got a couple practices this spring to work together with Kerry Coombs before it got canceled.
On the other side of the ball, Olave appears primed to make a similar jump. Like Wade, he's a potential first-round pick next spring.
Olave racked up 49 catches for 849 yards and 12 touchdowns, becoming one of Fields' top targets last year. Now that Ohio State has lost Hill, Victor and Mack to graduation, he'll become an even more important part of the aerial attack. 
"Chris is the ultimate competitor," Day said.
He has superstar potential, and so does Garrett Wilson, who had 30 receptions for 432 yards and five touchdowns as a true freshman. Sometimes, Ohio State has players who skip a step and go from a complementary piece to a stud. Wilson, if he can put it all together, has that type of talent. Should he line up primarily in the slot, which is where he opened spring practices, he'd have a legitimate chance to lead the team in catches. 
The four freshman wideouts all ranked top-100 overall out of high school – Julian Fleming, Jaxon Smith-Njigba, Gee Scott and Mookie Cooper – might eventually become stars, but it would be a significant surprise if that happened in 2020.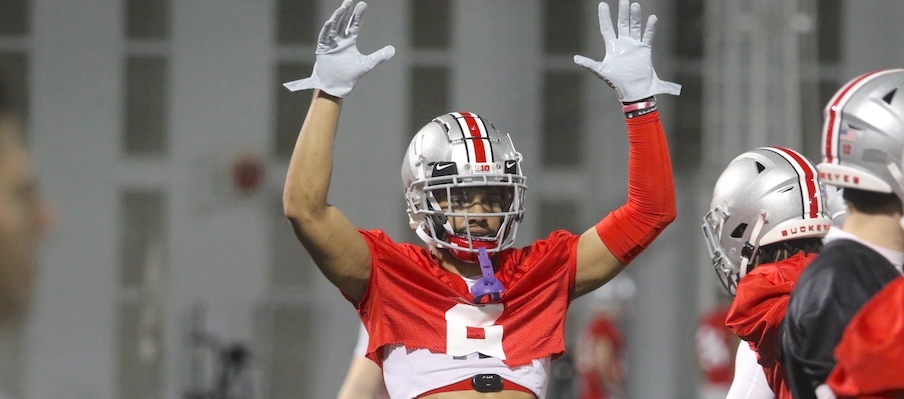 Davis, a returning first-team All-American right guard and Myers, a possible Rimington Award contending center, have early round NFL draft-pick potential. Maybe they don't have quite the individual impact on how opponents prepare to face the Buckeyes as a Young or Fields, but they'll lead what has a chance to be the nation's best offensive line.
Werner's an under-the-radar candidate to rise to star status in a crowded linebacker room.
His 64-tackle junior season earned him honorable mention All-Big Ten honors, but his versatility as a strongside linebacker was the biggest reason why Ohio State never needed to unleash the oft-ballyhooed Bullet. He, basically, was the Bullet when Greg Mattison needed one. As a senior third-year starter, Werner will likely lead the linebackers in snaps for the first time, and he could have a higher ceiling than most people project.
On the defensive line, it's impossible to expect anybody to get to Young's level in 2019. But Harrison and Tyreke Smith have superstar ceilings, even though they haven't come close to that type of production yet. Larry Johnson thinks so highly of Harrison, a former five-star prospect due largely to his freakish physical gifts, that he started him in the Fiesta Bowl. Back for his sophomore season, it's possible he's on a Young-like, Bosa-esque trajectory. Those expectations might seem unfair, but they underscore his natural gifts combined with Johnson's teachings.
Smith, who had three sacks in an injury-marred 2019 season, is a poster child for what has happened to Ohio State's much-hyped 2018 class that hasn't yet had many notable contributors.
Oftentimes, the Buckeyes have rising third-year players that draft analysts are already predicting as first-round picks sure to leave school after their junior seasons. Dobbins, Young and Okudah were the most recent examples, and Harrison and Wilson, now sophomores, are both clearly on that path too. Fields – a Georgia transfer – is the only rising third-year superstar who's clearly gone after the 2019 season. Olave, the third-lowest ranked recruit in the 2018 class, is another possibility, though he's not a sure thing.
Beyond them, in a recruiting class that ranked second nationally? A bunch of question marks.
Josh Proctor has as high of a ceiling as almost anybody, but he hasn't started a game. Smith's yet to record more than three sacks in a season. The three five-star prospects in the class – Nicholas Petit-Frere, Taron Vincent and Tyreke Johnson – have combined to start one game. Jaelen Gill has seven receptions, and Jeremy Ruckert has 15 catches in two years. Teradja Mitchell has played only 101 defensive snaps across two seasons. Tommy Togiai was on the field for 250 snaps in 2019, but Hamilton was the team's top nose tackle.
Collectively, the Buckeyes haven't gotten the type of production many hoped for from this group yet. The star power isn't quite there. But that could change in 2020.
Sevyn Banks, Cameron Brown, Proctor, Smith, Petit-Frere, Vincent and Togiai could start, and Johnson, Ruckert, Gill, Tyler Friday, Master Teague, Matthew Jones, Tyler Friday, Dallas Gant, K'Vaughan Pope, Javontae Jean-Baptiste and Marcus Hooker will all be in the mix. 
Might some of them go from light contributors to stars who suddenly become first-round picks with one standout season? It's far from a given, but it's possible. Just ask Malik Hooker and Marshon Lattimore.
One way or another, Ohio State needs some of their players to get closer to their ceilings, elevating their games to become game-changers along with Fields. Wade and Olave are safe bets, but whoever else will join them remains unclear. 
The Buckeyes have appeased the "stars matter" crowd by crushing it on the recruiting trail in recent years. It's time for some of the formerly touted prospects to join Fields as superstars as Ohio State chases a national title this fall.