Ryan Day set a mighty high bar for himself in his first year as Ohio State's head coach.
Ohio State ran the table in the regular season, capping the campaign with a beatdown of Michigan in Ann Arbor. The team traveled to Indianapolis the next weekend, captured a Big Ten championship and earned a College Football Playoff berth. The only loss of the season was a heartbreaker against Clemson in the Fiesta Bowl.
In his second year leading the program, Day will try to go even further and take the Buckeyes to the national championship game. His team incurred some offseason losses, both to the roster and the coaching staff, yet it remains a popular pick to win it all.
To do that, though, the Buckeyes will need to be even better in 2020 than they were in 2019. And while they should be able to make that happen at some positions, there are others at which they appear more likely to take a step back. We take a look at the likelihood that Ohio State could improve at each position below.
Quarterback
Ryan Day will have to wait another year before he has to spend a full season as head coach without Justin Fields. The Georgian returns as Day's first-ever second-year starting quarterback, and he's expected to make even further strides after putting together a Heisman Trophy finalist-worthy campaign.
Chris Chugunov is gone, but Gunnar Hoak is back to fight for backup reps. He's joined by incoming freshmen CJ Stroud and Jack Miller, who will spend the next year jockeying for position in a competition to start at quarterback in 2021 that began the moment they stepped on campus. 
The starter remains the same, and the depth behind him has improved. Without a doubt, Ohio State should be better at quarterback in 2020.
Verdict: Better
Confidence Level: High
Running Back
Welcome to the new age at this position. Whichever running back replaces J.K. Dobbins will be following someone who both racked up a program-record 2,003 rushing yards in 2019 and will go down in program lore as a legend. Not particularly easy for anyone.
It's just hard to see how Ohio State could get better in the backfield without Dobbins, even when accounting for the recent addition of Trey Sermon.
Beyond Sermon, who has accounted for more than 2,000 yards at Oklahoma but is rehabbing a knee injury and managed 385 yards in a limited role last season, the Buckeyes have a whole bunch of questions. Master Teague's beginning to work his way back from an Achilles injury. Marcus Crowley's also on the mend, though he's expected to be ready for the season. Steele Chambers is healthy, yet he redshirted last season while taking only 19 carries. Miyan Williams won't enroll until the summer. None of them have ever started a game at Ohio State before.
Verdict: Worse
Confidence Level: High
Wide Receiver
Can Ohio State really get better while losing the program's all-time leader in receptions, along with two other wideouts with starting experience? Based on the recruiting the past couple cycles, along with a pair of likely studs leading the position group, it's certainly possible.
In terms of pure talent, the Buckeyes are taking a step forward by adding four top-100 overall wide receiver recruits – Julian Fleming, Jaxon Smith-Njigba, Gee Scott Jr. and Mookie Cooper – to the mix as replacements for K.J. Hill, Binjimen Victor and Austin Mack. But they're also going from a veteran-filled room to a group mainly consisting of underclassmen. Pump the brakes? Eh, maybe a little bit.
Chris Olave and Garrett Wilson are full-fledged stars-in-the-making, though. With them starting, Ohio State's wide receivers should have a higher ceiling. Behind them, Jameson Williams, Jaylen Harris, C.J. Saunders, Jaelen Gill and the four freshmen offer enough to project the Buckeyes to improve at this position.
Verdict: Better
Confidence Level: Low
Tight End
Not a ton of movement here. Both of the top two tight ends on the depth chart – Luke Farrell and Jeremy Ruckert – remain on the roster. The only loss from last season is Rashod Berry, who's trying to earn a roster spot in the NFL.
Since Farrell and Ruckert return, it's only fair to expect both veterans to improve to some degree. And in Berryt's place, fifth-year senior Jake Hausmann should be a servicable third tight end. It's difficult to imagine this unit back-sliding. Farrell might not get a ton of press, but he's quietly one of the most consistent contributors on the team, and Ruckert's inching ever-closer to the dangerous pass-catching tight end Ohio State envisioned when it landed him.
Verdict: Better
Confidence Level: High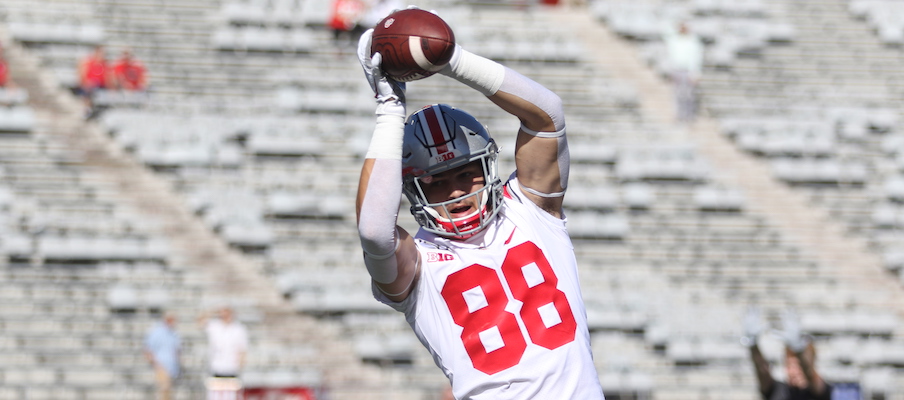 Offensive Line
Two things can be true here.
It's difficult to predict whether or not Ohio State's offensive line will be better or worse in 2020.
I believe Ohio State will have the nation's best offensive line this season.
What makes it so hard to know whether the Buckeyes will improve next season? Well, they were damn good up front in 2019. Jonah Jackson played at a first-team All-Big Ten level at left guard, and right tackle Branden Bowen put together a solid fifth-year campaign. Both of them will be replaced by first-year starters. Sure, the next-in-line linemen will likely be former five-star prospects (Nicholas Petit-Frere and Harry Miller), but there's still a degree of uncertainty.
Still, the potential of Petit-Frere and Miller combined with Wyatt Davis, Josh Myers and Thayer Munford taking the next steps in their development as potential All-Americans make for a special group. Behind them, the Buckeyes also have a deep roster of backup linemen.
Verdict: Better
Confidence Level: Low
Defensive End
Yes, Zach Harrison's back for Year 2. Yes, Jonathon Cooper returns for a fifth season. Yes, Tyreke Smith could be in line for a junior breakout. Yes, Tyler Friday, Javontae Jean-Baptiste and Noah Potter each offer ample potential.
But Ohio State will no longer have Chase Young, who had arguably the program's most dominant season by a defensive player of all-time, so how could anybody project this team improves at defensive end? That's simply unrealistic.
Without Young, the Buckeyes need significant jumps in level of play from everybody rushing off the edge, but especially Harrison, Cooper and Smith. Their production will define the success of Larry Johnson's defensive ends, none of whom have ever had more than 3.5 sacks in a season. 
Verdict: Worse
Confidence Level: High
Defensive Tackle
Those who live and die with recruiting rankings will welcome the next wave at defensive tackle. What Ohio State loses in the interior of its defensive line, though, will be tough to replace.
Few players went as overlooked in the Big Ten as DaVon Hamilton, who had six sacks, the most by any Buckeye not named Chase Young last season. Robert Landers and Jashon Cornell are also gone. Neither were stars, but as fifth-year seniors in 2019, they were always reliable.
This fall, Ohio State will turn to a trio of top-100 recruits – Taron Vincent, Tommy Togiai and Haskell Garrett – and the No. 1 junior college recruit from the class of 2018, Antwuan Jackson. Each once regarded as major recruiting victories, it's time for them to lead Ohio State's defensive tackles. The potential as a group, in all likelihood, is higher in 2020. But can they consistently play better than the group led by Hamilton, Landers and Cornell? They set a high bar.
Verdict: Worse
Confidence Level: Low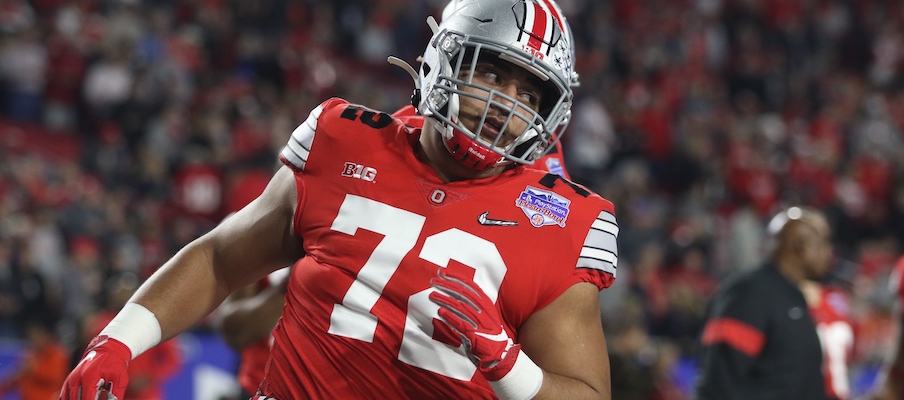 Linebacker
This position group, possibly more than anywhere else, could go either way.
Pessimists could see Pete Werner and Tuf Borland returning as both starters and known commodities, as well as Malik Harrison – the team's best linebacker in 2019 – leaving and wonder how Ohio State could improve. Optimists would wonder whether Werner and Borland can improve while also noting the other five upperclassmen pushing for playing time.
If Al Washington can figure out how to put the four seniors (Werner, Borland, Justin Hilliard, Baron Browning) and three juniors (Dallas Gant, Teradja Mitchell, K'Vaughan Pope) into optimal positions, the Buckeyes could take a step forward. The ability to get each of them to play through their strengths will determine whether or not that happens.
Verdict: Better
Confidence Level: Low
Cornerback
With a single decision to remain in school, Shaun Wade allowed Ohio State to avoid catastrophe. That doesn't mean that he'll be part of a better cornerback rotation in 2020 than last year's.
The Buckeyes lost Jeff Okudah to the NFL and Damon Arnette to graduation, leaving Wade behind to be the cornerstone of a group of otherwise first-year starters at cornerback. Sevyn Banks and Cameron Brown each played at least 170 snaps last season, and they appear to be the most likely to step up as starters. Marcus Williamson and Tyreke Johnson are in the picture, too. 
With so many unproven commodities, it's just hard to view Ohio State taking a step forward at cornerback as a realistic possibility.
Verdict: Worse
Confidence Level: High
Safety
For two-and-a-half years, Jordan Fuller manned a starting safety spot for the Buckeyes. And though he never quite had the flash or play-making acumen of the Malik Hookers of the world, he was the model of consistency. Fuller rarely found himself out of position and was a sure tackler.
In his place, Josh Proctor is expected to take over as Ohio State's next starting safety. Though he'll likely play the same position as Fuller, his style of play differs greatly.
Proctor's a better athlete with more range and ball skills who can lay a nasty hit on ballcarriers. However, he also has been a less consistent tackler who could end up taking more risks to attempt to create turnovers. The ceiling is undoubtedly higher with Proctor at safety, as the ballhawk might legitimately have All-American potential. In his first season as a starter, though, he might not immediately get to that point. 
Verdict: Worse
Confidence Level: Low