Talk to almost anyone who's met him and you're going to hear most of the same words about Ohio State receiver Gee Scott Jr.
Special kid. High character. Well-spoken. Hard-working.
As often as Scott's praised for having some of the best receiving skills in the country in his recruiting class coming out of high school – a steady set of big, reliable hands combined with a 6-foot-3, 210-pound college-ready body that he uses to run crisp, polished routes and swallow up jump balls – he's equally (if not more so) hailed for maturity and character he brings with him from the Seattle suburbs to the epicenter of Columbus.
And now that he's been on Ohio State's campus for his first open media availability, a lot of people – not just Ryan Day, Brian Hartline, Washington state high school coaches and national recruiting analysts – are beginning to see he's an all-world interviewee, too. 
But how did Scott become that way? How did that character take shape? Are those just empty words, or is there a real back story?
While down in San Antonio, in preparation for January's All-American Bowl, Eleven Warriors spent some time with Scott to get a feel for how he was molded, where he's come from, where he's going and how people began to form those opinions of him.
In Scott's words: "If you hang around poop, you're gonna smell like it. Luckily, I hang around people that smell like Febreze so I walk around smelling like Febreze. I always like to use the phrase I'm a product of my environment. Like, everything you see, the way I carry myself, the way I walk around, everything I do is I'm a product of my environment and the people I'm around."
This is the story – or at least part of it – of that environment.
---
When Scott's parents, Gee Sr. and Tara, divorced when Scott was in elementary school, both Gee Jr. and his little brother – Zion, one year his junior – moved in with their mother. That was when Scott's father was going through a six-week period of homelessness, literally sleeping in his car, showering at the gym and looking for work. 
On alternating weekends, 8-year-old Gee and 7-year-old Zion would go stay with their dad, who always made sure his sons would never have to sleep in a car. That meant Gee Sr. was continually asking his friends in the Seattle area for a place the three of them could stay on the weekends so that his kids would be taken care of. 
So Scott and his brother slept in sleeping bags on the floors of Gee Sr.'s friends. Melvin, Pug or Rob are some of the friends the Scotts would crash with. (That would be Rob Sims, a former Ohio State player who Scott says coincidentally was a former Buckeye and that it had zero bearing on where he eventually decided to play his college ball.) 
During Scott's sixth-grade year, Gee Sr. got custody of Scott and Zion, but they were still bouncing from house to house every month or every two months. In essence, they were living out of a U-Haul truck. 
Scott vividly remembers going into the back of that truck on the mornings before school, freezing cold and difficult to see in the darkness with the sun still yet to rise. But here were Gee Jr. and Zion, rummaging through three or four garbage bags apiece that were stuffed with clothes, just trying to find what they would wear for school that day. 
It's "photographic memories" of experiences and hard situations such as those that Scott has never forgotten. But he doesn't ever want them to leave.
"I really carry that stuff on my shoulders," Scott said. "It really just gave me the understanding of where different kinds of people come from. A lot of people come from a household where they've never – and no offense to anyone that's come from a household that's had a great childhood. That's the ideal life. That's the ideal American dream life. That's the way people wanna live. I hope that for my kids. But it's given me a different perspective going through that kind of adversity and seeing the other side of things. 
"Sometimes people get kind of scared and timid about things they're uninformed about. I'm informed about the lifestyle of not really being very fortunate or being on the homeless side. That's why I look at it as a blessing moving forward. Hopefully I can give back, and it truly gives me joy to hear somebody compliment my character. Even putting my character over my football career. This whole football thing is gonna be until I'm 30 years old. That's not even halfway through my life yet. What am I gonna do with this back half of my life? That's all I'm gonna have is character."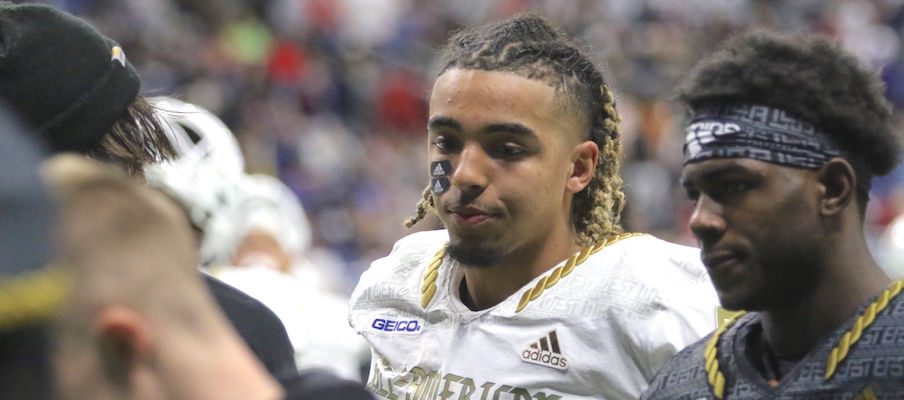 That's when Scott stops himself in his tracks. "Let me go back," he says.
"I'm only guaranteed tomorrow in my football career," he said. "I don't even wanna say until I'm 30. I'm only guaranteed tomorrow – if that. I wanna make sure I'm the best person I am now. I'm not even guaranteed two more days of football. I don't know what could happen so I wanna make sure my best foot's forward and that if things don't go the way I want it to, that I'll still be able to be a good man."
---
Thing is, it wasn't as simple and easy as that. There was no magic button for an elementary- or middle school-aged Scott to understand the adversity he was going through. Far from it.
In fact, if you told them, in 2010 or 2012, that nearly a decade later, stories were going to be written about Scott's high character, it would have surprised a lot of people. Especially those at his old school. 
Scott was struggling in class, and he was constantly getting in trouble by his teachers. Instead of putting him in military school or boarding school – Gee Sr. was thrust down the military school route as a kid – his dad took action by giving him a military-school like routine. The two would wake up every morning at 6 o'clock for an early workout, which became a source of energy and focus for Scott when he went to school. 
His behavior and grades had slipped enough that every Friday, Scott's teachers had to sign off on whether or not he had had a good week. If so, he would be allowed privileges like video games on the weekends. That was the start of being held accountable. 
Always use your voice;
spread hope, spread life, spread love.
The world needs that. pic.twitter.com/Tc0y8rYKYk

— Gee Scott Jr. (@geescottjr) February 8, 2020
But while his dad helped create work ethic, discipline and drive, his mother was there, too, fostering a different type of environment. 
"People ask me about that all the time because she's less talked about," Scott says, pointing out that Tara was with him down in San Antonio in full support. "And that's OK. The story of my dad being on (Seattle Seahawks) radio and his son being the football player, it just goes great together [more on that later]. People forget my mom. I actually let her know that it's OK that she's not getting brought up every time, and she understands. 
"In my life, she's just always been someone that's been so supportive of me no matter the circumstance. There were times when I would do something wrong, and my dad would just rip on me. But my mom was always so solid. She was always the supportive one. Like, right now, if all of hell burned out and let loose, I know I could go to my mom right now and she would still be positive. She would find a way to cheer me up. To have that type of person in my life is important to me."
---
Scott's already said so much. Yet he still says he's only just scratched the surface. Those were just his early years, after all.
For many of those years in which they were pushing through hard times, Gee Sr. spent 3-4 days washing cars in the parking lot of the Seattle Seahawks facility, with Gee Jr. and Zion often tagging along to help. 
For 12 years, Gee Sr. washed those cars, and he finally landed his big break, earning the chance to do radio spots for 710ESPN Seattle. He made the most of the opportunity, eventually landing a job as the gameday emcee at CenturyLink Field.
The family's close ties to the Seahawks helped feed Scott Jr.'s love of the game, and that passion soon proved fruitful when it turned out Scott was pretty damn good at playing the game too. 
At Eastside Catholic – a school that, with its curriculum and regimen, was perfect for Scott to continue learning discipline – Scott started becoming a star at the same time his dad continued his rise working for the Seahawks. Because of his football ability and physical growth, Scott started taking the field to learn a multitude of things – life- and football-related – from men like Bobby Wagner, Richard Sherman, Russell Wilson, Doug Baldwin, Brandon Marshall and Tyler Lockett. 
"If you hang around poop, you're gonna smell like it. Luckily, I hang around people that smell like Febreze so I walk around smelling like Febreze."– Gee Scott Jr.
On the field, for instance, Marshall once taught him a technique to get an explosive release off the line in which you grab, push and pull the opposing cornerback. Every once in a while, when Sherman was still in Seattle, Scott and Sherman would work out together and square off in one-on-one matchups. Scott figured this was the perfect time to pull that Marshall technique out of the bag for his own little test run. 
Nope. Didn't work. At least not against one of the best to ever do it.
"You can definitely tell the difference between a high school corner and an NFL veteran," Scott says, sort-of jokingly.
Off the field, they taught him how to carry himself like a veteran. Want to know why he's so good at interviews and already talks like a professional at 18 years old? 
Bingo. 
"I'd say like 40 percent of it teaches the football aspect of life — the Xs and Os side," Scott said. "The other 60 percent is teaching me how to go about life. You have to understand the lessons. I just went over to Tyler Lockett's house the other day, and we talked for like an hour with him just telling me what I need to expect in college.
"Just having those kinds of conversations gives me perspective. It keeps me humble because I understand I haven't done anything yet. A kid that hasn't seen those kinds of things can come into this thing thinking, 'I'm all-world.' I understand I'm not all-world because I see them. I see they're dedicated, grown men leading their families and leaving every morning to go execute their job, which everyone does. It just shows me how serious it is. It just gives me that perspective."
---
Another source of pride that Scott shoulders en route to Columbus is the state of Washington as a whole. 
Throughout his entire Ohio State career, and wherever he goes after that, he's going to be walking around with the numbers 206 – Seattle's area code – on his back, reminding him where he's come from. Maybe those numbers will be written on his cleats. But most likely, it will be forever etched on his leg, where he's preliminarily mapped out a tattoo design of the downtown Seattle skyline with those "206" numbers weaved into the buildings – this tattoo is planned to go just above the one already inked on the front of his lower leg that represents African history.
Of course, this Seattle-based tattoo wouldn't be nearly as complete without a representation of Pike Place Market – a massive, historic farmer's market overlooking the Seattle waters – or The Gum Wall, which is exactly what it sounds like. It's a large wall in the market where people come to stick their gum – a tradition that Scott says "sounds kind of gross" but tradition is tradition, and the millions of pieces of gum make that apparent. 
Part of having that tattoo is also to remind him to stay humbled – to remember where he came from and remember back to times like his freshman year, when he got into an altercation with an Eastside Catholic coach, and questions of his character began to sprout up. That's part of the reason the University of Washington waited so long to offer him a scholarship – in June 2019, six months after he had committed to Ohio State on Christmas Day. 
The Huskies' coaching staff never questioned whether or not he was a good athlete. They questioned his character, a lot of it based on one incident and maybe some post-touchdown celebrations that they didn't like. It was frustrating for Scott, who soaked it all in as another learning experience on his long journey.
Can only play football for so long, but i hope the impact i have on others last forever. pic.twitter.com/kLI6jsEq09

— Gee Scott Jr. (@geescottjr) December 1, 2019
"Every young kid — every 14-year-old kid — makes mistakes. And I still, to this day, make mistakes," Scott said. "But I've grown, and I've learned from them. From freshman year till now, it's ridiculous. I'm not even the same person. I'm growing into an adult, a young adult. Before, I was such a kid. I didn't understand those types of things. I would never go off on a coach anymore. I've gotten to the point where I've learned that's not OK.
"You can call me a bad football player. That's fine with me. I know I'm solid. But for somebody to call me – to question my character – that kind of made me wanna show that I'm a good person to the community. That kind of does put a chip on my shoulder."
So that's another part of the extensive backstory to why, this past year, when a homeless man in Washington named Jerry began paying his way to come watch Scott star at Eastside Catholic, Scott wanted to show how far he'd come. 
The two struck up a unique friendship that led to many good deeds in the Sammamish community. The end of that story, at least for now, came around Christmastime two months ago. Scott drove over to where Jerry resides – a small community for the homeless called Tent City 4 – to deliver some presents, an emotional moment shared on social media.
This holiday season, I hope we may all find the strength and courage to uplift those around us...
and as to always, #SpreadLove pic.twitter.com/Whfce0r4qr

— Gee Scott Jr. (@geescottjr) December 24, 2019
But there are always skeptics. That's why we asked – do you feel like some people might have seen that as fake?
"Definitely," Scott said. "I thought about that. I wondered if people that it was inauthentic – which, to set the record straight, that's absolutely not the case. I do that out of the true kindness of my heart. When I see this guy, every time I see him and he genuinely is crying, that releases a different kind of feeling in my body. When I'm leaving to fly out (to San Antonio), and he's crying, telling me that he's sad he's never gonna be able to see me play again, that truly hit me deep. Anybody that has an idea that it's inauthentic, you've gotta be ridiculous.
"I have sympathy for somebody like that. I was dealing with it for two years, (and he's been) dealing with it for four years or even longer. … Especially when I heard him tell me how much of an impact I've made on his life, those kinds of things drive me."
---
So that's what Scott is representing when he comes to Columbus. That's who Scott's bringing with him.
Jerry, Melvin, Pug, Rob, Zion, Tara, Gee Sr., Zion, all those Seahawk greats – and, of course, plenty more – who made the biggest impact on him are coming with him to Columbus. Scott is all of those people and a city. He feels all of this, all of the success he's had and any that he may have in the future, is because of those people and those past experiences. That's why Scott has become synonymous with the word special.
"You've always gotta remember where you come from, and that's something I value," Scott said. "I remember one time I was having a conversation with my mom, and I told her that if I could go back, I wouldn't change anything. I'm so glad that it made me who I am."