Ohio State's new quarterbacks coach doesn't have the résumé of a typical Buckeyes assistant. At just 27 years old, Corey Dennis has never been a full-time assistant coach before, and his only coaching experience has come as a lower-level assistant at Ohio State, where to most people, he's been best-known for being Urban Meyer's son-in-law.
Ask the people who have been around Dennis in his journey to this point, however, and they'll tell you they're not surprised by his rapid rise to an assistant coaching position at one of the top college football programs in the country.
"I'm not as shocked as some would think, 'cause I've always known," said Zach Laskey, a former fullback at Georgia Tech, where he was teammates with Dennis from 2011-14. "I always had a feeling Corey would be one of the youngest head coaches to ever coach in the game, and I'm still holding to that."
---
Dennis' journey to this point began in Troy, Alabama, where his father, Steve Dennis – who was also previously an assistant football coach himself at Auburn and Georgia – was the athletic director at Troy University. As a high school football player at Charles Henderson High School, Corey Dennis was a three-year starter at wide receiver before becoming the Trojans' quarterback as a senior.
While Dennis' family connections through birth and marriage have surely helped him in his quick climb up the ladder to a job on Ohio State's coaching staff, his head coach at Charles Henderson said Dennis never expected anything to be given to him the easy way.
"Coming from the family he came from, he could very much have easily said, 'I deserve it because of who I am,'" said Hugh Fountain, the winningest head coach in Charles Henderson history. "But he was never that type of guy. He jumped right in and became our team leader, and he was just to me, the thing that stands out the most about Corey was the type of person he was – a mannerable, respectful person, but also just a competitor."
Rather than expecting his son to receive any special treatment, Steve Dennis made it clear to Fountain that he expected his son to be coached as hard as anyone.
"One day Corey's daddy came to practice. And he comes down and he walked up to me and he said, 'Coach, if you will just back me up on what I do here, I'd appreciate it 100 percent,'" Fountain recalled. "And he called Corey over there and he blessed him out in front of the whole team about his grades … he said, 'Coach Fountain, if Corey makes another B, then I want him off this team.'"
Corey excelled in both the classroom and the football field for the rest of his years at Charles Henderson, getting straight-A's on his report card while becoming a team captain for the Trojans.
Going into his senior year at Charles Henderson, Dennis was on track to become the Trojans' all-time leading wide receiver, so Fountain gave him the choice to either stay at receiver or take over at quarterback. Dennis, as he always did, took the team-first approach.
"I said, 'Hey look, we're moving you to quarterback, but we can leave you at wide receiver, you can break the record for being the best receiver in school history statistically.' And he said 'Well, stats don't mean anything to me, Coach. It's my time to be the quarterback, so I'm ready to be the quarterback this year.' And he had an outstanding senior year for us as our quarterback," Fountain said.
"The thing that stands out the most about Corey was the type of person he was – a mannerable, respectful person, but also just a competitor."– Hugh Fountain, Corey Dennis' high school coach
From there, Dennis went on to play at Georgia Tech, where he began his career as a safety before moving back to wide receiver. As a backup receiver in a triple-option offense, Dennis caught only one pass for seven yards in his Georgia Tech career, but he was a regular on special teams for the Yellow Jackets, tying a school record by playing in all 54 games of his four seasons in Atlanta.
Even though he never became more than a role player for the Yellow Jackets, he earned the trust and respect of his coaches and teammates with his work ethic, selflessness and personable nature.
"You could always count on Corey to do the right thing and lead off the field and on the field," Laskey said. "Corey always did the little things right."
Synjyn Days, who also played with Dennis from 2011 to 2014 as a running back for the Yellow Jackets, said Dennis stood out for his ability to build relationships with his teammates.
"He's one of the most charismatic guys that I've probably ever met," Days said. "I still remember when he was a freshman on campus, I was a year older than him. He always had a smile on his face, caring personality.
"He was someone that was always energetic. You could go to talk to him about anything. He was really kinda like a coach on the field."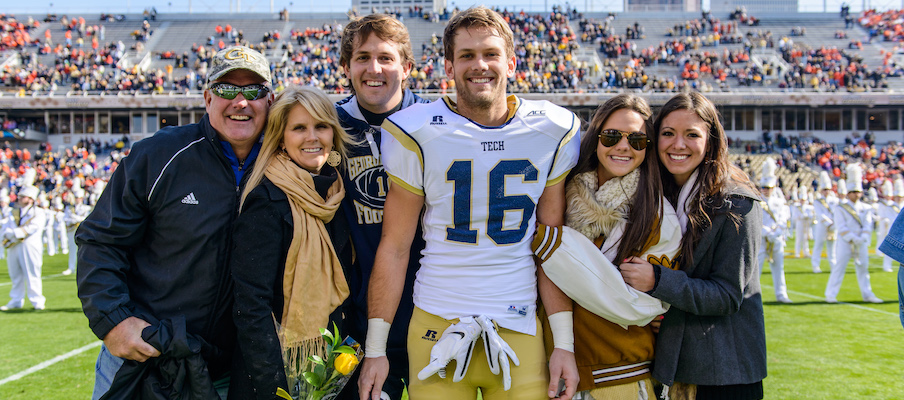 Laskey, who also started his Georgia Tech career at safety before moving to offense, said Dennis was often someone he would turn to if he needed help learning something they were being coached.
"When we would go through our pregame tests, if I ever had any questions, I could always go to Corey to help break down a coverage or a defense and see how we're going to attack an offense for that week, and he would always know the X's and O's on the back of his hand," Laskey said.
Corey Dennis before its all said and done, will help coach multiple guys to become @HeismanTrophy winners... @justnfields

— Zach Laskey (@theZLazer37) January 10, 2020
From putting in time in the film room and the weight room to getting his teammates together for workouts, Dennis went above and beyond to ensure he was prepared to do his job for the Yellow Jackets, which is why his teammates envisioned he would coach at a high level sooner than later.
"Even as an 18-year-old kid, of course, everybody wants the going-out experience, having a good time, we did all that … but when it came to being about business, he was about his business," Days said. "Being in the film room when we needed to. When we would do the 7-on-7s when the coaches weren't there, he was always there trying to get the receivers and everybody ready. So we knew from the start, it was a matter of time, if it was going to be at Ohio State or Florida, maybe Georgia Tech, we knew he was gonna get in the coaching realm – 1,000 percent."
"He's one of the most charismatic guys that I've probably ever met."– Synjyn Days, Corey Dennis' teammate at Georgia Tech from 2011-14
During his time in Atlanta, Dennis met Nicki Meyer, who played volleyball at Georgia Tech. The pair became engaged in 2014, which ultimately led to an opportunity for Dennis to become an intern on her father's coaching staff at Ohio State in 2015 after he graduated from Georgia Tech.
Over the past five years, Dennis worked his way up the ranks inside the Woody Hayes Athletic Center, becoming a graduate assistant in 2016 and a senior quality control coach in 2018. After working with the wide receivers as a graduate assistant, Dennis became Ryan Day's right-hand man in the quarterbacks room in 2018. Dennis began to quickly make an impression on the Buckeyes' signal-callers, including reigning Heisman Trophy winner and national champion Joe Burrow, who was a backup quarterback at Ohio State before transferring to LSU.
"I think Corey is going to be a really good coach for a long time," Burrow told Eleven Warriors on a conference call earlier this month. "I think he's going to be one of the best recruiters in the country, as well. He works his tail off, and he has for a long time. He's a really good coach, really good person, and he's going to do a really good job."
Chris Chugunov, a backup quarterback for the Buckeyes for the past two years, said he "learned a lot of things" from Dennis and that Dennis does a great job of both relating with Ohio State's quarterbacks and helping them prepare for games.
"If there's one overarching theme with Corey, it's stressing that you know the details of our position and how we prepare," Chugunov said. "I think schematically and preparation-wise were probably the two areas that he helped me out the most. Me and him would always watch extra film and go through different looks of who we were playing, and have a lot of detail to conversations in that area."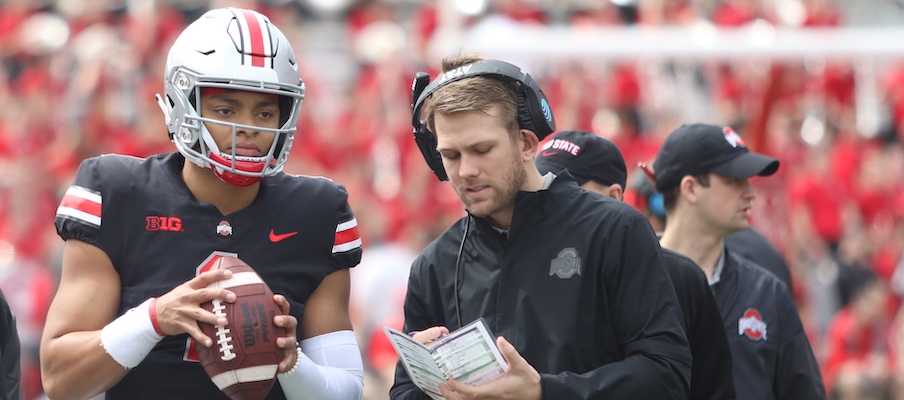 Chugunov said Dennis was "very involved" in working with the quarterbacks for the past two years, even though Day was the primary quarterbacks coach in 2018 and Mike Yurcich led that room last season, and Chugunov expects Dennis to do a great job leading the room himself.
"I think he's personable with a lot of players because he was just like us not too long ago, back when he used to play," Chugunov said. "He's fun, he's easy to talk to but at the same time, he knows a lot about the game. He knows what you have to do there to be successful.
"The last two (seasons) with (Dwayne) Haskins and (Justin) Fields, he was instrumental in the success that they had. So I think any QB coming in and that will play for Corey should have a smile on his face, because it's going to be fun and successful."
Most importantly for Dennis, he's made a big impression on Day – dating back to when Day first joined Ohio State's coaching staff in 2017 – who has now put his faith in Dennis, rather than bringing in a more experienced quarterbacks coach, to lead the position group that was once his primary responsibility.
"Since I've got here, Corey's kind of been my right-hand man, and he's kind of, right from the beginning, from when I got off the plane that first time, we were kind of together," Day said when asked about hiring Dennis earlier this month. "We've spent a lot of time in that meeting room, and he knows exactly how we teach things. He's got a tremendous relationship with the quarterbacks here, he's done a good job in recruiting, he's had a hand in a lot of stuff and so, I feel great with not only the fact that he can teach the way it we teach it, but also, it leaves some continuity in that room.
"Corey's a young coach who's got a really bright future, and I think everything that you put into Corey, you're gonna get back and invest because he's so bright."
Day will continue to work closely with the quarterbacks himself, too, but he wouldn't have promoted Dennis if he didn't believe Dennis could both develop and recruit quarterbacks at an elite level. And it's what Dennis has shown Day so far in their three years working together at Ohio State that gave the Buckeyes' head coach confidence that Dennis is ready for that responsibility.
"I think his eye for talent is really good," Day said. "But he also has a dynamic personality. And I think the kids really like him. I think the parents really like him. You can tell who he is. He's a great husband, great father. And made of the right stuff. Very bright.
"I know what Corey's capable of. And I know that he's got a great feel for those guys. He's a good teacher and he's going to do a good job."