MOBILE, Alabama – As Senior Bowl practices began at Ladd-Peebles Stadium in Mobile, Alabama, on Tuesday, there were no shortage of Buckeye Leaves on the field.
Five former players from Ohio State, tied for the second-most among all schools in this year's game, are among the approximately 120 players participating in the premier postseason all-star game for NFL draft prospects. For one more week, former Ohio State wide receivers K.J. Hill and Austin Mack, left guard Jonah Jackson, nose tackle DaVon Hamilton and linebacker Malik Harrison are strapping on their silver helmets with a scarlet stripe down the middle and Buckeye Leaves all over to represent their alma mater and show NFL scouts what they can do on the practice field and in Saturday's game (2:30 p.m., NFL Network).
The primary objective for all of them this week is to prove they are worthy of playing in the league. But for many of them, just being at the Senior Bowl is an honor in itself.
"The past couple years since I've been to college, I've been watching the Reese's Bowl, offensive line vs. D-line highlights, and being able to now be in that position to experience that, it's a dream come true and being able to showcase my talents in front of NFL teams," Jackson said at Tuesday's Senior Bowl media day.
"Since I was a little kid, I always wanted to be a professional football player. I just never knew all that went into it. Now being able to be going through that process and be at the Senior Bowl and have an invitation to the NFL Combine and all that stuff, it's kind of crazy to believe but it's reality."
Jackson is one of four Buckeyes suiting up for the North squad this week, along with Harrison, Hamilton and Hill. The same mean streak and punching power that he showcased this past season at Ohio State was on display during offensive line drills on Tuesday, and his goal is to perform well enough this week to convince scouts that he's one of the best offensive linemen in the entire 2020 NFL draft class.
"I'm an elite pass protector, I'm one of the best of the best and I'm ready to get rolling," Jackson said.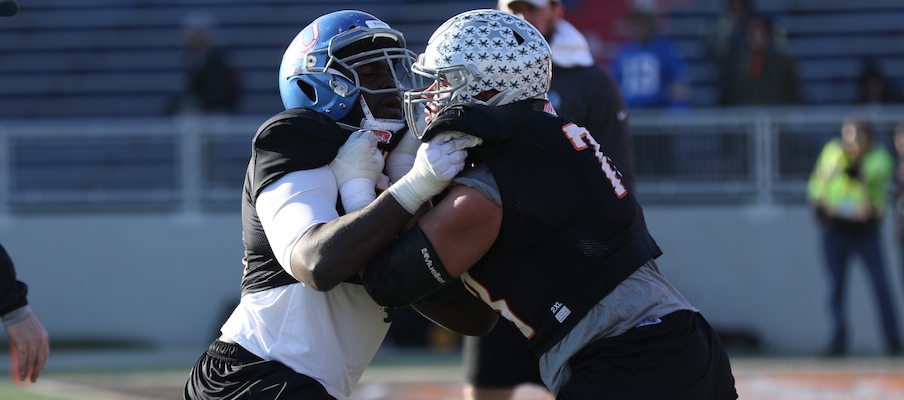 Hill was one of the biggest standouts of the entire day on Tuesday, particularly during the one-on-one portion of the day, when he dominated all three of his reps against opposing defensive backs, showing his ability to separate from defensive backs with his route running.
K.J. Hill consistently beating his man in one-on-one pass-catching drills. This one might not count as a catch, but he burned the opposing defensive back. pic.twitter.com/fmX0ByuaBz

— Dan Hope (@Dan_Hope) January 21, 2020
Hill doesn't think his performance on the field should surprise anyone this week, though, considering he just broke Ohio State's school record for career receptions. What he really wants to show NFL scouts and coaches during his team interviews this week is the kind of guy he is.
"I feel like scouts know I can play," Hill said. "They watch film all the time, they've seen me play, they know I can catch, they know I can run routes. I just want them to know what type of guy I am. On film, you don't know who I am as a person. I want them to know that I'm a competitor. I don't like losing, and I'm a winner."
Hamilton, who impressed with his burst and power on Tuesday, likewise said he wants to show his personality this week – personality that he admits didn't always come across during his interviews with the media at Ohio State.
"I feel like a lot of people misconceive how I am," Hamilton said. "They probably think I'm more of a quiet guy … I think I'm pretty cool."
On the field, Hamilton wants to show this week that he is a "very explosive" and "very active" player.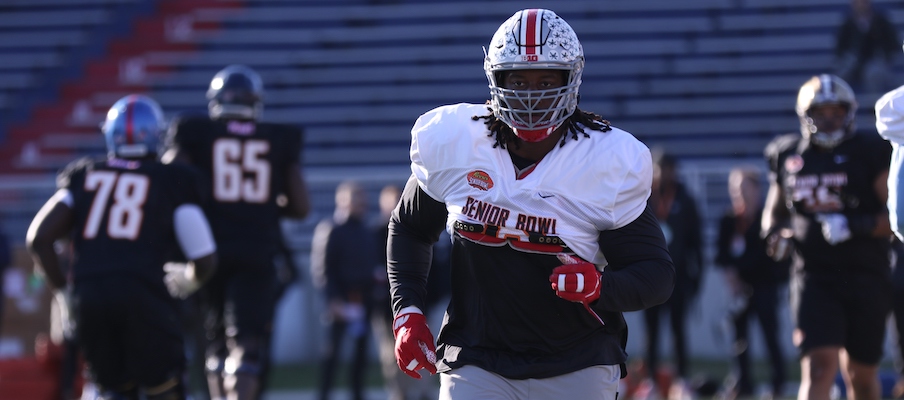 Harrison said he has had a "great experience" at the Senior Bowl so far, though there was one thing that caught him off-guard: the weather. While he personally has plenty of experience with cold weather from growing up in Columbus, it was an unusually cold day in south Alabama on Tuesday, with temperatures only reaching the low 40s.
"When I first got here, I thought it was going to be more hot. I came off the plane with a long sleeve, some shorts on and slides and I get outside, it's just cold out," Harrison said. "I was in Florida for two weeks, so I got adapted to that (warmer weather) real quick, but once I get adapted to this, it's not gonna affect me."
Harrison, who weighed in as one of the biggest linebackers at the Senior Bowl at nearly 6-foot-3 and 246 pounds on Tuesday, believes this week will showcase his impressive athleticism for his size.
"Just show off my athleticism, just how physical I am, the way I use my hands and the way I can just work sideline-to-sideline," Harrison said of his goals for the week.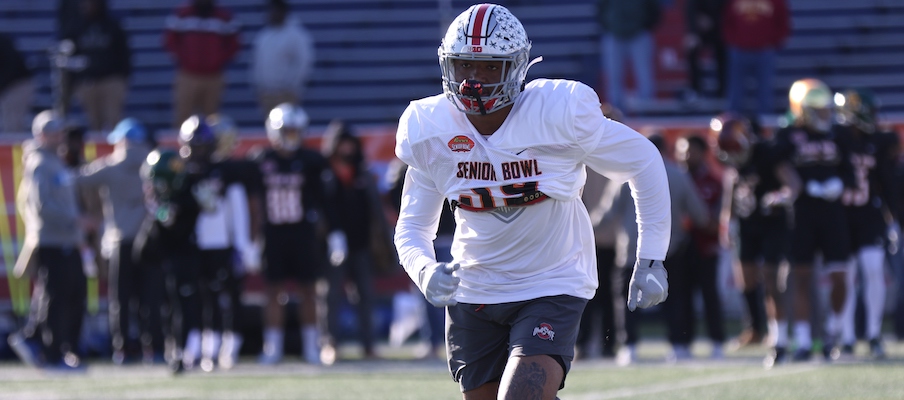 Mack, who just received his invitation to the Senior Bowl on Friday, was a late addition to replace an injured wide receiver on the South roster, resulting in a circumstance the Senior Bowl typically tries to avoid: prospects from the same school playing on different teams. Knowing that he almost didn't receive an invitation at all, though, Mack is just happy to have the opportunity.
"It was a quick turnaround," Mack said. "It kinda sucks (not being on the same team as the other Buckeyes), but at the end of the day, the open spot was on the South, so I'm glad I got in. I'm glad I can maximize my opportunity."
Mack and the other Buckeyes will still have opportunities to see each other throughout the week even though they're not practicing on the same team, and playing against each other will undoubtedly lead to some friendly trash talk.
"It's gonna be like practice if we were on different teams in the spring," Hill said. "So we gonna talk a little mess, just having fun with it."
As for more serious matters, Mack will be trying to prove that he's an NFL-caliber receiver even though he never reached 30 catches or 400 yards in a single season at Ohio State.
"I come from a thick room where production was very, very slim. And I think coming here, I'm going to be able to prove that I'm a capable receiver to play at a high level and to know that I can beat anybody that's here," Mack said. "So I'm excited and ready to prove it."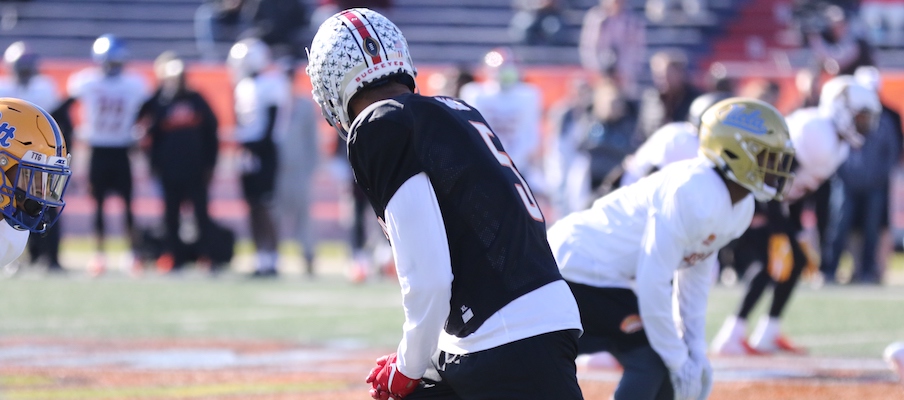 All of the participating Buckeyes will be trying to follow in the footsteps of Terry McLaurin, who was one of the stars of Senior Bowl week as Ohio State's only participant in last year's game, which ultimately sent his draft stock soaring and resulted in him becoming a third-round draft pick.
Hill and Mack both said they received advice from their former teammate in the receiver room before arriving in Mobile – and even after they were already there.
"He just called me," Hill said at Tuesday's media day. "He's just been letting me know how it's gonna go, letting me know it's not Ohio State. We done did it together and now you're doing it by yourself. So he gave me great advice. He's probably gonna call me again, asking me what I'm doing. He's just being the big brother that he is to me."
Hamilton said he also received advice from his former defensive linemates Tyquan Lewis and Jalyn Holmes, both of whom represented Ohio State in the 2017 Senior Bowl.
Senior Bowl practices – which are considered to be the most important events of the week for participants to be evaluated by NFL scouts – will continue on Wednesday and Thursday for both teams.