It took Sevyn Banks and Tyreke Johnson less than a month at Ohio State to experience one of the unfortunate aspects of the business of football.
Both Floridian cornerbacks had committed to play for the Buckeyes, but they had also committed to play for Kerry Coombs – the always-energetic, always emotive, seemingly always successful position coach had recruited both and landed commitments from each of them. Banks and Johnson signed National Letters of Intent on Dec. 20, 2017, then enrolled early, each prepared to get a head start on their college football careers.
Seemingly out of nowhere, sixteen days after the early enrollees began classes on Jan. 8, 2018, Coombs became the Tennessee Titans' secondary coach.
A few weeks later, in their first interviews with the local media, both Johnson and Banks expressed support for Coombs, even though he left before he could even coach either of them.
"Who am I to get mad at him?" Johnson said. "I came here because he's an elite cornerback coach, and he's an elite man in life, so it's to me, he did something that I expect any man to do in life. He made a decision that was better for him and his family."
Banks said: "I love him, he loves me, and shoot, he had to do what's best for his family."
At the time, they had no reason to believe they'd ever cross paths with Coombs again – unless the Titans drafted either of them, of course. Even though he posted an open letter in the days after moving on, in which he called leaving the players the "hardest part of this separation," Coombs was clearly moving on from the college ranks and beginning the next step of his career in the NFL.
Yet what once seemed impossible actually happened. 
Urban Meyer hired Taver Johnson as cornerbacks coach in 2018. Meyer retired in December of 2018, which led to the promotion of Ryan Day, who hired Jeff Hafley as co-defensive coordinator and secondary coach. After just one year, which both Day and Hafley have said was unexpectedly quick, Hafley left to go coach Boston College.
Day will fill that hole with Coombs. And since he will soon be back in Columbus after a pair of seasons in Tennessee, he'll have an unexpected opportunity to lead a defensive backfield that features several players whom he recruited and coached.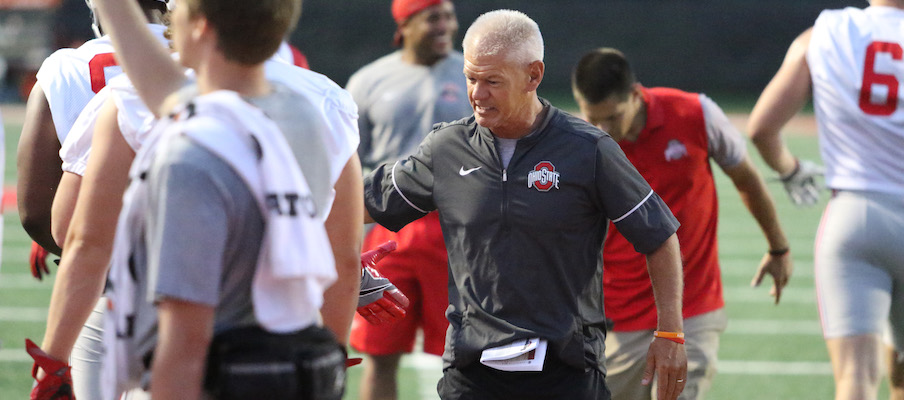 No one has a longer, more important relationship with Coombs than Shaun Wade. When he made his decision to stay at Ohio State for another season, it had already been reported that Day had made Coombs his top target. There's no doubt Day had already communicated that plan to Wade, which surely factored into his choice to put off the NFL draft for another year.
Coombs coached Wade as a freshman in 2017, though he redshirted and didn't play a snap in a season prematurely ended due to surgery to repair a torn lower abdomen muscle. In the fall, Wade will be Coombs' No. 1 cornerback and the player whom he can build the entire secondary around.
Also on the roster in Coombs' final year in Columbus? Amir Riep and Marcus Williamson, the two rising seniors in the 2020 defensive backfield.
Riep's history with his new – and former – position coach runs deep, for he graduated from Colerain High School in Cincinnati. That's the same school Coombs coached from 1991 to 2006. With Wade moving outside, Riep will have a chance to become the starting slot cornerback with Coombs as his position coach once again.
The return of Coombs could benefit Williamson drastically. The central Ohio native has been unable to climb the depth chart substantially since arriving as a top-200 prospect that Coombs once landed. With him back in charge, Williamson will have one final chance to earn a role at cornerback, and it'll come with the coach who recruited him back in the building.
Along with Johnson and Banks in the 2018 cycle, both of whom will be in contention for starting spots this offseason, Coombs helped pick up a commitment from Marcus Hooker. Now that he's more than the cornerbacks coach and will be coordinating the defense, he'll spend time working with Hooker at safety. Cameron Brown was in that class, too, but he was recruited as a wide receiver before transitioning to cornerback once on campus.
For the players with a history dating back to his first stint in Columbus, it'll be a reunion, even if they have to get past the fact that he left Ohio State for the NFL a couple of years ago.
They were facing either the prospect of their fourth position coach in four years or third position coach in three years. And while Coombs technically will be the third in three years, he's far from an unknown to several upperclassmen who have had to deal with a boatload of fluctuation in the defensive coaching staff since they arrived on campus.