Depth is important. Genius statement, right?
Well, it could wind up being that way times 10 for Ohio State and all the other teams in the Big Ten this season.
The league is optimistic that its system of rapid COVID-19 testing will help avoid cancellations across the board. That system is what became the "game-changer," Ryan Day said, in turning a 2020 Buckeyes season from possibility to reality.
But it also has the possibility of forcing the Buckeyes to turn to inexperienced players at key positions throughout the fall, as one positive test could force a player (or multiple players) to miss 21 days. If that does happen, it helps that Ohio State brought in one of the best groups of true freshmen in the country, including three five-star prospects.
In 2019, there were only three true freshmen (Zach Harrison, Garrett Wilson, Jameson Williams) who saw consistent playing time for the Buckeyes. That number has a strong chance of going up this season, especially adding in the fact that the NCAA has given players an extra year of eligibility and most freshmen are unlikely to take a redshirt this season.
There are a host of first-year players who are strong candidates to be given a role this season if veteran players miss time for any reason. To gauge which freshmen are the most likely to have a chance to play an increased role this season, we have built three tiers to examine them.
The tiers are based not just on recruiting rankings but also on which players the Buckeye coaches have been mentioning during the preseason and the strengths/weaknesses of Ohio State's position groups.
Most Likely to See a Role
QB – C.J. Stroud, Jack Miller
If Justin Fields would have missed significant time last season, it would have made you think of the old Tom Moore quote about Peyton Manning. Based on talent alone, there is a clear reason to have more confidence in the quarterback situation with Stroud and Miller in the room this year.
That doesn't mean they won't struggle if they're thrown into the fire. Without a normal offseason to learn the system and get caught up with the speed of the college level, that diminishes the confidence level you should have if either Stroud or Miller takes the reins of the offense this season. Though not if you ask Fields.
"I can't really vouch for those guys of what they did at home, but from what I've seen of what they've done in Columbus, they've been doing a great job and just the amount they've learned from the time we've been back from that time in spring that they were here, I think they've learned a lot, and they've grown a lot, too," Fields said this week. "They're both fast learners, they're both very smart guys and of course they're both talented, so I'm just really excited for the season to see kind of how they pan out, because they're both great players and great people off the field, too. So I'm excited for those guys."
On Tuesday, Day talked about the team's depth and that the plan will be to "constantly roll guys" at every position except quarterback, where he says Fields will take every meaningful snap. For the long-term health of the program, however, it will be important for Stroud and Miller to see the field as much as they can this season. If they get some experience under their belts during the early part of the season, it could pay off down the road if Fields is unavailable at any point this year.
WR – Julian Fleming, Jaxon Smith-Njigba, Gee Scott Jr., Mookie Cooper
One of the reasons wide receiver is one of the deepest positions on the team is because of the talent level of the quartet of freshmen, even if there is the obvious dearth of experience there. If those four freshmen play anywhere close to their rankings, receiver becomes arguably the deepest position on the roster.
Fleming, Smith-Njigba and Scott are great candidates to see a role based on what we've heard from Ohio State and what we saw in the limited half-hour window of practice that was open to the media a week-and-a-half ago at Ohio Stadium. I wanted to put Cooper in the second tier because of the fact that he's been out of football for two years, but he still gives them a shifty, explosive option as the No. 3 slot receiver and a potential punt or kickoff returner.
Safety – Kourt Williams, Lathan Ransom
Safety is already one of the thinnest spots on the team, and that becomes doubly true if the Buckeyes turn to a two-deep safety look more in 2020.
Luckily for the Buckeyes, Williams has been praised as highly as any freshman and has picked up things at a rapid pace, becoming the second freshman behind Smith-Njigba to get his black stripe removed. Ever since talking with him in January and getting to see him play in person at the All-American Bowl, Williams has been one of my favorite candidates to be a contributor and future star on the defense.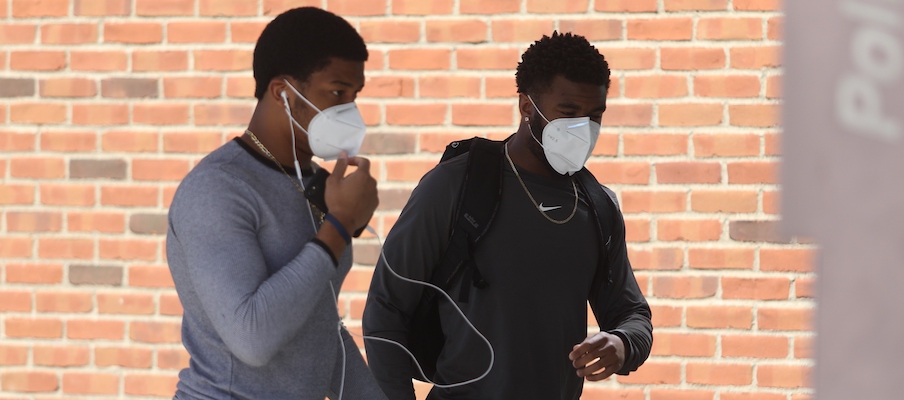 Williams was recruited to play the bullet, and his ability to play both linebacker or safety could prove immensely valuable. With Pete Werner moving to Will linebacker, it could mean an increased role for Williams as a box safety, regardless of whether or not any veterans miss time.
Ransom, meanwhile, needs to be included because he was also one of the Buckeyes' first freshmen to lose his black stripe, and with the lack of depth at safety he is one of just five scholarship players who could fill that deep safety spot. 
OL – Paris Johnson Jr.
Johnson and Nicholas Petit-Frere have been locked into one of the biggest position battles on the team at right tackle. Petit-Frere has the edge to be the Week 1 starter, with Day saying Tuesday that he has been taking the most reps with ones. However, that battle is not officially over yet, and Day said "they'll both play."
That's as indicative as anything else that Johnson is going to have a role of some sort as a true freshman.
DL – Ty Hamilton
Hamilton came into the program after playing defensive end at in-state Pickerington Central, and he was the lowest-rated recruit of the defensive line trio featuring him, Jacolbe Cowan and Darrion Henry-Young. Based on rankings, it came as a mild surprise when Hamilton was singled out as a player who has been impressive thus far.
While cornerback depth is a major concern, depth at defensive tackle really could be the team's No. 1 weak point. The availability of Taron Vincent and Haskell Garrett is already up in the air before the season's first game, and Johnson wants to rotate six defensive tackles. There seems to be an emerging possibility that Hamilton is going to see a good amount of snaps on the interior defensive line, at least early in the season.
There's a Chance
OL – Luke Wypler, Josh Fryar
Johnson is the obvious answer to which true freshman offensive lineman will get a significant number of snaps at perhaps the deepest position on the team.
It was very interesting, though, to see Fryar become the first offensive lineman to lose his black stripe. Fryar came into the program as being essentially a utility man for the Buckeyes, one who the staff liked because of his ability to play center, guard or tackle. That type of versatility makes Fryar a huge asset in this type of season.
As for Wypler, he has still not yet earned his black stripe removal, and the Buckeyes' most likely move might be to move Harry Miller from left guard back to his natural position at center if Josh Myers misses any time. But perhaps more for continuity for Miller to be able to get more comfortable with the transition to guard (one that we will wait to see if it becomes permanent next year), the Buckeyes could elect to keep Miller at guard and bring Wypler in at center if that situation arises.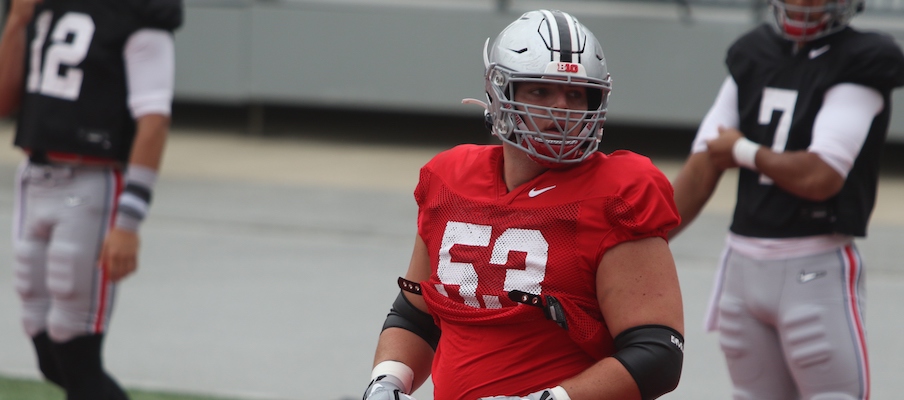 Wypler is talented, and he's a sharp player who has a good shot at becoming a multi-year starter down the road. I think he will be the Buckeyes' No. 2 center at some point this season.
RB – Miyan Williams
With Trey Sermon, Master Teague, Steele Chambers and Marcus Crowley likely ahead of him on the depth chart, I think there's too much depth (if Crowley can work his way back and stay healthy) at the position for Williams to make an impact. But he was one of the first freshmen to get his black stripe removed, and he's looked impressive physically since he arrived in Columbus in June. He's built like a bowling ball and runs like a bull, and he may get some goal-line work.
CB – Lejond Cavazos, Ryan Watts, Cameron Martinez
Kerry Coombs' propensity for rotating his cornerbacks is already well-known, as is the lack of experience at the position following the departures of Jeff Okudah and Damon Arnette. Those two factors alone could open the door for one of these freshmen to get snaps at corner this season, even if there are six cornerbacks ahead of them on the projected depth chart right now.
Kicker – Jake Seibert
Didn't think we'd forget about the kickers did you? Seibert is set to be the No. 2 kicker behind Blake Haubeil. If Haubeil is sidelined for any reason, Seibert is the man who will be called upon to answer the bell. It's easy to overlook that part of it, especially when the kicking game wasn't especially crucial in 2019 with the Buckeyes running nearly every opponent out of the building. But Seibert could become an important player if the Buckeyes need a backup kicker.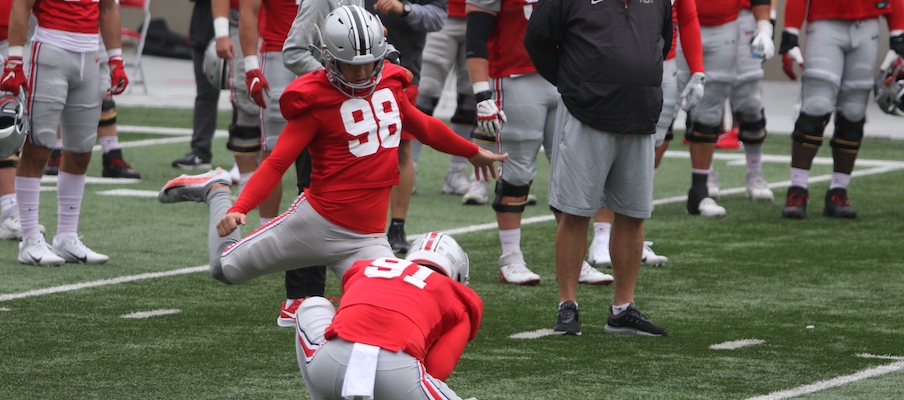 Longshots
OL – Trey Leroux, Jakob James, Grant Toutant
TE – Joe Royer
Offensive line and tight end are two of the strongest, deepest positions on Ohio State's roster. I don't think any of these four will have much of a role in 2020.
DL – Darrion Henry-Young, Jacolbe Cowan
Henry-Young was initially in the second tier as he was one of the names mentioned among standout defensive linemen in the preseason by multiple teammates. But with five starting-caliber veterans at defensive end, it's one of the top positions where depth is not much of a concern. The Buckeyes should be fine there even if there's some attrition.
LB – Cody Simon, Mitchell Melton
It's basically ditto for the Buckeyes' depth at linebacker as it is for defensive end. Nine veteran linebackers being ahead of them on the depth chart makes it highly unlikely either Simon or Melton see much of a role on defense this fall.