Going into his first season as Ohio State's quarterbacks coach, Corey Dennis' most important job hasn't necessarily been the development of starting quarterback Justin Fields, but the development of the rest of the quarterbacks on the depth chart.
Fields was already one of the best quarterbacks in the country last season, and he's worked hard this offseason – often on his own time – toward perfecting his craft. While Dennis will be directly responsible for coaching Fields this season, Fields often worked individually with head coach Ryan Day during the offseason, and there's no concern from anyone in the program about Fields being ready to play at a high level when the Buckeyes open their season against Nebraska next week.
What remains a very real question, though, is who the Buckeyes' top backup quarterbacks will be and how ready they will be to lead the offense if anything happens to Fields. In a year where there's a constant threat of losing a player for 21 days at any time due to a positive COVID-19 test, all of Ohio State's quarterbacks – even if they're not one of the top two quarterbacks on the depth chart – need to be prepared for the possibility they could be called upon to play at any time.
"In the past, guys would prepare to be backups. Guys were, 'Hey, who's the next backup? What can you do to be the backup?' But we've all seen it. We've seen it with Cam Newton in the NFL. Right now, you truly have to prepare like you're the starter," Dennis said Tuesday. "Because you don't know when your number's called. So it's not like the old school, a guy got dinged up on a play or whatever it is. It truly could happen tomorrow, and so everyone in that room is going to prepare like they're the starting quarterback at Ohio State."
Preparing his quarterbacks to be ready to play came with unprecedented challenges this offseason, as spring practices were cut short after just one week and coaches were unable to work with their players in person for much of the spring and summer. A full offseason together would have been especially beneficial to true freshmen Jack Miller and C.J. Stroud, two of Ohio State's four scholarship quarterbacks, as they prepare for their first season at the collegiate level.
Dennis said the biggest thing he's had to work through with the young quarterbacks is just not being able to get as many live reps over the course of an offseason as usual.
"We've done a great job and those guys are grinding in the Zoom meetings and things like that, and you can talk about it and you can show film and you can show diagrams and you can kind of whatever walkthrough or stepthrough, but it's just the actual live reps," Dennis said. "Those are definitely things that are hard to come by."
Despite those challenges, Dennis is confident his backup quarterbacks will be ready to play as soon as the season opener if needed. While Dennis wouldn't divulge what the depth chart behind Fields looks like right now, he believes Stroud, Miller and fifth-year senior Gunnar Hoak will all be up to the task if their number is called.
"We'd be ready to go," Dennis said when asked about his confidence if one of those three quarterbacks had to play in a game tomorrow. "There's no doubt. They'd be ready to go. They know the offense, but they're continuing to get better, they're continuing to grow and learn. They know that they're not where they need to be, but they're definitely grinding every single day and getting where they want to go."
From an experience standpoint, Hoak could theoretically be the readiest to play among the backup quarterbacks this year. After previously spending three years at Kentucky, Hoak is now entering his second year at Ohio State, and Dennis – who already worked with the quarterbacks last year as a senior quality control coach – has seen growth from Hoak from when he was the third-string quarterback last year.
"He's been around for awhile, he's seen a lot of football, he knows our offense in and out," Dennis said. "Any time that you're in an offense for the second year, getting to be around the verbiage and things like that, that's definitely a benefit to you. But Gunnar, he's smart, he knows our offense, he's a great player, he is a great leader. He's one of those guys too that the young guys can kind of look up to and see the way that things are supposed to be handled. So Gunnar's extremely valuable to have."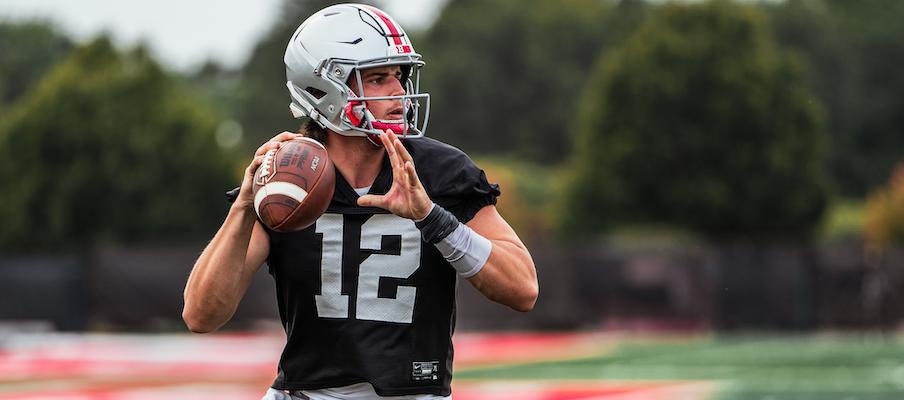 That said, Day has said Stroud and Miller were taking most of the reps with the second-team offense this preseason so that they could be ready to play this fall. And given that those two four-star recruits are expected to compete for Ohio State's starting quarterback job next season, the Buckeyes have reason to give them every opportunity to beat out Hoak for the second and third spots on the depth chart.
Dennis wouldn't say on Tuesday how the Buckeyes were planning to split reps among their backup quarterbacks in potential lopsided games, other than to say "that long-term, we're gonna do what's best for Ohio State for that year and just continue to grow guys and continue to get guys better."
Dennis has been impressed, though, by what he's seen from Miller and Stroud in the weeks leading up to the season.
"They're both doing really well," Dennis said. "They both have good days, they both have bad days, but those guys are grinders. They're both extremely talented. They're really diving in, wanting to know the offense and in all reality, they have a great guy to look up to in Justin Fields. So they know, if you're not preparing as hard as this guy, then can you truly be where he is in the future? So Justin's a great example, and those guys are trying to do everything that he does."
The biggest area of growth for both Miller and Stroud since January has been their "knowledge of the offense," said Dennis, who noted that Ohio State has "a pretty complex passing game." He's been impressed by the way they've committed themselves to learning the playbook without becoming overwhelmed by it.
"They're literally just pedal to the metal, trying to learn everything they can, trying to soak it in," Dennis said. "They're both doing an unbelievable job."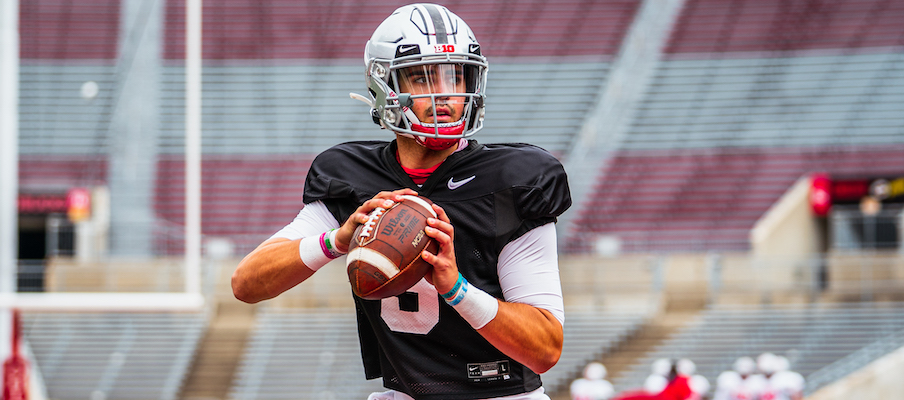 Fields has been impressed by what he's seen from the young quarterbacks, too.
"From the time we've been back from that time in spring that they were here, I think they've learned a lot and they've grown a lot," Fields said. "They're both fast learners, they're both very smart guys and of course they're both talented, so I'm just really excited for the season to see kind of how they pan out, because they're both great players and great people off the field, too."