It's only been four years.

Ryan Day has become so synonymous with the Ohio State Football program that it's easy to forget that he's entering just his fourth season in Columbus. In that short time, however, he's rewritten Buckeye record books, with the top mark in nearly every passing category belonging to one of his pupils.
Throughout the program's vaunted history, it's never seen an offensive explosion quite like the one seen during this period, finishing in the top seven in total offense nationally during each of his three seasons with the team. Of course, it was that success that led to him taking over the entire program following Urban Meyer's, a move that saw no drop-off in the team's output during his first year in charge.
This quick rise from relative obscurity to national prominence has led many to believe Day is some kind of genius who completely rewrote the Buckeye playbook upon his arrival. But Day is not some kind of mad scientist who created a new concept, redesigned the way offenses practice and gameplan, or even simply found a new way for speed and tempo to be used as a weapon.
When he joined Meyer's staff in the spring of 2017, Day didn't throw out the playbook. In fact, the Buckeye offense looked largely the same with J.T. Barrett under center for the fourth year that autumn. But somehow it just looked, well, better.
Since that first season, though, the offense has adapted to the strengths of its personnel, specifically the quarterback. With Barrett, it largely remained built around the zone-read game and RPOs, using his proficiency in making quick decisions as a weapon to move the ball. The following season, with Dwayne Haskins taking snaps, the offense depended on spreading the field horizontally with multiple receivers and attacking through the air.
Last year, with Justin Fields capable of incorporating the best of both of the QBs that came before him, the system melded a number of new concepts in with the old, adding an NFL-style, wide-zone running game with deep, play-action passes built off it to the existing shotgun spread looks that had been in place since Meyer's hiring in 2012.
But the result was far from a predictable "run, run, pass" setup that could easily be sniffed out by opponents. Day and coordinator Kevin Wilson were lauded for their creative play calls which kept defenses on their heels, such as this screen pass to J.K. Dobbins on the first play of the game against Indiana.
It's easy to notice how the Orbit motion from K.J. Hill attracts attention away from Dobbins as he leaks out in the opposite direction. But what's less noticeable is the way each of the receivers is lined up before Hill ever goes in motion.
The concept is actually a double-screen, as tight end Luke Farrell and receiver Austin Mack set blocks for Hill should he catch it on a bubble action. But back to the left, receiver Binjamin Victor is lined up in a short split inside and appears to take off on a short crossing route back to the right, signaling a flood concept in that direction. 
Instead of looking for the ball, however, Victor runs straight at the middle linebacker - the player most likely to have eyes on Dobbins in man-coverage - and seals him off to allow the back to make a play in space. When Fields sees the entire defense following Hill's motion, he simply looks back the other way and lofts an easy toss to his running back and moves the chains.
The subtlety of Victor's alignment was just as critical to the play's success as was the motion from Hill, and those little details are the secret to Day's success. Every formation, every motion, every read - each serves a distinct purpose and is included for a reason, as the concepts that the Buckeyes are actually running aren't very unique in and of themselves.
Like pretty much every other team in the country, Ohio State will have zone runs, gap runs like Power and Counter, and a couple of sweeps to get the ball outside in every weekly game plan. There is nothing unique or novel about that. 
"We're not running a new run scheme, we're coming up with a new way to run Power, and that's how we get creative," Day said at the 2019 OSU coaching clinic. "So, it can be the same thing for the guys up front, the guys who are blocking it, and the same thing for the quarterback."
Going back to that same contest in Bloomington, Day showed exactly what he meant. 
The Buckeyes lined up in a 3x1 set with four detached receivers before quickly bringing the tight end back across the formation. But Rashod Berry didn't line up outside either tackle. He stopped right in the A-gap, creating an old school, 2-back set as he effectively became a fullback.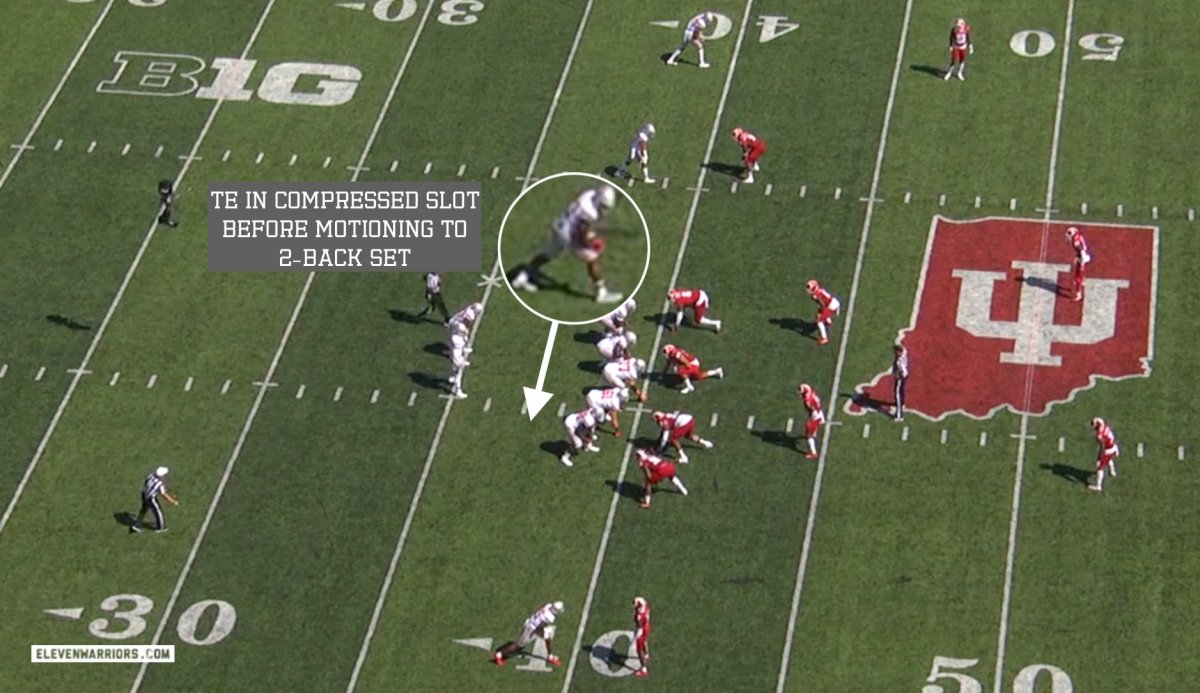 With that fullback suddenly in the picture, the way Ohio State chose to run the classic Power concept looked different. The entire right side of the line blocked down, creating a double-team on the 3-technique defensive tackle as the tight end/fullback kicked out the end. Meanwhile, the backside guard pulled through to take on the middle linebacker and lead the runner.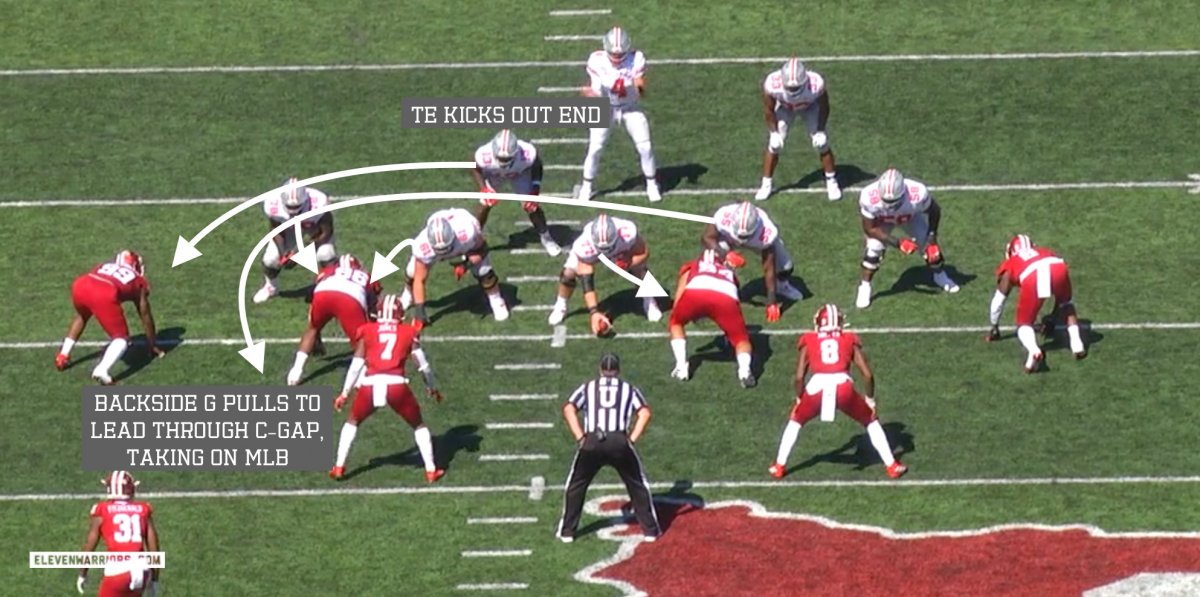 While the back ran hard through some arm tackles to pick up a nice gain, he wasn't even touched until he was well past the line of scrimmage. Berry's motion may have seemed pointless to the naked eye, but it caught the defense flat-footed and unable to slow an otherwise common concept.
"We can get that gameplan up and running really quick, really efficiently," Day said of his weekly preparation process. "The offensive line coach comes in, he draws them up against the looks we're seeing that week, and our gameplan is done. There are no new plays being put in."
This process of re-skinning the same concepts over and over isn't done out of laziness or a lack of creativity, it takes into account the required practice time needed to master any play.
"I've been there. It's a Monday or Tuesday morning and somebody wants to put in a new run play. Bad news," Day told the crowd of coaches at the clinic. "That's going to be a long day at the office on Saturday. It's very, very difficult to put in a new scheme for a high school or college kid in three days. We all know that's not going to happen. It might look good against one look, but the minute they bring the WILL, or they bring some sort of stunt or change the front we're in trouble."
This approach can be seen in the passing game as well. Against their rivals in Ann Arbor last November, Dobbins converted a long, third-down conversion on the opening drive thanks to a short catch over the middle. The concept was a Texas route seen for years in West Coast offenses and would set up a touchdown on the next play.
The key to this play wasn't the novelty of Dobbins' route, however.
As one might expect in The Game, the Buckeyes had scouted their opponents with a near-religious fervor and expected to see man-coverage in third-and-long situations like this one. To make this concept work, Day and his staff began with their team's alignment.
First, the tight end was split out all the way past the numbers to the left. When a linebacker followed him, it not only confirmed their suspicions of man-coverage but removed a defender from the box. Additionally, the two inside receivers to that side took off with inside releases so that they could be between their defenders and Dobbins once he caught it. 
Finally, the lone receiver to the side of Dobbins' route, Garrett Wilson, lined up way inside, almost like a tight end. Typically, this concept is a high-low read for the QB with Wilson's seam route as the other option if the back isn't open, but Wilson's job on this play was to occupy Dobbins' defender by running right into him.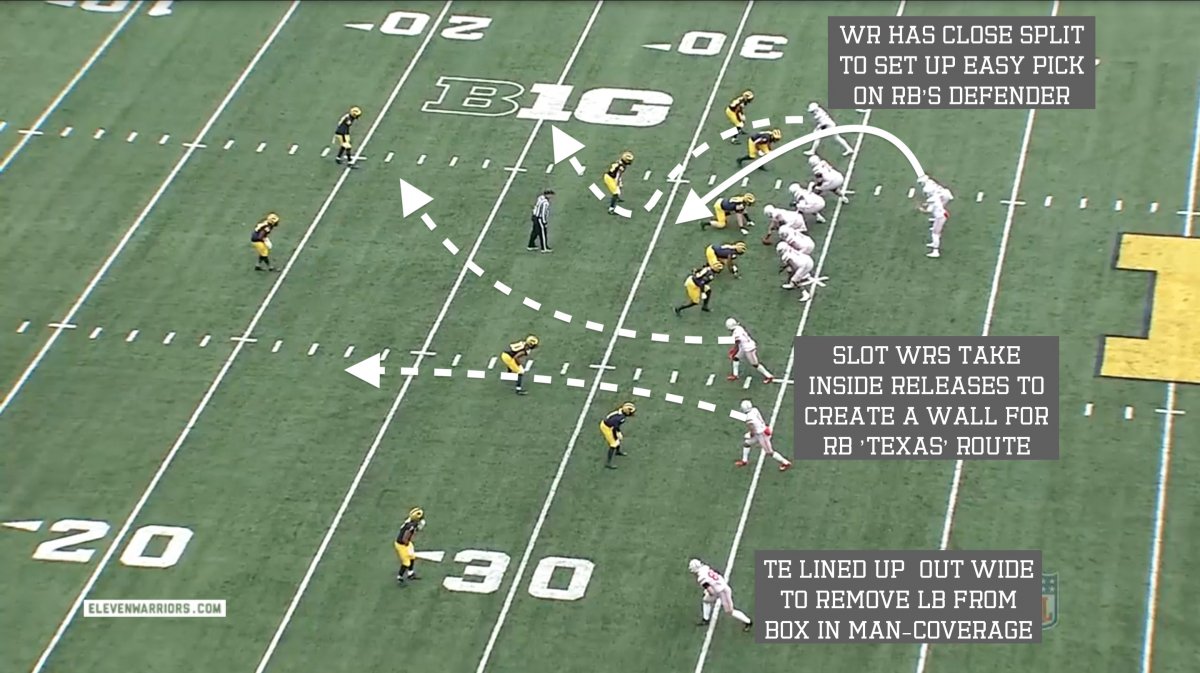 After the snap, Wilson did a great job of "accidentally" colliding with linebacker Cameron McGrone (#44), turning him completely around and keeping him from ever seeing Dobbins cut back inside and make the catch. From there, the three receivers to the left side occupied defenders long enough to spring Dobbins as he darted through open space for a huge gain.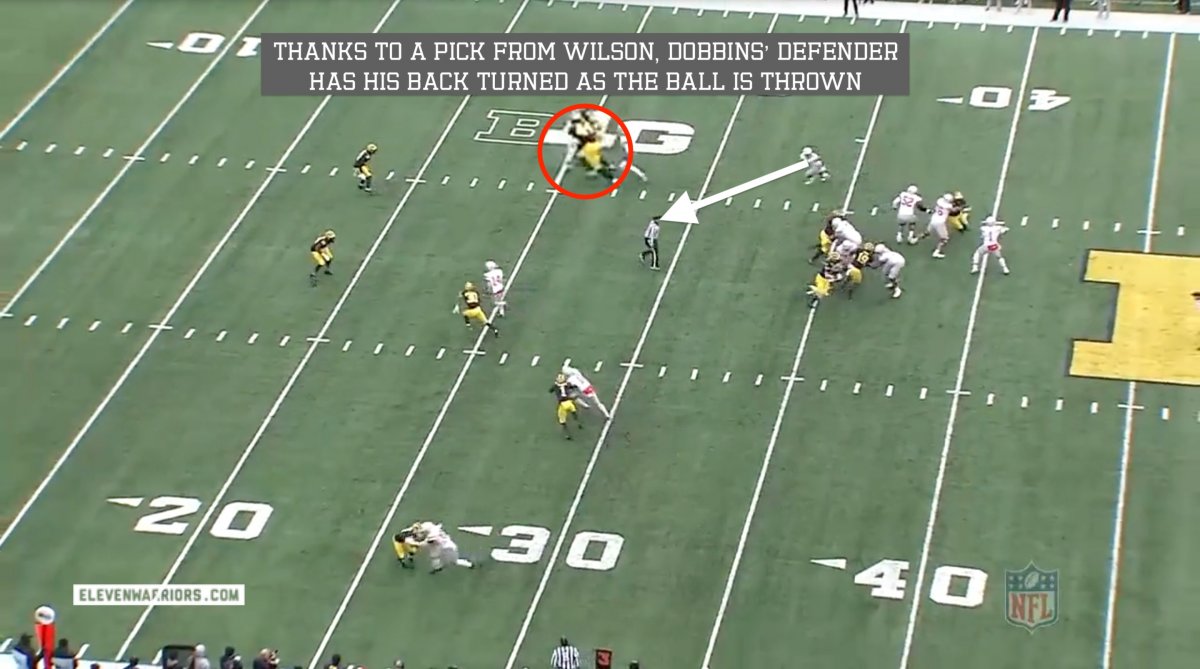 Such play design is the hallmark of Ohio State's offense in recent years. Yes, there is five-star talent all over the field, but without paying attention to the smallest details, they could very well look like some of the programs which struggle to move the ball despite having an offensive "guru" calling plays.
A MICROCOSM of AUBURN's BIGGEST OFFENSIVE PROBLEMS ALL IN ONE PLAY...

Deep dive here, buckle up Football Junkies pic.twitter.com/qPIH0AV3Kq

— Jordan Rodgers (@JRodgers11) October 9, 2020
But while Day and his staff have built a consistent track record of success, nothing about this year has felt normal. Yet, despite having no real spring practice or any out-of-conference tune-up games to work out the kinks, the Buckeyes may actually be in a better position to succeed compared to most of their opponents.
By the second half of last season, the QB had grown considerably and had shown a bond with his receivers, often anticipating their breaks before they were even open.
This is a 15-yard, deep out thrown from the far hash. Completing this throw is challenging when a receiver is uncovered, yet Fields makes it look routine.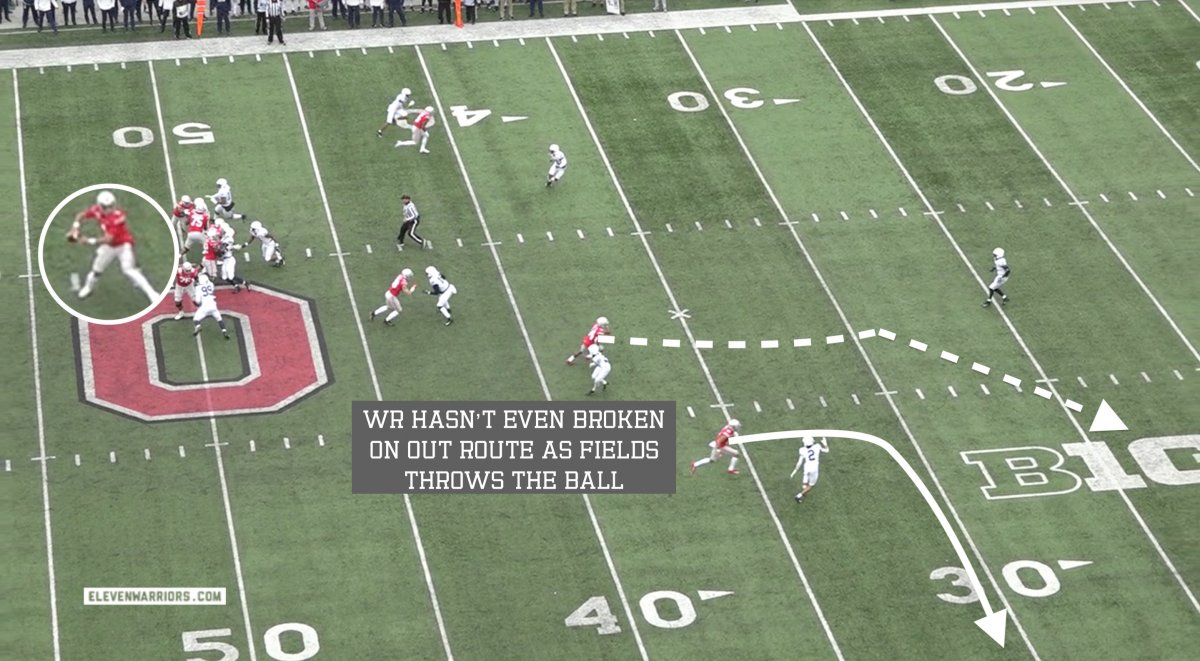 Though practices have been limited to non-contact for much of the last two months, the Heisman finalist has had plenty of opportunities to maintain his timing with Wilson, Chris Olave, and the returning trio of tight ends. 
"I will say this, and I believe in it with all my heart, if a quarterback hasn't practiced a play over 100 times, you're not going to get the production you want," Day told the audience in 2019. "You're not going to get the execution that you need. It needs to be done in the offseason, it needs to be done in the summer, even if he's running a concept against air without a defense, and we just put two receivers out there and we're running those concepts over and over again, he's going to feel it, he's going to get good at it, and he's gonna go."
While there are plenty of other distractions, Fields also has the benefit of not having to learn a new system, meaning that, like his coach, he can focus on the little things. While QB coach Corey Dennis often works with the young backups to teach them the playbook during practice this fall, Fields and Day have been spending time identifying defenses and mastering the finer points of the playbook.
Last season, Day and his staff would help direct Fields' attention towards which players would be open on a given play, helping him learn the progressions on any given concept. This year, Fields has begun digging a level deeper.
"Now I can ask why we're calling a certain play, or what Coach Day's goal is when calling a certain play," Fields told the media earlier this month. "I'm just trying to pick [his] brain."
With the quarterback now part of the brain trust, the Buckeye offense has no reason but to expect great things this fall, as Fields will be able to see things even his coach can't. Though there will be fewer opportunities to write new records in 2020, this added weapon will set up Day's offense to affect the only record that matters - wins and losses - like never before.