No one expected it to turn out quite this way.

Even the most bullish Dwayne Haskins fans couldn't have expected him to produce quite the campaign we witnessed from him in 2018. Just 12 months ago, the then-20-year-old was engaged in a battle to prove he was simply worthy of playing time at Ohio State, competing with veteran backup Joe Burrow to replace the record-setting J.T. Barrett.
After a month of competition throughout spring practice, Haskins won the job and sent Burrow packing, eventually settling in Baton Rouge where he had a solid season amassing nearly 3,300 yards of offense and 23 touchdowns last fall. But for Haskins, such numbers would've been pedestrian in his new role, as he had to replace the 47 touchdowns produced by Barrett the year prior.
Despite all the talented quarterbacks to come through Columbus in the past two decades - including Heisman Trophy winner Troy Smith and five-star recruits like Terrelle Pryor and Braxton Miller - it was Barrett's name atop virtually every section in the Ohio State record book, totaling 25 such marks in his prodigious career. While the four-year starter never returned his team to the CFP title game after his freshman year, his production couldn't be questioned, as JTB finished his career having amassed more total yards than any other player in Big Ten history.
For Haskins, simply trying to live up to the standard set by his predecessor should've been challenging enough. As we know now, however, the Maryland native would spend the next year redefining what many of us thought possible from an Ohio State quarterback.
The 2018 Big Ten Player of the Year and Heisman finalist rewrote virtually every single-game and single-season record in the books, totaling 4,831 passing yards and a staggering 50 passing touchdowns in just 14 games. As his coach and mentor, Ryan Day, recently told Albert Breer of the MMQB:
"We're supposed to get three years with him, and we only get one," Day said, smiling now. "But at the end of the year, when those three games happened, Maryland, Up North [Michigan] and Northwestern, 1300 yards and 14 touchdowns, every time he threw it I'm like. 'Yes!' And then, 'Sh--! Here we go again.' Then I see [Mel] Kiper's Top 5, and I'm like, 'G--damn, get Kiper out of here.'"
With the 2019 NFL draft just 45 days away, the 6'3" 218 lb pocket passer is poised to be a top-10 pick, becoming the first quarterback from the Big Ten to be selected in the first round since Kerry Collins was chosen fifth overall by the Carolina Panthers in 1995. Collins, however, had two full years under center as the starting quarterback in State College, and only left for the NFL after exhausting his collegiate eligibility.
Haskins only has a relatively short resume of film to show NFL evaluators, leading many to pick apart the holes in his game that often showed up in the early part of the season. As Day noted, however, Haskins had evolved into a completely different player by the final four games.
Throughout the first half of Ohio State's 2018 campaign, the differences between Haskins and his predecessor were clear. Though Haskins could light up the sky with deep balls that terrorized the likes of Oregon State, Rutgers, and Tulane, his lack of mobility became a major concern for the offense overall.
His inability to act as a traditional ball-carrier like Barrett stymied the offense on third-and-short situations and in the red zone, leading many to wonder if Burrow or athletic backup Tate Martell might've been the better choice all along. Despite a strong performance against TCU in week three, many of these fears came to life in Haskins' first true road game - a nationally televised night game at Penn State.
With Beaver Stadium shaking, Haskins appeared to do the same, losing basic fundamentals in the face of pressure and looking like a vastly different player. For example, this first down rollout should've been a completion had Haskins compressed his footwork, allowing him to take shorter, controlled steps instead of the long, sprinting steps that led to him wildly flinging the ball out of bounds.
This clip has surely been examined at length by teams with him high on their draft board, wondering if this is the quarterback they'll be selecting. However, if they fast forward to Haskins' remarkable stretch at the end of the year, they'll see a very different player.
Though Northwestern wasn't sending pressure the same way Penn State had, Haskins looked far more poised and comfortable in the Big Ten championship game and delivered some big throws off rollouts.
Often, when right-handed quarterbacks roll to their left, their balance is already falling forward onto their left foot, and their shoulders are square to the target. This leads to under-throws as they fail to generate enough power on their tosses.
By this point in the season, however, Haskins had gained far more depth in these drops and wasn't simply focused on sprinting out of the pocket. This allowed him to do two very important things:
keep his weight centered over his hips and cock his right shoulder back behind the ball
properly push off his back foot
Both elements created the torque needed to deliver an accurate strike on a 25-yard deep out.
The same progress was evident when Haskins was forced out of the pocket in the face of pressure. Against Penn State, he showed the ability to side-step oncoming defenders but dangerously forced the ball into coverage as he tried to get rid of it.
By season's end, his eyes remained downfield after protection broke down, allowing him to spot an opening in the back corner of the end zone into which he could loft a highlight-worthy touchdown pass. 
While the physical aspects needed to complete such a pass are obvious (few QBs can make that kind of throw without setting their feet), the mental aspect was equally impressive. Haskins recognized the coverage early on and took advantage immediately when the cornerback in deep-third coverage bailed on his responsibility to come up and potentially tackle the scrambling quarterback. Once Haskins was in a position to punish the defender, he did just that by lofting the pass over his head.
These mental developments were far more evident in the final four games of the season. By this point, the redshirt sophomore had mastered the art of working to his third and fourth progressions on a play, showing maturity and an understanding of the playbook rarely seen at this level.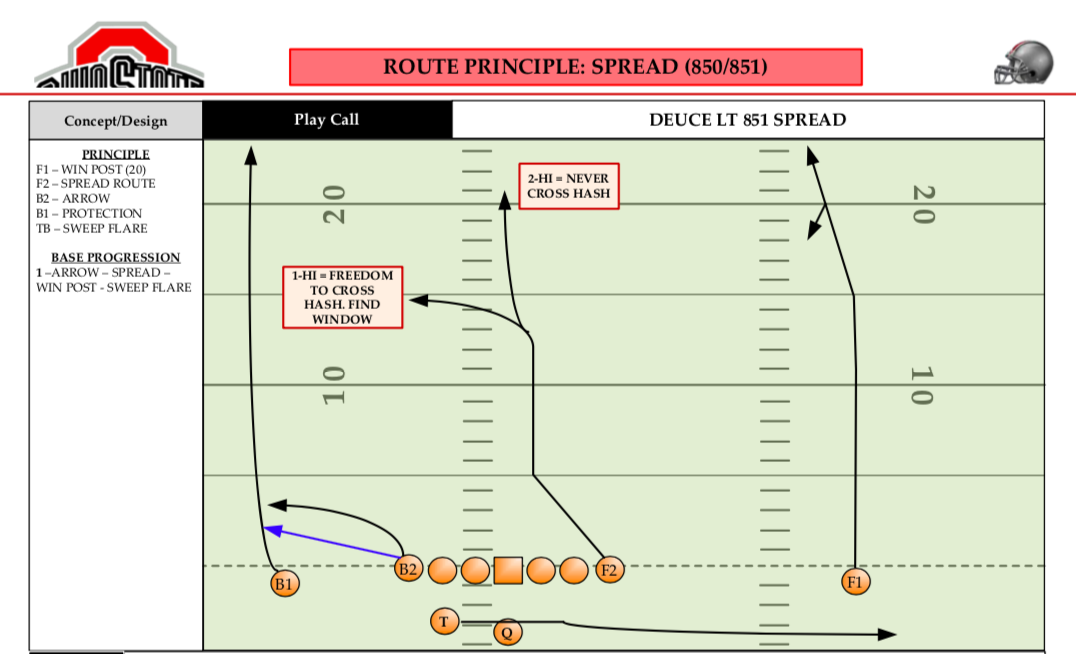 In the example above, he can easily be seen scanning from his first to the third read on one of the Buckeyes' signature plays, often known as Saints or Spread. While Barrett ran the play with success the year prior, Haskins' elite physical ability allowed him to maximize its potential, hitting the backside skinny post in stride after recognizing the defense's shift to the boundary.
As Day also told Breer in the MMQB interview:
"The good news is, for two years, he's been in an offense where it's going to translate into the NFL, because it's very NFL-oriented," Day said "Protections, progressions, route concepts, everything. Being an NFL quarterbacks coach for a couple years, in that room, you're able to talk about what it means to have protections and defensive structure. He has experience with that. He has exposure to it.

"So for him, coming in and having some of these conversations with the coaches, I'm sure he was able to talk in their language because of what we do on offense."
As Day mentioned, the mental aspect of Haskins' game included more than just passing concepts, as he began owning the protection checks near season's end. Day, once again:
"Early on, a lot of [protection calls were] on me," Day said. "He'd look over and I'd help him out. But as the season went on, if you watch the rivalry game, I mean he checked almost every protection, and [the blockers] picked it up. They never got home one time on him. He did a really good with that. And hats off to him, because he picked it up as it went on. He got more and more comfortable with that."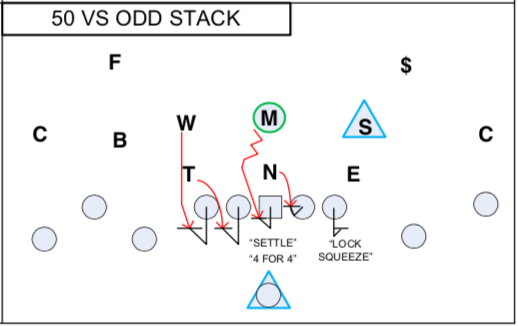 As Day points out, Michigan showed a variety of pressures that the young QB quickly recognized, adjusting the protection at the line and allowing him to stay clean and upright.
In the clip above, he can be seen recognizing the overload blitz coming to the offense's left side, checking to 50 protection that asks the right tackle to lock onto the right end one-on-one while every other member of the offensive line slides to the left, closing the gap and picking up a rusher.
While the L.A. Rams are notorious for talking to quarterback Jared Goff through his helmet radio all the way until it cuts off 15 seconds before the play clock expires, helping him translate what the defense is doing and adjusting the play as needed, most NFL quarterbacks are forced to do that work themselves, and Haskins has already proven himself capable.
But while some college quarterbacks often show one or two of these traits individually, Haskins' status as a top prospect comes from his ability to incorporate them all at once. While he completed a staggering 373 passes last fall, none may have been more impressive than this one:
With Johnnie Dixon streaking downfield on an "inside 9" route in the Sail /Flood concept, Haskins recognized that the speedy receiver had inside position on the cornerback with no safety help over the top. However, to take advantage of this opening, Haskins had to buy enough time in the pocket to let Dixon clear the defenders. 
The quarterback hitched twice in the pocket, changing his position and building momentum before uncorking an other-worldly 60-yard pass that hit the receiver perfectly in stride. While some of the elements needed to make this play a success come from great coaching, Haskins' arm strength simply can't be replicated, making him a rare gem in the eyes of NFL scouts.
But as he continues to be scrutinized and compared to other quarterback prospects, specifically projected top pick Kyler Murray, it will be easy to forget just how far the 21-year old has come in such a short time. Though Justin Fields and other Buckeye QBs will do their best to surpass him, the record books inside the Woody Hayes Athletic Center will likely recall Haskins' remarkable ascent for many years to come.