SCOTTSDALE, Arizona – As Ohio State faces Clemson in the College Football Playoff semifinals at the Fiesta Bowl on Saturday, the Buckeyes will be playing in the same stadium where one of their former assistant coaches has been coaching all season.
Bill Davis, who was Ohio State's linebackers coach in 2017 and 2018, is now the linebackers coach for the NFL's Arizona Cardinals, whose State Farm Stadium in Glendale, Arizona, is where the Buckeyes and Tigers will be competing to earn a spot in the national championship game. And while Davis won't be able to attend the game – he'll be in Los Angeles where the Cardinals are playing the Rams in their final game of the season on Sunday – he'll be watching every play he can in between team meetings.
"Oh, I'll be watching," Davis told Eleven Warriors. "I just want the guys to play well and play without fear, and I love watching those guys. They're a great group of young men, and it's fun to watch them. There's not a bigger fan out there than me."
Davis' Ohio State tenure came to an end after last season, when new head coach Ryan Day moved to overhaul the Buckeyes' defensive coaching staff (with the exception of defensive line coach Larry Johnson), but many of the linebackers who he coached at and recruited to Ohio State are still on the team. He remembers his time with the Buckeyes as an "outstanding experience," and he says he's thrilled to see the success they've had this season.
"I'm proud as hell of them," Davis said. "I love the way they're playing ball, the way they're growing and there's still a lot of guys taking reps because it's such a deep room. I'm happy as hell. It's fun watching."
As Ohio State's defense struggled in 2018, giving up more points per game and yards per game than any previous defense in school history, Davis took as much flak as any assistant coach for the performance of his unit. Ohio State's linebackers were widely regarded as a weakness during his two seasons coaching them, and Davis was a frequent target of blame.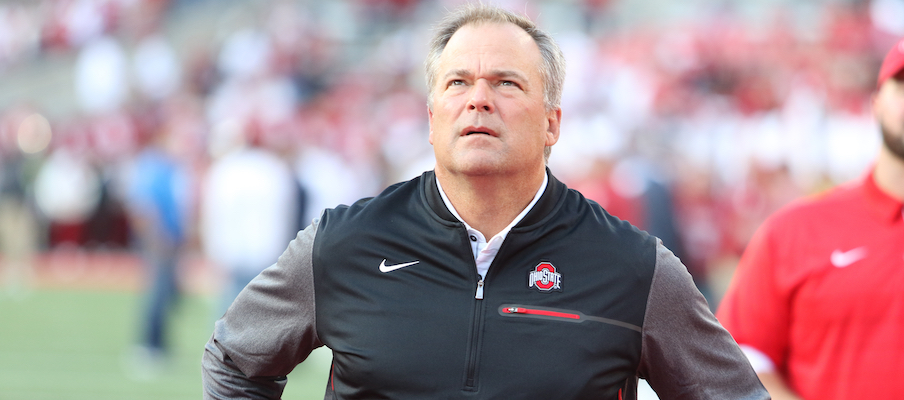 When Davis reflects on his time at Ohio State, though, he focuses on the positives. The Buckeyes went 25-3 and won a pair of Big Ten championships during his two seasons on the staff, and he believes the development that linebackers like Malik Harrison, Tuf Borland, Pete Werner and Baron Browning made during his two seasons with the Buckeyes set them up to take their games to another level this season, in which they've helped lead an Ohio State defense that ranks second nationally in both points and yards allowed per game.
"A year ago, none of them had any experience," Davis said. "And we took our lumps along the way, and they learned a lot of ball, and I thought they were growing each week. And I know I'm not there anymore and that the staff is doing a great job there, and they're exceeding and they're excelling, and I think it's because they've got a real good foundation and they went and got some experience, and now you got a group of experienced 'backers that are flying around, playing with confidence."
"I'm proud as hell of them."– Bill Davis on the improvement of Ohio State's linebackers
Davis acknowledges that Ohio State's defense didn't perform up to expectations during his time on staff, but he says that wasn't because of a lack of effort on his part or the part of any of Ohio State's other coaches at the time, including his close friend Urban Meyer and former defensive coordinator Greg Schiano.
"I know defensively, we didn't have the numbers and the stats that we would have liked to have with the players we had, but we've grown them," Davis said. "We spent every waking moment when I was at Ohio State trying to give Coach Meyer and execute the vision he had for the linebacker group, and the vision that Coach Schiano as the defensive coordinator had. And I worked my tail off and I watched them grow and it was a lot of fun, and it continues to be a great source of pride to watch these guys as they're getting better and better and playing for the hopefully national championship."
He says that experience has been beneficial in his return to the NFL with the Cardinals, who aren't going to make the playoffs this year but have made strides with their new coaching staff after going just 3-13 in 2018. Among the players Davis coaches specifically, outside linebacker Chandler Jones leads the league with 19 sacks this year while inside linebacker Jordan Hicks ranks fifth in the NFL with 136 total tackles.
"It's kinda like when we were at Ohio State," Davis said. "When Coach Schiano first put a defense in and we were growing the guys and we were taking our lumps and we were trying to get our collective wins, and we slowly did it, but 25-3 over two years is pretty good. Two Big Ten championships. But we stopped short of what they're playing for now, and I think that's what's so neat. They're really playing well, they're playing fast and hopefully, they can let that defense take them all the way to where they win the championship."